Besan ki Roti or Chickpea Flour Roti is a quick and easy recipe to eat with curry or vegetables.
You can enjoy them at any meal or make them for party or get-together.
I have customized this Besan ki Roti (flatbread) by Mixing –> Gram Flour(besan) with some Glutenfree Oats Flour <—  however, if you eat gluten, then you can add whole wheat flour (atta).
This mixed flour version is much easier to make, healthier and lighter on the tummy as 'Only Chickpea Flour' roti's:
Tends to crumble while making.
Gram-flour is considered a slightly heavier flour to digest, hence eating pure gram-flour roti's sometimes makes you feel extremely heavy or over-full after consuming them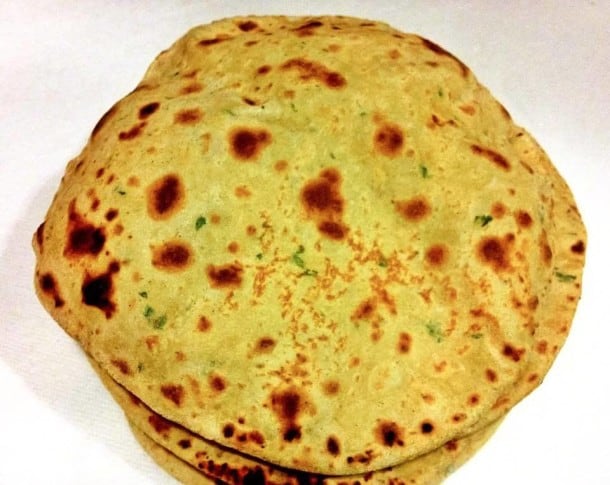 Besan ki Roti / Chickpea Roti / Gramflour Roti call it by any name, it's one of the same things. '
Besan' is the traditional Indian name for Chickpea flour/Gramflour and these roti's are extremely popular in the northern Indian household.
The flour is easily available in any Indian grocery stores and is mostly found in the 'Flour' section.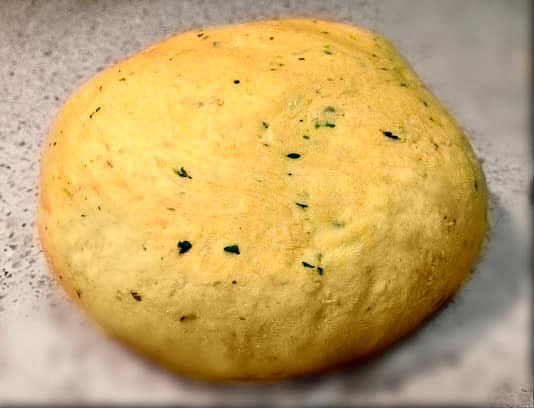 (Above you can see the Besan ki Roti dough)
Chickpea Flour is light yellow in color and has a mild nutty smell and flavor to it.
Sometimes the color of flour vary from company to company and you can mix a little bit of turmeric to give it that yellow color.
I also like adding a little bit of cilantro and carrom seeds (ajwain) in my besan ki roti.
However, it's completely up to you if you want to add this flavoring (as seen in the dough picture above).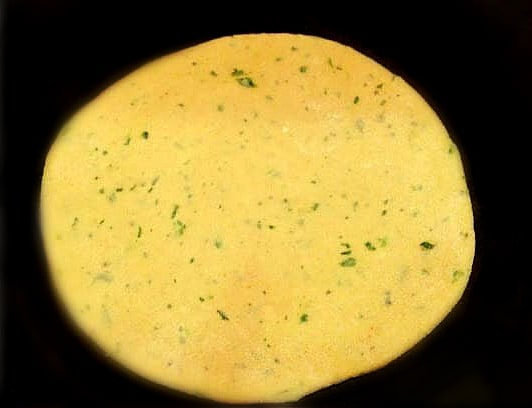 ( Above the non-cooked Chickpea Flour / Gramflour Roti )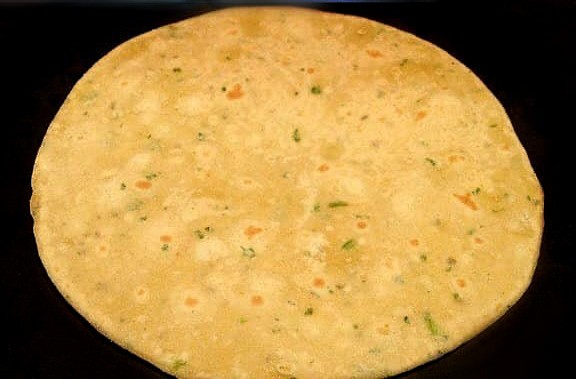 ( Above the slightly cooked Chickpea Flour / Gramflour Roti )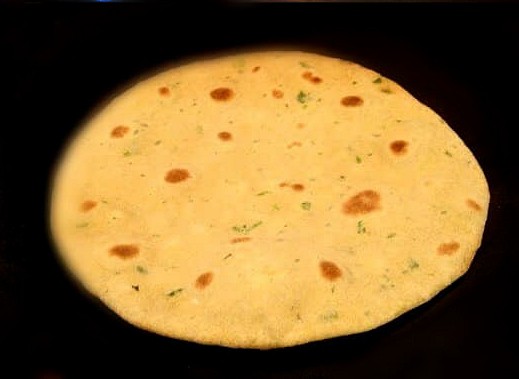 ( The Chickpea Flour / Gramflour Roti almost ready to be served)
They go with any kind of curry, vegetables or even daal (lentils). They go extremely well with sauteed greens like spinach, kale or even mustard leaves.
One of my Favorite combinations is to have them with Paneer Tikka Masala (Indian Cottage Cheese Curry).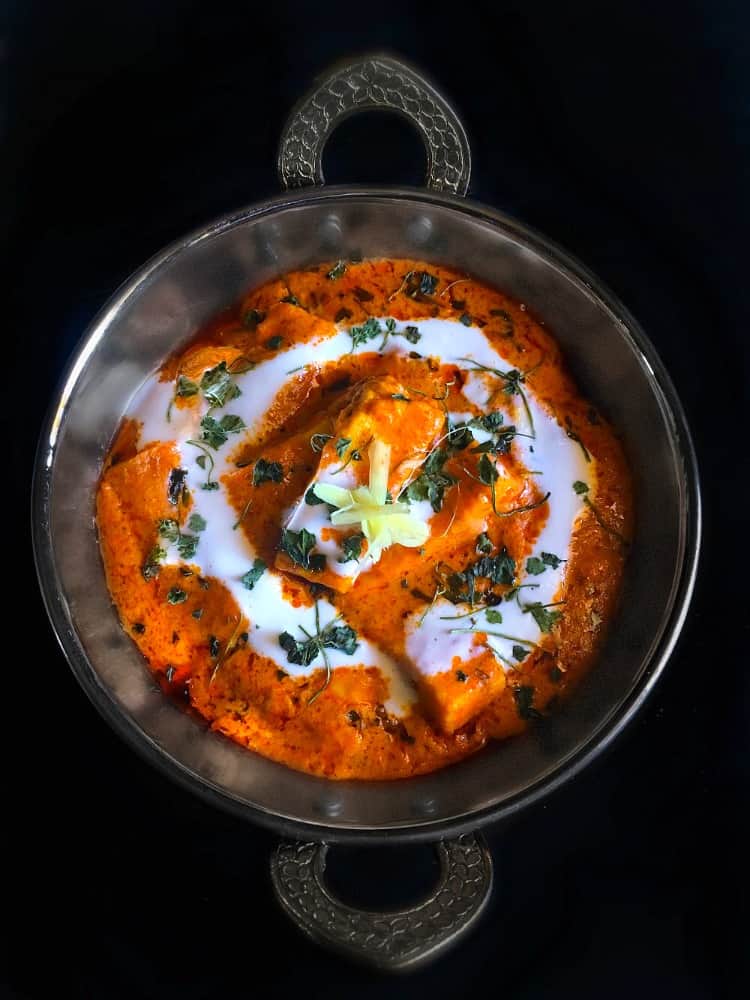 OR These Dal's (Indian Lentils):
---
Quick Tips for Making Perfect ' Besan ki Roti '
GLUTENFREE – VERSION:
Since besan is not gluttonous, the roti's or any kind of flatbread you make out of them will break.
Hence we add another slightly more binding flour along with it to make the dough more pliable.
So for the Glutenfree version, I'm adding some glutenfree oats flour but you can use any other glutenfree flour as well.
REGULAR VERSION (with whole wheat flour):
This is the most common mixer in any besan ki roti.
The gluten in whole wheat flour makes it extremely flexible and the roti's don't break, are much softer and easier to store.
---
Storage:
Storing the dough properly is very important as keeping the Dough in the fridge for longer can make it hard & crumbly and you cannot store it in room temperature as it may spoil quickly.
A) ALWAYS coat the dough with some light oil (olive/canola/vegetable). This prevents it from direct contact with air and hence the dough remains smooth and supple.
B) ALWAYS Keep the dough in an air-tight container in the fridge and this way it can be stored for 2-3 days.
C) If you have time, keep the dough outside atleast 1hr prior to making these Besan ki Roti, as this gives enough time to the dough to come to room temperature and results in smooth Roti's.
D) If you feel the dough is still slightly hard or crumbly (after being outside for 40-60 minutes), Lightly pat some warm water all over the dough and smooth the dough using hands.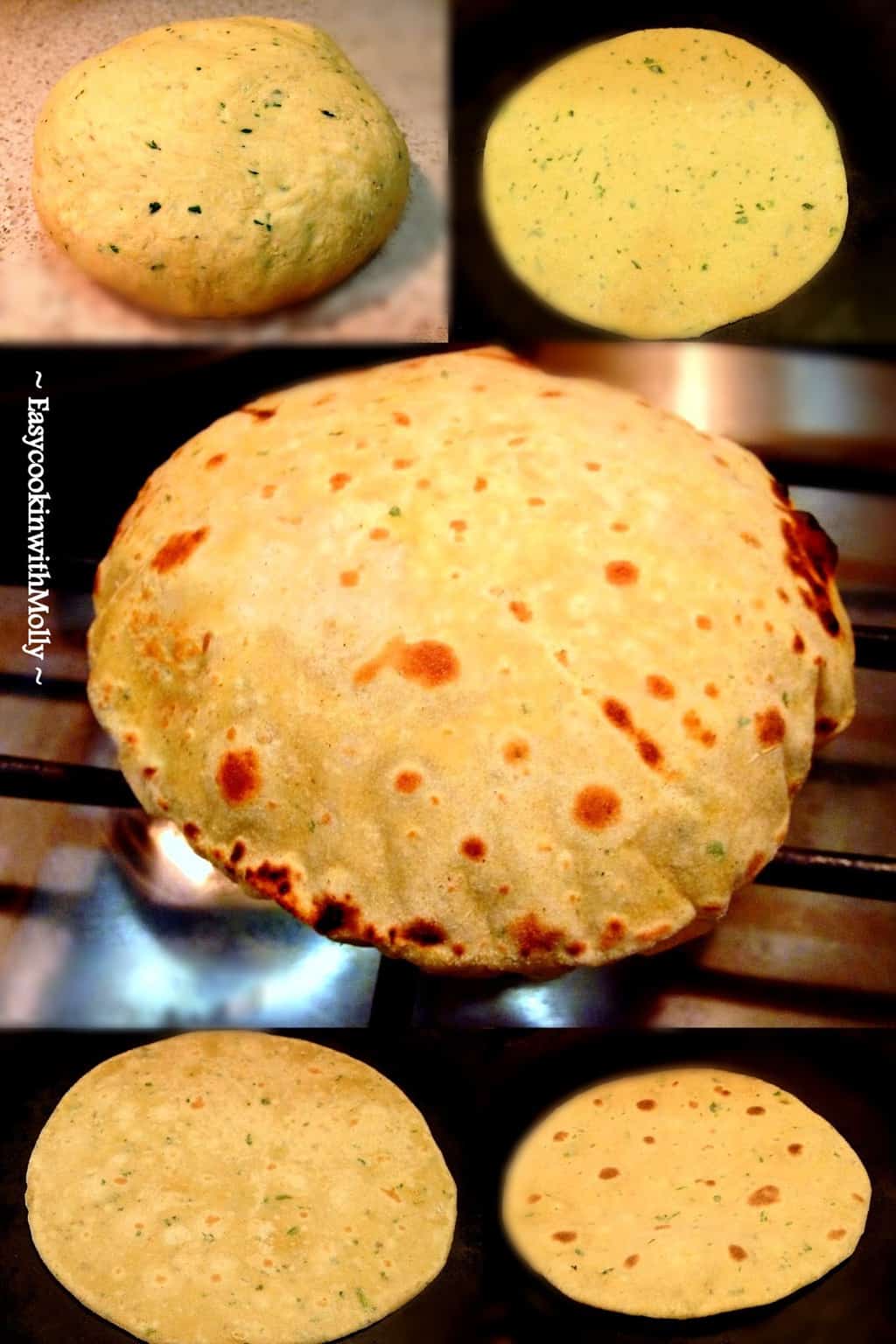 Some More Indian Bread Options:
Here's a Quick Video on – How to Make the Besan Ki Roti (Gramflour-Chickpea Flatbread) :
---
As always, I Looove when you try my recipes and send me pictures & feedback. You can tag my recipes tried by you using #easycookingwithmolly on any of the social media below:
Connect with Me Here:  Facebook / Pinterest / Instagram / Twitter / Subscribe to our Newsletter / Google+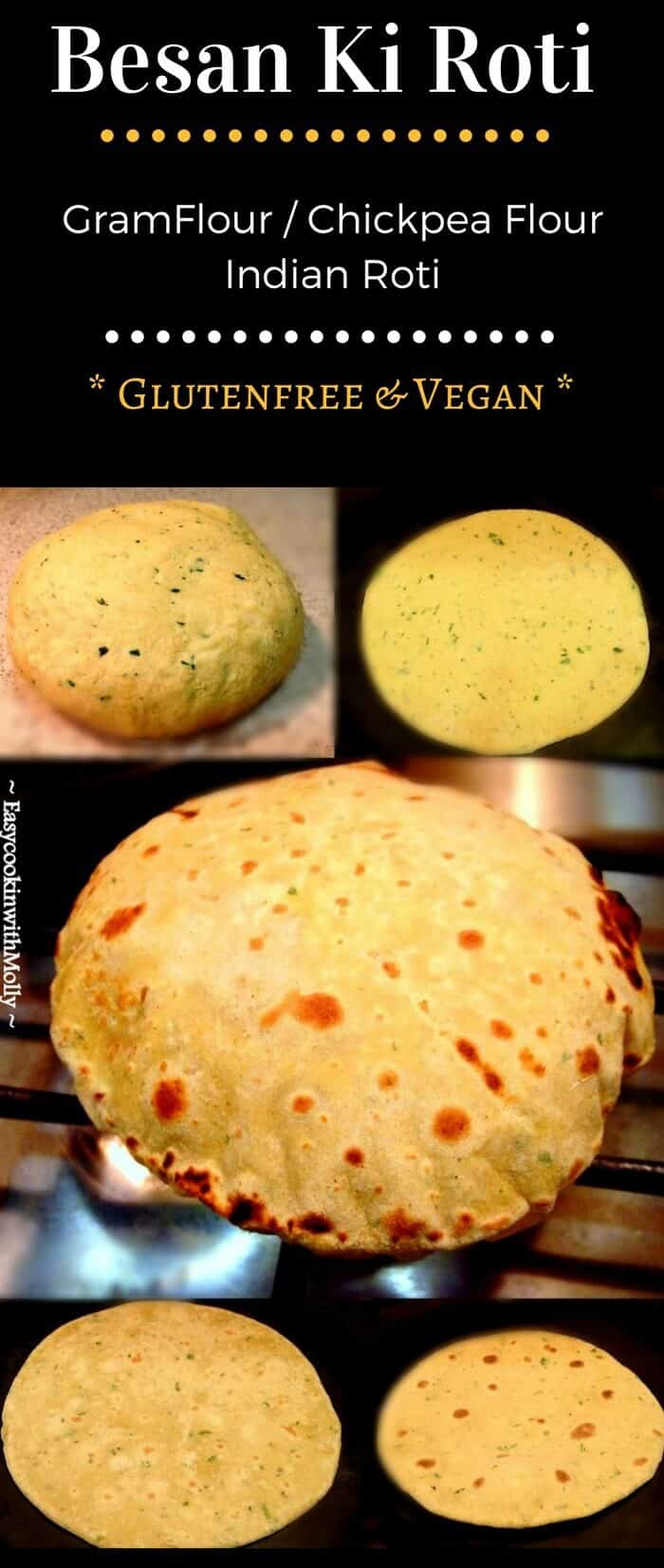 Molly Kumar
Yields 15
Besan Ki Roti (Gram Flour Flatbread)
1 minPrep Time
15 minCook Time
16 minTotal Time
5 based on 1 review(s)
Ingredients
* GLUTENFREE Version * -
1 Cup Gram Flour/Chickpea Flour (Besan)
1/2 Cup Any Glutenfree Oats Flour *
4 Tbsp Fresh Coriander – Chopped
1 Large Green Chili – Thinly Chopped
11/2 Tsp Carom Seed (Ajwain)
1 Tsp Salt – As per taste
1/2 Cup Water – Keep 2-3 tbsp extra
* REGULAR Version (with whole wheat flour) * -
1 Cup Gram Flour/Chickpea Flour (Besan)
1/2 Cup Whole Wheat Flour *
4 Tbsp Fresh Coriander – Chopped
1 Large Green Chili – Thinly Chopped
11/2 Tsp Carom Seed (Ajwain)
1 Tsp Salt – As per taste
1/2 Cup Water – Keep 2-3 tbsp extra
Instructions
*** The Process of Making the Roti is Same for Both Version *** (Choose as per convenience/need)

In a food processor with dough attachment, add all the above mentioned ingredients and pulse to form a smooth and pliable dough. (Takes about 5 minutes or you can make the dough by hand) (Pic1)
Make 15 round balls out of the formed dough and using a rolling pin, roll them into disc shape using dry flour. (Pic2)
Heat nonstick pan on high flame for 2 minutes and then reduce the flames to medium.
Place one of the rolled roti/bread on it. Turn the roti to another side after 1minute (Side up will have bubbles and brown spots). (Pic 3 & 4)
After both sides are browned for 1 minute each, remove the pan and put the roti on high flame, keep tossing it on both sides till they fluff up and evenly golden brown.
Remove Roti and place into serving dish. (Pic: Middle)
Follow step 3 and 4 till all roti/bread is done.
Serve Hot with OR without a dash of butter on each.**
Notes
** If you don't have a flame gas, you can continue cooking the roti/bread on same nonstick pan by turning on either sides and pressing it a little on the side up using a dish towel.
7.8.1.2
26
http://www.easycookingwithmolly.com/2012/05/besan-ki-roti-gram-flour-indian-bread/