Chicken in Lemon Garlic White Wine Sauce : is an extremely delicious and easy take on a restaurant-style Lemon Chicken recipe.
Chicken in Lemon Garlic White Wine Sauce is so simple to recreate that restaurant-style recipe at home that you'd wonder why you didn't try it before.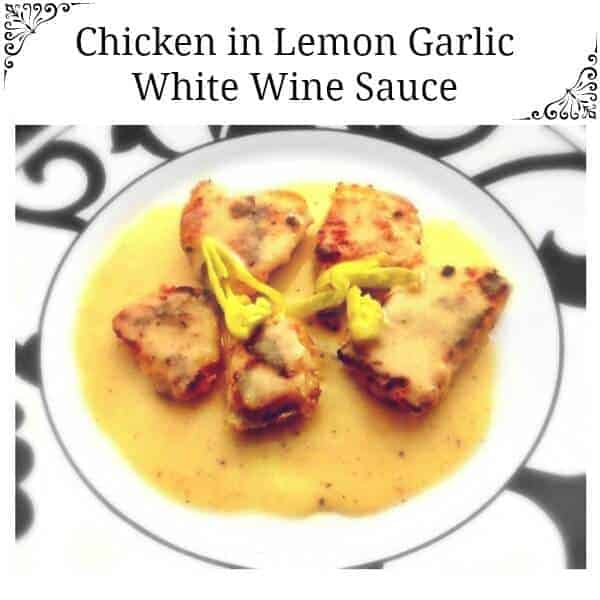 I've been eating Chicken in Lemon Garlic White Wine Sauce in a restaurant for many years and it's one of my Favorite recipes to order in Italian restaurants apart from Tiramisu …
Who doesn't love a fresh and classic tiramisu recipe!!
The succulent chicken with a buttery lemon garlic wine sauce…almost sounded impossible to come out of home kitchen-Right?
Finally, a few weeks back I made this Chicken in Lemon Garlic White Wine Sauce at home and guess what, it turned out pretty well.
Since it was my first trial/making this Chicken in Lemon Garlic White Wine Sauce at home and the wine-lemon quantity were less……
So, I made it a couple of times with variation of wine and finally perfected it with Pinot Grigio
(As you need a dry, crisp wine for the flavors to combine well and enhance).
Actually, the dryness in the Pinot Grigio wine goes Amazingly with the lemony-buttery sauce, they are like made for each other.
So after perfecting this recipe and having made it so many times for our family brunches/girls night in, I believe :
" NOW " is the time to share this simple, elegant yet succulent recipe with you all to enjoy with your family and friends.
And trust me…by the look of this dish – it can easily make anyone say that you must have spent half a day in the kitchen making it" 🙂
Infact it's also one of our favorite date night recipe with a glass of wine …. you can go with the same pinot grigio or open a fresh red wine to go along with it.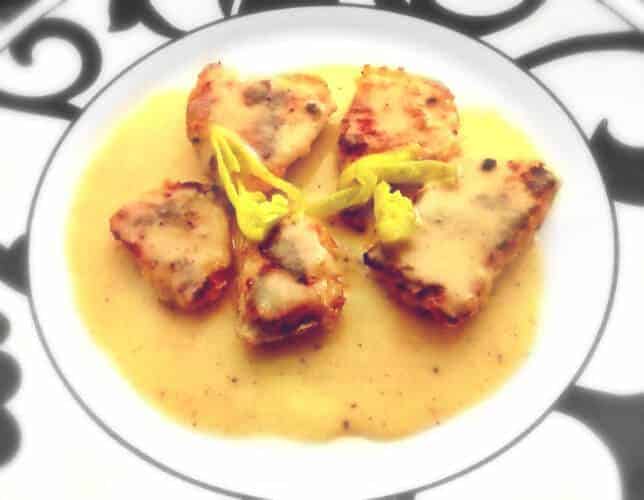 So, I hope you try this Chicken in Lemon Garlic White Wine Sauce recipe soon for that perfect surprise for someone special or for a perfect family meal at home.
You can even store this recipe in the refrigerator for upto 2-3 days.
Just keep the chicken and the lemon sauce separately.
When you're ready to serve the dish, simply heat everything together and serve immediately.
~ Enjoy n Share ~
Tried Our Recipe – AWESOME!!!
Now Quickly SNAP A PICTURE & TAG :
#easycookingwithmolly + @easycookingwithmolly on Instagram
Connect with Me Here: Facebook / Pinterest / Instagram / Twitter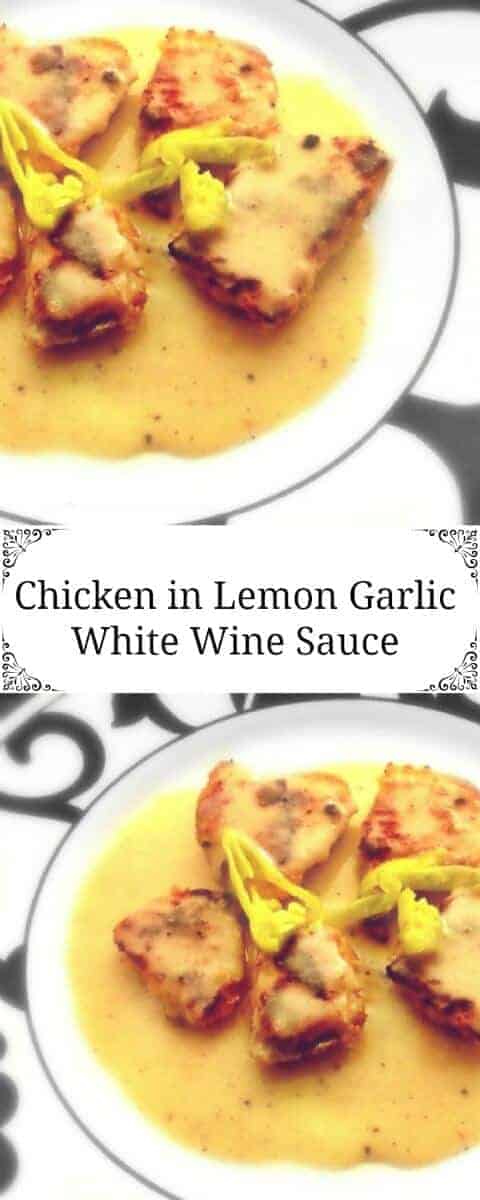 : You Can Also Try These Recipes:
Yield: 2 People
Chicken in Lemon Garlic White Wine Sauce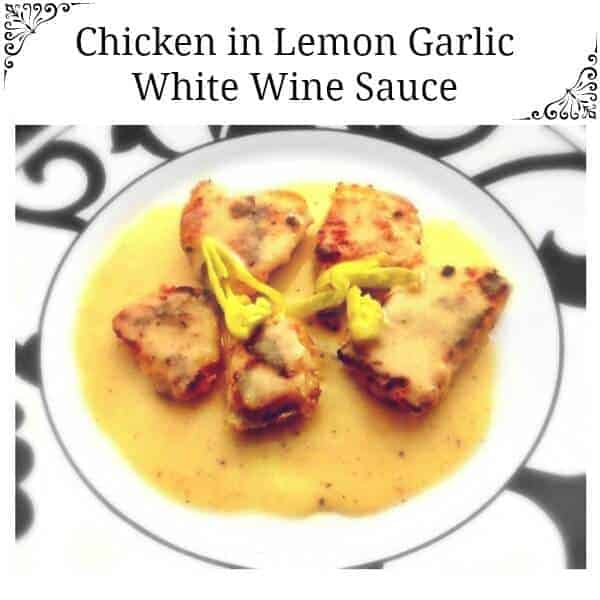 An extremely delicious and easy take on a restaurant-style Chicken in Lemon Garlic White Wine Sauce recipe at home. Perfect for special occasions.
Ingredients
For Preparing the Chicken ::
2 Large Chicken Breast – Cleaned and cut into 8 pieces
4 Tbsp AP Flour
Pinch of Salt
Pinch of Pepper
1 Tbsp Butter
2 Tbsp Olive Oil – For Frying. (You may use any flavorless oil of choice)
For Lemon Garlic Wine Sauce ::
2 Cloves Garlic – Crushed (You can use fresh or frozen garlic)
Juice of 1 Lemon – Fresh (You may use fresh or store bought juice)
1.5 Cup Dry White Wine*
1 Tbsp Butter – Use any plain butter you may like
1/4 Tsp Black Pepper Powder
1 Tsp Salt (As per your taste)
1 Tbsp Capers or Banana Peppers – For Garnish / Decoration – OPTIONAL
Instructions
Cooking the Chicken -
In a ziploc or bag, add flour, salt, pepper and mix evenly.
Take the four chicken pieces, drop them in the Ziploc bag and shake 3-4 time to evenly coat the chicken.
Remove the flour coated chicken and add the remaining chicken to this bag and coat evenly. (Now all the chicken are evenly coated with flour mix).
In a large pan, add butter, oil and heat it for a minute on high flame and then reduce the flame to medium.
Now, place the coated chicken pieces evenly on the pan and let them cook for 3-4 minutes.
Turn the chicken to the other side and cook for another 3-4 minutes (Till light brown or golden brown – as per choice).
Transfer the cooked chicken on the large plate.
Preparing the Wine Sauce --
In the same pan, add the butter and let it heat for a minute.
Add crushed garlic, stir 3-4 times and then discard the garlic.(This will flavor the sauce with garlic without giving it an over-powering garlic flavor) BUT (You may keep the garlic as per your choice and proceed with next step).
Now add white wine and stir everything well using a whisk.
Let it cook for a minute on medium flame and then reduce the heat to low.
Cook the wine for about 4-5 minutes and then add lemon, pepper and salt.
Whisk everything to a smooth consistency and add the cooked chicken.
Let the chicken cook in the sauce for 2-3 minutes and then turn off the heat.
You can pour the entire content of the pan in a serving dish or can place 2-3 chicken pieces in
individual plate and pour some sauce over and around it.
Garnish with some sliced capers / banana pepper and serve.
Notes
* I'm using Pinot Grigio (You may use any Pinot Grigio, Sauvignon Blanc or un-oaked Chardonnay)
Nutrition Information:
Yield:
4
Serving Size:
2
Amount Per Serving:
Calories:

281
Total Fat:

21g
Saturated Fat:

7g
Trans Fat:

0g
Unsaturated Fat:

13g
Cholesterol:

74mg
Sodium:

150mg
Carbohydrates:

11g
Fiber:

1g
Sugar:

2g
Protein:

20g