Indian Sweet Mango Chutney Recipe: easy and delicious sweet-tart mango chutney made using raw green mangoes and basic spices. It's ready in 20 mins, Vegan + Gluten-Free and stays in the fridge up to 15 – 20 days.
Indian Sweet Mango Chutney / Mango Chutney / Chunda
Hi my lovely readers, hope you had a great weekend. This weekend, I made this Indian Sweet Mango Chutney Recipe also called as 'Chunda / Aam ki Launji' in India.
It's hands down my FAVORITE Indian pickle or chutney ever ( I made it for the 3rd time in two months) !!!
This
Indian Sweet Mango Chutney
is a perfect combination of sweet-tart and I can literally eat it with all our meals/snacks or even slathered on toast.
It's what I look forward to every summer cause no matter how much we make it thinking we'll be able to consume the whole year, it always ends up finishing quickly.
Now, I'm a winter person….I mean I love winters more than the summer.
However, the only reason for me to look forward to summers is all the seasonal fruits we get like mangoes, lychee, guavas, cherry and etc.
And if you're a dessert-loving person, it's the perfect time to make or eat freshly prepared turnovers, pies, cakes, ice-cream, pudding.
I mean we do get them all year round but nothing compares to eating fresh seasonal ingredient dishes.
Similarly, this Indian Sweet Mango Chutney Recipe can ONLY BE MADE using raw green mangoes.
As the raw mango adds such a delicious tart flavor to this otherwise sweet chutney.
Hence, it's also called 'Raw Mango Chutney' or 'Fresh Mango Chutney'.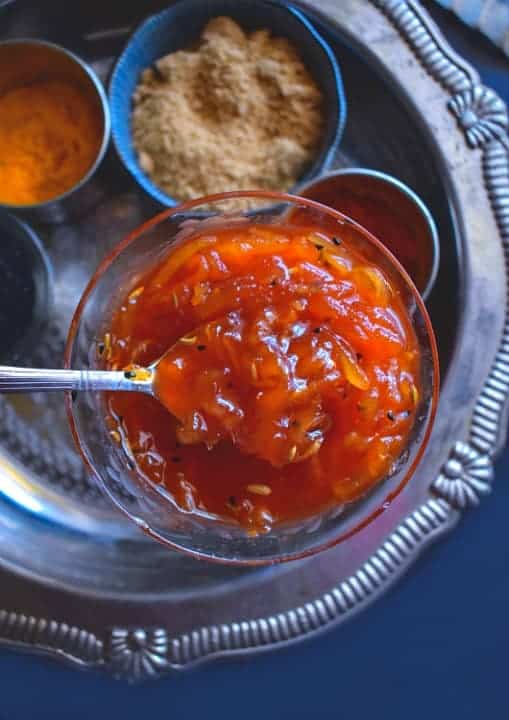 So as soon as I got green mango this time for the chutney, I knew it's coming here on the blog.
Many friends have already asked for the recipe number of times and I thought I had already posted it last year but that wasn't the case.
So, here I'm on a Monday morning, sitting with my cup of coffee, chutney slathered toast and chatting up with you about this.
Now, the chutney recipe is really simple and you can adjust the sweet-tart flavor as per your taste.
Also, here are some tips on making the chutney.
Tips for Making Indian Sweet Mango Chutney Recipe:
1. Mango should be Raw with not many spots.
2. Wash the mango and dry completely. (it shouldn't have any water when grating it).
3. Grating it thinner will ensure it's cooked quickly.
4. If using jaggery (like I do in this recipe), grate the jaggery too for even absorption.
5. The jar or dish you'll use to store or serve the jam should be absolutely clean and dry (sterile jars are best for storing any jams/pickle/chutney).
6. You can add less or more water depending on how you like the chutney, just remember to cook it properly.
7. The COLOR (Everyone asks me this), comes from 'Turmeric Powder' and 'Kashmiri Mirch/Red Chili' which is used for its color than the spiciness.
8. I'm using 'Onion Seeds – Kalonji' and 'Fennel Seeds – Saunf' for a rustic sweet flavor, however you can completely skip this if you don't have them.
9. ALWAYS use a clean/dry spoon to scoop the chutney or pickles as it prevents them from going bad (fungus – Remember, once the chutney is all made, it shouldn't have any contact with water).
That's it, those were few tips that you can use to make this Indian Sweet Mango Chutney Recipe quickly and storing it for later use in the fridge.
So go ahead and get those green mangoes to make this delicious Indian Sweet Mango Chutney Recipe as if you've never tasted it before then you're definitely missing out.
As always, I Looove when you try my recipes and send me pictures & feedback.
Tag my recipes tried by you using #easycookingwithmolly on any of the social media below:
Connect with Me Here: Facebook / Pinterest / Instagram
You Can Also Try These Other Popular Recipes :
Yield: 4 People
Indian Sweet Mango Chutney Recipe - Chunda
Indian Sweet Mango Chutney Recipe: easy and delicious sweet-tart mango chutney / chunda made using raw green mangoes and basic spices.
Ingredients
1 Large Green Raw Mango - washed and patted dry
1/4 Cup Jaggery - you can use brown sugar or any other kind of sugar or sugar substitute
Juice of 1/2 Lemon or use vinegar
1/3 Cup Water
2 Tbsp Olive Oil
Whole Spices:
1/4 Tsp Onion Seeds - optional
1/4 Tsp Fennel - optional
Powdered Spices:
Pinch of Asafetida
1/2 Tsp Turmeric Powder
1/2 Tsp Red Chilli Powder
1/4 Tsp Ginger Powder
1/4 Tsp Cumin Powder
Salt to taste
Instructions
*(If the jaggery too hard, then grate it using the grater and keep aside.)
Take the washed green mango and peel it.
Now, grate it thinly using a handheld grater or machine.
Heat oil in a pan over medium heat.
Add onion seed, fennel and give it a quick stir.
Now, add all the powdered spices and stir again.
Finally, add the grated raw mango, lemon juice and saute everything for a minute.
Lower the temperature and let the mango cook halfway through with all the spices for 3-4 minutes.
Once, the mango is slightly cooked, add the grated jaggery, water, and cook on low heat for 7-8 minutes (stirring every minute).
At this point, do a taste test and see if the spices, sugar, and salt are as per your need or customize accordingly.
Finally, give the mango chutney a quick stir and turn off the heat.
Transfer the chutney to a clean, dry jar or serving dish.
Let the chutney cool for a few minutes and it will thicken up too.
Serve the chutney with your fav savory dishes or store in the fridge in an airtight jar (once completely cooled).
Nutrition Information:
Yield:
4
Serving Size:
1
Amount Per Serving:
Calories:

80
Total Fat:

7g
Saturated Fat:

1g
Trans Fat:

0g
Unsaturated Fat:

6g
Cholesterol:

0mg
Sodium:

75mg
Carbohydrates:

36g
Fiber:

2g
Sugar:

20g
Protein:

1g