Makki ki Roti (Cornmeal Flatbread) soft, delicious and step-by-step method to make makki di roti, an authentic flatbread from Punjab, India.
Makki ki Roti (Cornmeal Flatbread) | Makki di Roti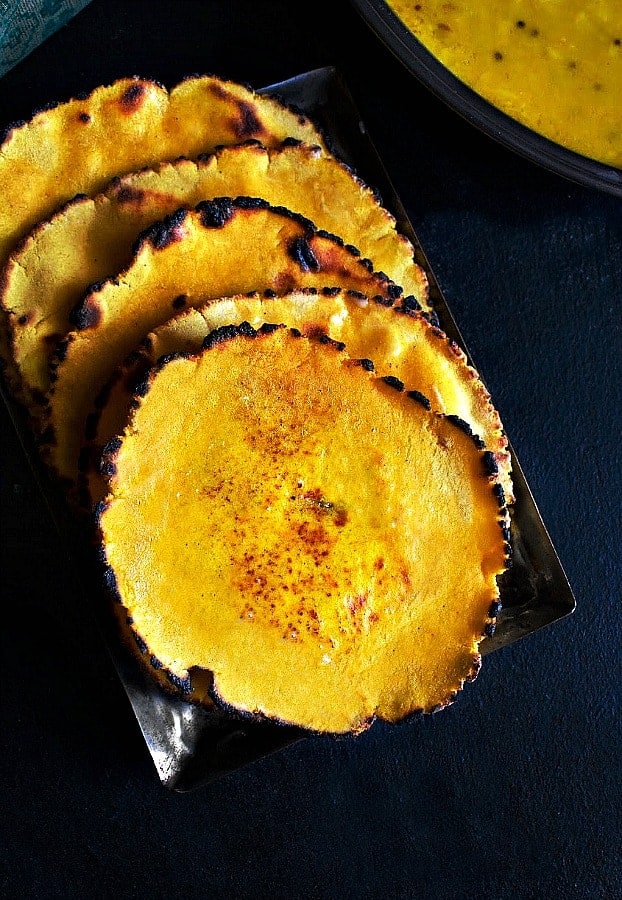 Makki ki Roti or Makki di Roti is one of the MOST Popular Indian Roti/Flatbread that originates from Punjab.
'Makki ki Roti' is made out of cornmeal which is a course form of maize (corn).
It is extremely popular during the winter months or the Kharif months
(when maize is harvested)
.
Now, to make it an 'Authentic Punjabi Meal', the roti is topped with a dollop of homemade white butter and served with Sarson ka Saag, jaggery and a huge glass of buttermilk.
Growing up in Delhi, this combination of 'Sarson ka saag & Makki ki roti' is what Winter days were meant for!!!
Goto, any house and you'd be offered fresh and hot roti's with creamy saag, dolloped with butter. Yes, it's the perfect food trio.
So the cravings are so instilled, that as soon as we inch closer to the autumn/winter season (even here), the cravings to have 'Makki di Roti' goes higher and higher.
Hence, Cornmeal is the topmost item on my winter grocery list (from time to time).
And today, I'm going to share all the secrets/tricks to make the Perfect Makki ki Roti Everytime!
Makki ka Atta: Cornmeal Flour (Not CornFlour)
This is the first thing that I would like to discuss as a lot of us, get confused between 'Cornmeal & Cornflour'!
Both Cornmeal and Cornflour are by-products of maize (corn) but both have different grinding techniques.
Cornmeal: is a coarse ground flour made out of maize
Cornflour: is a thin, almost the finest consistency of ground maize (corn)
Cornmeal is "Gluten-Free" hence, the roti/flatbread doesn't hold very well together and they usually break while the making process or cooking process.
Hence at times, we mix it with some gluten like wheat flour or all purpose flour (Depending on choice/availability).
Making the Dough: For Soft Roti's
Once the cornmeal is mixed with other glutinous flour, the roti/flatbreads become so much easier to make.
Now, to make the 'Dough' for the Softest, Melt in Your Mouth 'Makki ki Roti' you add a mix of:
Warm Water
Yogurt (or Unsalted Buttermilk)
Once, you knead the flour with this mix of water+yogurt, your roti's are going to turn out extremely delicious and soft.
NOTE – I'm using a food processor to make the dough however you can make the dough by hand too.
Cooking the Makki ki Roti / Makki Di Roti:
This is a slightly textures flatbread due to the flours, hence I'm using a spatula to press on the flatbread/roti to help it cook evenly.
You can continue to cook the flatbread this way on the non-stick till both sides are evenly brown and cooked.
Once the roti is almost cooked on both side, using a Tong (Chimta), place them on high flame and cook on each side till they fluff up.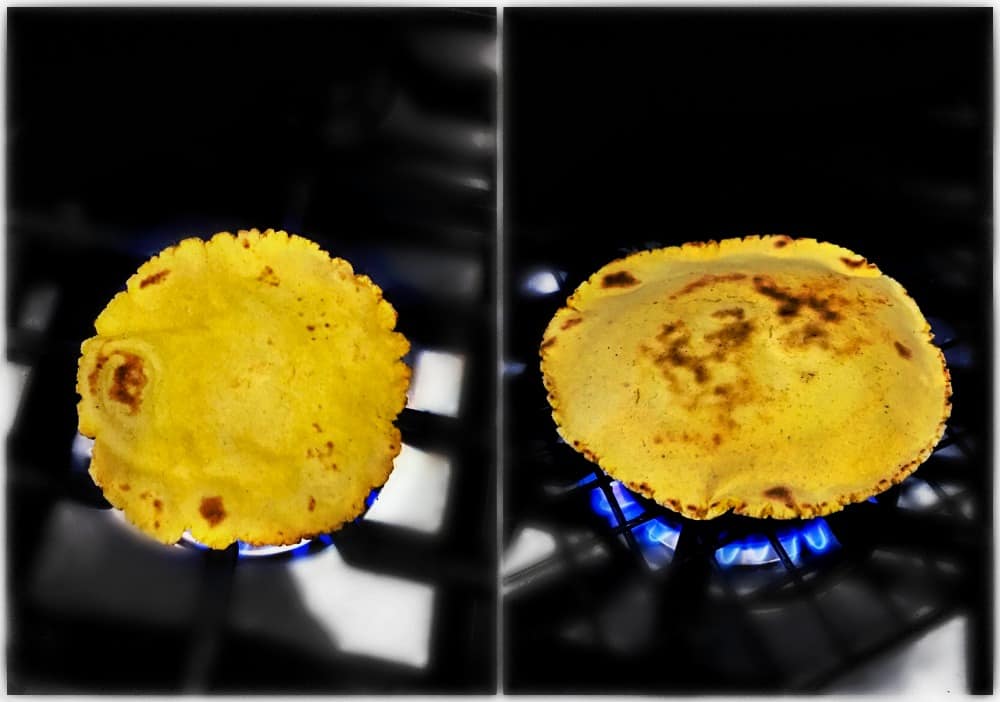 Your Roti's are ready and just smear them with white butter or ghee and serve with favorite Sarson ka Saag or any other Curry or Dal.
Keeping the Roti's Softer for Longer:
Now, it's not everyday that we make Makki ki Roti, so whenever I make them, I make some extra to accompany the next meal.
Hence, using the 'water+yogurt mix' technique helps keep these roti's softer for longer.
Just smear some ghee/melted while butter on each roti and keep them on top of each other.
Then Keep them in a paper towel and then finally in an air-tight box.
When reheating, simply sprinkle some water on that towel and microwave for 20-30 seconds (10 rotis).
Your Makki ki Roti will be soft and ready to use again.
Makki ki Roti Benefits: Makki / Cornmeal is full of Vitamin B which aids in digestion and fuels the body with needed energy.
Cornmeal has complex carbs, which takes longer for the body to break and digest, hence you feel full for longer after consuming this roti.
Calories in Makki Ki Roti: Each roti is about 93 calories without adding any butter/ghee on top.
Tried Our Recipe – AWESOME!!!
Now Quickly SNAP A PICTURE & TAG :
#easycookingwithmolly + @easycookingwithmolly on Instagram –>
Connect with Me Here: Facebook / Pinterest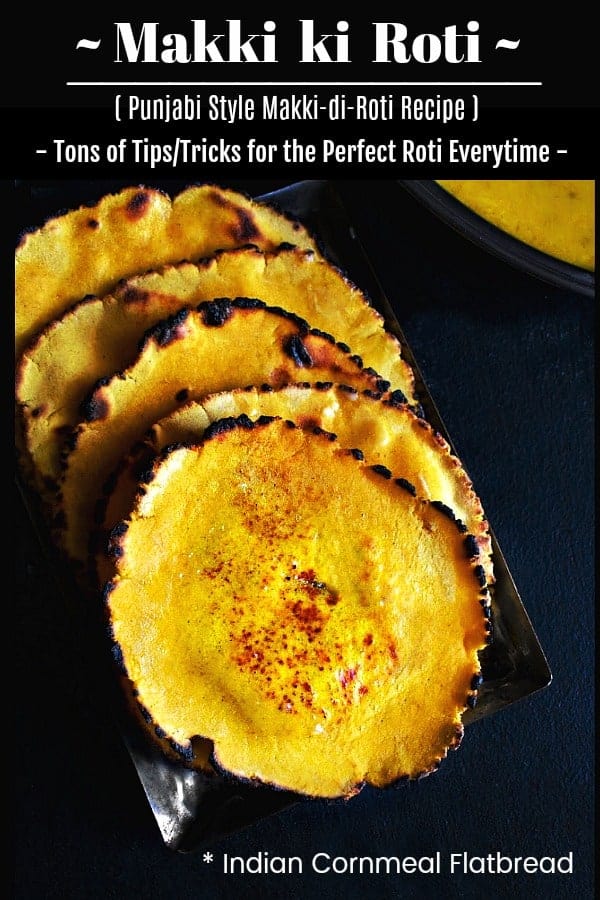 :: You May Also Like ::
Yield: 12 Rotis / Flatbread
Makki ki Roti - Cornmeal Flatbread
Makki ki Roti - Cornmeal Flatbread: Tips for Perfect Roti Everytime: soft, delicious and step-by-step method to make makki di roti, an authentic flatbread.
Ingredients
* For Making the Dough *
2 Cups of Cornmeal
1/2 Cup Whole Grain Flour - add 2Tbsp more
1/2 Warm Water – For making a dough
2 Tbsp Yogurt - or you can use 3 Tbsp Buttermilk
Pinch of Turmeric - optional, used for that perfect yellow color
1/4 Tsp Salt
1/4 Tsp Red Chili Powder
** Other Ingredients **
1/2 Cup Regular Flour – For dusting while making the Flatbread.
3 Tbsp Butter (Optional) – For rubbing on tortilla/roti before serving
Instructions
Makki ki Roti - Cornmeal Flatbread
In a food processor with dough attachment, add all the dough ingredients and pulse to form a smooth and pliable dough. (Takes about 2-3mins)
Make 12 round balls out of the formed dough.
Using a rolling pin, roll them into disc shape (3-4inch) using dry flour.
Heat nonstick pan OR tava on high flame for 2 mins.
Reduce the flames to medium, place one of the rolled roti/bread on it.
Turn the roti to another side after 1 min (Side up will have bubbles and brown spots).
Use a spatula to press the roti, so that they cook evenly.
After both sides are browned for 1 min each, remove the pan from flame.
Using a tong (chimta) put the roti on high flame.
Now, keep tossing it on both sides till they fluff up and evenly golden brown in color.
Remove Makki ki Roti and place into serving dish.
Slather with butter on the side up.
Serve with Sarson ka Saag or Dal/curry or any veggie.
Serve Hot
Nutrition Information:
Yield:
4
Serving Size:
6 People
Amount Per Serving:
Calories:

361
Total Fat:

28g
Saturated Fat:

12g
Trans Fat:

0g
Unsaturated Fat:

13g
Cholesterol:

24mg
Sodium:

505mg
Carbohydrates:

115g
Fiber:

8g
Sugar:

2g
Protein:

13g