Tandoori Fish Tikka: Fingerlicking good, lemony and filled with flavor. The Tandoori Fish Tikka is an extremely popular dish from the northern part of India. This recipe is made in the kitchen oven and doesn't need any special grill or equipment.
Tandoori Fish Tikka
Hello Everyone, I'm back from a short but much-awaited vacation to Dubai and all I'm craving is some desi khana as we call it (or typical Indian #Comfortfood ) – Tandoori Fish Tikka
It was a fun family vacation with cousins, which means along with all the site seeing, shopping, eating, we had endless conversations.
This was our first trip to Dubai and I was super excited to see the beautiful city and also taste some amazing mix of cuisine (Arabic, Persian, Moroccan and Lebanese).
I'll definitely do a separate post about the food and beautiful places we visited there.
Now, before we go ahead and talk about this Tandoori Fish Tikka recipe, don't you agree that when we come back from any trip away from home, you just want to eat your favorite Comfortfood!!!
And literally after unpacking, all I did was quickly get some fish, marinate it in the Tandoori spices and made ourself this Fish Tikka.
Ingredients for Tandoori Fish Tikka:
Fish – I prefer to use fresh fish but frozen can be used too once thawed
Yogurt
Tandoori Masala – homemade or store-bought
Onion + Ginger + Garlic Paste
Lemon Juice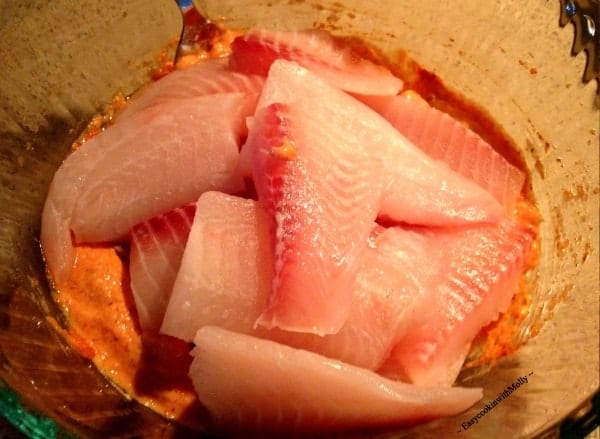 (Marinating the Fish in Tandoori Spices + Yogurt Mix)
It's an extremely easy recipe that can be made any day of the week and perfect for weekend brunch.
I love this Tandoori Fish Tikka recipe even more as it can be even made in a kitchen oven and totally #Glutenfree too.
This dish is extremely popular all over the world because of its light lemony taste and slightly spicy flavors.
The fish is usually marinated for a couple of hours and cooked in a clay oven or Tandoor as they are called in India.
Now for many of us, we don't have clay oven at home, so we'll use the good-handy countertop oven or built-in-oven for this recipe.
It's also a Perfect recipe to try indoor on hot days when you don't want to fireup the grill but still want something nice and grilled/Tandoori.
*** Extremely Important Tip ***
To give the fish it's golden char on top, we need to broil the fish once it's almost cooked.
Simply follow the broiling instructions below for achieving the same.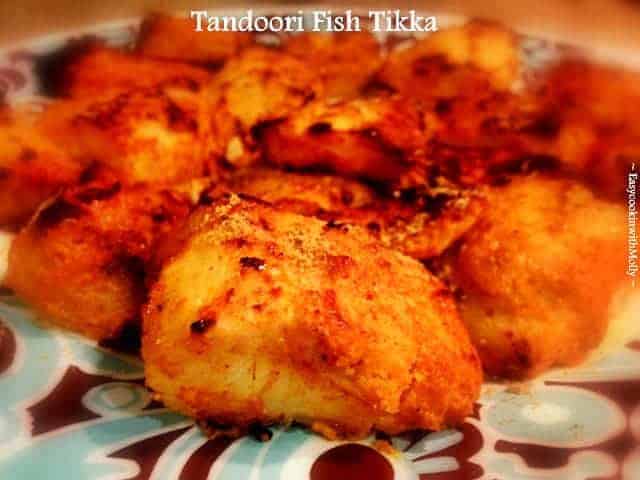 *** Quick TIP ***
If you have extra time on hand, I would suggest to marinate the fish for longer (2-3 hours) or over-night if you have the time.
This helps the fish to soak the flavors evenly.
I usually serve this with Green Chutney:

---
You can also try the following Fish Recipes:
Spicy Indian Fish Croquette (Bengali Macher Chop)
---
I Looove when you try my recipes and send me pictures & feedback.
You can tag my recipes tried by you using #easycookingwithmolly on any below:
Connect with Me Here: Facebook / Pinterest / Instagram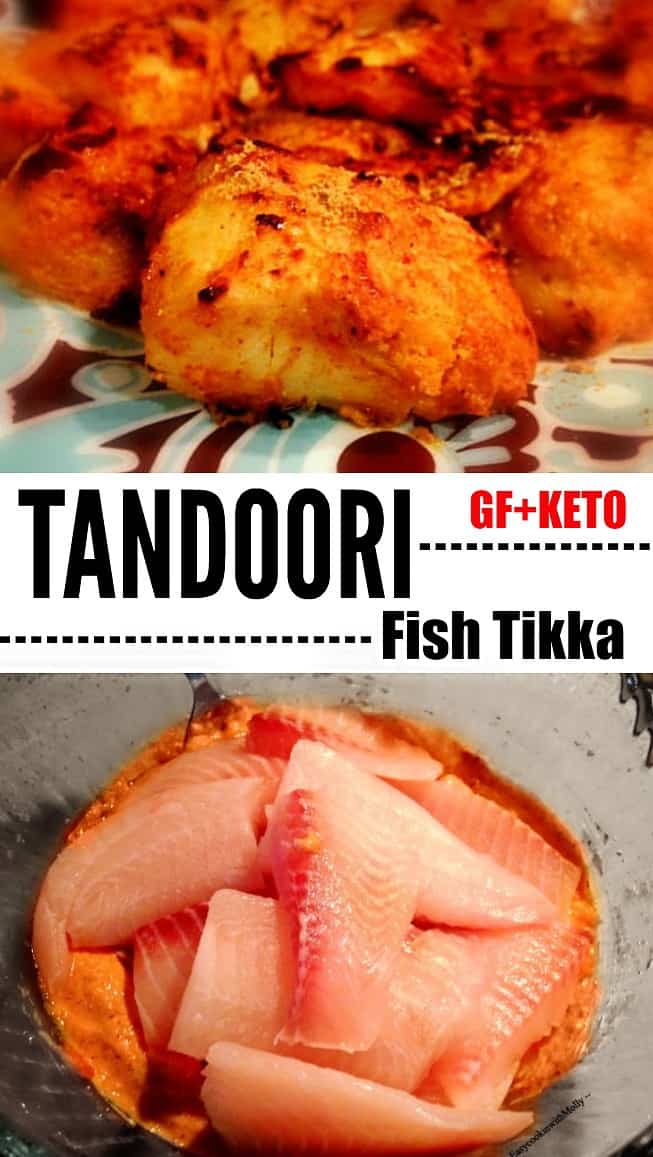 Yield: 4 People
Tandoori Fish Tikka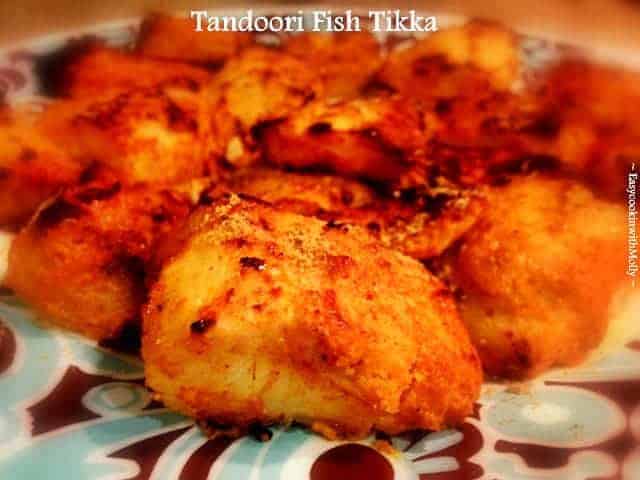 Tandoori Fish Tikka: Fingerlicking good, lemony, flavorful fish made using tandoori masala and yogurt. This recipe is made in the oven. The Tandoori Fish Tikka is an extremely popular dish from the northern part of India.
Ingredients
8 Tilapia Fish Fillet – You can use any other fish of choice.
3 Tbsp Oil or Cooking Spray
1/2 Tsp Cumin Powder – For sprinkling on cooked fish before serving
2 Tbsp Lemon Juice – For sprinkling on cooked fish before serving
* For the Marinade *
1 Cup Thick Plain Yogurt
4 Tbsp Olive Oil – You may use any light oil
1 Medium Onion - Grind into a paste with as little water as possible
1 Tbsp Fresh Ginger Paste
1 Tbsp Fresh Garlic Paste
4 Tbsp Fresh Lemon Juice
Red Food Coloring
** Powdered Spices **
1/2 Tsp Turmeric
1 Tsp Coriander Powder
1 Tsp Cumin Powder
1/4 Tsp Cinnamon Powder
1/4 Tsp Nutmeg Powder
1 Tbsp Dry Mango Powder (Optional)
1 Tbsp Red Chili Powder –
You can increase of decrease chili powder as per taste
2 Tsp Salt - As per your taste
Instructions
Marinate the Fish:
In a large bowl, add all the marinade ingredients and whisk to a smooth paste.
Now add the powdered spices and whisk everything evenly.
Add the fish fillet to the marinade, using your hand evenly coat both the sides.
Cover the marinated bowl with a lid and refrigerate for an hour. (TIP: The more you marinade, the better the taste)
Preheat the oven at 180 Celsius.


Baking the Fish (Making the Tandoori Fish Tikka in Oven):
Line the baking tray with foil and spray evenly with oil.
Remove the marinated fish from the fridge and place them evenly with some gap on the lined baking tray.
Bake for 15 mins (Till the fish is evenly cooked)
After 15 mins, set the oven to broiler setting.
Place the cooked fish on the top rack of the oven and broil for 3-5 mins or till you achieve the desired charred look. (Please keep an eye as every oven is different and too much broil will burn the fish).
Remove the broiled fish from the oven (Now orange red in color with charred marks).
Place freshly cooked fish on the serving tray, sprinkle evenly with lemon juice and some cumin powder.
Serve Hot.
Nutrition Information:
Serving Size:
8 Fish Fillet
Amount Per Serving:
Calories:

134
Total Fat:

13g
Saturated Fat:

2g
Cholesterol:

1mg
Sodium:

707mg
Carbohydrates:

4g
Sugar:

2g
Protein:

1g