Restaurant Style Paneer Tikka Masala Recipe: extremely delicious, saucy and luscious in every bite. It's Super easy to make and you can freeze the cooked curry upto 2 weeks in an air-tight box.
Restaurant Style Paneer Tikka Masala is Glutenfree
Paneer Tikka Masala or as everyone around me calls it The Restaurant Style Paneer Tikka Masala Recipe is literally all about heart and soul.
It's one recipe which is
Pure Bliss
…… Comfort Food and we are always looking for reasons to make!
The Paneer Tikka Masala recipe is quite popular all around the world and needs no introduction.
BUT, if you've still never eaten it, then in plain words – You've missed out BIG Time!!!
Its a perfect mix of bright orange, saucy gravy that's simply luscious, slightly sweet and 100% soul-satisfying.
Once you have it, you'd want to have it again and again – such is the power.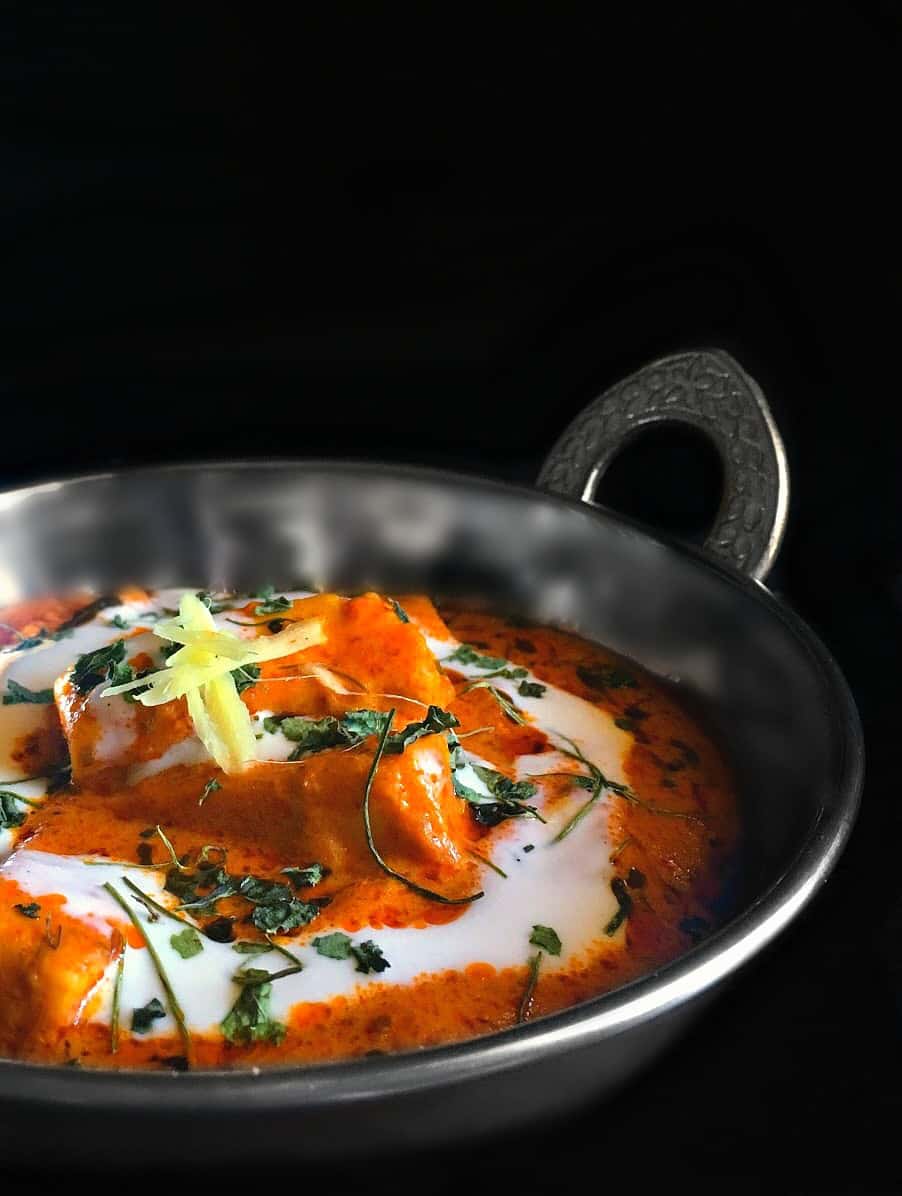 As popular as this recipe is hence, you'll find tons of ways to make it too.
Everyone has their own special way but this is exactly how I make it and as per my friends-family, it tastes just like the way they serve it in restaurants.
Only with one catch, it's actually healthier and you can definitely make it more than twice-thrice a month.
Infact, you can freeze the cooked curry just like I do and simply thaw a night before or even the same day and make a fresh batch.
How to make Restaurant Style Paneer Tikka Masala Recipe
The way I make this Paneer Tikka Masala Recipe is so simple that even if you're cooking it for the first time, you would surprise everyone in a very good way 😉
For this particular recipe, you'd need something called 'Kasoori Methi' also known as 'Dry Fenugreek Leaves'.
It's easily available in any Indian grocers in the spice or mix section.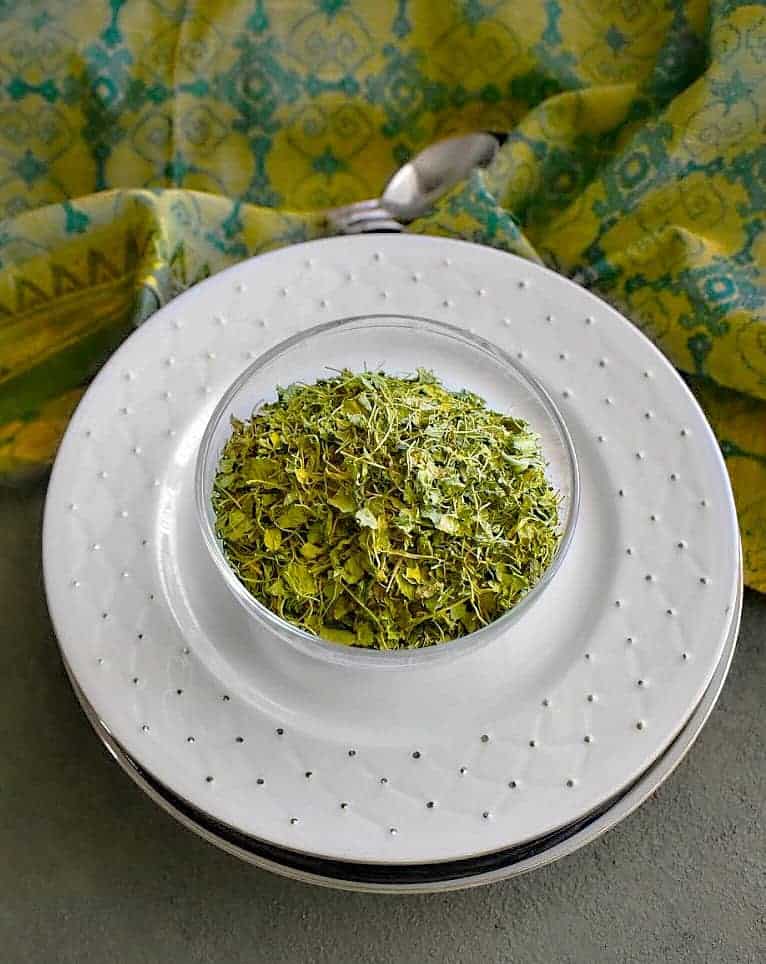 This is the main ingredient that imparts such a fragrant, sweet and warm smell to this entire dish.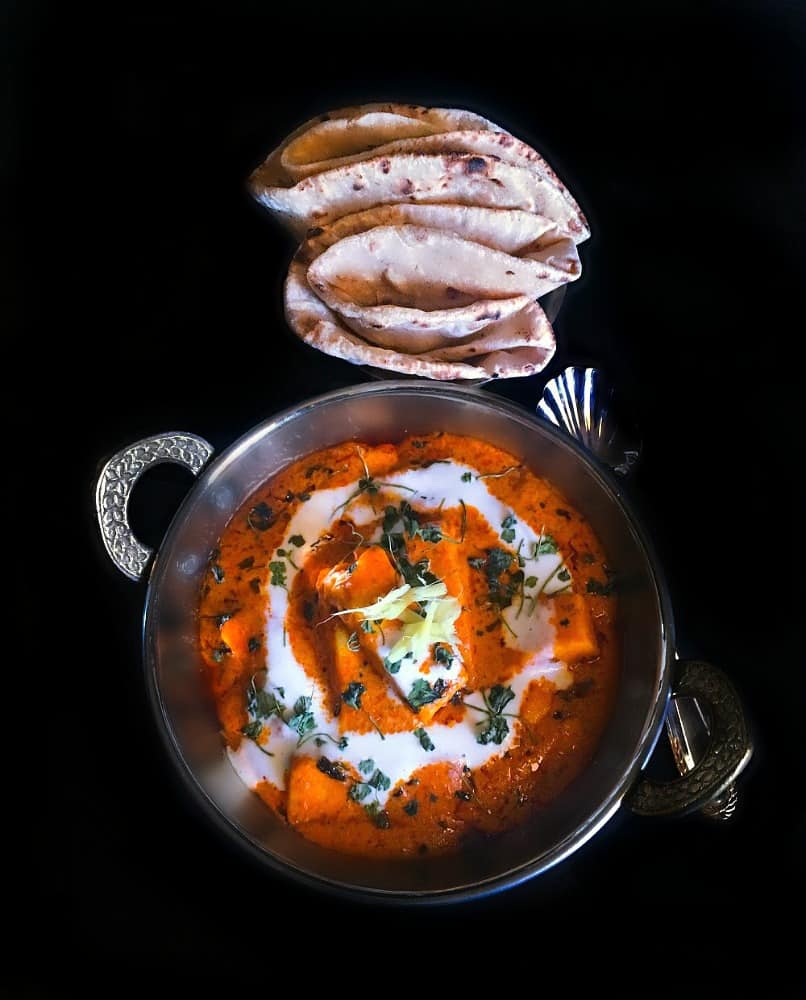 So, this weekend, I insist you try this Paneer Tikka Masala recipe and surprise your loved ones with an absolutely scrumptious meal.
The Paneer Tikka Masala is usually eaten with Indian flatbread like naan, roti or even paratha's but you can even eat it with dinner rolls/bread or even plain steamed rice.
Infact we love Paneer Tikka Masala so much that even writing about the recipe and adding these pictures here is making me so hungry…..
I just want to dive straight into this bowl of deliciousness.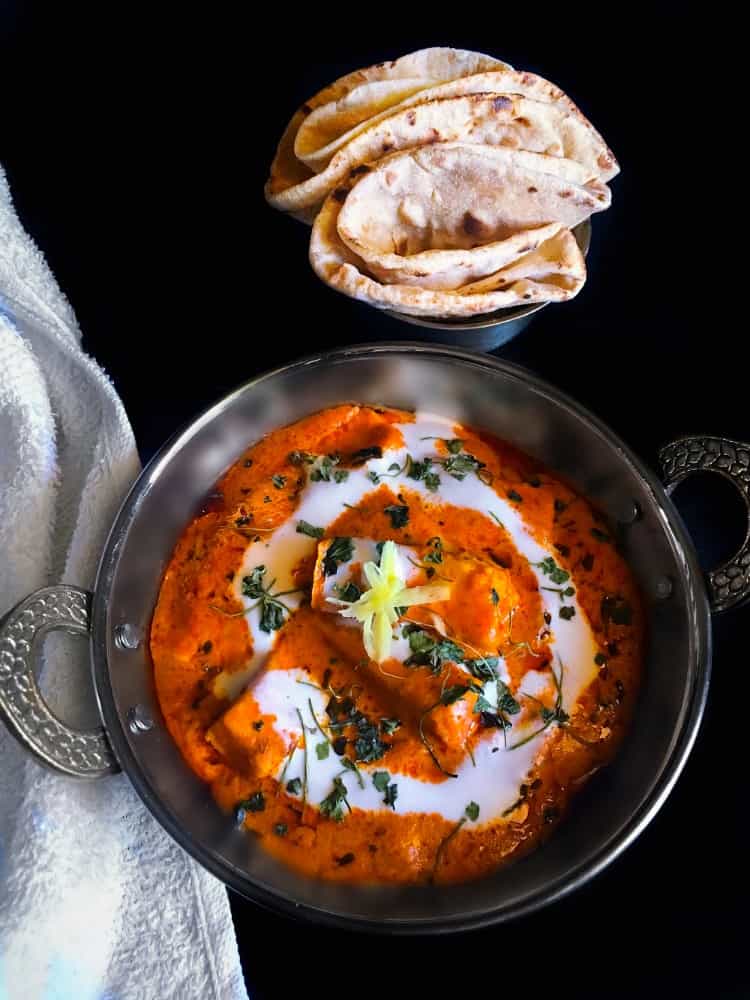 Here's a tip, whenever you make this recipe, please do make extra as we always and I mean always end up craving that extra spoon or ladle.
They can be kept in the fridge for upto 2-3 days.
To make them look fresh after keeping in the fridge for over a day, simply add some fresh cilantro on top.
Tried Our Recipe – AWESOME!!!
Now Quickly SNAP A PICTURE & TAG :
#easycookingwithmolly + @easycookingwithmolly on Instagram –>
Connect with Me Here: Facebook / Pinterest / Instagram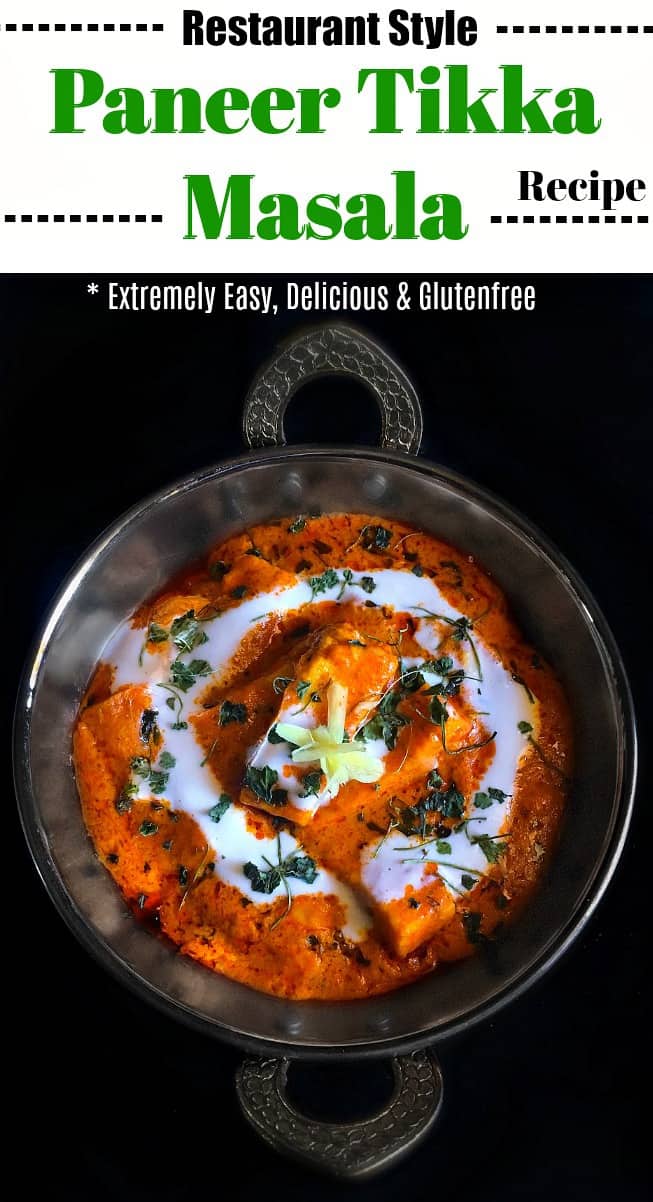 : Other Restaurant Style Famous Recipes :
Yield: 4 People
Restaurant Style Paneer Tikka Masala Recipe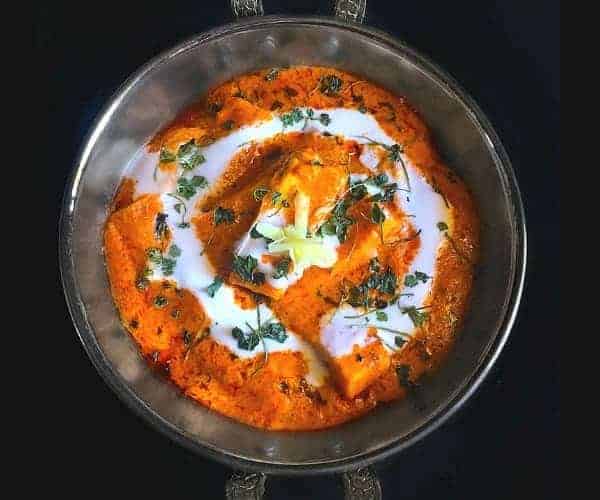 Restaurant Style Paneer Tikka Masala Recipe: extremely delicious, saucy and luscious in every bite.
It's Super easy to make and you can freeze the cooked curry upto 2 weeks in an air-tight box.
Ingredients
1 Cup Bite-Size Paneer
1 Cup Plain Yogurt
1/2 Inch Fresh Ginger
3-4 Small Garlic Cloves
1 Medium Onion - roughly chopped
2 Small Tomatoes - roughly chopped
8-9 Raw Cashews
1 Tbsp Tomato Ketchup
2 Tbsp Cream or Sour Cream - you can add any
1/2 Tbsp Honey - you can use sugar or sweetener of any kind
4 Tbsp Olive Oil - or any light flavorless oil
SPICES:
1 Bay Leaf
3 Green Cardamoms - crushed into a fine powder
2 Cloves - crushed into fine powder
1/2 Tsp Turmeric Powder
1/2 Tsp Chili Powder
1 Tbsp Kasuri Methi
1/2 Tsp Garam Masala
Salt to taste
DECORATION:
2 Tbsp Whisked Plain Yogurt
1 Tsp Crushed Dry Fenugreek Leaves
1/2 Tsp Grated Ginger
Instructions
MAKE THE CURRY PASTE:
Add onion, tomato, ginger+garlic, cashews and make a smooth paste.
COOK THE PANEER:
Heat 1 tbsp olive oil in a non-stick pan.
Add cubed paneer in the pan and saute for a minute or till lightly golden.
Remove from pan and keep aside.
MAKE RESTAURANT STYLE PANEER TIKKA MASALA:
In the same pan, heat 3 tbsp of oil for a minute.
Add bay leaf, curry paste and saute for another minute (medium flame).
Now add the turmeric, salt, chili powder, cardamom powder, clove powder and saute.
Lower the flame, cover the pan and let this cook for 3-4 minutes (saute every minute)(This ensure the onions along with other ingredients are properly cooked).
Once the curry paste is cooked, add yogurt, tomato ketchup and saute.
Let this simmer for 2 minutes over lower heat. (You'd see the gravy thickening up and imparting a pretty orange color).
Now, add cream, kasuri methi, garam masala, 1/4 cup water and saute.
Finally, add paneer and mix everything.
Let this simmer on medium heat for 2-3 minutes and then turn off the heat.
Transfer to a serving bowl and decorate with whisked yogurt, kasuri methi, and ginger.
Serve hot with choice of side
Notes
Plain Yogurt - you can use any thick or greek yogurt.
Small Tomatoes - you can use 1/2 can of diced tomatoes or 1/4 cup tomato puree
Raw Cashews - you can use 1Tbsp Cashew Butter or 1Tbsp Cashew Powder
Kasuri Methi - Dry Fenugreek Leaves available in any Indian store.
Nutrition Information:
Yield:
4
Serving Size:
1
Amount Per Serving:
Calories:

275
Total Fat:

31g
Saturated Fat:

9g
Trans Fat:

0g
Unsaturated Fat:

20g
Cholesterol:

34mg
Sodium:

473mg
Carbohydrates:

18g
Fiber:

3g
Sugar:

11g
Protein:

15g