33 Immune Boosting Smoothies: super easy, delicious, budget-friendly, and quick smoothies to help your boost immunity using everyday kitchen/pantry ingredients. Also, find details about why we used these ingredients in immunity smoothies.
A strong Immune system means we stay healthy and happy during any seasonal change, stress, or a slight change in day-to-day lifestyle changes.
Hence, here I am along with my food blogger friends sharing "
33 Immune Boosting Smoothie
" recipes that are not only delicious, healthy, and quick but also made using extremely simple/daily kitchen ingredients
(fruits, veggies, herbs, spices, etc).
When we think of 'Immunity-Boosting Foods / Drinks' most of the time we assume the ingredients would be extremely fancy or high-end….however, it's actually the opposite.
You can literally make an 'Immunity Drink' using just 2 ingredients which costs you less than a dollar and you'll be surprised how many of these home ingredients can turn into Powerhouse Immunity Drinks.
So before we go ahead with our Immune Boosting Smoothies, let's first get to know some simple ingredients that you can use for such Immune Boosting Drinks:
Peach:
One medium peach supplies over 15% of the daily goal for vitamin C. Several types of immune cells need this nutrient for their production, function, and protection.
Carrot:
Offering a wealth of health benefits, carrots are full of carotenoids, the pigments responsible for the yellow, red and orange colors found in many fruits and vegetables. When consumed, carotenoids are converted into vitamin A, which can help strengthen immune function.
Sweet Potato:
Delicious baked whole or cut into fries, sweet potatoes are a wonder vegetable. Full of beta carotene and vitamin A, the antioxidants found in sweet potatoes benefit not only your immune system but also your heart, teeth, and vision. They're also an easy way to add more fiber to your diet, and fiber intake has been associated with improved mood and memory.
Orange:
The perfect peel-and-eat fruit and a popular snack, oranges pack a serious punch of vitamin C, a nutrient essential to supporting a good immune system. Since your body doesn't naturally produce it, it's important to get the recommended amount of vitamin C through diet.
Turmeric:
Anti-inflammatory, antiseptic, and anti-bacterial properties contained in turmeric also contain curcumin. It's a powerful immunity booster and has tons of self-healing properties.
Ginger:
whether we take fresh or powdered ginger, its anti-inflammatory supports digestion, and is a natural immunity booster due to tons of vitamins like magnesium, iron, zinc, and calcium.
Beetroot:
Eating more beets may boost your immune function and prevent chronic diseases because of the vitamins, minerals, and antioxidants they contain. Nutrients in beets responsible for this immune support include vitamin C, folate, manganese, iron, and phytochemicals.
Banana:
A healthy source of carbohydrates, bananas boost energy and contain potassium which is important to both your muscles and kidneys. Bananas are also high in B6, a vitamin that benefits immune function.
Spinach:
With an abundance of vitamins and minerals, it's obvious that spinach would boost your immune system. Spinach has a high dose of Vitamin A, Vitamin C, and Vitamin E, which help fight off infections as well as replenish the blood cells to give a boost to the immune system
Moringa:
25% plant protein including all 9 essential amino acids, a rich source of iron, vitamins K, E, A & calcium. High in antioxidants, and highly bioavailable, so our bodies can absorb the benefits more easily than by taking synthetic supplements.
Almonds:
High in vitamin E, almonds can help fortify your immune system. Rich in protein and fiber, they also contain zinc, which has been linked to the prevention and treatment of the common cold. Even better, almonds are also good for cardiovascular health and are a heart-healthy food you should add to your diet.
Papaya:
is a great source of vitamins A, B, C, and K and is known as an excellent immunity booster. It is great for the growth of body tissues, including hair and skin. It helps in maintaining collagen, the structural protein of connective tissues.
Now that we have some great information, let's go ahead and start our countdown (pick and choose the smoothies as per ingredients you like/have at home):
33 Immune Boosting Smoothies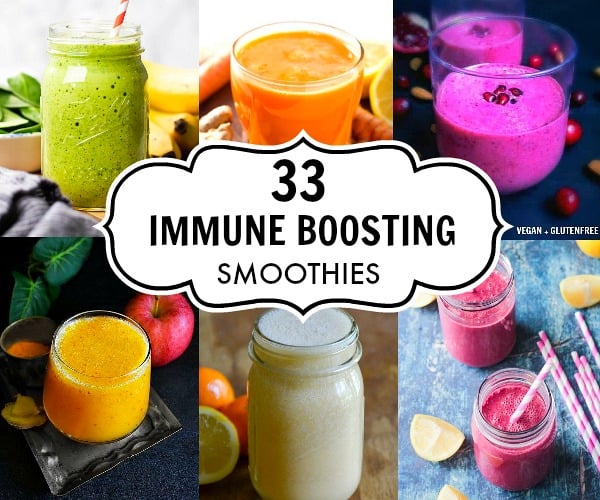 If Smoothies or Cold Drinks are not your choice, you can try these Warm, Comforting Drinks that not only Boost Immunity but are Calming Too:
Tried Our Recipe – AWESOME!!!
Now Quickly SNAP A PICTURE & TAG :
#easycookingwithmolly + @easycookingwithmolly on Instagram –>
Connect with Me Here: Facebook / Pinterest / Instagram
33 Immune Boosting Smoothies