Mean Green Juice – No Juicer Required & Perfect for Detox: energetic and delicious green juice made using fresh vegetables. This recipe doesn't need any juicer or special equipment.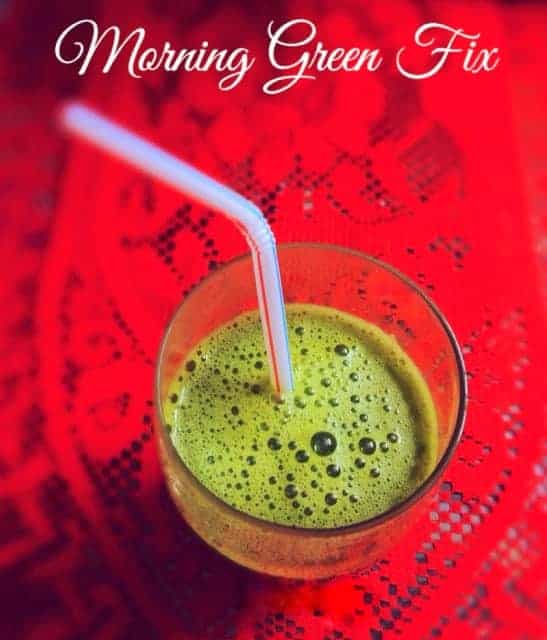 The Mean Green Juice is perfect for mornings or anytime snack and fills you up with energy to go about your day.
Has it happened to you yet, Have you noticed? These days when you get up, you feel the nip in the air !
Yes, we are heading towards the season of fall or I can say the "Eating Season" and soon What we call "Cheat-Day" –
Those once in a week day is going to turn into cheat weeks 🙂 You may ask "Why"?
Cause "Happy Day's are Coming Ahead" with candies/pies/meats / fried dishes / baked goodies n what-not, with all the festivities & excitement, approaching and our diet plan will go for a toss.
And if you celebrate both east n west festivals just like me, you have double trouble cause winter is the most festive-packed months for us.
From Navratri, Dussehra, Diwali, Halloween, Thanksgiving…so on & also endless birthdays-anniversaries!
YaaaaaaY – I'm already envisioning delectable goodies just writing this post….yummmm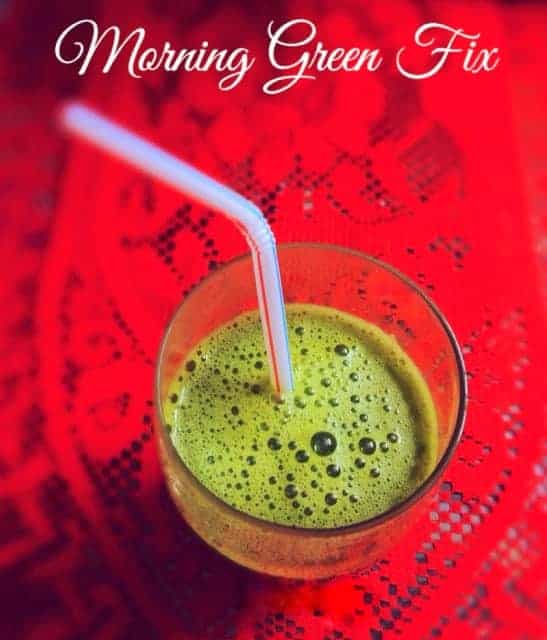 So before all this really takes place and I completely lose myself, I'm trying to eat as much healthy, exercise 🙂
And follow a control diet as I much as I can and the major chunk of my controlled diet plan is "smoothies/juices".
They are full of fruits-veggies, giving our body the much-needed energy, detox and keeping us full at the same time.
But for many who are blessed with no such stress/threats, you can definitely drink all these smoothies/juices for a healthier and balanced life style.
Here's My September Mean Green Juice or Morning Green Fix / Jumpstart Juice as this is the first thing I have in the morning.
It's my version of the mean green juice which is easy to make, tastes great and can be frozen for about a week.
To Healthy Energetic US !!!
Morning Green Fix – Mean Green Juice
Serves: 2 People
Serving Suggestion: Serve Fresh or Chilled
Storage: Can be juiced and stored in the freezer for a week.

: Tools :
Hand Blender / Juicer / Mixer
Glasses – To serve the juice

: Ingredients :
1 Cup Aloe Vera Juice
2 Green Apples – Chopped & Cored (Keep the peel On)
1 Cup Fresh Spinach – Baby spinach or any variety
1/2 Cup Kale – Baby kale or any variety
1/2 Cup Chard Leaves
2 Tbsp of Fresh Cilantro/Coriander Leaves
1/4 Cup Pineapple – Fresh / Frozen / Canned – any variety
1 Small Piece of Ginger – About 1Tbsp
Juice of 2 Lemons – Fresh / Bottled
1/2 Tsp Cinnamon Powder
2 Tsp Chia Seeds

: Method :
Put everything in the mixer.
Pulse till everything is mixed into a fine smooth juice.
Once the juice is made, sieve the entire mixtureServe Chilled
---
Tried Our Recipe – AWESOME!!!
Now Quickly SNAP A PICTURE & TAG :
#easycookingwithmolly + @easycookingwithmolly on Instagram –>
Connect with Me Here: Facebook / Pinterest / Instagram
Yield: 2 People
Mean Green Juice - No Juicer Required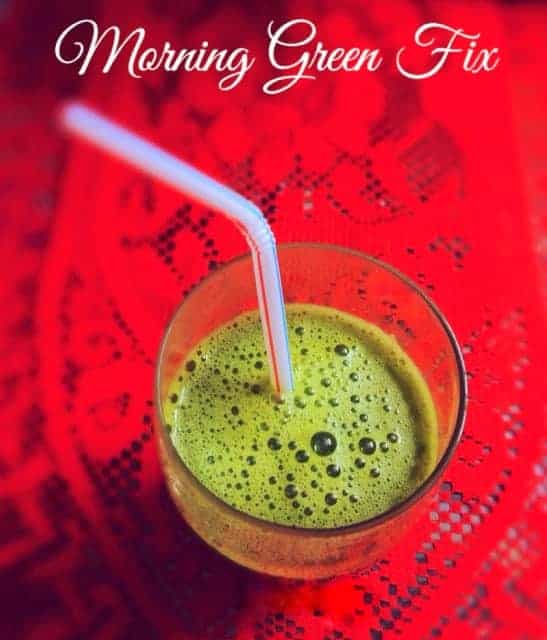 Mean Green Juice - Morning Green Fix: energetic and delicious green juice made using fresh vegetables. (Doesn't need juicer or special equipment). #detox
Ingredients
1 Cup Aloe Vera Juice
2 Green Apples - Chopped & Cored (Keep the peel On)
1 Cup Fresh Spinach - Baby spinach or any variety
1/2 Cup Kale - Baby kale or any variety?
1/2 Cup Chard Leaves
2 Tbsp of Fresh Cilantro/Coriander Leaves
1/4 Cup Pineapple - Fresh / Frozen / Canned - any variety
1/2 Inch Piece of Ginger
Juice of 1 Lemon
1/2 Tsp Cinnamon Powder
2 Tsp Chia Seeds
Instructions
Put everything in the mixer, pulse till everything is mixed into a fine smooth juice.
Once the juice is made, sieve the entire mixture.
Serve Chilled
Nutrition Information:
Yield:
2
Serving Size:
1
Amount Per Serving:
Calories:

123
Total Fat:

2g
Saturated Fat:

0g
Trans Fat:

0g
Unsaturated Fat:

2g
Cholesterol:

0mg
Sodium:

143mg
Carbohydrates:

52g
Fiber:

12g
Sugar:

30g
Protein:

6g