Loaded Vitamin C Immune Booster Smoothie: Delicious and Creamy Green Smoothie that's loaded with immunity boosting ingredients using fruits, turmeric and ginger.
Vitamin C Immune Booster Smoothie is Perfect to combat Flu Season.
(Tips for Planning, Enjoying, and Sticking to Healthy Snacks)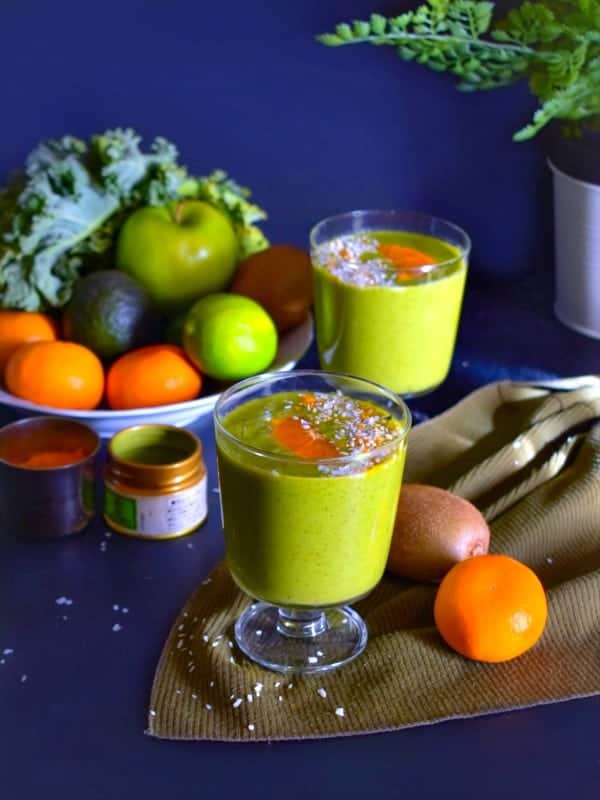 I have been so looking forward to sharing my Loaded Vitamin C Immune Booster Smoothie or also known as Immunity Booster Smoothie with you.
We just celebrated 1st Day of May, the official start of Summer, but this year the weather in California is still trying to decide whether we are in summer or cloudy spring (lol).
Despite the current weather changes, we all need to load up with fresh and nutrient-rich fruits and veggies to help boost our immunity.
While deciding what to put in my smoothie, I recently came across 'Farm Fresh to You'.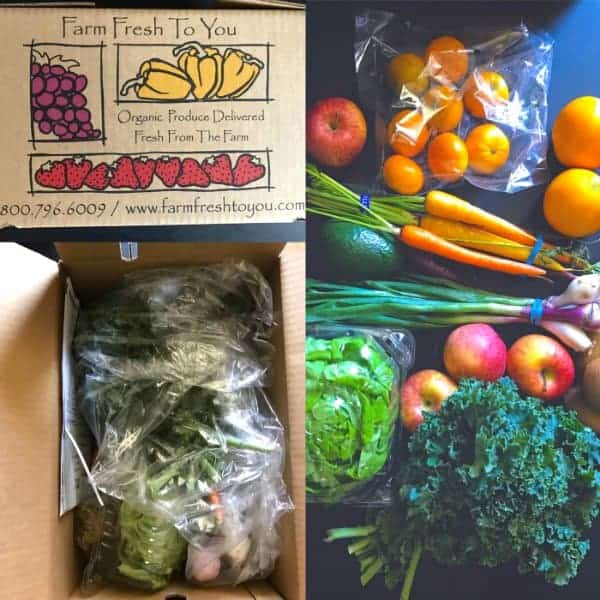 Farm Fresh To You 'believes in reducing miles and connecting with their customers' and hence,
'Delivers -> Organic Produce To Your Door' and wait for it, there's more:
They have different 'Types of Boxes' to choose from
You can customize each and every box of produce
Add other or unique handcrafted farm products
Pick a delivery date, cycle & sit back – enjoy
I mean, seriously, it cannot get better than this….the option of choosing my favorite homemade recipes' ingredients from the comfort of my home and then have it delivered – Total Bliss !!!
Apart from the comfort they provide their customers, they promote biodiversity and the ability to grow varieties of crops that taste better while operating an environmentally and economically sustainable farming system.
I know many of you have found it challenging to find good local organic produce, but with Farm Fresh To You, they will eliminate this challenge.
The second most common challenge is 'not having enough time to make something healthy' – well, with my Loaded Vitamin C Immune Booster Smoothie ,
You have an absolutely gorgeous and delicious recipe ready in 2 minutes.
It's a powerhouse of nutrients – that can help you fight the common cold infection and super boost your immunity.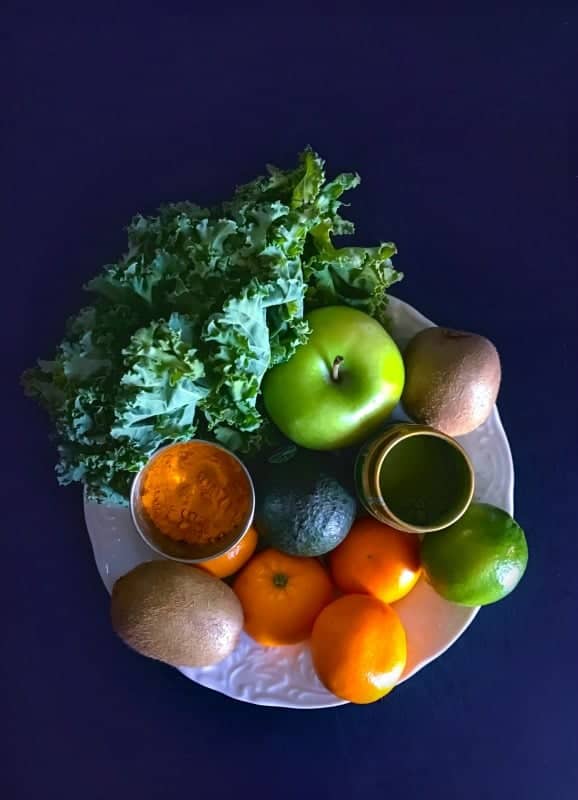 I ordered 'No-Cook' box from Farm Fresh To You which contained a large variety of fruits and vegetables that people like you and me can use when they're on the go.
My box was delivered in 3 days and it had a mix of kale, oranges, kiwi, avocado and many other produce items.
As I was also recovering from a seasonal cold, nothing looks better than a fresh homemade Loaded Vitamin C Immune Booster Smoothie to help raise my body's immunity to fight germs and free radicals.
Along with the fresh fruits and veggies, I went a step ahead and added matcha powder, turmeric, chia powder, coconut milk, and aloe juice to help me heal, stay stronger and feel healthier.
Tips for Planning, Enjoying, and Sticking to Healthy Snacks
:
Always try to eat as much fresh fruits and vegetables as possible.
Prep healthy snack options in advance and store in your fridge.
Prep smoothie fruits and veggies in portioned bags and keep them in your freezer.
Freeze Smoothies in ziplock bags or freezer containers for a quick snack.
Snack on healthy dried nuts like cranberries, almond, and pistachios.
Drink a lot of water, especially during the summer.
Try to eat a colorful bunch of fruits and veggies as different colors denote differently
phytonutrients needed by the body.
When going on a trip or out of the house, always carry snack bags with healthy options.
Finally, Take a Break, Breathe and Enjoy a Healthy Snack Everyday.
Now, for my Loaded Vitamin C Immune Booster Smoothie, I've actually picked a mix of base liquid like coconut juice and plain yogurt ( or use dairy-free if vegan ).
Then a mix of kiwi, orange, avocados, apple, lime, mint, kale and few more ingredients.
But it's absolutely up to you to pick a base or fruit/veggie ingredient.
Once the smoothie is made, I love topping them with coconut, toasted quinoa, and turmeric.
You can check more of my smoothies option like:
Mango Matcha Chia Layered Smoothie
Blueberry Chocolate Smoothie – Vegan and Glutenfree
Beet Blueberry Ginger Smoothie Bowl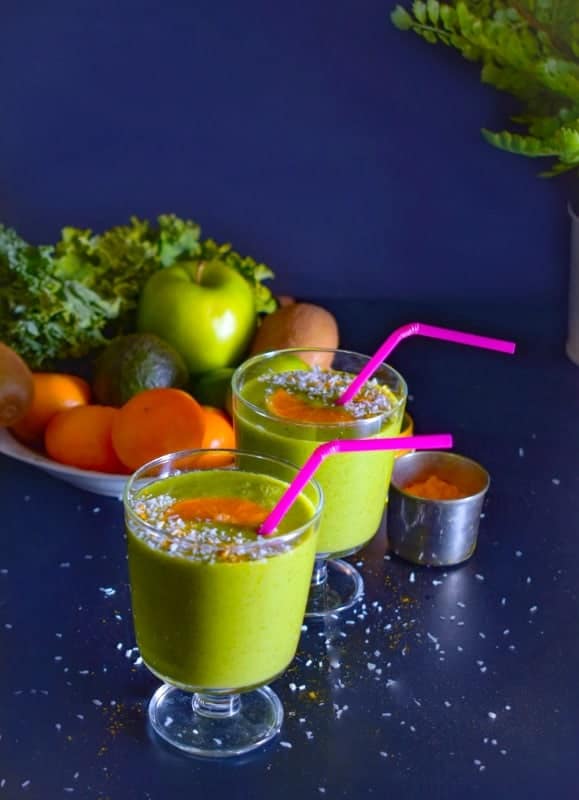 That is it on this edition and I hope you check out Farm Fresh To You as they have extended the following offer to my followers:

********************************************************************************
Get $15 Off Your First Box from Farm Fresh to You

*** Use promo code – GET 15 OFF
********************************************************************************
Until then ~ XoXo
---
As always, I Looove when you try my recipes and send me pictures & feedback.
You can tag me on my tried #easycookingwithmolly on any of the social media below:
Connect with Me Here: Facebook / Pinterest / Instagram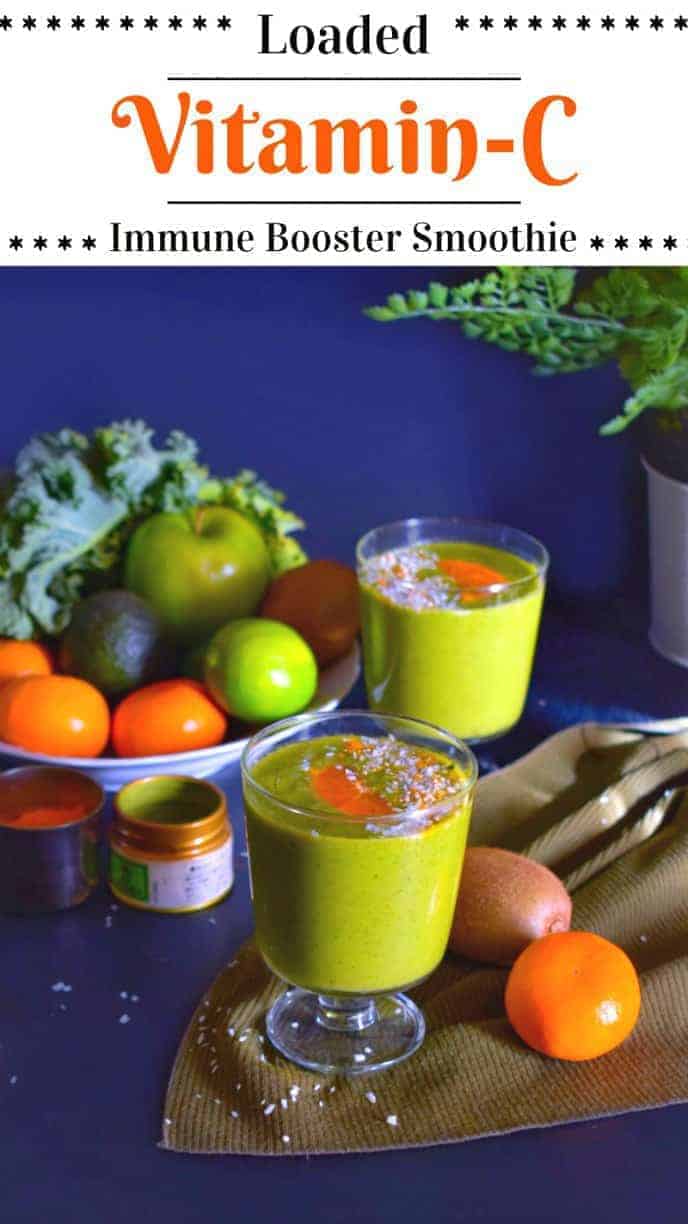 Yield: 3 Cups
Loaded Vitamin C Immune Booster Smoothie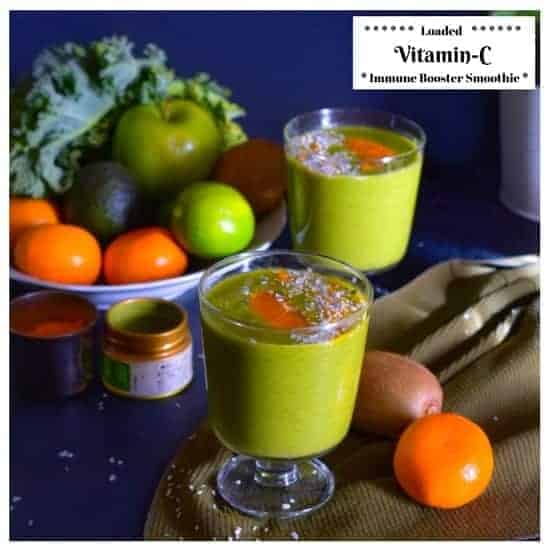 Loaded Vitamin C Immune Booster Smoothie : Delicious and Creamy Green Smoothie that's loaded with immunity booster. (V+GF+Paleo) #immunity
Ingredients
2 Small Oranges - peeled and deseeded
2 Small Kiwi - peeled and chopped
1 Cup Kale - fresh or frozen
1 Avocado - peeled and chopped
1 Medium Apple - chopped
Juice of 1 Lime
1/2 Tsp Matcha Powder - optional
1/4 Tsp Turmeric Powder
1 Cup Plain Yogurt
1/2 Cup Coconut Water
1/2 Cup Ice
Toppings - Optional
1/2 Tsp Coconut Flakes
1/2 Tsp Roasted Quinoa
Pinch of Turmeric Powder
2 Sliced Orange
Instructions
Place all the ingredients in a blender jar and pulse to form a smooth consistency. (You can add less or more ice for chunkier or less chunky smoothy).
Pour in serving glasses.
Top with coconut, roasted quinoa, turmeric and a slice of orange.
Serve Fresh
Nutrition Information:
Yield:
3
Serving Size:
1
Amount Per Serving:
Calories:

209
Total Fat:

10g
Saturated Fat:

2g
Trans Fat:

0g
Unsaturated Fat:

6g
Cholesterol:

5mg
Sodium:

100mg
Carbohydrates:

24g
Fiber:

10g
Sugar:

24g
Protein:

9g
This is a sponsored post written by me on behalf of Farm Fresh To You. All opinions are 100% mine.