Healing Cashew Golden Milk is a powerful natural healer that energizes the body, calms digestive system and immensely effective to cure cold-cough/body ache. Also known as Haldi Doodh in India or popularly known as #GoldenMilk / #TurmericMilk and is one of the most famous drinks of Ayurveda.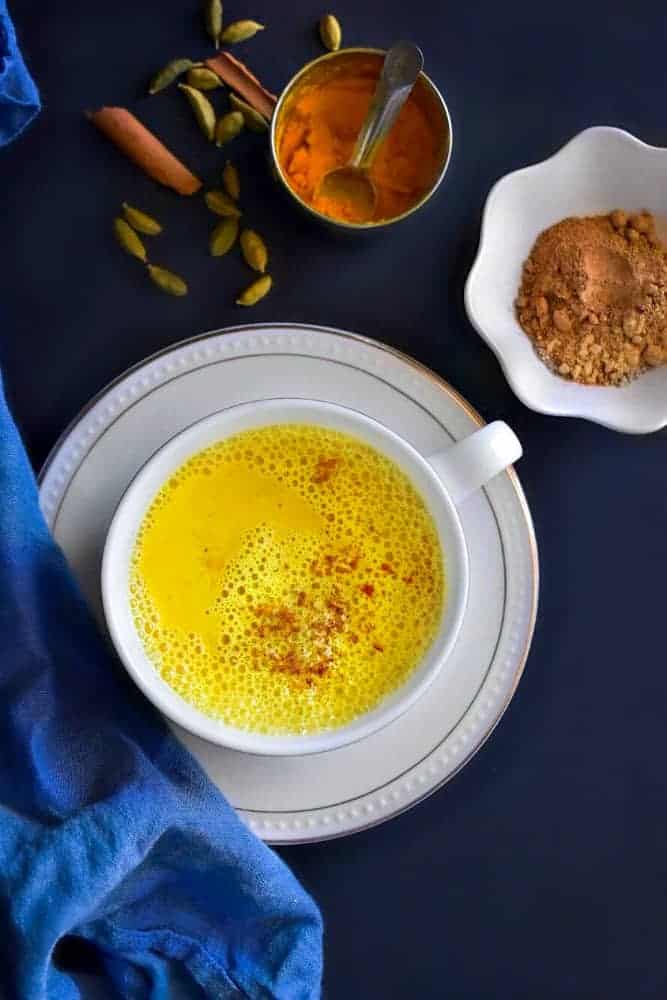 I've been wanting to post this recipe for the longest time and it kept pushing back because of something or the other but that's it – I HAD to share it TODAY.
Many of my friends have requested this one special as the
Healing Cashew Golden Milk
is the most effective and quick remedy for the seasonal or long-term Cold n Cough.
It especially comes in handy, when you have coughed so much that even a thought of coughing again gives you chills as every bone and your throat hurts.
I remember my Mom, making this Turmeric Cashew Milk for all of us especially during winter as a preventive drink (from cold).
And this is truly her recipe and I feel thrilled about sharing it with you'll.
In those days, she literally used to make cashew milk at home and then she would mix in the other ingredients and cook everything for a good 1-2 hrs.
There are 3 main healing ingredients in this Recipe:
Turmeric
Cinnamon
Ginger (very small amount).
Turmeric
is considered the most powerful spice in Indian spices and it's not just because of it's taste/golden color but because of its medicinal property.
It's Anti-inflammatory (It helps the body fight foreign invaders and also has a role in repairing damage).
It helps boost the body's own antioxidant enzymes (to fight infections) and brain function hence help in preventing many common to serious ailments.
It also helps prevent seasonal depression….I mean I can go on as the list of benefits are almost endless.
It's also one of the most potent ingredients in many Ayurvedic medicines/solutions.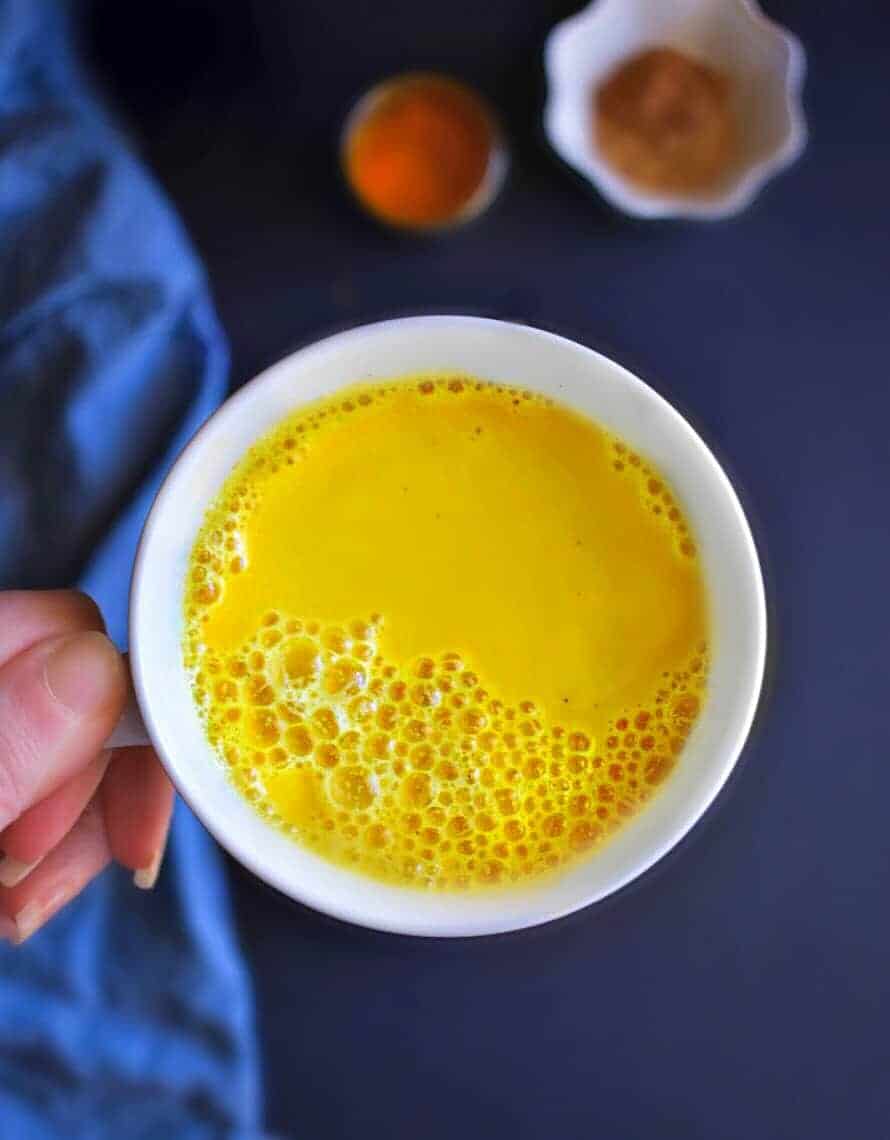 The ONLY thing to REMEMBER:
'Turmeric has a peppery, warm and bitter flavor hence if you use too much, the recipe would end up tasting bitter and you would feel very hot as well. The KEY is moderation.
Similarly, Cinnamon and Ginger also have 'anti-inflammatory' and healing property hence this milk mixture is almost like liquid gold and is famously known as Golden Milk.
Now, in this mixture of spice blend, I've also included Cardamom which not only enhances the taste (yummmmm).
But it helps fight free-radicals, it helps heat up the body and loosen mucus (tough cold n cough) and also gives you great breath 🙂
I'm using Cashew Milk (store-bought) but you can use any kind of plain milk/ almond/coconut, almost any kind except chocolate or fruit-flavored milk.
The process is pretty simple and takes about 10-15 minutes (depending on your choice).
You just put everything together in one pot and steep the spices in low heat till the mixture thickens.
Then strain the milk into a jar or air-tight glass bottle and you can store this upto 1-2 days (I prefer making a fresh batch everytime).
You can add your choice of sweetener or can even add honey (because of its healing properties) …some people even add jaggery to it.
* Enjoy the Healing Cashew Golden Milk & Stay Warm n Healthy *

Tried Our Recipe – AWESOME!!!
Now Quickly SNAP A PICTURE & TAG :
#easycookingwithmolly + @easycookingwithmolly on Instagram –>
Connect with Me Here: Facebook / Pinterest / Instagram
:: You May Also Like ::
Yield: 2
Healing Cashew Golden Milk
Healing Cashew Golden Milk is a popular Ayurvedic drink from India and filled with powerful healing and delicious flavors.
Ingredients
2 Cups Cashew Milk - you can use any non-flavor milk.
1/4 Cup Water - if you like a thick consistency, you may avoid water.
1/2 Tsp Turmeric Powder
1 Stick Cinnamon - you can use powder too (about 1/4 tsp)
Pinch of Ginger Powder - you can add fresh too or avoid altogether
3-4 Whole Green Cardamom - crushed.
Sweetener or Sugar - as per taste
Instructions
In a medium pan, add water, milk and place on high heat.
Add all the spices and let boil the milk.
After the first boil (in about a minute), reduce the heat to low and let this simmer for 8-10 minutes (keep stirring every 2-3 minutes, to prevent milk from burning).
Once the milk is boiled and thickened, turn off the heat.
Add the sugar/sweetener (whatever you prefer) and stir.
Transfer to serving glasses or let cool for storing in air-tight jar. (this can stay in fridge for upto 1-2 days)
Nutrition Information:
Yield:
2
Serving Size:
1
Amount Per Serving:
Calories:

135
Total Fat:

5g
Saturated Fat:

2g
Trans Fat:

0g
Unsaturated Fat:

3g
Cholesterol:

10mg
Sodium:

72mg
Carbohydrates:

18g
Fiber:

1g
Sugar:

10g
Protein:

5g
Here are the old pictures of the Healing Cashew Golden Milk