Super Healthy Pomegranate Cranberry Almond Smoothie: tastes divine and filled with nutrients-antioxidant that supercharge you with energy. Pomegranate Cranberry Almond Smoothie is a blend of fruit with almond and coconut milk.
Let's talk 'New Year Resolutions' and about this gorgeous Super Healthy Pomegranate Cranberry Almond Smoothie today…
I'm sure many of you must have made tons of resolutions for this year and one of them would be to 'Stay Healthy or Reach a Certain Health Goal'
And I have a similar New Year resolution with just an added goal, that is to eat breakfast EVERYDAY! I know, we all want to do it but 'How many of us really do'?
I'm not going to ask you a reason for skipping one but will definitely say that mine was because of 'not enough time to make one or just doesn't know what to make'.
As the first rule of a healthy breakfast is to try to keep it fresh, natural and full of proteins (important to jump-start the day with energy n did you know they help form antibodies too).
So this year, my Breakfast Goal is to have smoothies cause:
* They are super-duper healthy.
** They are soooooo easy to make
*** You can customize it to everyone's need – (which is really BIG for me)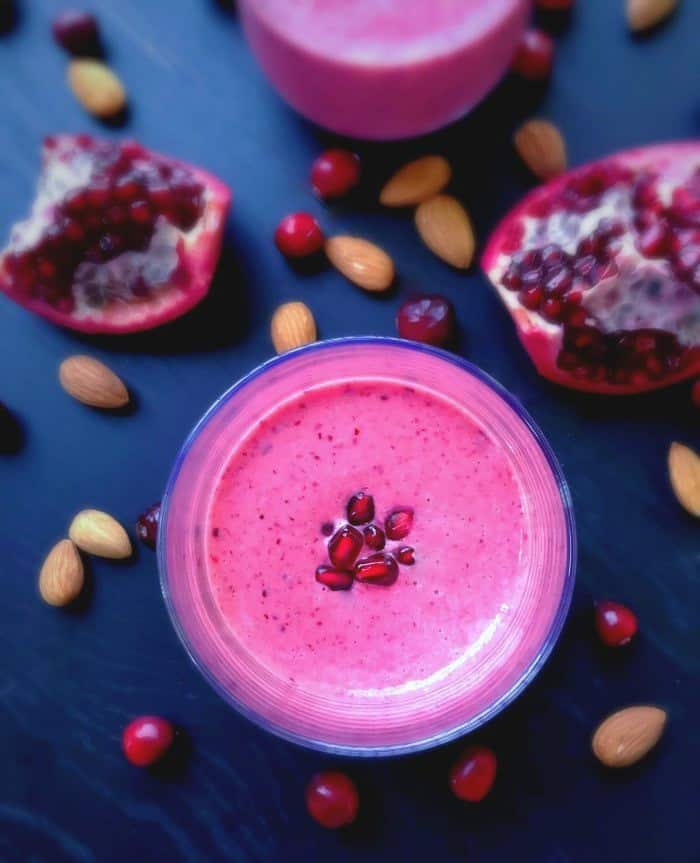 In that quest, I actually shopped for a variety of milk (regular/coconut/almond), yogurt (different flavors), nut butter (almond, peanut, cashew – these are for proteins n good fat),.
Then fruits/veggies along with some coconut water and dry-fruits.
I'll be making different combinations and will keep sharing the recipes of the ones we actually loved the most.
And, I wanted to start with my absolute favorite and gorgeous looking Super Healthy Pomegranate Cranberry Almond Smoothie !
It seriously tastes so good, that we drank 2 glasses of it a stretch.
It's made using coconut milk (the BEST for this combination) which adds this smooth yet delicious texture.
Pomegranate-cranberry which is a great source of antioxidants and almond + almond butter added for protein.
This Pomegranate Cranberry Almond Smoothie is so beautiful to look that whoever tried it, instantly fell in love with the color n taste.
It's like drinking dessert but just that it's actually healthy and so good for you.
It's also the quickest breakfast for 'On-the-Go' people which is actually packed with so many nutrients.
I wish you 'All the Best' in achieving your New Year Resolution and keep checking this space for more healthy and quick recipes like this Super Healthy Pomegranate Cranberry Almond Smoothie.
I'll definitely work with you and myself to help achieve our 'Healthy Eating – Healthy You' Goals.
:: Try Some More of Our Fav Smoothies ::
Blueberry Swirl Smoothie Bowl
Loaded Vitamin C Immune Booster Smoothie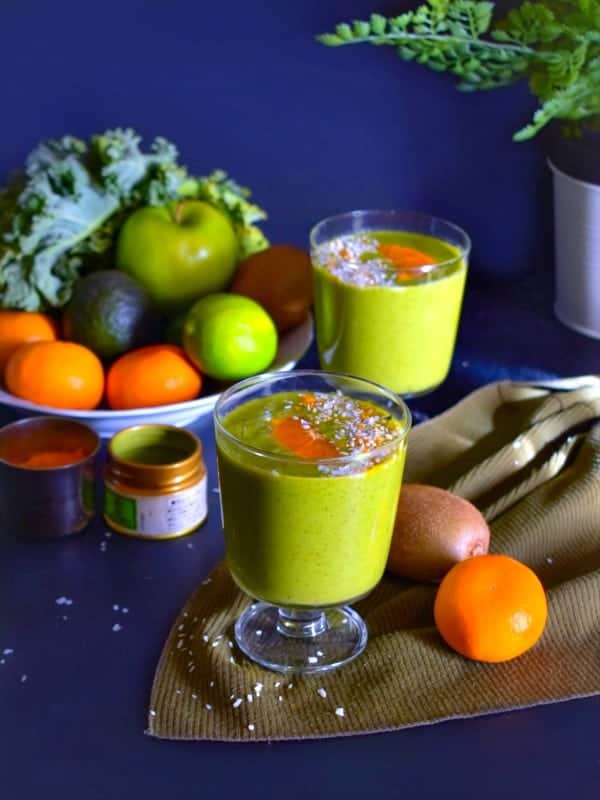 Before we conclude, a quick shout out to my friends at 'Hurry the Food Up' – who are doing some real awesome job of helping many food bloggers get started with creating a blog,
you can check all about it here.
—————
Tried Our Recipe – AWESOME!!!
Now Quickly SNAP A PICTURE & TAG :
#easycookingwithmolly + @easycookingwithmolly on Instagram –>
Connect with Me Here: Facebook / Pinterest / Instagram
Yield: 3
Super Healthy Pomegranate-Cranberry-Almonds-Smoothie
Tastes divine and filled with nutrients-antioxidant that supercharge you with energy.
Ingredients
1 Cup Coconut Milk - you can use any other flavor or even yogurt of choice
1 Cup Cranberries - you can use fresh or frozen
1 Cup Pomegranate Seeds/Arils
10-12 Almonds
1/2 Tbsp Almond Butter - optional
1/2 Cup Ice - optional
Instructions
Add all the ingredients in a smoothie maker or hand blender and pulse to form a smooth consistency. (You can add little water, if you like it slightly thinner)
Pour into serving glasses and enjoy fresh.


Nutrition Information:
Yield:
3
Serving Size:
1
Amount Per Serving:
Calories:

296
Total Fat:

22g
Saturated Fat:

15g
Trans Fat:

0g
Unsaturated Fat:

5g
Cholesterol:

3mg
Sodium:

78mg
Carbohydrates:

23g
Fiber:

4g
Sugar:

14g
Protein:

7g