Lemon Asparagus Pasta with Peas & Tomatoes: super easy, flavorful and delicious pasta recipe that's filled with lemony flavors yet extremely light.
It's a perfect weeknight family meal and also makes a great meal-prep recipe too. This is a Glutenfree/Low-Carb recipe.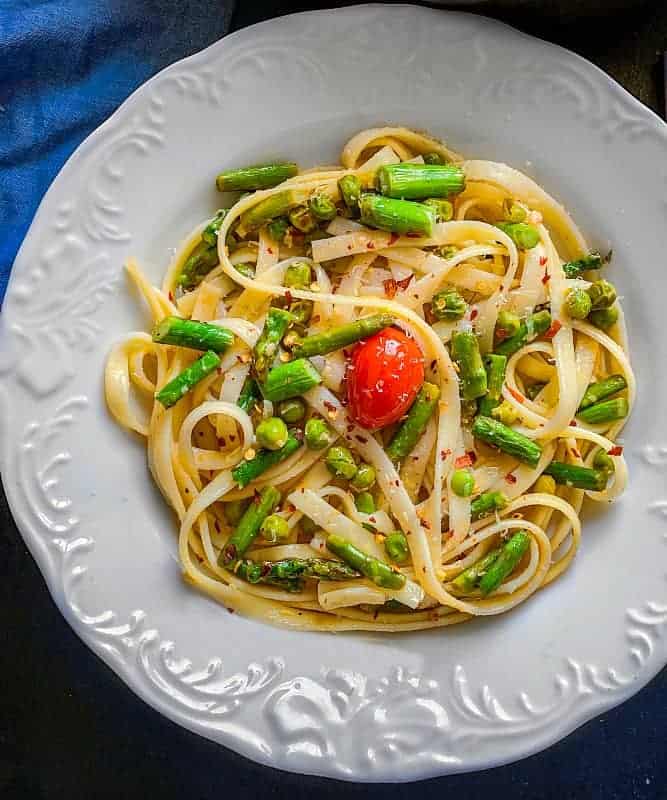 This super quick Lemon Asparagus Pasta with Peas and Tomatoes is on top of our list for delicious and hassle-free weeknight meals.
It's what I call, filled with flavors, easy to make and I usually prep a big batch and keep in the fridge.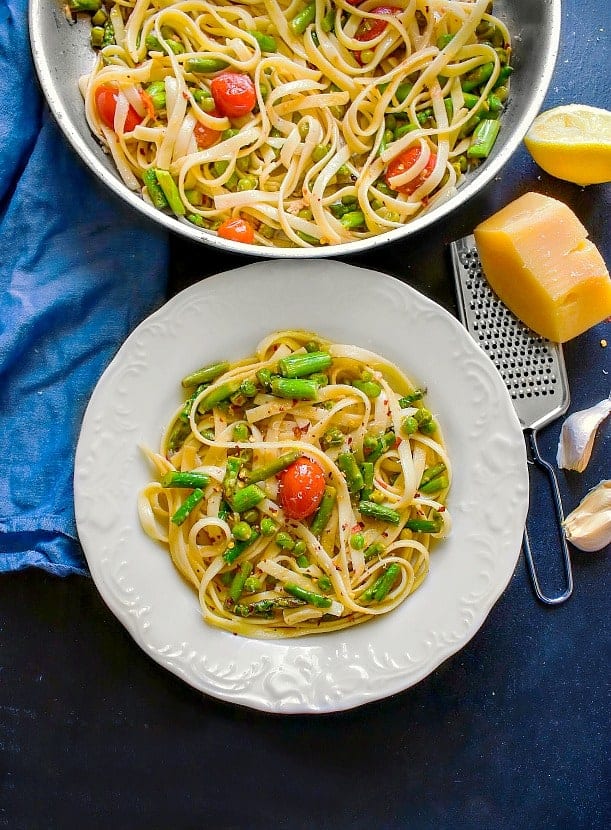 Monday's are usually stressful for most of us and because of extremely chaotic weather, the past few weeks have been even more stressful.
We are either stuck at home due to rain/ice or just about that depressing winter blues, that making a fresh meal for the entire family seems like next to impossible.
And I feel 'Pasta' is one such recipe that saves us all many times!!
Whether its a simple tossed spaghetti or with added meatballs or just a quick shrimp pasta, whatever be it, carbs definitely helps calm those stressed nerves and hungry tummy.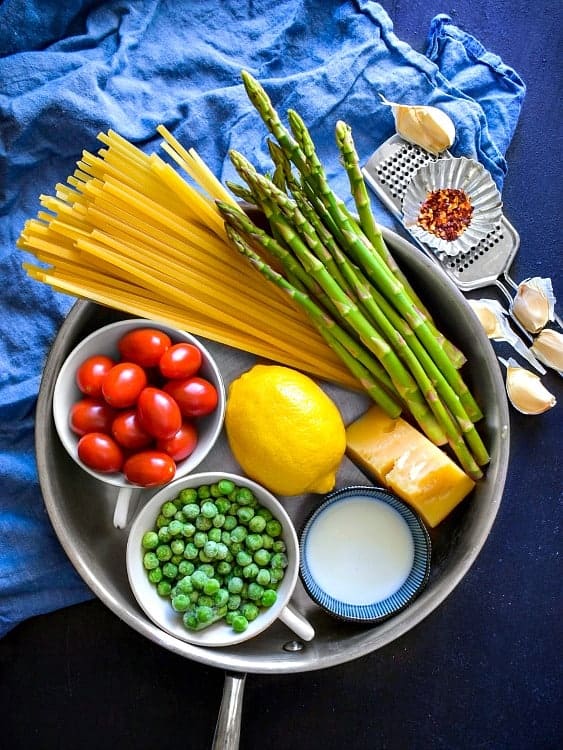 But what if you want to have pasta and also be low-carb 🙂 Well, I recently found Glutenfree Chickpea past and seriously, I've not looked back since then!
For our Lemon Asparagus Pasta with Peas & Tomatoes, I'm using these Main Ingredients:
Glutenfree Pasta (I'm using fettuccine but you can use any pasta)
Fresh Asparagus
Some Frozen Peas & Baby Tomatoes (Let's make it a healthy mix)
Lemon (of course – we are using both juice and rind)
Cashew Milk (for some creaminess but you can skip this if you want)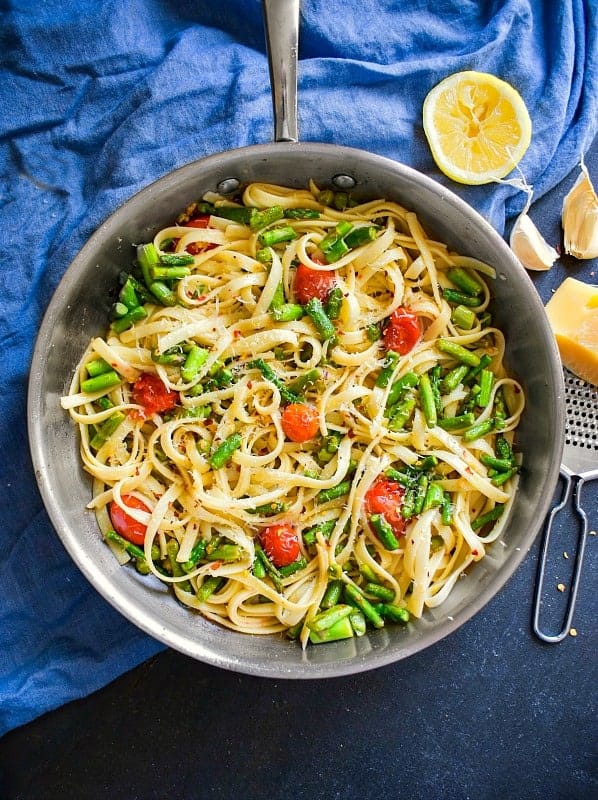 Once, the ingredients are there, the recipe comes together in 25 minutes.
You simply make the pasta as per package instructions and keep it aside.
Then saute the veggies, add seasoning, cooked pasta and toss everything together to combine.
Once everything is mixed, transfer to serving bowl and enjoy. Yup, the recipe is that easy-peasy.
BUT, we always have some 'Pro-Tips' for you which I have been following and here they are.
Pro Tips:
Always add a tsp of oil once you have strained your cooked pasta to keep it untangled.
Always store 1/4 to 1/2 cup pasta water to add in the recipe for that extra flavor.
Saute the veggies on a medium-high flame, this helps them cook quickly and yet keeps them crunchy.
To add extra flavor, toss the pasta in 'Herbed Oil' just before serving. This adds that almost restaurant-style meal at home.
If you want the pasta to look plated as restaurants, use 'TONGS' to put them in a plate. (seriously try it and see the difference).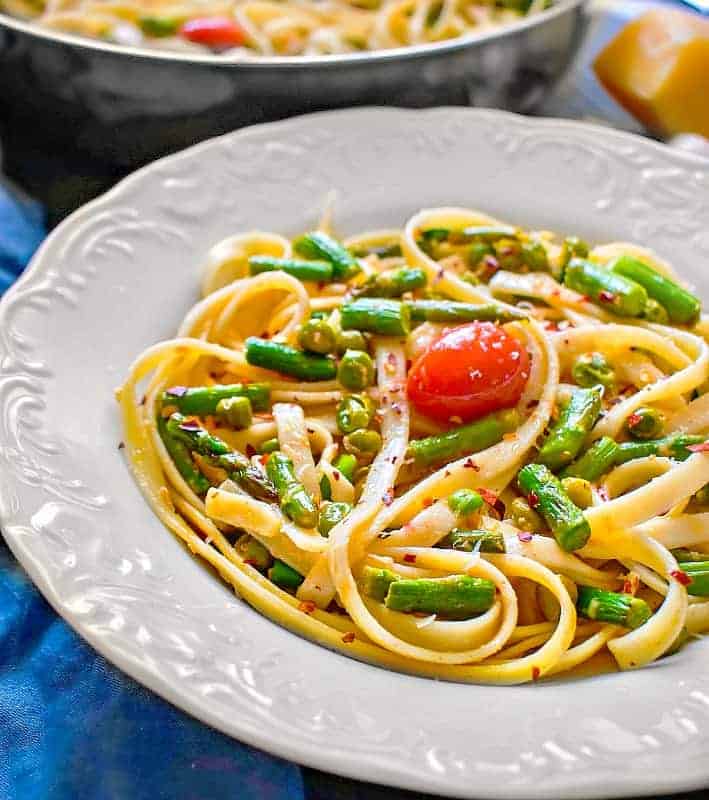 So, go ahead and enjoy this Lemon Asparagus Pasta with your family this weeknight and please do let me know your thoughts.
Did you make it as is or add any more veggies/seasoning?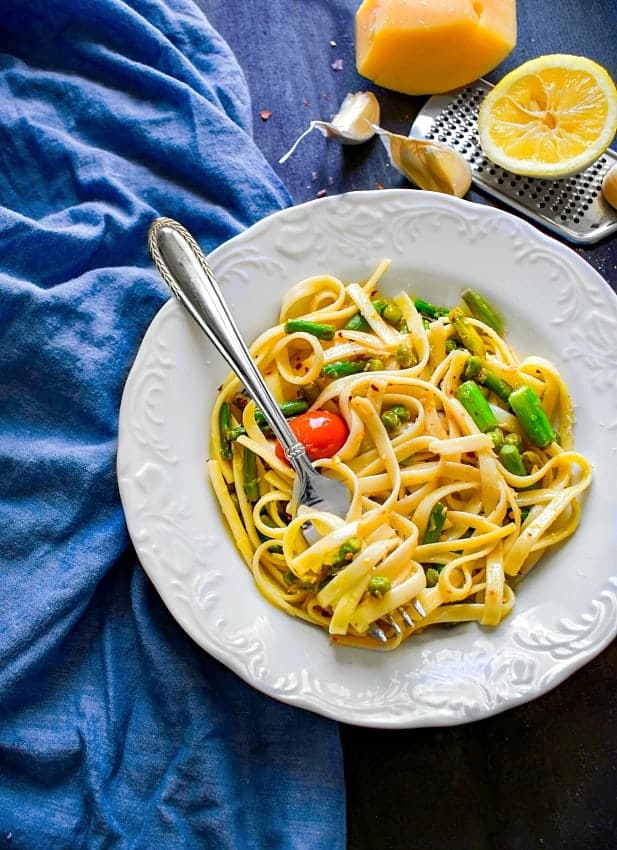 More Italian Recipes
Must try, easy and delicious Italian recipes.
---
Tried Our Recipe – AWESOME!!!
Now Quickly SNAP A PICTURE & TAG :
#easycookingwithmolly + @easycookingwithmolly on Instagram –>
Connect with Me Here: Facebook / Pinterest / Instagram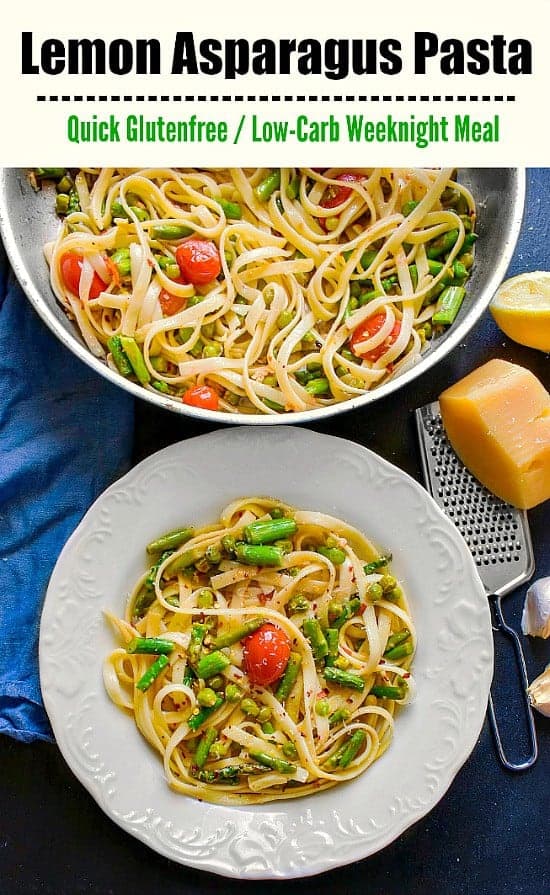 Yield: 2 People
Lemon Asparagus Pasta with Peas and Tomatoes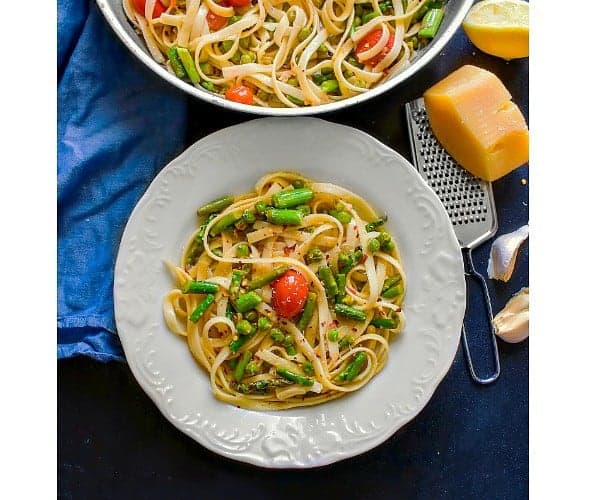 Lemon Asparagus Pasta with Peas and Tomatoes: super easy, flavorful and delicious pasta recipe that's filled with lemony flavors and yet extremely light.
Ingredients
1 Bunch Uncooked Pasta - i'm using glutenfree fettuccine
3 Cups Water - to cook pasta
1 Large Lemon - juice it and keep some rind too
1 Cup Chopped Asparagus - discard the brown part and chop the green stems
1/4 Cup Frozen peas - optional
1/4 Cup Baby Tomatoes - optional
2 Tbsp Olive Oil
2 Tbsp Butter - optional*
1 Tsp Herbed Olive Oil - optional**
Seasoning:
1/4 Tbsp Chili Flakes
Salt - as per taste
1/4 Tsp Italian Seasoning
Instructions
Cook the Pasta:
Cook the pasta as per package.
Strain the cooked pasta and keep 1/2 cup pasta water aside.
Add 1Tsp Olive oil on cooked pasta and toss it nicely.
Keep aside.


Make the Lemon Asparagus Pasta:
Heat a large pan/skillet
Add olive oil, butter and Mix well.
Now, add asparagus, peas and saute to mix everything.
Let this cook on medium-high heat for 1 minute.
Now add the seasoning and baby tomatoes.
Saute everything.
Add lemon juice and lemon rind and saute everything together.
Lower the heat and add cheese, cashew milk and pasta water (if using).
Saute everything once and add the pasta. Let this cook on medium heat for a 2 minutes.
Add 1 tsp 'Herbed Oil' if using and Mix everything using tongs (you can use large forks to mix too).
Turn off the heat.
Transfer the Lemon Asparagus Pasta with peas and tomatoes to serving bowls.
Add more cheese if need be.
Serve hot and enjoy
Nutrition Information:
Yield:
2
Serving Size:
1
Amount Per Serving:
Calories:

254
Total Fat:

15g
Saturated Fat:

7g
Trans Fat:

0g
Unsaturated Fat:

13g
Cholesterol:

18mg
Sodium:

300mg
Carbohydrates:

89g
Fiber:

19g
Sugar:

11g
Protein:

25g