This is a sponsored post written by me on behalf of Farmer John California Natural Fresh Pork for IZEA. All opinions are 100% mine.
Quick Mango Habanero Meatballs: a delicious mix of sweet-spicy flavors with melt in your mouth meatballs. These Quick Mango Habanero Meatballs are perfect for your next Grill or BBQ Party.
Post By: Molly Kumar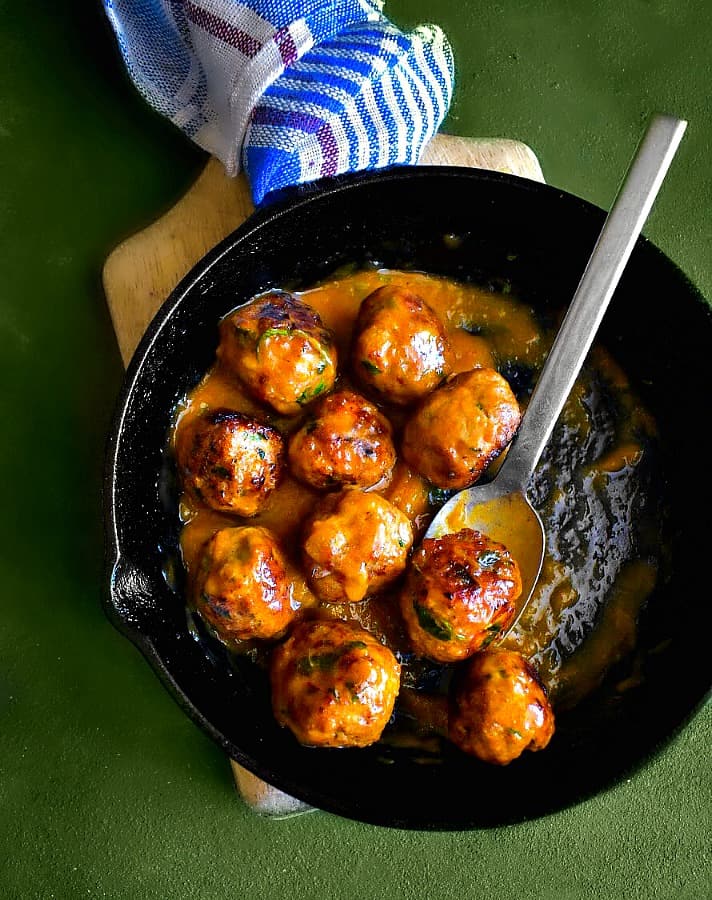 Hey Everyone, I was waiting to share these Quick Mango Habanero Meatballs with you as they HAVE to be included in your next grilling/bbq or get-togethers at home.
These succulent meatballs are everything you could think of in a summer recipe, easy, quick, delicious, and the best part is that they can be frozen for later use 🙂 (Now, we are talking Right!!)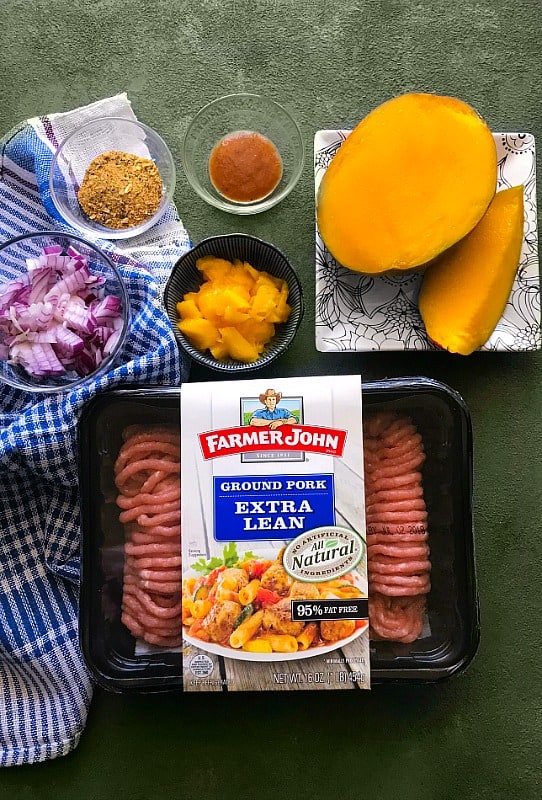 Since Mr. and I, were traveling a lot last year, hence we didn't get to attend or host enough summer parties.
So we had promised ourself that this year, we will start summer with a bang !!
And we hosted our 2nd party within a month 🙂 and these Quick Mango Habanero Meatballs were the star of the party and on repeat at both of them.
We make them using 'Farmer John Extra Lean Ground Pork' and they always turn out tender, juicy and succulent.
Our go-to is Farmer John Fresh Pork as they have been a West Coast Original since 1931, serving 100% natural pork (no-artificial flavors) products, clean, easily available and within budget. All this makes them a PERFECT fit to be included in recipes for a small or big crowd.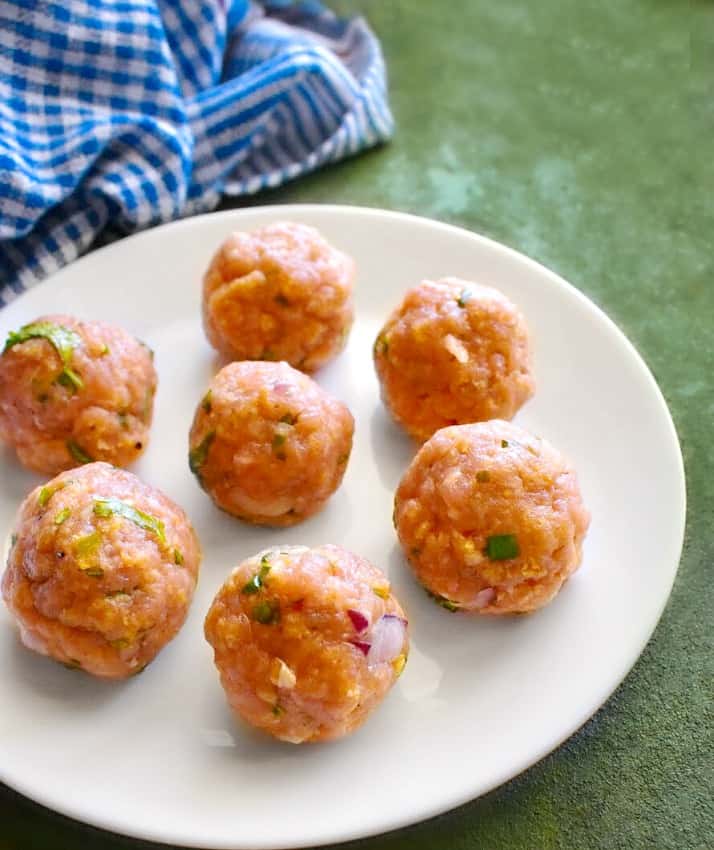 The recipe for these Quick Mango Habanero Meatballs is extremely simple and easy.
And as I just mentioned above, once the meatballs are ready, you can freeze them for upto a month (Always Date Stamp the bag or box you store any frozen food).
So once you decide to use them for your party, lightly sauté the meatballs in a heavy bottom skillet (that helps evenly brown and cook the meat).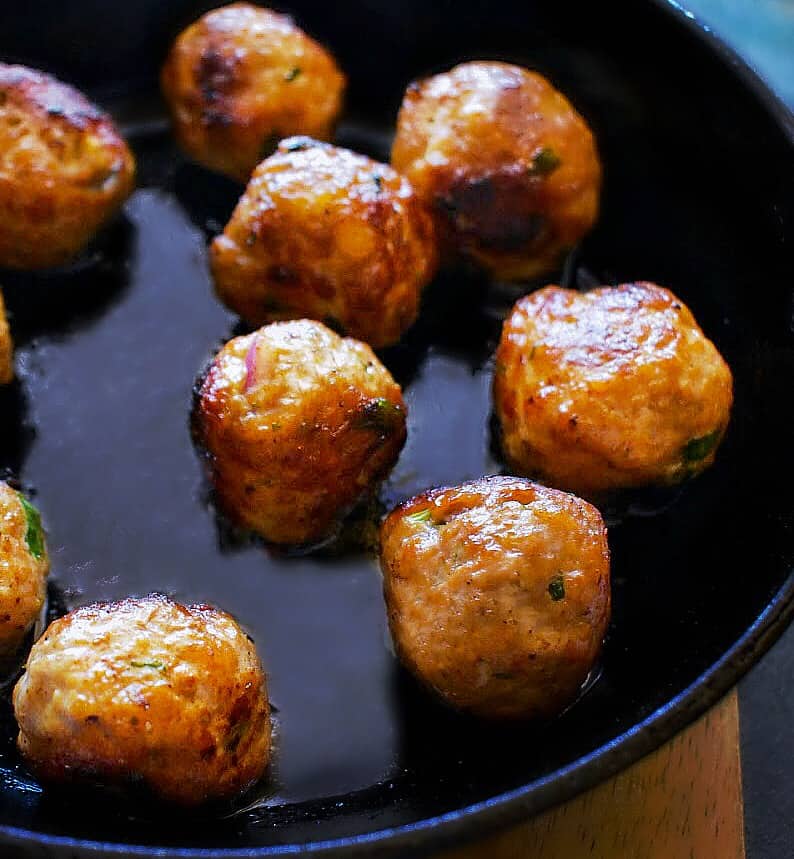 Now, let's talk about this Amaaaazingly Delicious 'Mango Habanero Sauce' and as my friends call it the pairing is inseparable.
The sweet mango with spicy habanero is everything you need and it is so easy to make that you'd wonder, why haven't you ever tried it yet?
I did add a little bit of the mango-habanero flavor in the meatballs too.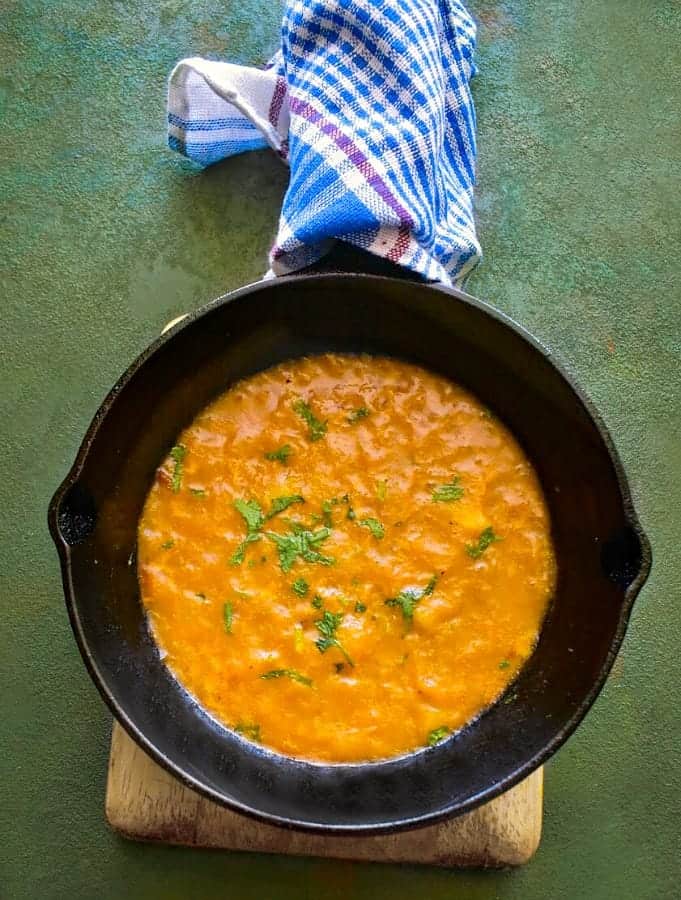 So once the sauce is ready, simply sauté the meatballs for few minutes. You can keep it as saucy as you want. Once the meatballs are fully cooked, simply transfer them to a serving plate.
I usually serve this as an appetizer when I'm entertaining, but you can even serve it as a lunch or dinner entree along with a side of steamed rice or thin spaghetti noodles.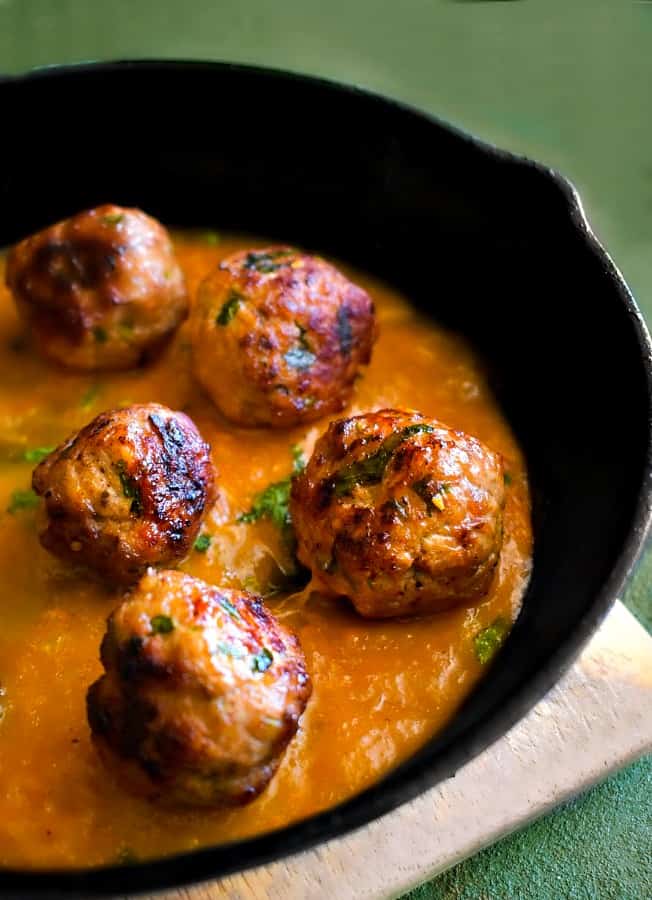 You can also see that once the meatballs are nicely sautéed and coated in our saucy mango-habanero mix, it adds such a gorgeous gloss on top.
This way, they remain juicy, tender and coated all through the evening.
You can even do this step 2-3 hours before the party and simply heat and serve – that saves so much time too.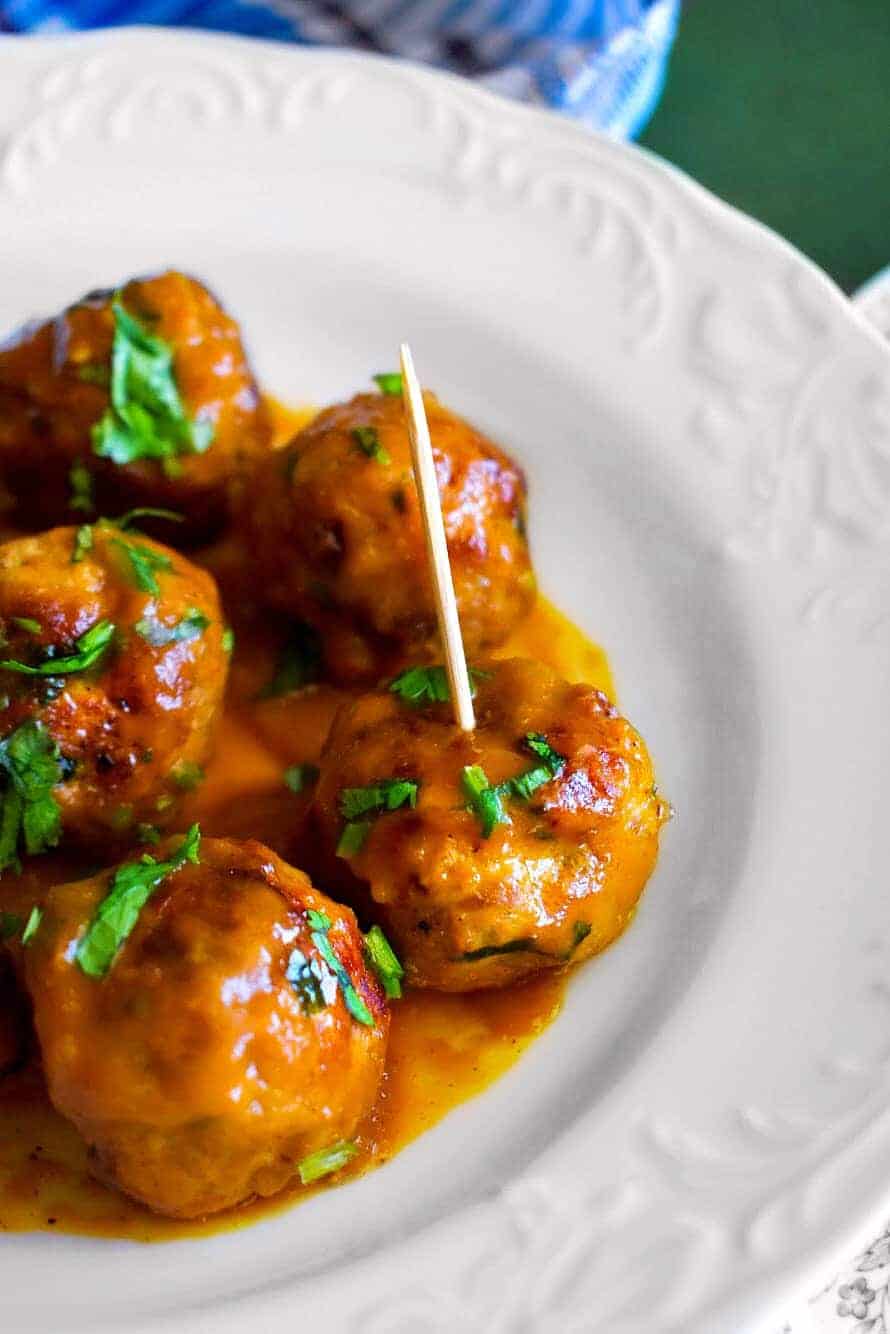 So, here we are with our Quick Mango Habanero Meatballs featuring the Farmer John Extra Lean Ground Pork.
Do give them a try and if you're grilling this week or any other, you should also try out Farmer John's variety of fresh pork cuts, like boneless loins, chops, ribs, ground pork, tenderloins, etc.
The Farmer John California Natural Fresh Pork products are so versatile that you can grill, roast, sauté, or slow-cook it to shake up any meal, any night of the week.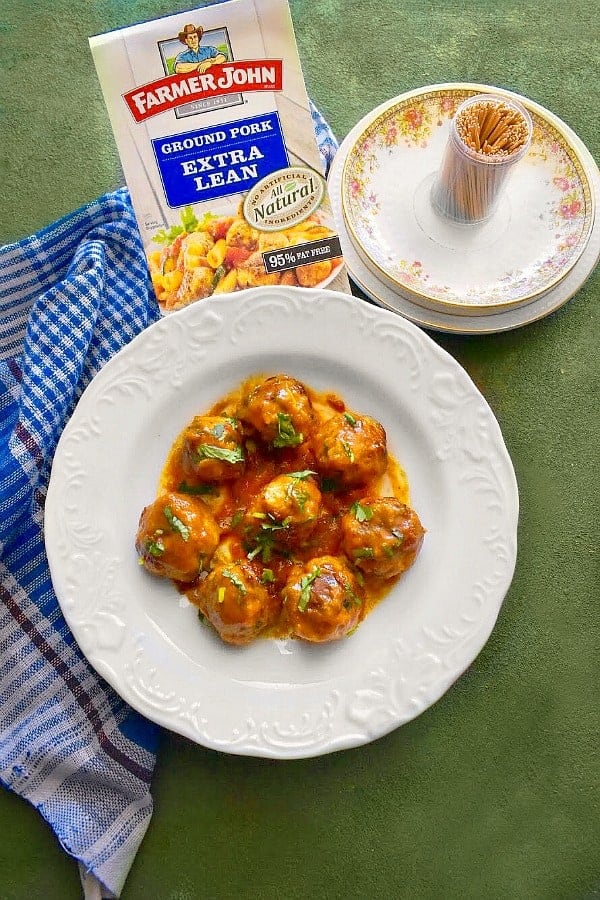 Always remember to buy Farmer John's 100% natural products for best flavors and recipes.
They are available at Lucky's as well as a variety of local grocery stores including Food 4 Less, Smart & Final, Safeway, Albertsons, and Stater Bros. Markets.
To find a full list of retailers and more great recipe ideas, and also to check out all of the Farmer John products, visit FarmerJohn.com.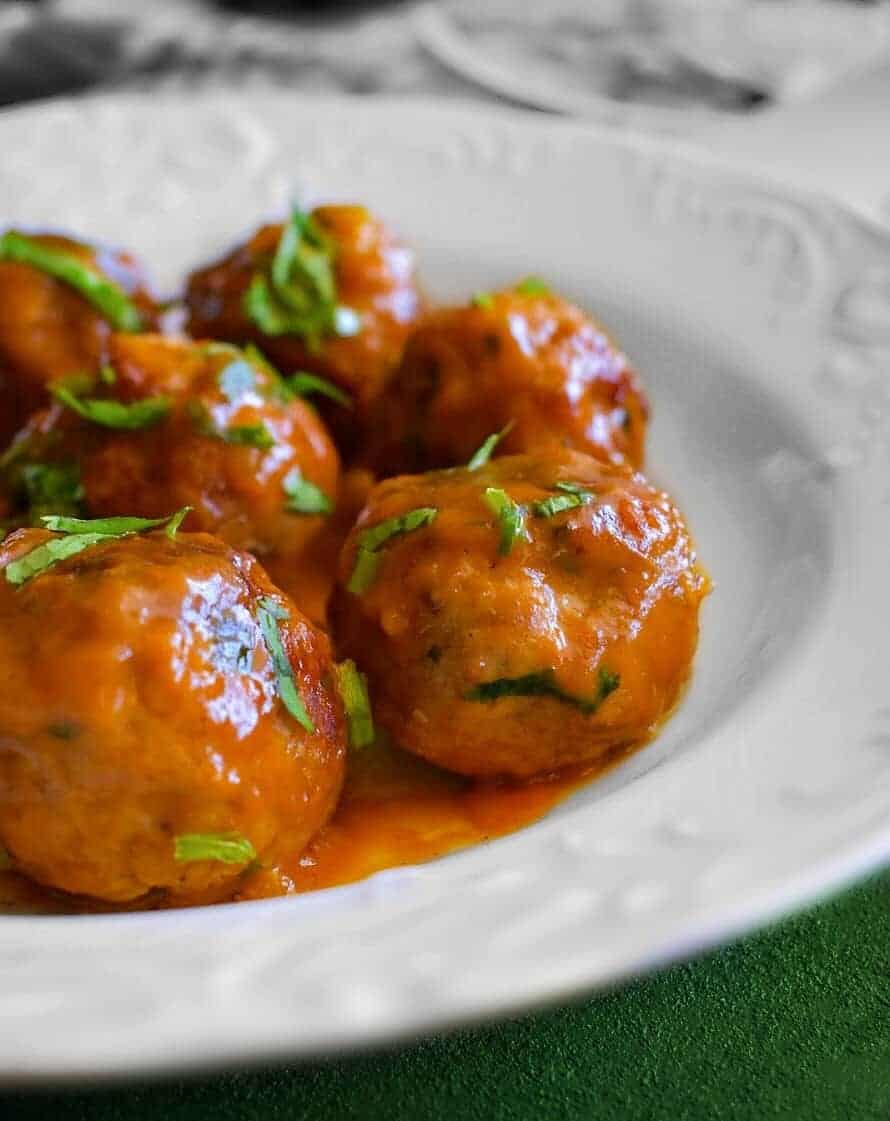 :: You May Also Like ::
---
Tried Our Recipe – AWESOME!!!
Now Quickly SNAP A PICTURE & TAG :
#easycookingwithmolly + @easycookingwithmolly on Instagram –>
Connect with Me Here: Facebook / Pinterest / Instagram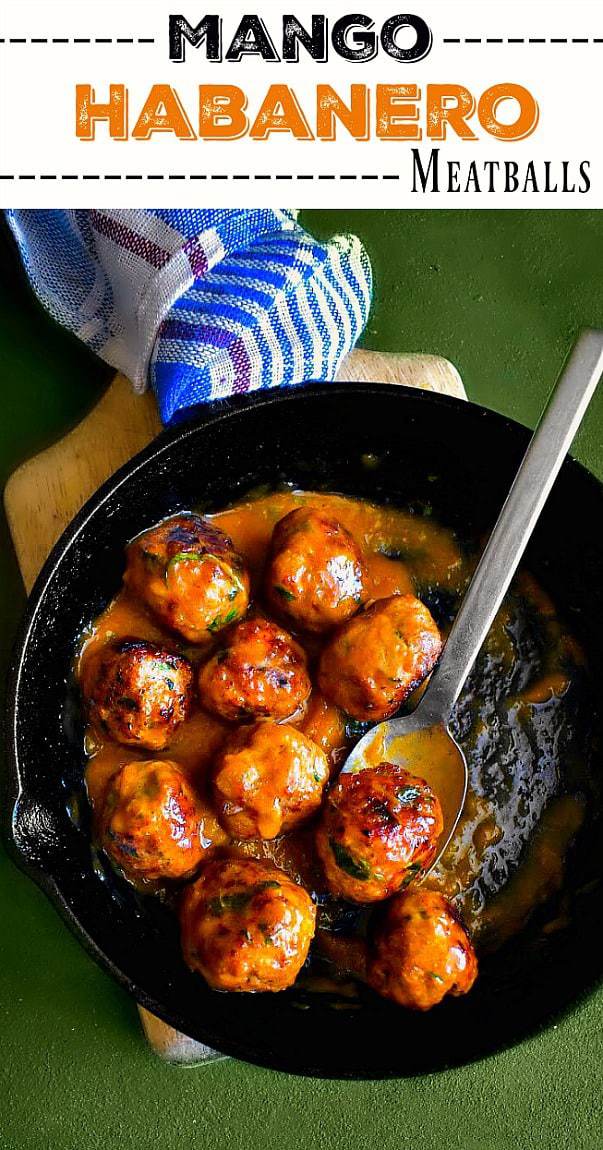 Yield: 4 People
Quick Mango Habanero Meatballs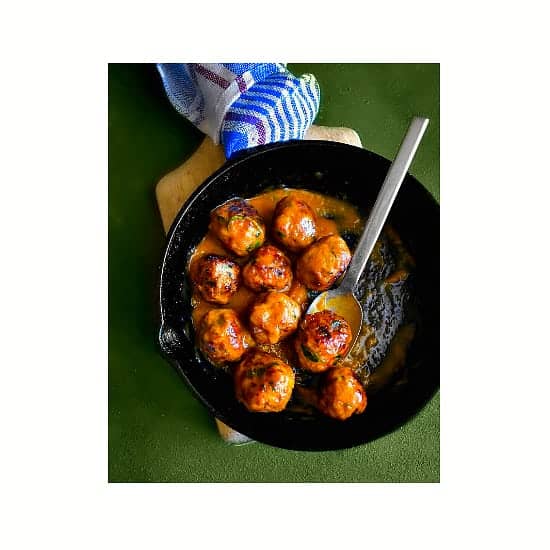 Quick Mango Habanero Meatballs: a delicious mix of sweet-spicy flavors with melt in your mouth meatballs. Pork Meatballs #chinesenewyear #superbowlfood
Ingredients
Ingredient to Make the Meatballs:
1 Cup Farmer John Extra Lean Ground Pork
1 Egg
1 Small Red Onion - thinly sliced
1/2 Cup Diced Mango
1 Tbsp Habanero Sauce - you may use this as per taste (I'm using a light habanero sauce)
1 Tbsp Meat Seasoning
Salt - 1/4 Tsp (you may completely skip or add more as per taste)
2 Tbsp Cilantro - thinly chopped
2 Tbsp Olive Oil
Ingredient to Make the Sauce:
1 Tsp Olive Oil
1/2 Cup Diced Mango
1/4 Tsp Habanero Sauce
2 Tbsp Ketchup
1 Tsp Balsamic Vinegar or Teriyaki Sauce
1/4 Tsp Ginger+Garlic Powder
Salt - as per taste
1/2 Cup Water
Instructions
Shape the Meatballs:
In a large bowl, add all the meatball ingredients and mix using a fork or hand.
Keep aside when verything is mixed nicely
Wet your hands and take 2 Tbsp of this mix on your palms.
Roll into a ball or meatball shape and keep on a clean plate.
Similarly, make meatballs using the entire mix.
Lightly cover the plate with a cling wrap and keep in freezer for 10 mins to firm up.


Make the Meatballs:
Heat a skillet and add 1tbsp oil.
Remove the uncooked meatballs from the freezer.
Now, add 4-5 meatballs in the skillet and saute till it's cooked evenly on all sides (takes about 2 minutes on medium heat).
Similarly, cook all the meatballs and keep aside.


Making the Mango Habanero Sauce:
Heat the same skillet and add olive oil.
Add diced mango and saute for a minute over low flames.
Add ginger+garlic powder, habanero sauce, ketchup, balsamic vinegar, water, and saute.
Keep sautéing on medium heat till everything is well incorporated (the mangoes will melt in few minutes or you can crush using a spatula).
Reduce the heat and add meatballs.
Scoop the sauce and evenly coat each meatball.
Let this simmer for 2-3 minutes or till meatballs absorb some of the sauce.
Turn off the heat.
Transfer to a serving bowl and sprinkle some fresh cilantro.
Serve fresh.
Nutrition Information:
Yield:
6
Serving Size:
1
Amount Per Serving:
Calories:

163
Total Fat:

9g
Saturated Fat:

2g
Trans Fat:

0g
Unsaturated Fat:

6g
Cholesterol:

55mg
Sodium:

300mg
Carbohydrates:

12g
Fiber:

2g
Sugar:

9g
Protein:

11g