Vegan Avocado Toast Recipe: 5 minutes, delicious avocado toast that's topped with black sesame seed, turmeric, hemp hearts seeds, garlic salt and a hint of spice.
Vegan Avocado Toast is perfect for breakfast/snack.
This Vegan Avocado Toast Recipe is literally EVERYTHING that I look for in a breakfast !!
Cause, it's my goto recipe to jump-start my day filled with energy and deliciousness.
It's Hearty
Super Quick or Absolutely No-Cook
Tastes Delicious
Loved by All Family Age Group
Grab & Go
With so many benefits, this has to be one of the MOST loved breakfast by many of us.
Okay, first thing first, we love Avocado's and I've rarely met anyone who doesn't (except maybe 2 people that looked at me with ughh…why are you buying this kinda eyes)
So, if we have avocado's at home, it's a no-brainer that it's what we are having for breakfast or snacks at time…maybe a light lunch for me too.
And most of the times we end up having it just as you all love it -> Avocado Toast!
But, of late, I've been experimenting with our breakfast situation and trying to make it more healthy.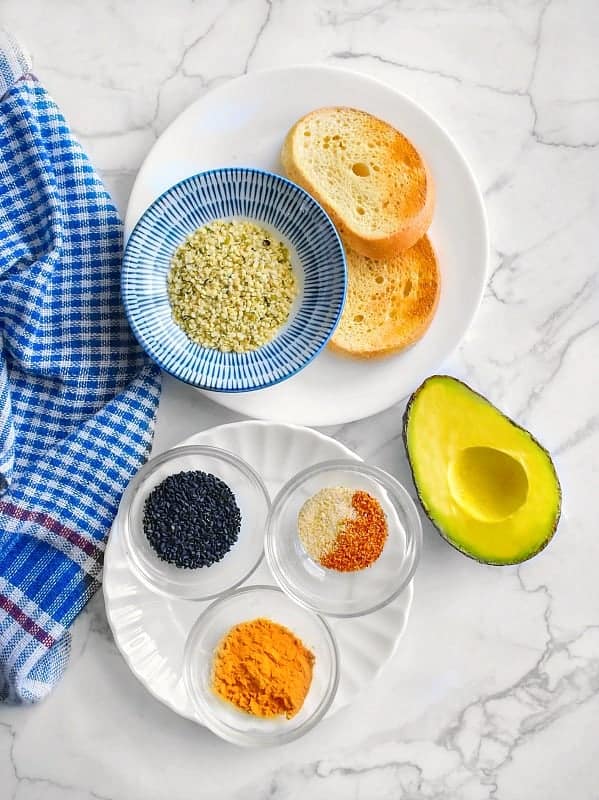 Hence, I bought tons of herb oil/seeds/spices that can be easily added as a topping and enhance the tastes too.
So, this "Sesame-Turmeric-Hemp Heart" toast has become our goto recipe.
The spice+seed combination enhances this toast and makes it even more flavorful, nutty in taste and slightly peppery which goes AMAZINGLY with the Creamy Avocadoes.
Also, with this recipe, just 1 avocado goes a long way as it can feed up to 4 people (makes 6 medium toasts).
WHY the "Sesame-Turmeric-Hemp Heart" Topping"?
Black Sesame Seeds: are filled with minerals, vitamin B1 and fiber, which is good for heart, lungs and reduce inflammation.
Turmeric: has so many benefits like supporting a healthy brain, boosting the immune system and helps replenish cells.
Hemp Heart: adds fiber along with other minerals+vitamins. Is good for the heart.
We don't stop at just that as I'm also adding a tad bit of 'Garlic Salt' along with Chili Flakes and a Drizzle of your favorite herb oil or even avocado oil.
All this enhances the flavors and taste of our Vegan Avocado Toast Recipe and the best part, it's No-Cook 🙂
So, I really want to try this recipe ASAP and please do let me know whether you made it as is or add your own twist to it 🙂
Also, I'd also call it a perfect fusion of East meet West in flavors and ingredients.
:: You May Also Like ::
Quick Breakfast Recipes
Quick #breakfast recipes that are perfect for busy mornings or even grab and go option.
---
Tried Our Recipe – AWESOME!!!
Now Quickly SNAP A PICTURE & TAG :
#easycookingwithmolly + @easycookingwithmolly on Instagram –>
Connect with Me Here: Facebook / Pinterest / Instagram
Yield: 6 Medium Toast
Vegan Avocado Toast Recipe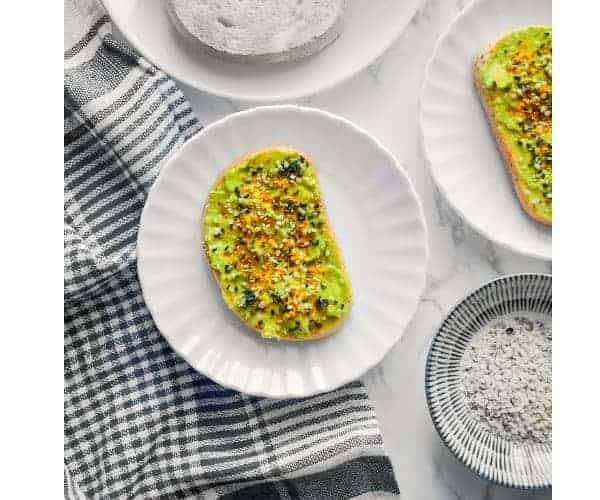 Vegan Avocado Toast Recipe: 5 minutes, delicious avocado toast that's topped with black sesame seed, turmeric, hemp hearts seeds, garlic salt and a hint of spice. #veganavocadotoast
Ingredients
1 Large Avocado - washed
6 Medium Slice of Bread
1 Small Lemon - juice of 1 small slice
1/8 Tsp Turmeric Powder
1 Tsp Black Sesame Seed
1 Tbsp Hemp Heart Seeds
2 Pinches Garlic Salt - optional (can use regular salt)
Pinch of Chili Flakes
1 Tbsp Herb Olive Oil or Avocado Oil
Instructions
Toast the Bread in toaster (toast as per your preference).
Prepare the Avocado Mix:
Take the avocado and half it using a knife.
Remove the pit and scoop the avocado flesh in a medium bowl.
Add the juice of 1small slice of lemon and salt (garlic salt if using).
Mix to combine everything.
Make the Avocado Toast:
Take each toasted slices and slather 1/2 Tbsp avocado mix on them.
Top with black sesame seed, turmeric, chili flakes, hemp heart.
Drizzle some herb oil/avocado oil.
Enjoy
Nutrition Information:
Yield:
6
Serving Size:
1
Amount Per Serving:
Calories:

123
Total Fat:

7g
Saturated Fat:

1g
Trans Fat:

0g
Unsaturated Fat:

6g
Cholesterol:

0mg
Sodium:

50mg
Carbohydrates:

10g
Fiber:

2g
Sugar:

4g
Protein:

2g