"This post is sponsored by Sweet Earth Foods & Kroger. All Opinions as always are my own"
Sweet Earth Bowls Review: my review on Sweet Earth Foods Vegan General Tso's Tofu and Curry Tiger Bowls. They both are a perfect nutrient dense and anytime quick meal for your entire family.
As a Food Blogger, the one question I get asked the most "Do you cook every day"?
Contrary to what many believe, my answer is 'Nope', not every day but 'Yes' atleast 4-5 times a week and rest of the days, we live on fresh fruits/ smoothies and packaged meals from companies like "Sweet Earth Food ".
Eating out or eating a pre-packaged meal is never easy, but if you make a conscious effort, you'll be surprised that finding the right food with taste + nutrients is not that hard or far 🙂
For us, we found it not only in our nearest Kroger store (frozen food aisle) but also a company that's local to California …. Totally Love it !!!
They have so much variety that you can literally taste global food from France to India or China to Mexico or Japan to Cuba in a matter of just 3-4 minutes from the comfort of your home/click of a microwave.
So, here I'm reviewing 2 of "Sweet Earth Foods" Artisan Bowls:
General Tso's Tofu
Curry Tiger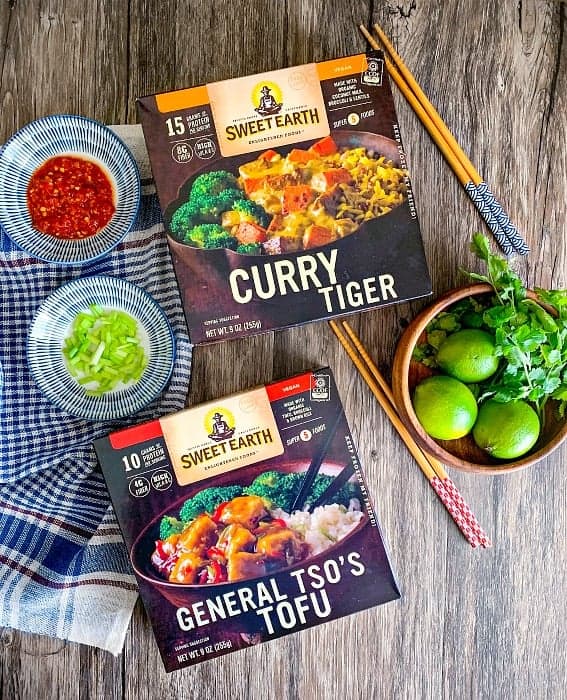 : General Tso's Tofu :
General Tso's Tofu bowl is a popular dish from the Hunan province of China. It's a zesty sweet-sour sauce based crispy tofu with steamed broccoli and brown rice.
With 10 grams of protein, a good source of Iron and rich in Vitamin A & C, it's packed with great flavors and taste.
This is definitely OUR Favorite of all their products and our freezer is well stocked with it all the time.
The dish is fully cooked and comes in a microwavable bowl which makes it perfect for office meals too.
I also love the fact that the dish is ready in 3 minutes in the microwave and It's sufficient for 1 person.
Once microwaved, I usually give it a quick stir to mix the sauce, tofu, broccoli, and brown rice and you can literally taste the Chinese flavor in every bite.
If you love sweet-sour combination dishes, this will be your NEW Favorite.
: Curry Tiger :
The Curry Tiger bowl is inspired by Indian flavors and is a mix of curried lentils with sweet potatoes, carrots, broccoli, and brown rice.
It has 15 grams of proteins, 8 grams of fiber, Vitamin A & C, it' definitely a perfectly balanced nutrient-packed meal.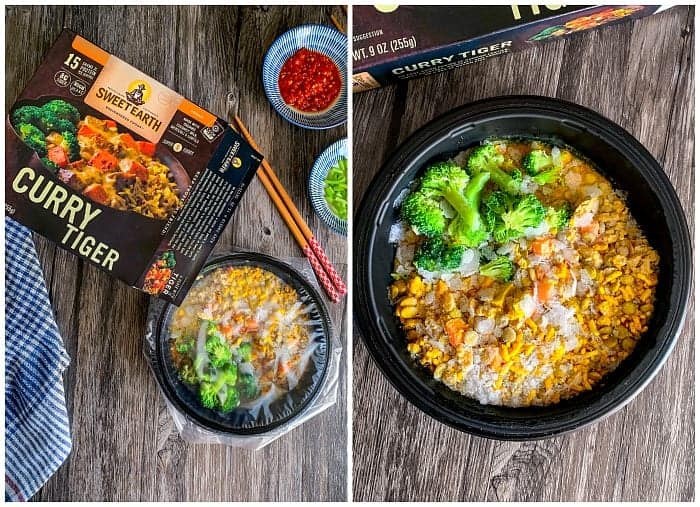 Microwave for 3 minutes and you get an easy holistic meal with curry flavor.
We ate both these bowls for lunch a few days back and thought why not share our review with you'll too.
As I did mention earlier, we always have Sweet Earth Foods products stocked at home and I love running to our local Kroger store for them (neatly stacked and lots of variety).
They have a lot of varieties to choose from:
Artisan Bowls:
Borderless Enchilada
Curry Tiger
General Tso Tofu
Bean & Mango Cubano
Chana Masala
Pad Thai
Burrito:
Big Sur Breakfast Burrito
Baja Breakfast Burrito
Curry Tiger Burrito
Peruvian Burrito
Protein Lover's Burrito
Lighten Up! Burrito
They are available at your local Kroger, Harris Teeter, Fred Meyer, Ralphs, Frys, King Scoopers, Marianos and more! –> Check Here <– for product availability near you.
Once more thing I wanted to mention, I especially love using them when we are back from travel and want to eat healthy yet donot want to cook.
They make an EXCELLENT 'Student Package Gifts' too as they are perfect for Dorms/rooms with least cooking option.
A delicious, hot and light meal is always within reach 🙂
So which one of these bowls/burrito are you going to try first?
Sweet Earth Foods Product Reviews
My reviews on other #SweetEarthFoods product that I've tried like Pizza, Burrito, Lasagna, etc.
---
Tried Our Recipe – AWESOME!!!
Now Quickly SNAP A PICTURE & TAG :
#easycookingwithmolly + @easycookingwithmolly –>
Connect with Me Here: Facebook / Pinterest / Instagram