Skinny Cauliflower Pasta Bake: light pasta recipe that's filled with creamy cauliflower sauce and seasoned-crunchy topping. Also, popularly known as cauliflower mac and cheese. Cauliflower Pasta Bake – perfect weeknight family meal.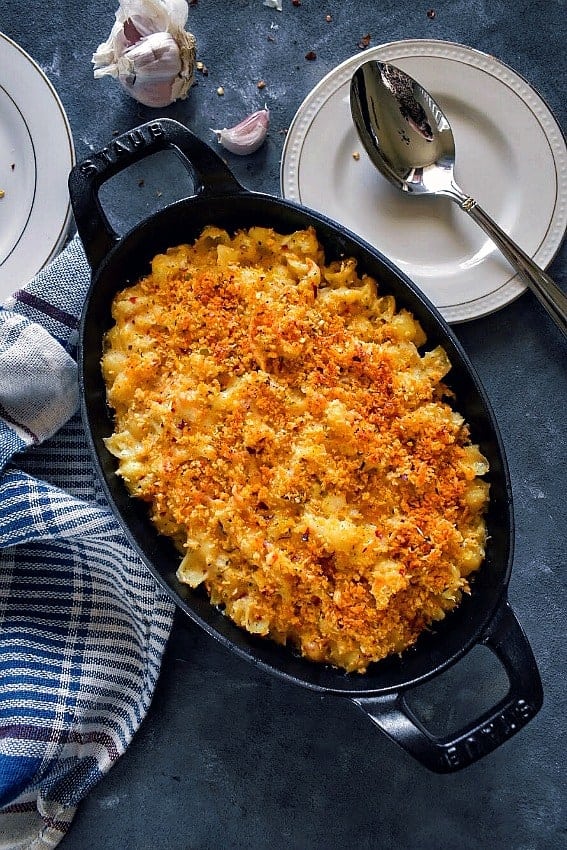 There is nothing like pasta for a weeknight meal and this Cauliflower Pasta Bake recipe is what we have been obsessed with!!!
It has the same creamy, luscious or ooey-gooey taste minus the calorie bombs such cheesy dishes can be.
So in other words, you can eat this
Skinny Cauliflower Pasta Bake
more often and literally enjoy that second or even third helping.
Ingredients Cauliflower Pasta Bake
Cauliflower Rice – homemade or store-bought
Shell Pasta –
Bread Crumbs
Garlic Powder
Spice Blend

It's been such a loooooong time since I shared a pasta recipe and this one has been our family favorite recipe for ages now.
As soon as the weather turns slightly chilly, we transition to more baked recipes or soup-sandwich kind of meals.
But at the same time, we don't want a heavy meal that would make us feel lethargic or we think 10 times before making.
And as everyone loves pasta, this Skinny Cauliflower Pasta Bake is a Win-Win meal for all of us and including our friends/family with kids.
The kids love it thinking it looks soooooo cheesy and the parents love it as they know the kids are actually eating veggies (lol).
My friend kids call it Cauliflower Mac and Cheese 🙂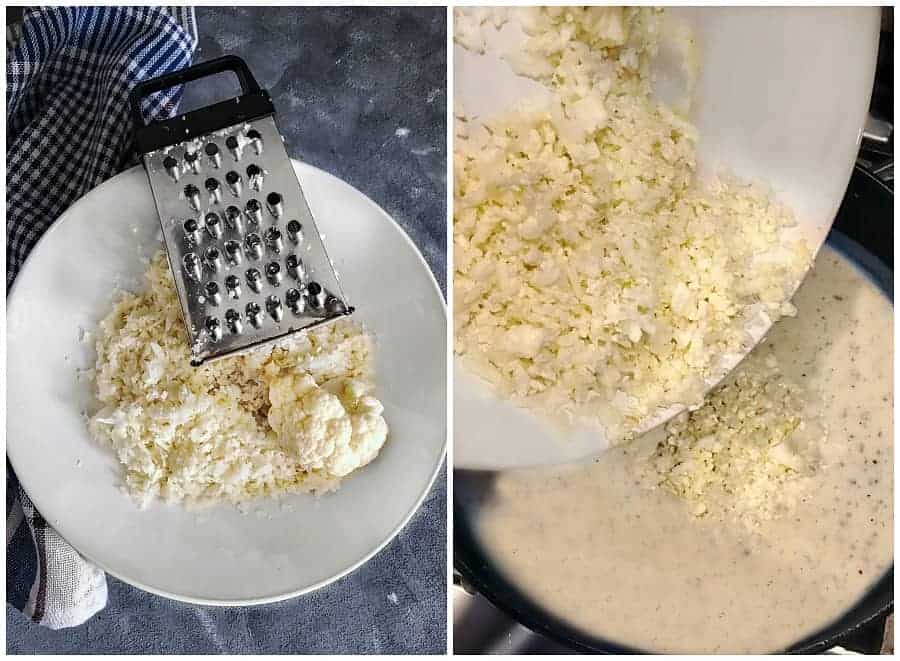 Now, let's talk a little about the 'Skinny' part!
Few years back, when I told my family I would make a 'Skinny Pasta' they literally made faces and said let's just order food.
But I anyways made the pasta and when it was kept on the table, they thought I dropped the idea of a skinny pasta as this looked pretty Cheesy.
And after devouring one or two spoonfuls, they literally announced this is not all skinny as it looks so cheesy and tastes so yum!!!
Aha 🙂 that exactly was their words and then I told them that the cheesy feel is not from 'lots of cheese' but 'Cauliflower Rice' !!!
I did hear some 'No-Ways' but that's true, Cauliflower rice sauce has a very similar consistency to melted cheese.
This means our Skinny Cauliflower Pasta Bake is not Dry or flavorless!
Infact, it's cheesier (without adding much cheese) and lighter than your regular bake.
I've also added this crunchy-spicy topping of breadcrumbs, crackers, and seasoning, which gives it a cheesy-crunchy taste.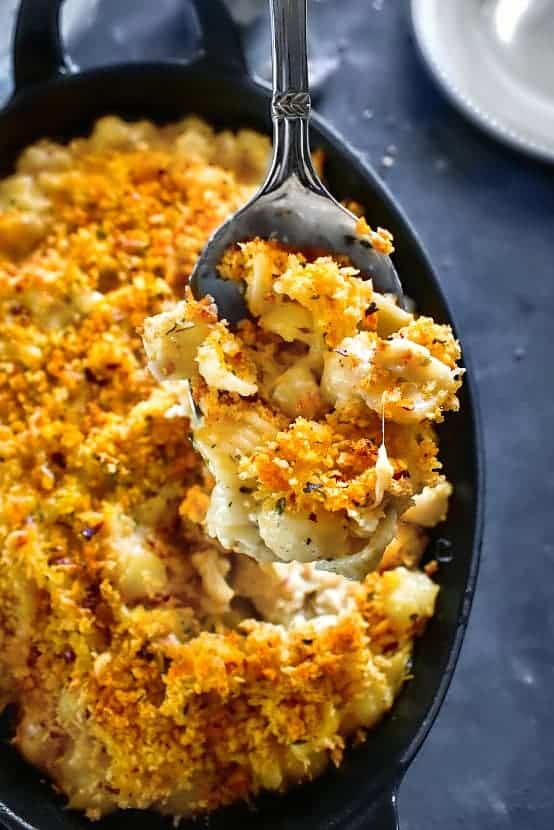 Infact I love making this often as it cooks so much quicker than the regular cheesy pasta.
Now, to make it even simpler, I've broken the steps further into:
Cooking the Pasta & Shredding the Cauliflower – takes 3-4 minutes
Making the Cauliflower Sauce- takes about 3 minutes.
Baking the Pasta – takes 15 minutes to turn into this golden deliciousness.
So go ahead and try this recipe ASAP and do let me know how you liked it?
It's also easily customizable, you can add or remove the seasoning as per choice.
I've added 'Chili Flakes' in both pasta and topping, but if you want, you can completely remove it when feeding to kids.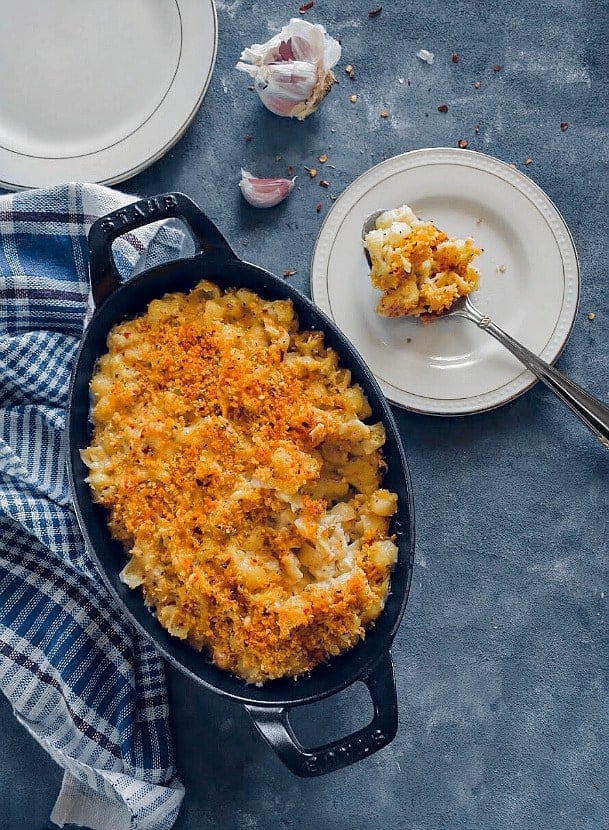 Tried Our Recipe – AWESOME!!!
Now Quickly SNAP A PICTURE & TAG :
#easycookingwithmolly + @easycookingwithmolly on Instagram –>
Connect with Me Here: Facebook / Pinterest / Instagram / Twitter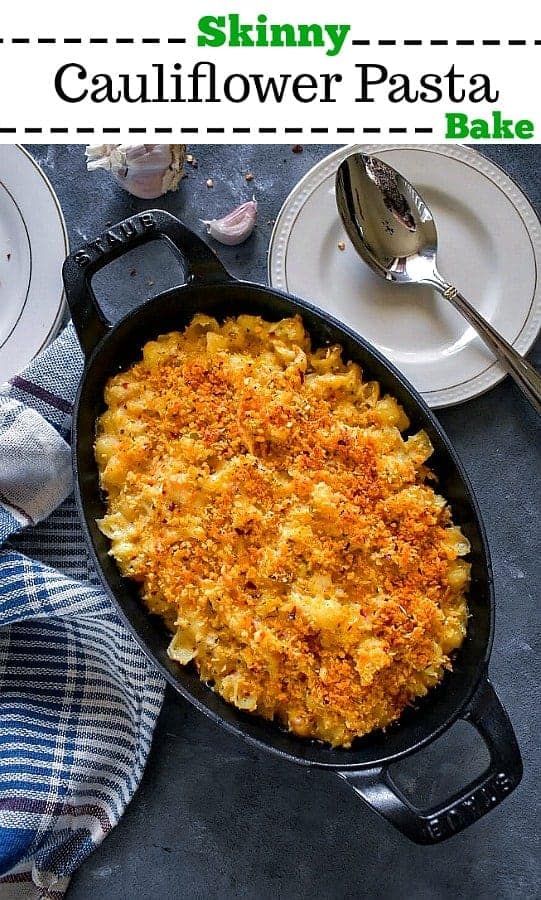 :: You May Also Like ::
Yield: 4 People
Skinny Cauliflower Pasta Bake (Healthy)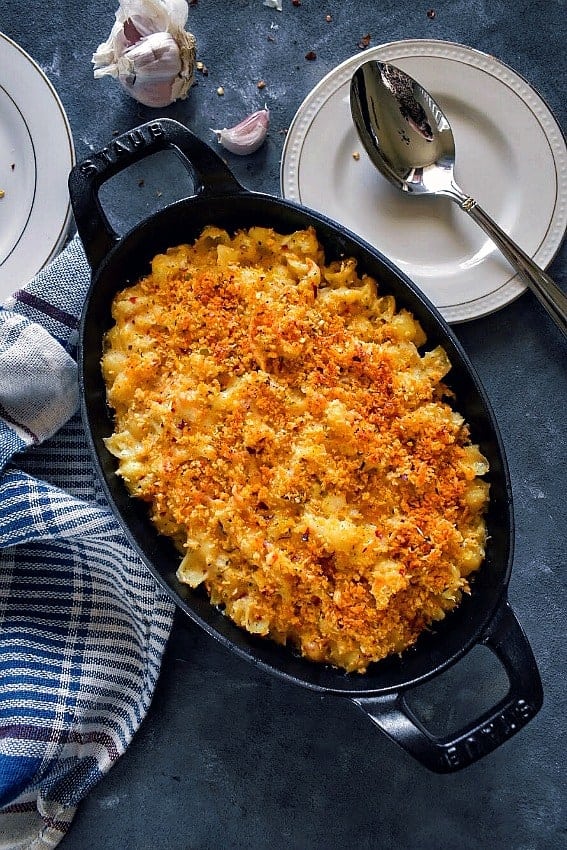 This Skinny Cauliflower Pasta Bake recipe is filled with creamy cauliflower sauce, macaroni pasta, and seasoned-crunchy topping. also popularly known as Cauliflower Mac and Cheese.
Ingredients
1/2 Cauliflower Head - cleaned - you may use cauliflower rice too
1 lb Shell Pasta
3 Cups Water - for making pasta
2 Tbsp Olive Oil - you can even use herbed oil
2 Tbsp Butter
3 Tbsp Whole Wheat Flour
1 Tbsp All Purpose Flour
2 Cups Skim Milk - you can even use almond or cashew milk for more flavor
1/4 Cup Vegetable Broth
1 Tbsp Mustard - optional
1/4 Cup Shredded Emmental Cheese - optional or you can use parmesan, white cheddar, etc.
Pasta Seasoning:
1/2 Tspn Garlic Powder
2 Tsp Chili Flakes
1 Tsp Italian Seasoning
Salt - as per taste
Pepper - as per taste
Pasta Topping:
3 Tbsp Bread Crumbs
2 Tbsp Cheese Crackers - crumbled
1 Tsp Italian Seasoning
1/2 Tsp Chili Flakes
2 Tbsp Shredded Cheese
Instructions
Pre-heat the oven at 375F.
Make the pasta as per instructions on the package. (Once the pasta is cooked, keep it aside)
Shred the cauliflower using a machine or hand help shredder. (Keep aside)
Make the Cauliflower Sauce:
* Heat oil + butter in a large saucepan.
* Add the seasoning (except salt) and saute everything together for 30 seconds over low heat.
* Now add flours (wheat_all purpose) and saute till light golden or slightly cooked (takes about 2-3 minutes over medium heat).
* Now add milk (and broth if using) and whisk everything to form a lump free batter kind of mix.
* Add salt and bring to a boil.
* Now add the shredded cauliflower rice and .Cook this over low heat for 3 minutes.
* Turn off the heat.
! Final Steps
* Now add the cooked pasta and cheese to the cauliflower pasta sauce.
* Mix everything using a big spoon (trust me its easier)
* Transfer the cauliflower pasta to a buttered oven safe dish (9x13).
* Sprinkle the "Pasta Toppings" evenly on top of our cauliflower pasta.
* Bake at 375F 15-20 minutes or until bubbly and topping is golden.
* Let stand 5 minutes before serving.
Nutrition Information:
Yield:
8
Serving Size:
2
Amount Per Serving:
Calories:

298
Total Fat:

13g
Saturated Fat:

5g
Trans Fat:

0g
Unsaturated Fat:

7g
Cholesterol:

19mg
Sodium:

284mg
Carbohydrates:

35g
Fiber:

3g
Sugar:

6g
Protein:

11g