Indian Chicken Puff – Chicken Curry Puff Recipe: extremely popular and must have Indian appetizer, these puffs are flakey on the outside and filled with a flavorful chicken mix using curry powder. They are perfect for entertaining and can be made for big/small parties.
We made them using Sharp Superheated Steam Countertop Oven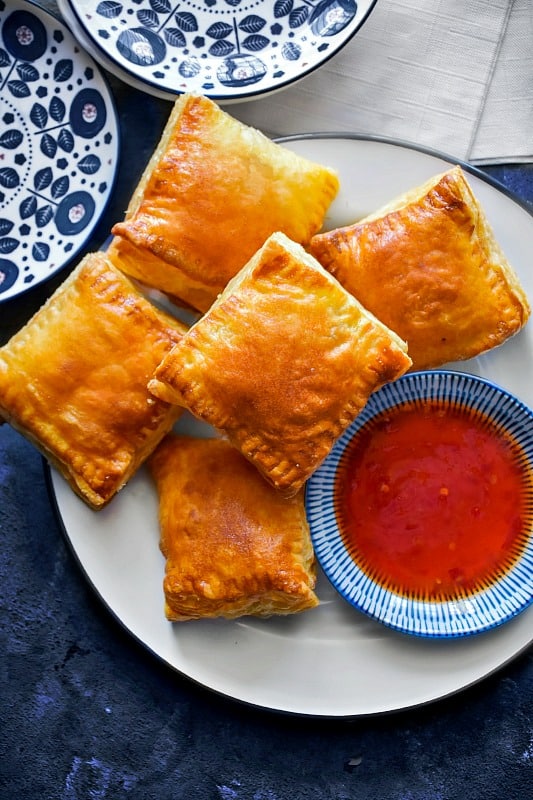 So I wanted to share this extremely popular Indian snack and also one of our MOST requested party appetizer 'Indian Chicken Puff', also known as Chicken Patties or Chicken Curry Puffs or even Chicken Puff Pastry.
Summer is in full swing and so are summer parties, picnics, and sleepovers.
The crispy, flakey puffs with curry-flavored chicken mix make it an instant hit with all age groups and any kind of parties.
Before we discuss more about the oven and Why it's our Favorite Kitchen appliance, let's quickly grab the:
Ingredients for our Indian Chicken Puffs:
2 Puff Pastry Sheets

Raw Chicken (cut in bite-size pieces)
Onion
Cilantro + Green Chilli
Curry Powder
Egg
Now, coming back to the Sharp Superheated Steam Countertop Oven, Its my most handy kitchen appliance and saves us from getting the kitchen even hotter during summer months (the reason I avoid conventional ovens).
And the best of all no preheating is required with this countertop oven, cutting my cooking time down tremendously.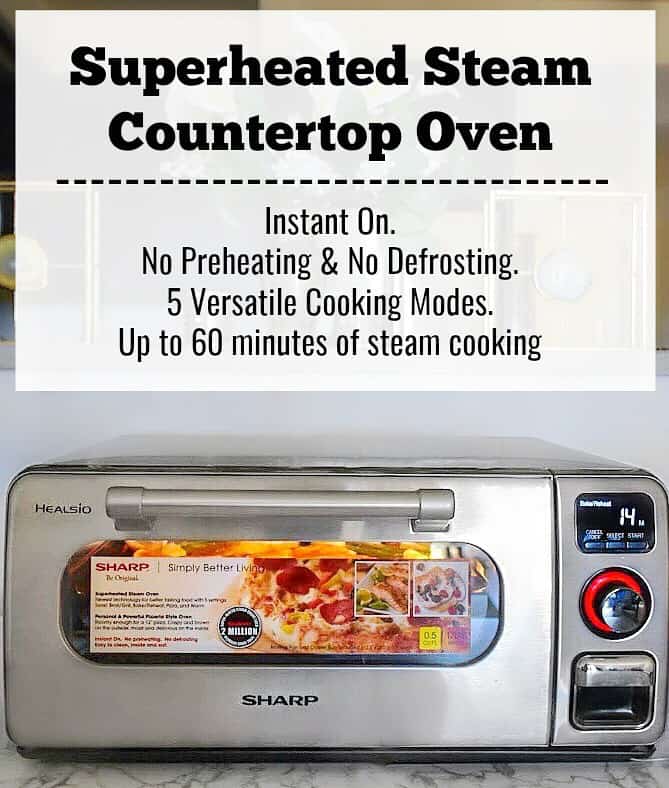 Since the countertop oven handles everything from baking, broiling, broiling, toasting, and reheating my left-overs, I've removed all the extra gadgets and just kept this on the kitchen counter.
This saves so much space in the long run, makes the kitchen looks so much more neater (in control seriously) and the bottom of the oven super easy to clean with no exposed coils.
You would have seen this countertop oven in my other recipes too, like:
Quick Ricotta Spinach and Corn Empanadas
Sheet Pan Orange Ginger Tilapia
Now that you have the ingredients for our Indian Chicken Puff, let's get started with the process:
Process to Make Indian Chicken Puff – Chicken Curry Puff Recipe
Make the Chicken Mix for stuffing the patties

Cutting the puff pastry sheets into equal sized squares (16) or any shape you like.
Adding the cooked chicken mix on each patties/puff
Sealing each patties using a fork.
Brushing the chicken patties with egg for that perfect golden glow.
Baking them for 15 minutes or until they are all puffed up golden brown.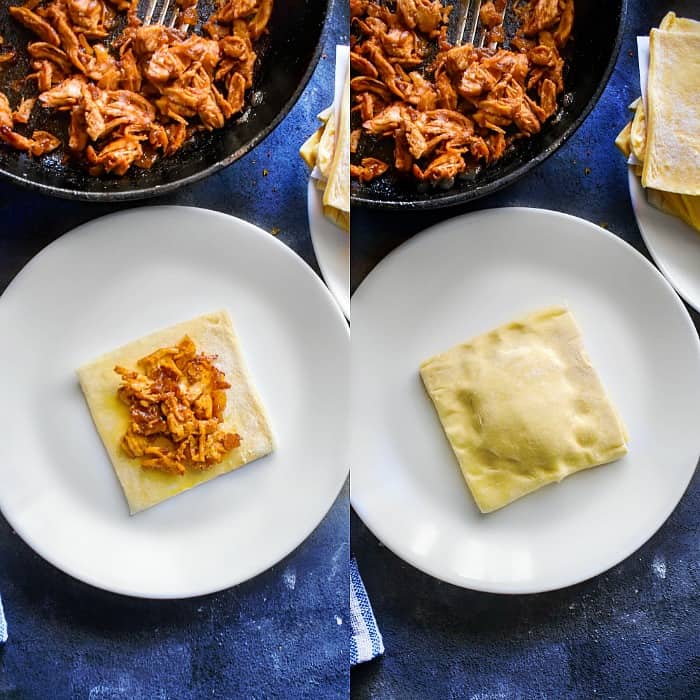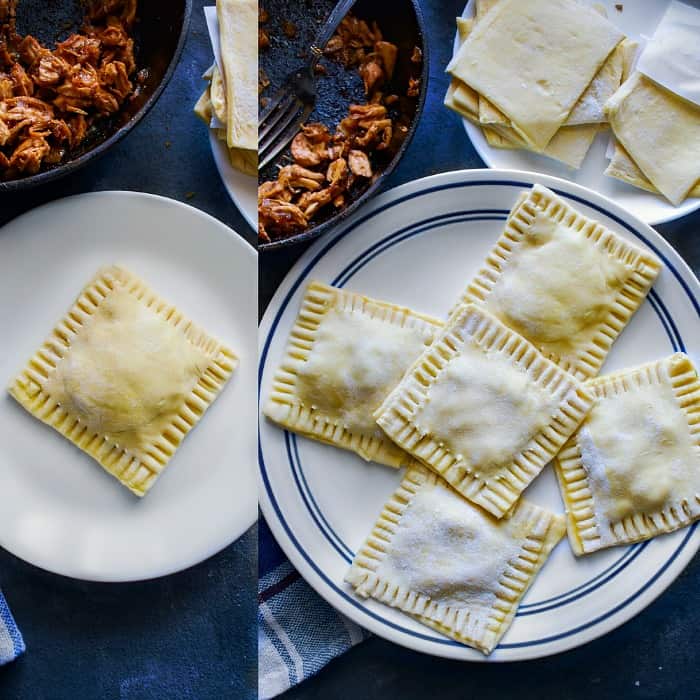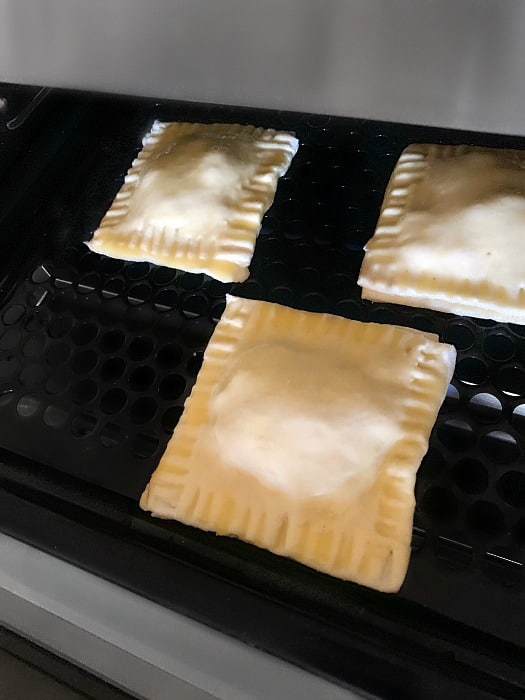 Once baked, simply transfer the Chicken Curry Puffs to a serving platter and serve with your favorite sauce/chutney.
Since there's no preheating or large ovens involved, I make them fresh (about 10 minutes before everyone starts to arrive) and always have the next batch ready to go.
Helloooooo easy entertaining made simple !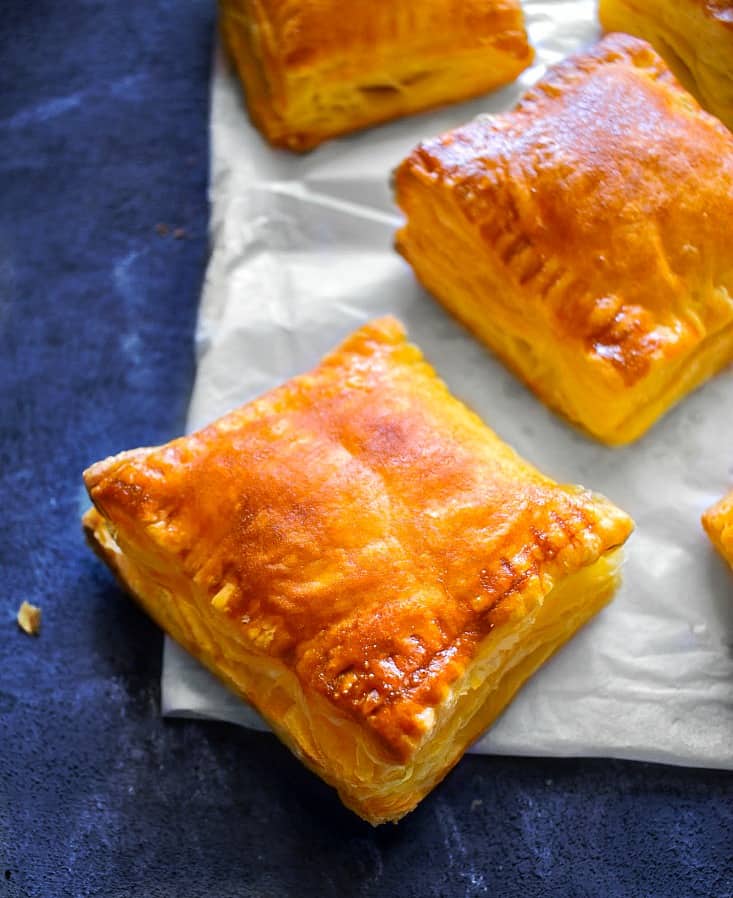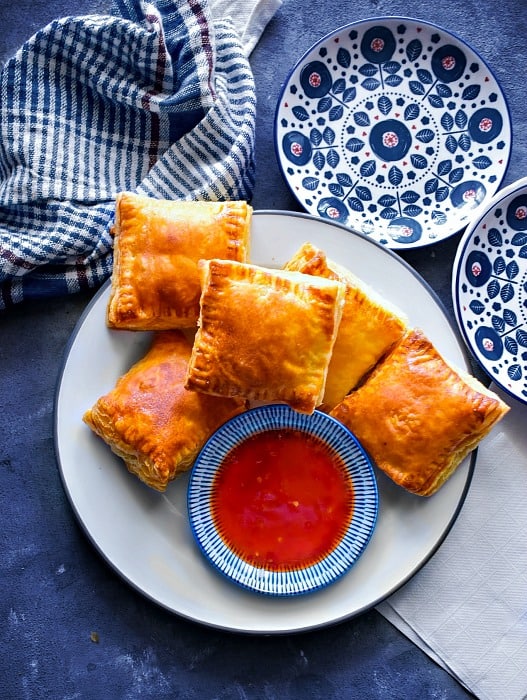 This summer, gather your favorite people and throw more parties with your favorite food and also include my Chicken Puffs 🙂 along with the Sharp Superheated Steam Countertop Oven for quicker delicious meals.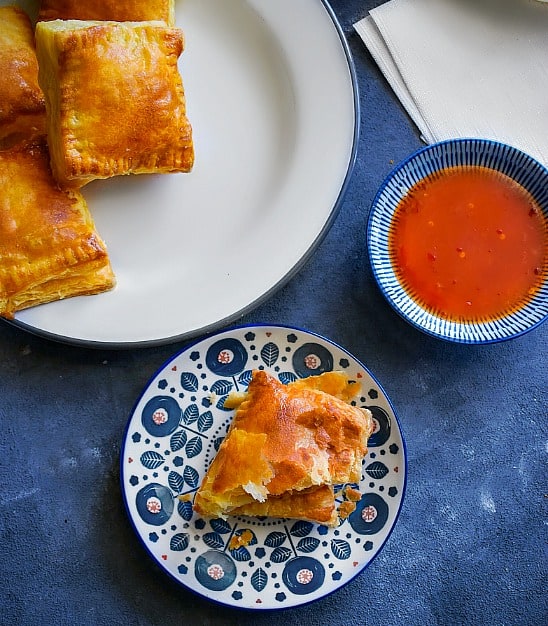 ---
Tried Our Recipe – AWESOME!!!
Now Quickly SNAP A PICTURE & TAG :
#easycookingwithmolly + @easycookingwithmolly on Instagram –>
Connect with Me Here: Facebook / Pinterest / Instagram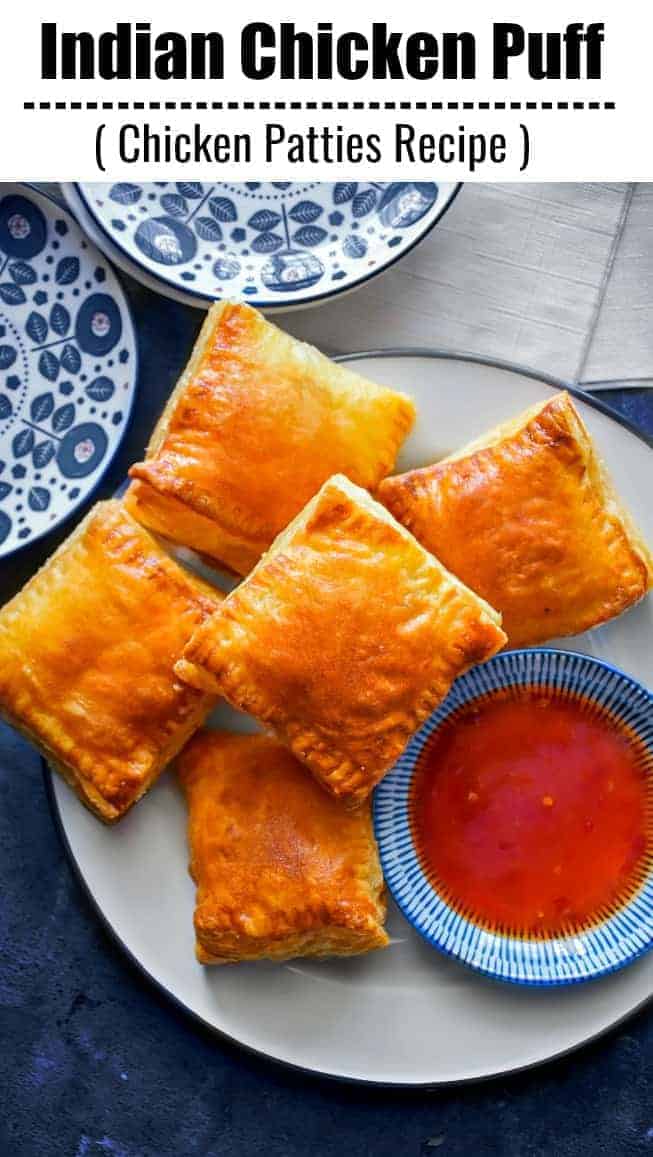 :: You May Also Like ::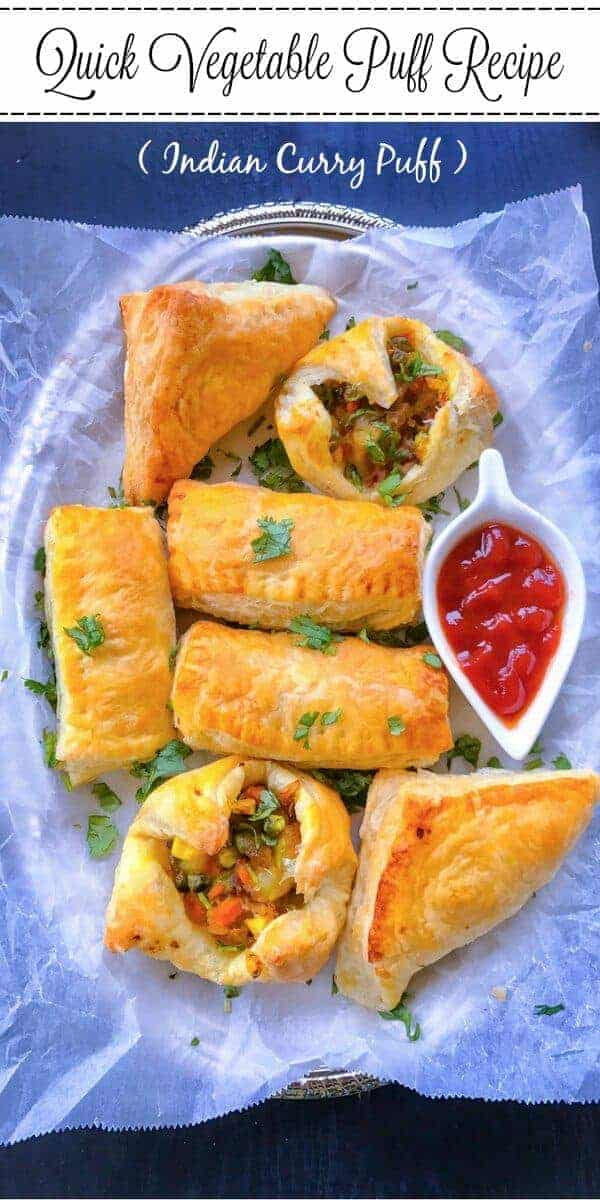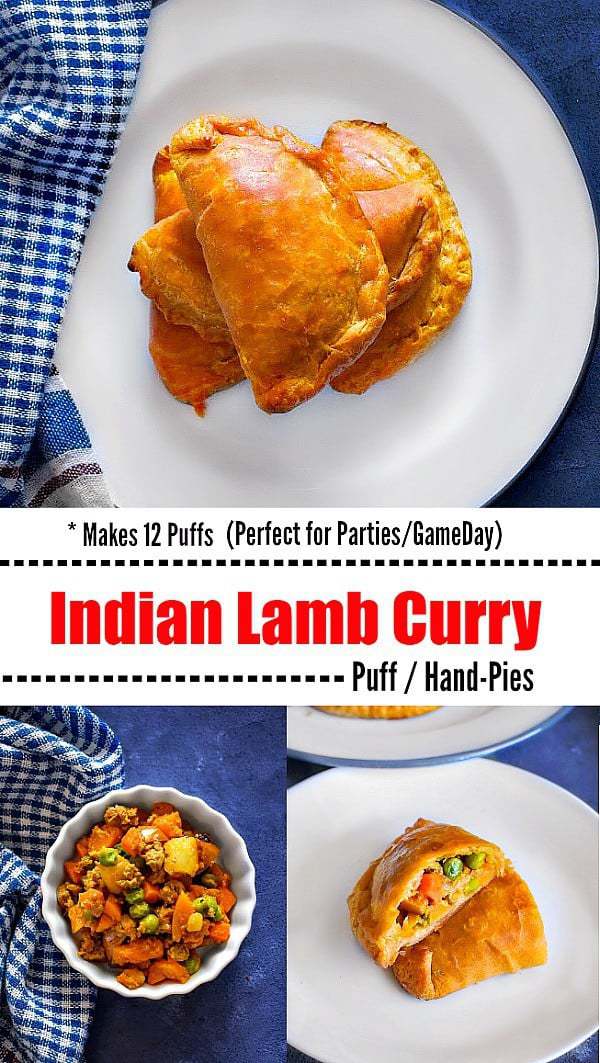 Yield: 12 Puffs
Indian Chicken Puff – Chicken Curry Puff Recipe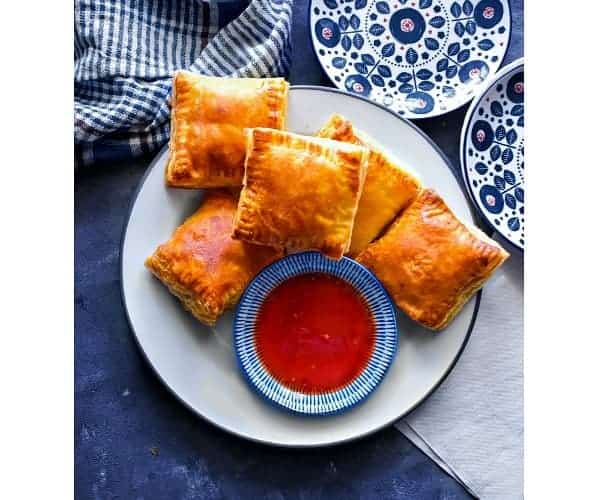 Indian Chicken Puff - Chicken Curry Puff Recipe: puffs made using puff pastry and stuffed with a flavorful chicken mix using curry powder.
Ingredients
1 Packet Puff Pastry Sheets*
1 Cup Chopped Boneless Chicken
1 Large Onion - chopped
1 Egg - whisked
1/4 Cup Water - for cooking the filling
2 Tbsp Olive Oil - to cook the chicken filling
Spices:
1 Tbsp Curry Powder
1 Tsp Salt - as per taste
1 Tsp Chili Powder
Instructions
Make the Filling:
Heat a non-stick pan and add oil.
Add chopped onion and saute till golden (about 2 minutes).
Add the chopped boneless chicken, spices and saute everything.
Cover with lid and let this simmer on slow heat.
Open after 2 minutes, saute and add water.
Cover with let and let the chicken cook for another 2-3 minutes (stir every minute).
Remove the lid and stir the chicken.
Shred the cooked chicken using a fork and turn off the heat.
Let the mixture completely cool.
Make the Chicken Puff Recipe 
Take the thawed but cold Puff Pastry Sheets and cut them into squares (see tutorial pic).
Add 1.5 tbsp of filling in the center and add a cut pastry sheet over it.
Press and seal the puff pastry sheets on all side.
Crimp the edges using a fork (this further seal the puffs).
Similarly, fill and seal all the remaining chicken puffs.
Brush each wrapped pastry with whisked egg (for the golden - crispy look).
Transfer the uncooked chicken puffs to baking tray (i'm adding 5 puffs at a time).
Place the baking tray in the Sharp Superheated Countertop Oven and Bake for 12 minutes (keep an eye as all oven are different).
Once baked, remove from oven.
Server Hot with favorite ketchup or chutney.
Notes
1 Packet Puff Pastry Sheets - - contains 2 sheets
Nutrition Information:
Yield:
6
Serving Size:
2
Amount Per Serving:
Calories:

166
Total Fat:

11g
Saturated Fat:

2g
Trans Fat:

0g
Unsaturated Fat:

8g
Cholesterol:

65mg
Sodium:

55mg
Carbohydrates:

5g
Fiber:

1g
Sugar:

1g
Protein:

12g