Indian Lamb Curry Puffs: quick, delicious and crispy puffs stuffed with a spicy curried lamb -vegetable mix. Also known as 'Lamb Curry Hand Pies', these are perfect for Parties. Air Fryer instructions too.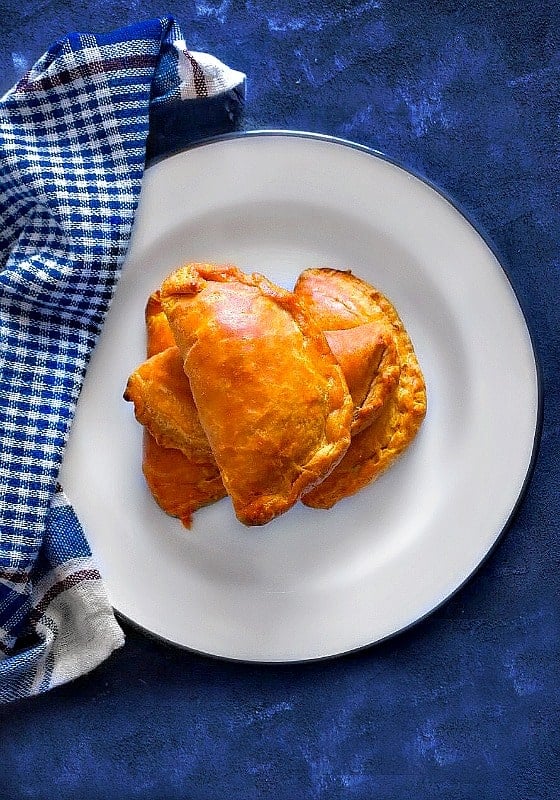 SuperBowl is just around the corner (Finale is on Feb 3rd) and we have 2 games lined up for this Sunday along with my MOST Requested Indian Lamb Curry Puffs !!!
Seriously, felt like a drumroll in the background whenever I take this name as the anticipation of the game along with this meaty puff is Incredible in the house.
Now, the curry puffs or hand pies
(whatever you call them)
, were a typical Sunday brunch menu thing while growing up in India.
I used to look forward to that 10 minutes walk (with Dad) to our favorite bakery and you could literally smell the savory-sweet baked goods aromas all through the street.
As we were a local and frequent visitor, the baker knew us very well, he would literally start preparing the package as soon as he could see us on the streets.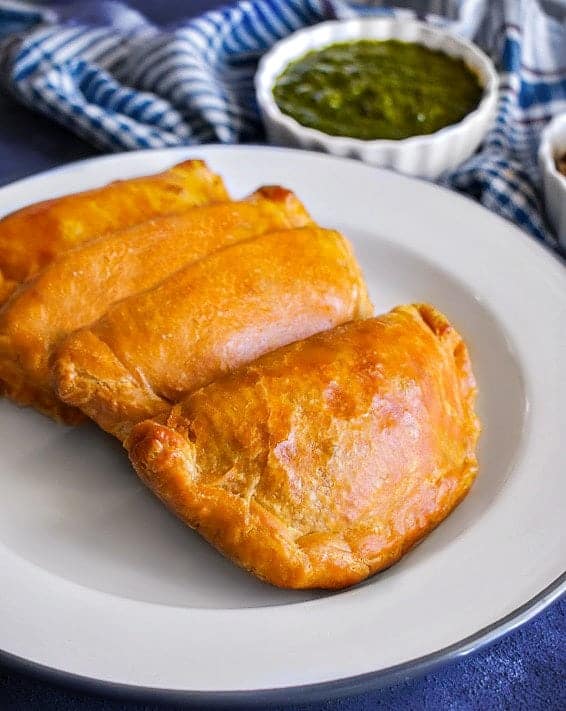 These Indian Lamb Curry Puffs were literally the center of attraction of not only our Sunday brunch but also gamedays (mostly Cricket that time) or any big or small party at home.
Those were the days that not many houses had ovens and most of these goods were brought from the bakery.
So when mom got her first oven (yes we had many after that), guess what was tried 😉
The baker (old Anglo-Indian gentlemen), was kind enough to give us the recipe and since then, mom has been making these 'Curry Puffs' at home!
I've seen the whole process so many time, that I can literally make them even in my sleep (okay kidding, but who knows 😉
So, when I moved to USA, I remember, making them for our First SuperBowl party and you guys everyone has been hooked on them since then (more than decades now).
Ingredients for Indian Lamb Curry Puffs:
Dough – you can use homemade or store-bought biscuit/pizza.
Lamb Mince (keema)
Indian Spice Mix – curry masala
Veggies – onion, peas, and carrots go perfectly but you can add potato too
Oil
The recipe is extremely simple and absolutely customizable as per the availability of products/choice.
At times, I would make the 'Puff' dough at home but most of the time, I take the slight 'Semi-Homemade' route and use 'Flakey Biscuit Dough' (the only key ingredient except lamb).
How to make Indian Lamb Curry Puffs:
The Flakey Biscuit Dough gives it that flakey, golden puff on the outside and crispy too.
But, incase you don't have the flakey dough, use any pizza dough and cut it slightly thick (thin dough would result in cracked puffs).
Once you have the dough, the stuffing gets ready in 15 minutes.
Then it's all about stuffing, sealing and baking the Hand-pies / Puff to golden perfection.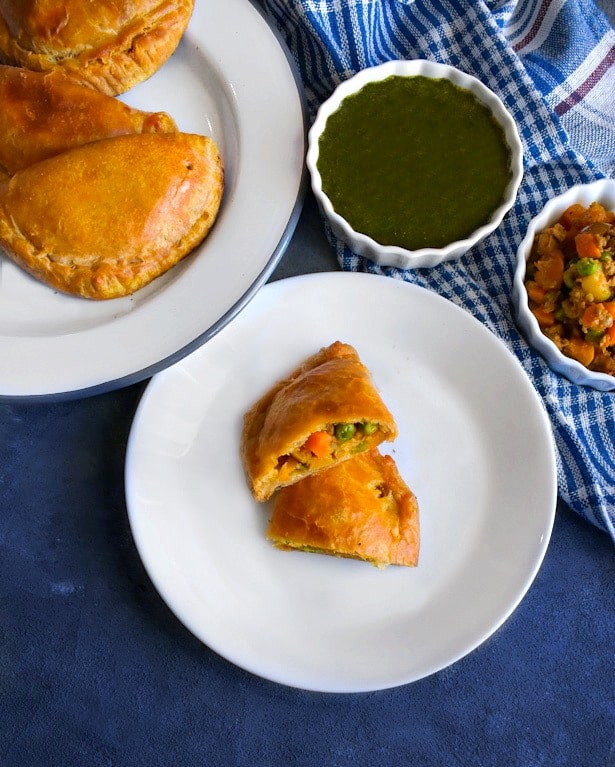 Baking in Regular Oven: Preheat oven at 360F (182C) for 3 minutes. Bake puffs for 10-12 minutes (keeping at eye on them).
Air Fryer: Air fry at 200C for 10-11 minutes (4 small puffs or 3 large)
Storing Lamb Curry Puffs / Lamb Hand Pies:
You can keep the stuffing in an air-tight jar in the fridge for upto a week.
Keep the dough in the freezer and thaw a night before.
Once the Indian Lamb Curry Puffs are ready, they can stay in the fridge for 2 days. Simply crisp up in the oven before serving again.
(Do-NOT Microwave the Puffs as that makes them extremely soggy)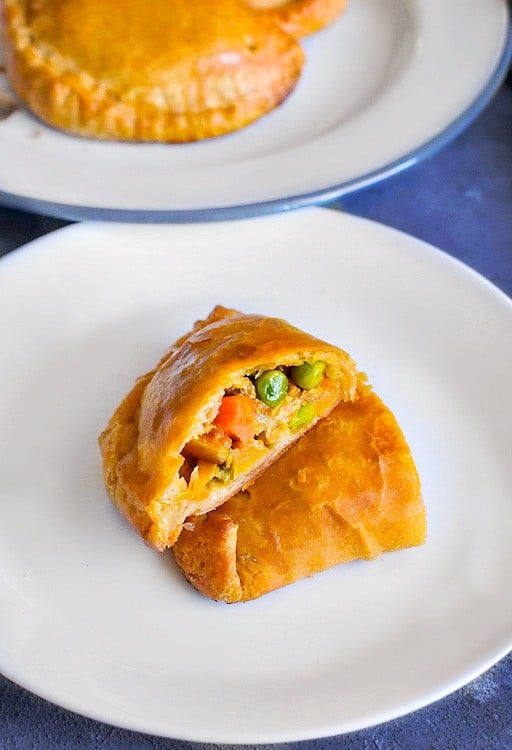 You can serve them with Green Indian Chutney :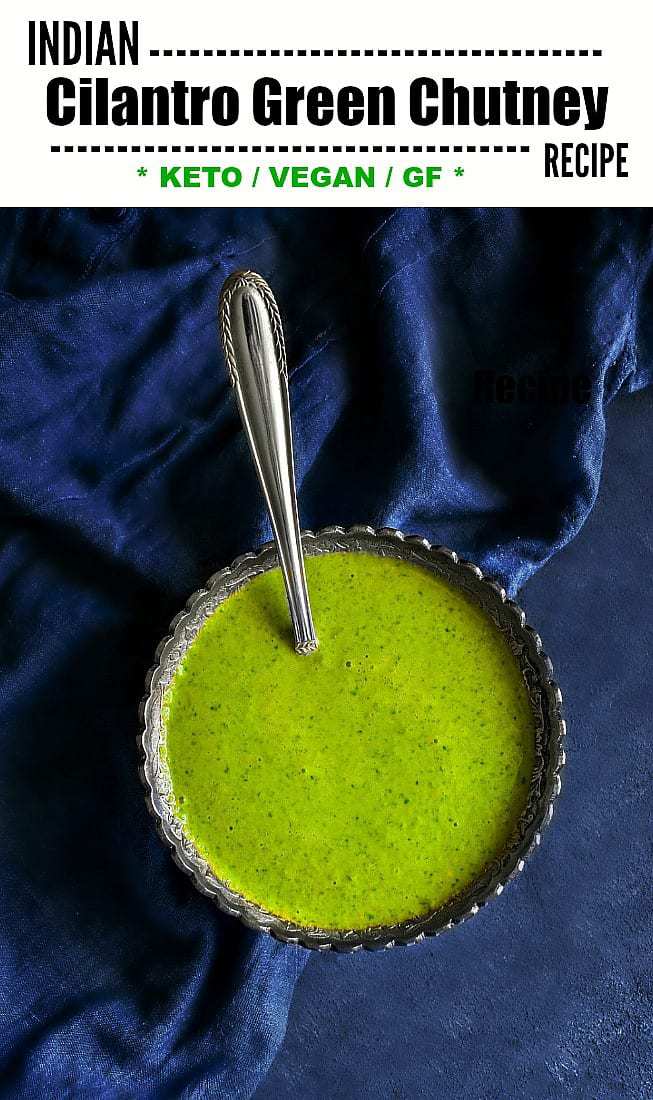 :: You May Also Like ::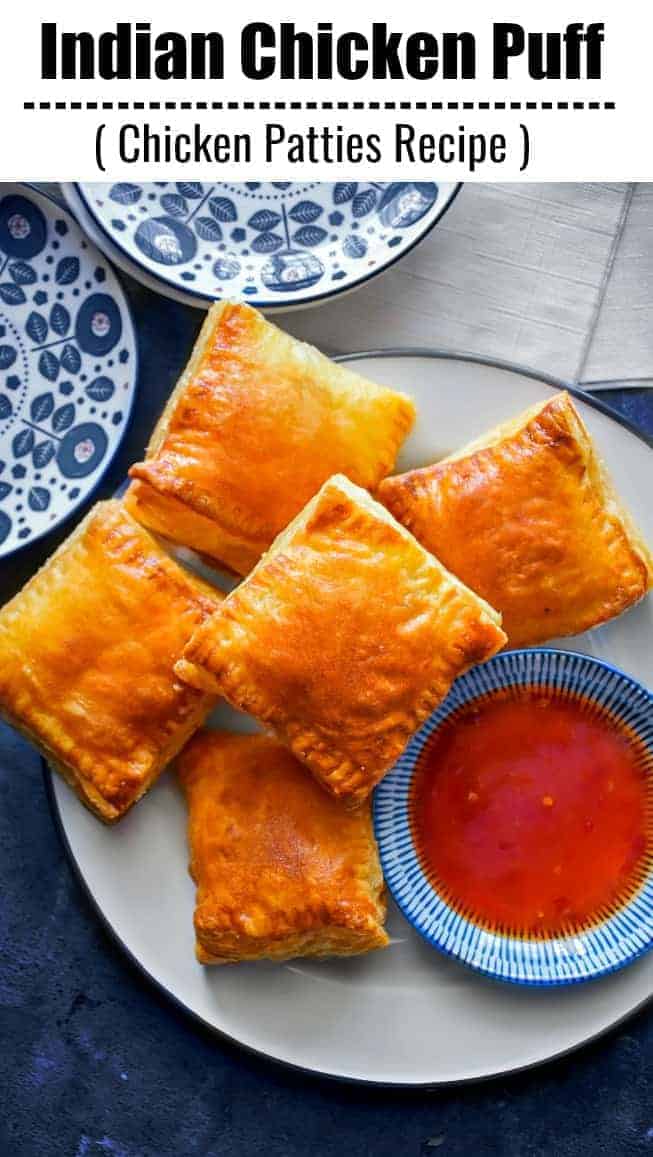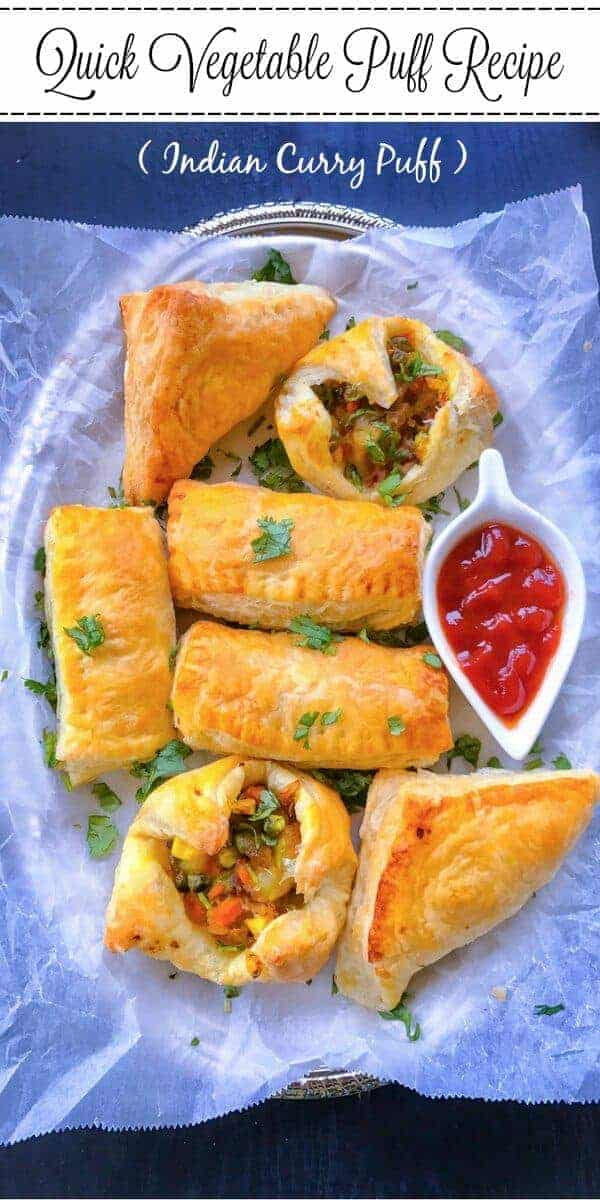 ———————
Tried Our Recipe – AWESOME!!!
Now Quickly SNAP A PICTURE & TAG :
#easycookingwithmolly + @easycookingwithmolly
Connect with Me Here: Facebook / Pinterest / Instagram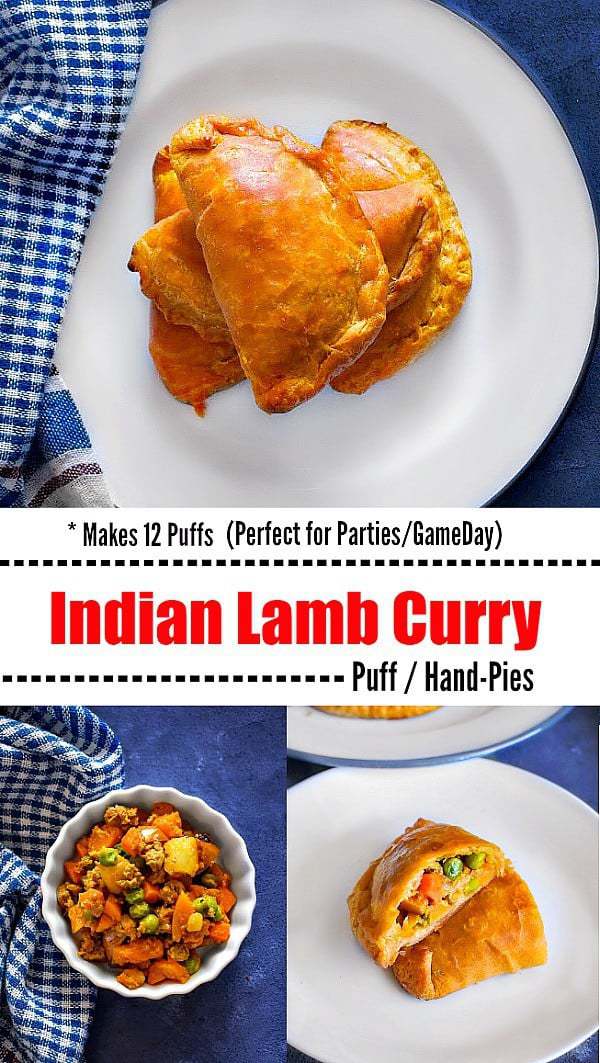 Yield: 12
Indian Lamb Curry Puffs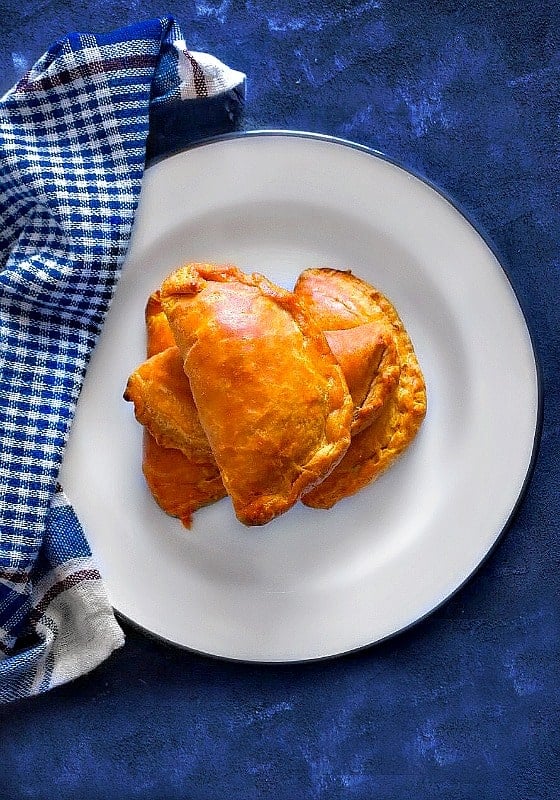 Quick, delicious and crispy puffs stuffed with a spicy curried lamb -vegetable mix. Perfect for SuperBowl, Gameday, Brunch or Parties.
Ingredients
1 Biscuit Dough - thawed*
1 Egg - for brushing the empanadas
1 Tsp Butter - for egg wash
3 Tbsp Olive Oil
Filling:
1 Cup Lamb Mince
1 Large Onion - thinly chopped
1/2 Cup Peas-Carrots Mix - thawed
Spices:
1 Tbsp Curry Powder
1/4 Tsp Ginger Powder
1/8 Tsp Garlic Powder
2 Tbsp Hot Sauce
Salt - as per taste
Pepper - as per taste
Instructions
Pre-heat the oven to 375F
Making the Filling::
Heat oil in a skillet and add chopped onions.
Saute onions till golden brown.
Now add the lamb mince and saute for 2-3 minutes (over medium-low flames)
Add carrot-peas mix and saute-cook for another 3-4 minutes (sautéing every 2 minutes over medium flames).
Add the 'Spices' and saute this mixture for another 4-5 minutes while stirring every minute.
Turn off the heat and let the mixture cool.
How to Make Lamb Curry Puffs or Lamb Curry Hand Pies:
In a small bowl, whisk egg + butter together.
Take 1 biscuit dough ball and divide it into 2 parts.
Roll one part in a circular shape and hold the disc in your hand.
Take 2 tbsp of lamb filling and place it in the middle of the circle.
Fold & Pinch the edges of the disc on top to completely seal it (to form a half-moon shape).
Similarly, stuff all the remaining dough balls with filling.
Place all the lamb curry puffs/lamb hand pies on a baking sheet.
Brush them evenly with the egg+butter mixture.
Place the tray in the oven and bake for 15-18 minutes or until golden brown in color.
Remove the puffs from the oven and place it on a serving tray.
Serve with favorite chutney

Air fryer Lamb Curry Puffs Instructions:
Air Fryer: Air fry at 200C for 10-11 minutes (4 small puffs or 3 large)
Notes
I'm using the flakey biscuit dough, however you can use pizza dough or homemade dough too
Nutrition Information:
Yield:
12
Serving Size:
2
Amount Per Serving:
Calories:

215
Total Fat:

14g
Saturated Fat:

4g
Trans Fat:

0g
Unsaturated Fat:

8g
Cholesterol:

63mg
Sodium:

278mg
Carbohydrates:

11g
Fiber:

1g
Sugar:

2g
Protein:

11g