This post is part of a social shopper marketing insight campaign withPollinate Media Group® and Mariani Packing Company, but all my opinions are my own. #pmedia #MarianiSuperPrunes http://my-disclosur.es/OBsstV
Roasted Cauliflower, Chickpea and Prunes Salad: a quick and super healthy salad that's filled with delicious ingredients like roasted cauliflower, chickpeas, nuts, greens and Mariani Probiotic Pitted Prunes. 
This Roasted Cauliflower, Chickpea and Prunes Salad is served with a light citrus dressing and is vegan and glutenfree.
This yummy Roasted Cauliflower, Chickpea and Prunes Salad is the easiest way to keep your gut feeling happy and energetic.
I'm always looking to improve my+my loved one's gut (digestive health) as everyone in the family loves food and you definitely want a happy body to enjoy all the deliciousness BUT, I just cannot take 1 more pill for it!!!
So, I was literally excited to see these 'Probiotic Prunes' in our local Safeway/Albertson. They are made using California grown prunes and this source of fiber delivers active cultures 10 times more effectively than yogurt!
That is exactly what we needed, as a couple of our family members don't like eating yogurt (some are vegan), so this was a great solution.
The probiotic prunes make for a great healthy and easy goto snacks and I love using it in this Roasted Cauliflower, Chickpea and Prunes Salad which everyone loves because of its crunch and sweet-citrussy taste.
Before we talk about how to make the salad, there's one very important thing that you NEED to Remember when using Probiotic Prunes :
You CANNOT Cook them as the probiotic properties will die off. 
So, it's best to use the prunes as is and at the max what I did was chopped them into small pieces to match the size o all other ingredients in the salad 🙂
These Mariani Probiotic Prunes are a prebiotic + probiotic (check video link for more) that supports overall wellness and digestive health. You'll feel better and be at your best!
They also have a unique Ganeden BC30 probiotic that's designed by nature to survive and thrive in conditions other probiotics cannot. By surviving, Ganeden BC30 delivers active probiotics ten times more effective than the probiotics in yogurt.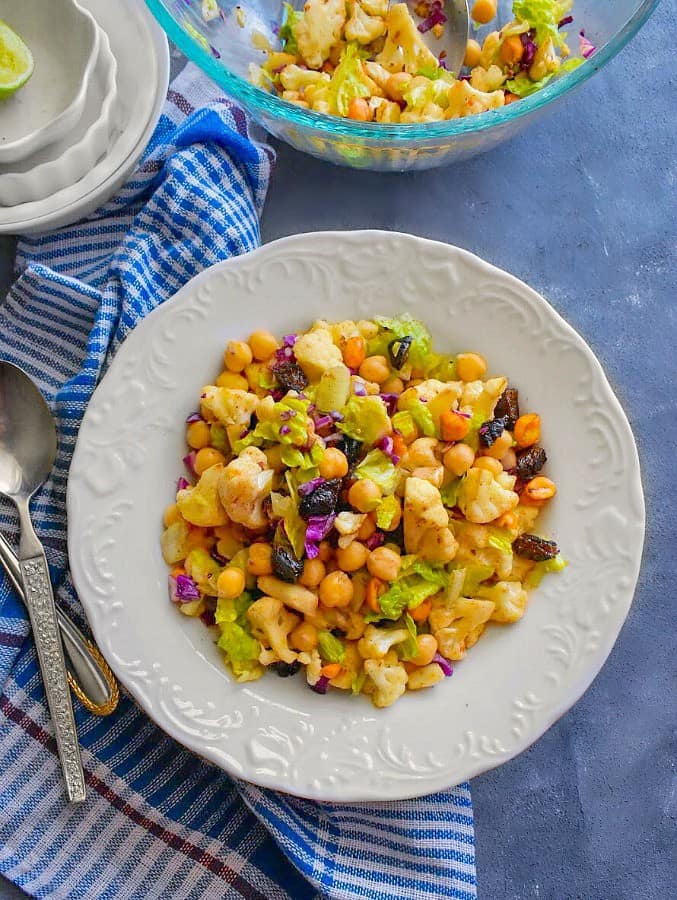 This salad is perfect for an everyday meal or even your next BBQ as it's ready in literally 10 minutes (including roasting the cauliflower).
It's such a healthy/clean eats salad and I wanted to keep the dressing light too, so I'm just using a mix of EVOO and fresh lemon juice with some seasoning.
Before I leave you to try this Roasted Cauliflower, Chickpea and Prunes Salad, here are some reasons on Why We Need Probiotic & Probiotic Prunes:
Probiotics keep your gut healthy.
70% of your body's immune system is in your intestinal tract.
Probiotics enhance the absorption of nutrients.
Helps reduce abdominal pain and bloating.
Moves food through the digestive tract.
Supercharge your immune system and improve your gut health with a purchase of Probiotic Prunes at Albertson's and other stores near you!
Also, try this Roasted Cauliflower Chickpea and Prunes Salad asap.
With the convenience of Mariani Prunes, you can use it as a healthy on-the-go snack, topper for summer salads, smoothies, or the perfect ingredient to make any little snack, etc!
: Other Salads to Try :
Mediterranean Cucumber & Tomato Salad
---
Tried Our Recipe – AWESOME!!!
Now Quickly SNAP A PICTURE & TAG :
#easycookingwithmolly +  @easycookingwithmolly on Instagram –>
Connect with Me Here:  Facebook / Pinterest / Instagram / Twitter / Subscribe to our Newsletter / Google+
Yield: 1 Large Bowl
Roasted Cauliflower, Chickpea and Prunes Salad
Ingredients
1 Cup Raw Cauliflower - cut into bite size florets
1 Cup Cooked Chickpeas
7-8 Mariani Probiotic Pitted Prunes - chopped into bite size pieces
1/2 Cup Chopped Lettuce
1/4 Cup Chopped Red Cabbage
2 Tbsp Roasted Peanuts - any flavor you like
1/8 Tsp Red Chili Flakes
1/8 Tsp Cumin Powder - for roasting the veggies
1 Tbsp Olive Oil - for roasting the veggies
Salt as per sate - for roasting the veggies
Dressing:
Juice of 1 Large Lime
2 Tsp EVOO
Salt
Pepper
Italian Seasoning - optional
Instructions
In a small jar (with lid), add dressing ingredients and shake vigorously to mix everything evenly.
Heat a skillet with 1tbsp oil.
Add red chili flakes (if using), then add the cauliflower, salt and cumin.
Saute this over medium heat for 3-4 minutes or till cauliflower are tender yet little crunchy.
Turn off the heat.
Transfer the roasted cauliflower to a bowl.
Add chickpeas, lettuce, cabbage, peanuts, and prunes.
Add the dressing on top and mix everything using a spoon.
Transfer to serving bowl and enjoy.
Nutrition Information:
Serving Size:
2-3 People
Amount Per Serving:
Calories:

237
Total Fat:

13g
Saturated Fat:

2g
Sodium:

378mg
Carbohydrates:

22g
Sugar:

2g
Protein:

10g