This post is sponsored by Boulder Canyon in collaboration with Blog Meets Brand. As always, all opinions are my own.
Boulder Canyon Potato Chips Review: Absolutely crunchier, bolder and natural ingredients in all their chips. Boulder Canyon is definitely my 'Good-for-You', healthy snack.
Calling ALL Potato Chips Lover as we are talking all things potato chips and such great flavors, that you just can't stop / won't stop at 1 bag.
Aand after reading my review, there's a huge possibility that you'd host a 'Boulder Potato Chip Party' for all your potato lover friends/family 🙂
Anyone who knows me, knows that I'm a Big-Time Snack Lover and I am always looking for snacks that are light and made using natural ingredients.
So when I got to review these 'Boulder Canyon' potato chips, I was more than thrilled cause they are not only Super Crunchy but come in tons of flavors.
Seriously, there is nothing and I mean nothing that pleases a Potato Chip Lover than seeing a healthier, 'good for you' potato chip found in your nearest grocery store.
So being the snack lovers that we are, we tried 5 different flavors and were really surprised by each and every one of them.
Here are few things that we are always looking for:
1. Freshness: These Boulder Canyon Potato Chips look absolutely fresh and none of the chips are sticking to each other.
2. Crunch: Boulder Canyon Potato Chips are 100% crunchier than the ones we have tried till now and none of them were soggy or less crunchy.
3. Less Oily/Not Sticky: Now, this one is BIG with us, we don't like chips that are so oily that the moment you eat some, you have residual oil left on your hand (a complete no-no for us). But these Boulder Canyon Potato Chips passed our oily test with flying color as we munched the entire bag without wiping our hand in tissue even once.
Also, all Boulder Canyon potato chips have:
No Trans Fats.
No Cholesterol
Low Sodium
Are Gluten-Free
Non-Gmo
30% Lower in Fat – because of small-batch cooking
Now, that we know all things good about the chips, let's discuss a little about the flavors we tried:
Coconut Oil Sea Salt: Okay, we are literally 'OBSESSED' with this one! Pure coconut oil and sea salt bring our original kettle chip to another level of delicious snacking.
It also feels really light with a coconutty taste
——————–
Olive Oil Sweet Vinegar: This has such a great mix of sweet-vinegar taste with a salty bite to it. It's simply tantalizing.
———————-
Rice Bran Oil Sweet Chipotle: Cooking in 100% RiceBranOil provides a smooth mild taste and crispy finish with a slight heat from chipotle.
——————-
Avocado Oil Sea Salt: Cooked in light Avocado oil and ligthly seasoned with sea-salt has a perfect match.
———————
Rice Bran Oil Buffalo Ranch: Light, crispy and everyone's favorite, these were gone in seconds.
———————-
So here are all the 5 different flavors we tried and we are looking forward to try the rest available options too.
And that is not it, LIKE the Boulder Canyon Facebook Page, for exciting and delicious product giveaways and free registration to two 5k's this summer.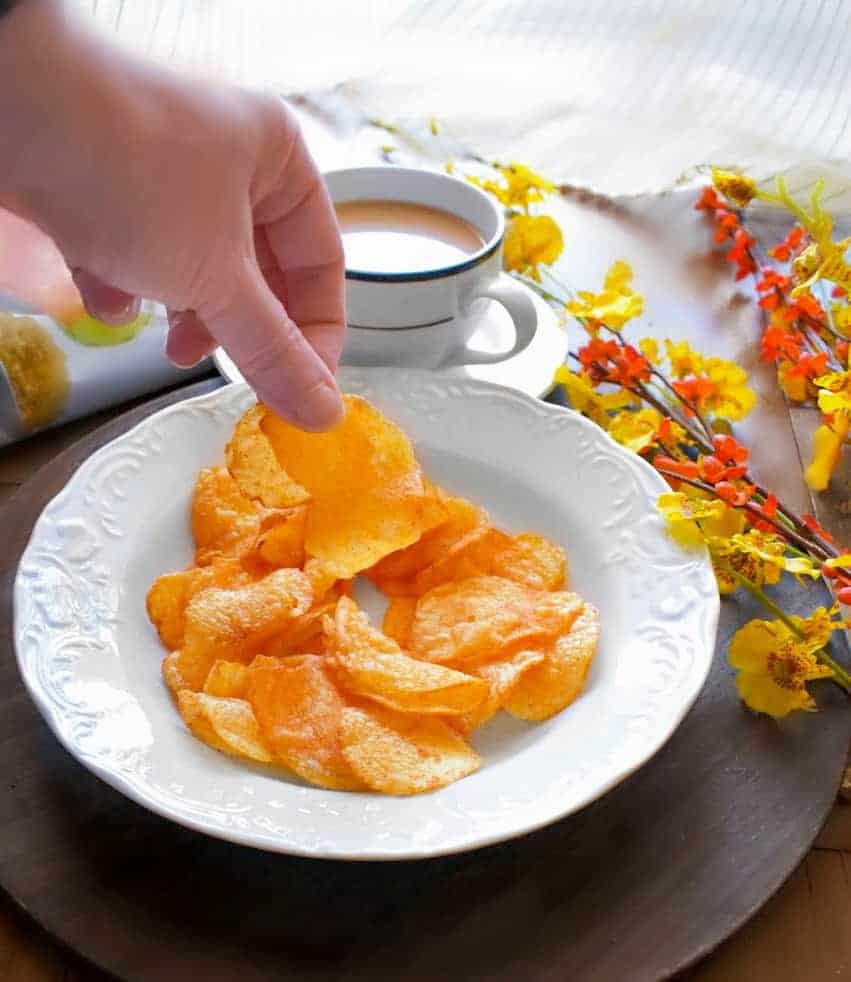 So, while we enjoy these chips with a cup of coffee, pick and choose your favorite Boulder favorite from stores near you and remember:
They are made from the Premium American Grown Potatoes.
They use premium sunflower, safflower, olive and avocado oils.
They use natural ingredients.
---
Tried Our Recipe – AWESOME!!!
Now Quickly SNAP A PICTURE & TAG :
#easycookingwithmolly + @easycookingwithmolly on Instagram –>
Connect with Me Here: Facebook / Pinterest / Instagram