Peach Ginger Glazed Pork Chops: succulent and extremely flavorful pork chops grilled to perfection in a peach-ginger glaze.
These Peach Ginger Glazed Pork Chops are great for bbq, parties or even a date night.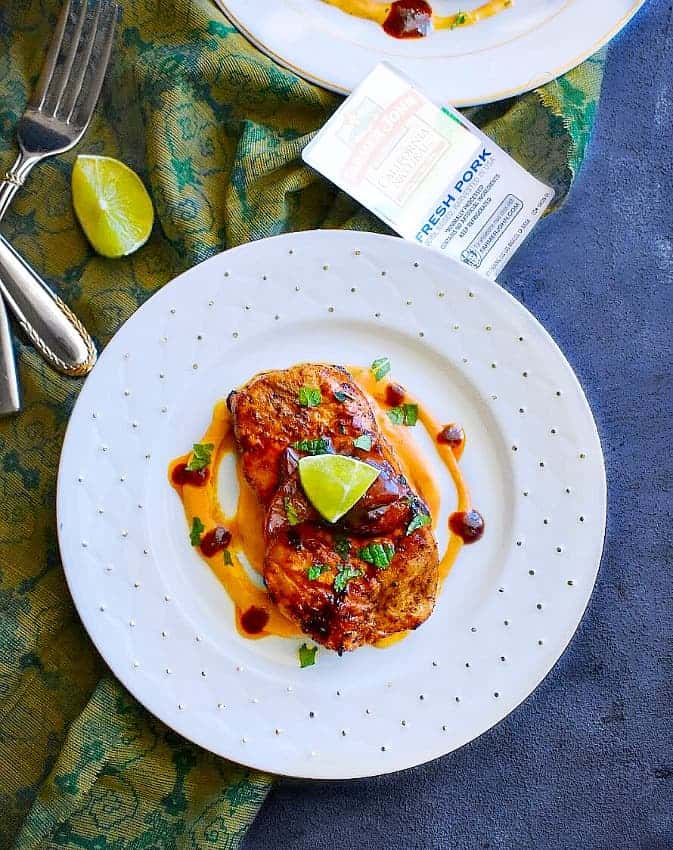 Isn't this week literally flying off and with #July4th tomorrow, it feels like such a relief to get a midweek break.
With summer parties in full swing, this week is our turn and we are hosting around 20-25 people for a BBQ Party and on top of our menu is this Peach Ginger Glazed Pork Chops !!!
This recipe is a complete party superstar and leaves everyone speechless with its flavors.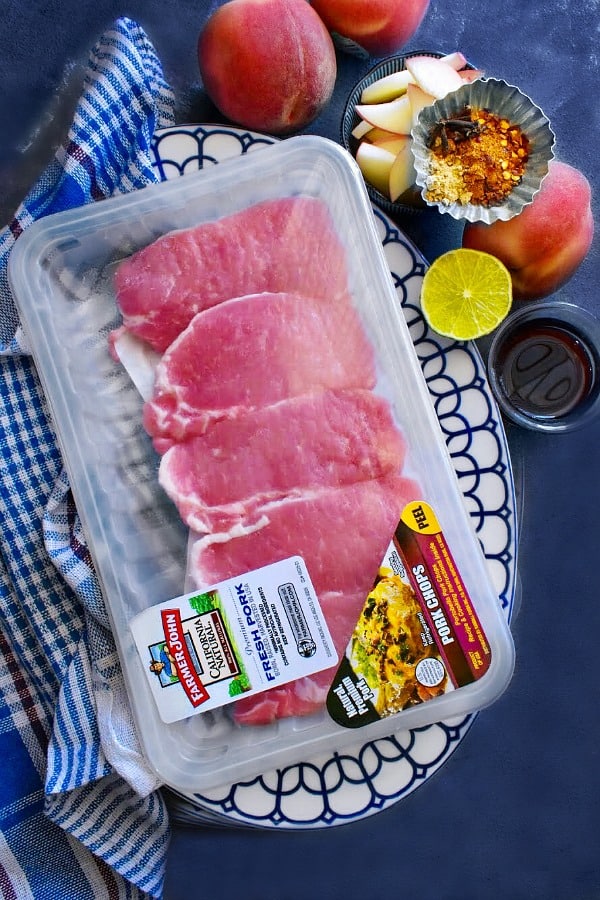 So, I thought why not surprise Mr. with this Peach Ginger Glazed Pork Chops.
Apart from that I also wanted to make this 'Peach-Ginger Glaze' in advance so that we have everything ready for grilling on the weekend 😉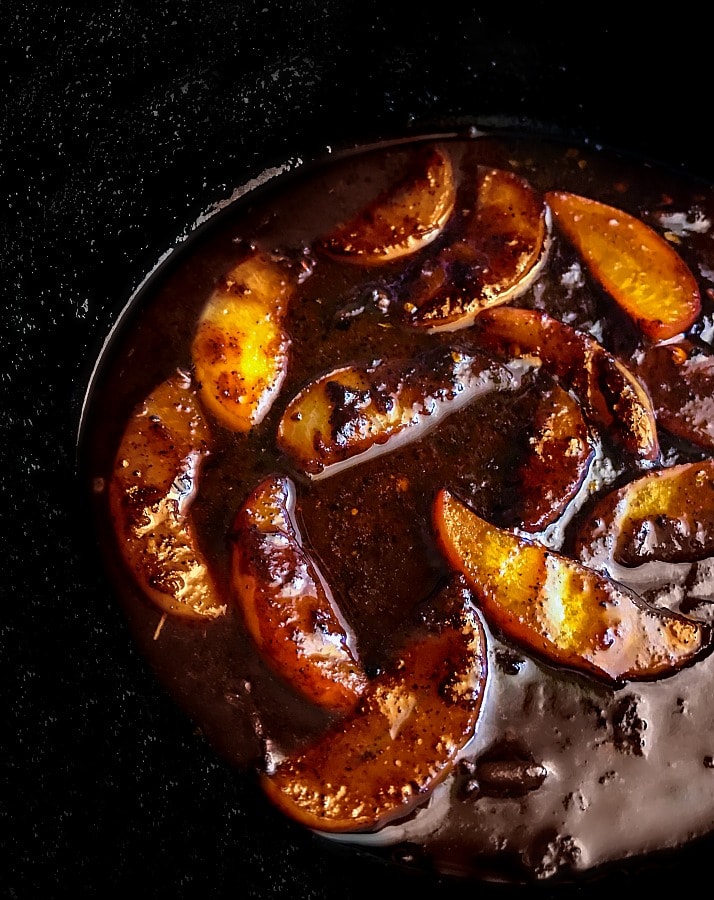 This is a fabulous glaze or bbq sauce, that takes any recipe from regular to exploding flavors. Totally minimal efforts yet super yummy.
The sauce is a mix of fresh peaches (you may use frozen/canned variety too), ginger along with a sweet-spicy mix of herbs + spices.
Then just cook the glaze in a heavy bottom skillet with some extra oil (it helps in preserving the glaze for longer and giving it this glossy look).
That's it, the glaze/sauce comes together in 15 minutes and you can store it in an airtight jar in the fridge for up to a week.
Once you are ready to grill, simply take out the glaze from the fridge and slather a generous amount on the pork chops. I usually apply a little extra on the top for some heavenly flavors.
Please do keep in mind that the sauce has a mix of spices/table-hot sauces, hence control the amount of seasoning you apply on the pork.

Now here's a Pro Tip, for those extra flavorful and juicy pork chops, just marinate it in a large bowl and keep it aside for 40minutes to an hour.
This helps the pork chops to absorb all the flavors and juices before its grilled to perfection.
Once grilled and ready to be served, I lightly slather this sauce and place some of the cooked peaches from the glaze on top.
Also, I served it with a readymade 'Sriracha Aioli' and drops on peach-ginger glaze on the plate.
Doesn't this look like a plate straight out of fine dining restaurant?
Seriously, it made Mr. so happy that he offered to help me with setting up the table for the party too – Yessss!!!!!!!!
So this BBQ Season, fire-up those grills and treat your loved ones to this Peach Ginger Glazed Pork Chops !
Or definitely add them to your next house party or so.

Quick BBQ Recipes
Quick BBQ Recipes from meatballs, to pork chops, to grilled peaches. #bbqrecipes
---
Tried Our Recipe – AWESOME!!!
Now Quickly SNAP A PICTURE & TAG :
#easycookingwithmolly + @easycookingwithmolly on Instagram –>
Connect with Me Here: Facebook / Pinterest / Instagram
Yield: 2 People
Peach Ginger Glazed Pork Chops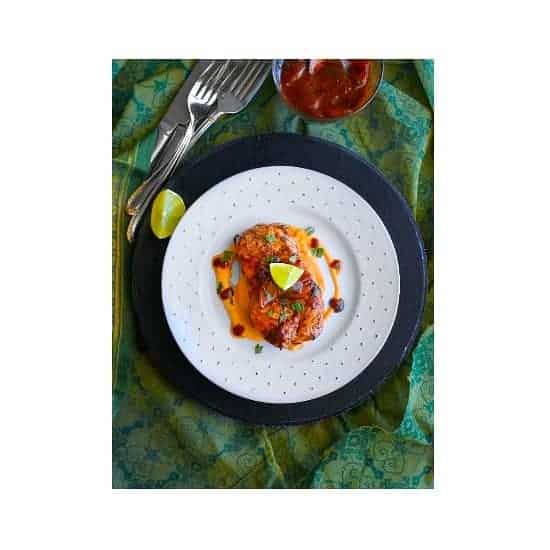 Peach Ginger Glazed Pork Chops: succulent & extremely flavorful pork chops grilled to perfection in a peach-ginger glaze. Great for bbq/parties/date night.
Ingredients
2 Pork Chops
2 Peaches - pitted and thinly sliced
1 Tsp Grated Fresh Ginger
Glaze + Marinade Ingredients:
4 Tbsp Water
3-4 PepperCorns - crushed
1/2 Tsp Chili Powder
1/2 Tsp BBQ Rub Powder
3 Tbsp Ketchup
1 Tbsp Soy Sauce or Balsamic Vinegar
1 Tsp Honey
Salt to taste
Serving & Decoration:
2 Tbsp Sriracha Aioli - use any light sauce/dip you have
1 Tbsp Chopped Cilantro
Instructions
Make the Peach-Ginger Glaze/Marinade:
Heat a skillet and add 1 Tsp oil.
Add peaches and saute for a minute over medium heat.
Add all the marinade/glaze ingredients and saute on medium heat for 2-3 minutes.
Once the sauce starts bubbling, turn off the heat.
Marinate the Pork Chops:
In a large bowl, add all the marinade/glaze ingredients and whisk.
Take both the pork chop and slather some of this marinade mix on both sides.
Keep the pork chops in a plate, cover with foil and refrigerate for 10-15 minutes (this help meat soak up the sauce).
Grill the Pork Chops:
Heat a grill using wood chips or coal
Remove the pork chops from fridge and place on the grill.
Grill both sides till the meat is evenly cooked (as per choice, takes 10 minutes for it to cook completely)
Serving the Peach Ginger Glazed Pork Chops:
Spoon some Sriracha Aioli on a plate.
Add the grilled pork chops on top and slather the peach-ginger glaze on top.
Add few pieces of the cooked peaches on top.
Sprinkle with fresh cilantro and serve
Nutrition Information:
Yield:
2
Serving Size:
1
Amount Per Serving:
Calories:

325
Total Fat:

26g
Saturated Fat:

7g
Trans Fat:

0g
Unsaturated Fat:

16g
Cholesterol:

137mg
Sodium:

567mg
Carbohydrates:

33g
Fiber:

4g
Sugar:

25g
Protein:

44g