Grilled Peaches with Yogurt and Granola: A perfect spring breakfast of juicy grilled peaches served with a dollop of yogurt, granola and drizzled with honey. It can be served as a quick snack too.
Spring is almost here (except few showers here and there) and I just can't get over this Grilled Peaches with Yogurt and Granola which I've also termed as our Favorite springtime breakfast.
I can't stress enough on the benefits of eating a healthy and regular breakfast but I never said it needs to be boring or time-consuming to make one.
For me or I would say many of my friends, any meal done within 10 minutes and I'm talking delicious meals, is a BIG WIN !!!
It definitely becomes our house favorite and the recipe definitely get passed around.
And these Grilled Peaches with Yogurt and Granola are done in 10 minutes and serve 4 people – Now beat that 😉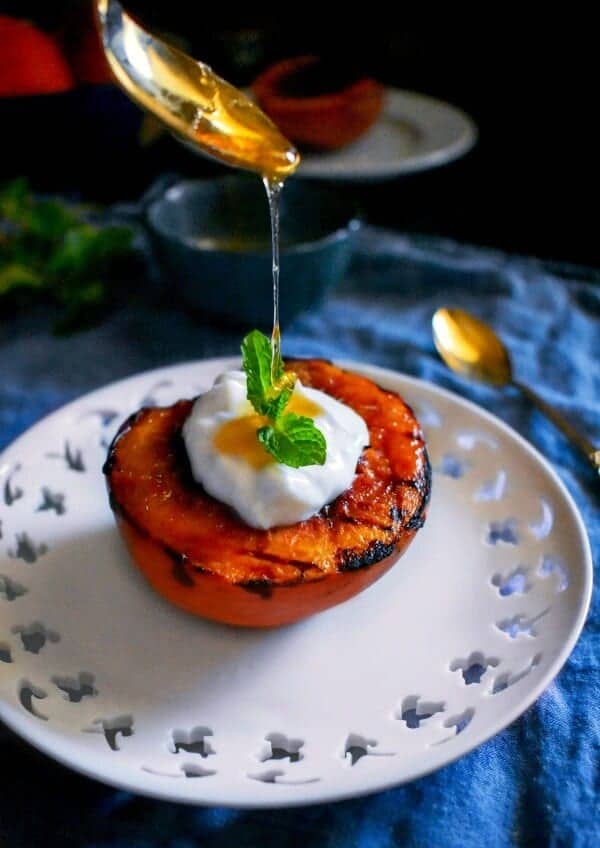 For me 'Peaches' screams spring and just gives me that happy feeling of mild sunny days with a cool breeze and green grass…just the mere thought brings a smile to my face.
And when we recently went to our local farmers market, I came across this local vendor who was selling fresh peaches and nectarines.
So we bought a whole crate of peaches (they looked so fresh, aromatic and how could you leave them)!!
Which I realized was too much when I tried fitting them in our fridge….it seriously looked very peachy, lol.
Don't worry, I did distribute some and the first thing that I made were these grilled peaches.
Now, grilling fruits is a completely new concept for me as we hardly used to grill any fruits in India apart from tomato and pineapple. S
o, I'm totally loving this new found culinary skill (since past 2-3 yrs) and if this is the first time you're grilling a fruit, you're in for a very delicious surprise.
Grilling a fruit simply adds this extra layer of smokiness along with slightly caramelized taste to the already sweet flavor, which is more or less umami…..
I don't think I can do justice with words but you should try it for yourself.
These were some really ripe peaches, so the moment they were grilled, they had this sweet smokey fragrance going on.
It is so yum that you may want to just eat them as is but hang in there for 2-3 more minutes.
Add the mentioned topping of yogurt, honey, some mint leaves and a sprinkle of cinnamon – now if you taste all these flavors together…
I can guarantee you'd be in a very awesome place …. like sweet heaven why haven't you ever tried them like this before.
Trust me, it's like eating dessert for breakfast and it is totally healthy 🙂
So, go ahead and get those fresh peaches from your local farmers market or other store and make these Grilled Peaches with Yogurt and Granola.
I guarantee you would absolutely fall in love within the first bite.
That grilled smokey warm peaches with cold yogurt is like made for each other.
:: You May Also Like ::
---
DID YOU TRY MY RECIPE – AWESOME!!!
Now Quickly SNAP A PICTURE & TAG :
#easycookingwithmolly + @easycookingwithmolly on Instagram –>
Connect with Me Here: Facebook / Pinterest / Instagram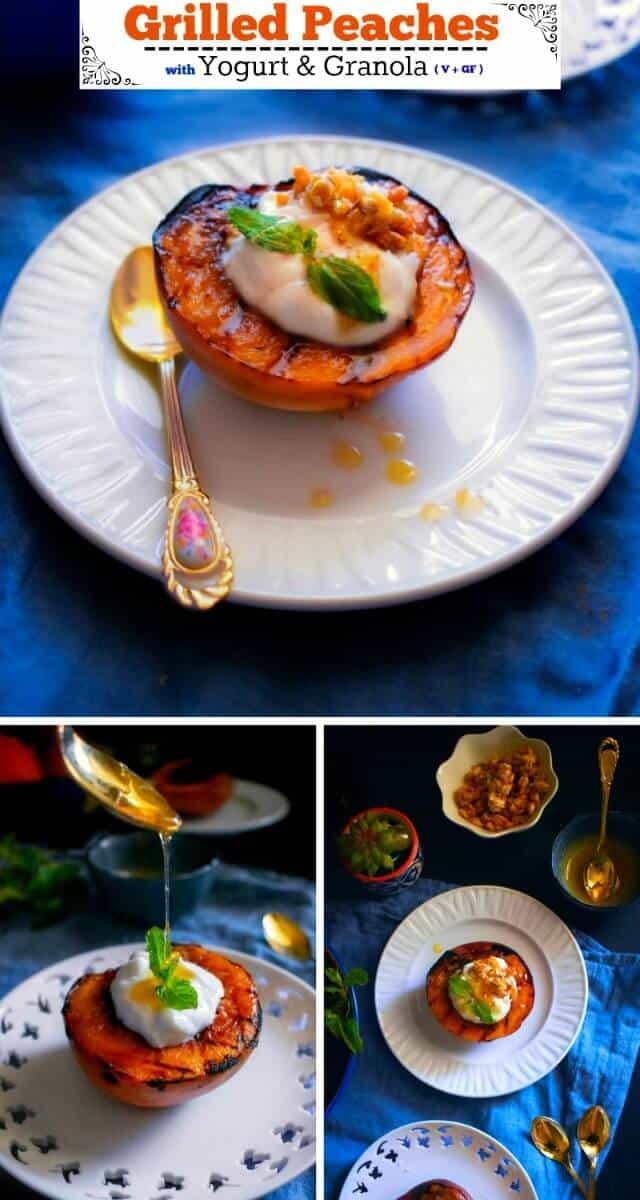 Yield: 4 Adults
Grilled Peaches with Yogurt and Granola (Healthy Breakfast)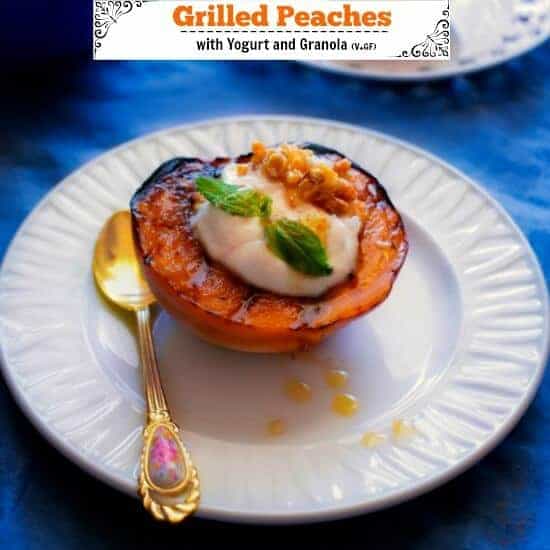 Grilled Peaches with Yogurt and Granola: A perfect spring breakfast of juicy grilled peaches served with a dollop of yogurt, granola and drizzled with honey. It can be served as a quick snack too. 
Ingredients
4 Fresh Ripe Peaches - Halved and stone removed
1 Tsp Olive Oil
1 Cup Yogurt - whipped - you may use vegan or flavored yogurt as well
1/2 Cup Granola - you can use glutenfree option too
2 Tbsp Honey - slightly warm
4-5 Mint Leaves (optional)
1/4 Tsp Cinnamon - optional
Instructions
Heat a grill (outdoor or a stovetop grill).
Dip a brush in olive oil and brush both sides of the peaches with oil.
Place the peaches face down on the grill (medium flame).
Let them grill for a minutes (keep an eye on flame).
Turn the peaches to another side and grill the peel side down for another minute.
Once, both sides are grilled, remove the peaches to a serving plate.
Dollop the peach (face up) with 2 tbsp of yogurt.
Add a tbsp of granola on side or top.
Drizzle with honey and place a mint leave on top.
Sprinkle a pinch of cinnamon.
Similarly complete all the grilled peaches and serve fresh.
Nutrition Information:
Yield:
4
Serving Size:
1
Amount Per Serving:
Calories:

254
Total Fat:

7g
Saturated Fat:

2g
Trans Fat:

0g
Unsaturated Fat:

5g
Cholesterol:

6mg
Sodium:

78mg
Carbohydrates:

42g
Fiber:

5g
Sugar:

33g
Protein:

9g