Mango Jalapeno Margarita: Sweet with a twist of spiciness is what makes this margarita the star of any party. The combination of mango, jalapeno and tequila add just the right kick to put you in a merry mood.
Mango Jalapeno Margarita – Perfect for Big Batches.
This has been such an action-packed week and that just by the middle of it, I'm feeling out of energy and absolutely run out ……
So, we made these Mango Jalapeno Margarita (3 Minutes Drink) last evening which was a perfect savior.
As many of you might be celebrating Cinco-de-Mayo today (May 05).
Which is a huge Mexican Festival, a day when Mexican army won over French forces in 1862 and not Mexican Independence Day (as some belief), this just fit right into the theme too 🙂
Be it guacamole/nachos/quesadilla/wraps/rice, I'm always game to eat them and Ofcourse Margarita's !!!
Omg, just the name of all this is making me hungry.
Although I have shared a couple of Mexican Recipes ( Yes, lighter options) but I couldn't believe that I haven't shared a recipe for Margarita in ages!
So here comes my Favorite Mango Jalapeno Margarita which is a spicy twist to your regular margarita recipes.
And if you love mango, jalapeno and tequila then THIS IS THE DRINK FOR YOU !!!
It just cannot get better and quicker than this.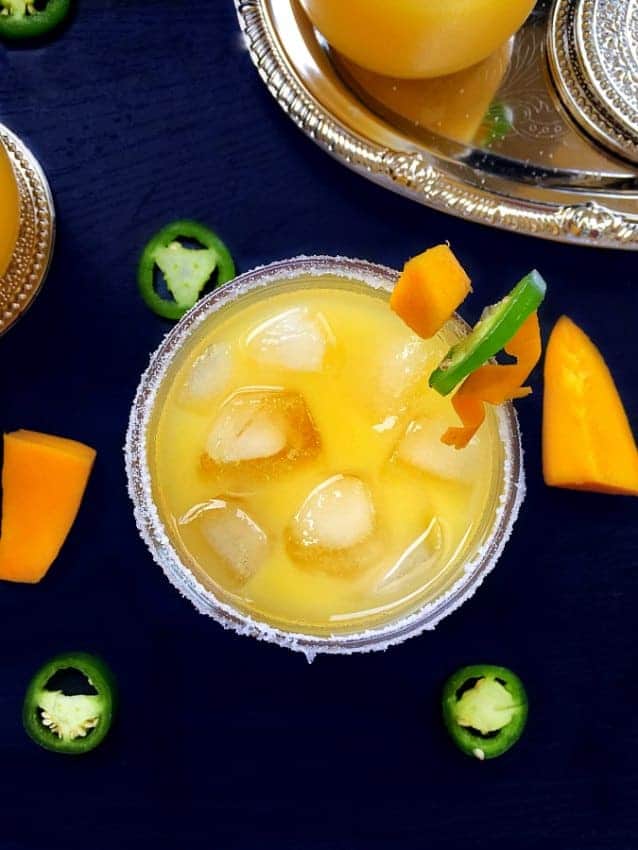 The color is brilliant yellow and the jalapeño gives just the right kick to start any fiesta!
And these are on repeat demand for today evening (Cinco-de-Mayo) and on Mother's Day too as they are mom's favorite too.
Both (mom + me) love mango drinks and hers are slightly less spiked or no tequila at times?
How to Make Mango Jalapeno Margarita
Now, most margarita recipes come laden with 'Grand Mariner or Triple Sec' which is an orange-flavored liqueur.
But in my Mango Jalapeno Margarita recipe, I'm not adding any of that.
I just want to enjoy a simple mango flavored margarita with a hint of spice from jalapeño and tartness of lime juice …..
To me, that's a perfect recipe, however, feel free to add few splashes of mariner as per your preference.
If you want to be little more adventurous, you can grill the jalapeño and mangoes together to get that smokey flavors.
Then follow the recipe to make a smoked version of it …. which I feel is perfect for a BBQ party.
Go ahead, make these Mango Jalapeño Margaritas and start the festivities and don't forget Mother's Day is on Sunday, May 08, 2016.
Hope you've already planned something fun for your mom/ wife?
~ Happy Cinco De Mayo & Happy Mother's Day ~
Top 8 Quick Drink Recipes
My top 8 Quick Drink Recipes
Reader's Fav Mother's Day Recipes:
Shrimp Fried Rice in Sweet and Spicy Butter Sauce
The Best Chocolate Coffee Bundt Cake
Easy Breakfast Egg Muffin
---
As always, I Looove when you try my recipes and send me pictures & feedback.
You can tag my recipes tried by you using #easycookingwithmolly on any of the social media below:
Connect with Me Here: Facebook / Pinterest / Instagram
Yield: 3
Mango Jalapeno Margarita
Mango Jalapeno Margarita: Sweet with a twist of spiciness is what makes this margarita the star of any party.
Ingredients
1 Small Mango - Peeled and cubed
1 Small Jalapeño - Sliced in thin circles
1 Cup Mango Juice - pure not from concentrate
1/4 Cup Tequila - Blanco or Any Gold Variety
2 Tbsp Lime Juice
2 Tbsp Sugar/Sweetener - optional
2 Tbsp Triple Sec - optional - See Notes
2 Cups Ice
Instructions
In a food processor, add cubed mangoes, 1 small slice of jalapeño, mango juice, sugar, lime juice and blend to form a smooth thin purée.
Transfer to a pitcher, add triple sec (if using), tequila and give it a good stir.
Wet the rims of the glass and dip them in powdered sugar (to coat the rim of glasses)
Add sliced jalapeño, twirled mango peel and a cube of mango on the glass.
Add Ice and pour the margarita's in the glass.
Serve chilled
Notes
I'm not using Triple Sec in this recipe, but if you want to, then just add 2 Tbsp.
Nutrition Information:
Yield:
6
Serving Size:
1
Amount Per Serving:
Calories:

85
Total Fat:

0g
Saturated Fat:

0g
Trans Fat:

0g
Unsaturated Fat:

0g
Cholesterol:

0mg
Sodium:

4mg
Carbohydrates:

16g
Fiber:

1g
Sugar:

14g
Protein:

1g