Chicken Kofta in Creamy Coconut Curry: absolutely melt-in-your-mouth succulent kofta (meatballs) in a luscious curry filled with aromatic spices.
Chicken Kofta in Creamy Coconut Curry
Perfect for special occasion or just a meal for two, serve with steamed rice or choice of side.
Hi Everyone, hope you'll are doing great. I've not been keeping well for the past few weeks and wasn't able to post anything new for quite many days now.
Also, as I'm visiting India these days, being sick here means, you have the whole fam-jam taking extra care of you day and night!
They have been going out of their way to nurse me back to health and I'm extremely grateful for all they've done.
It's been so long that I cooked, so this week I've been feeling little better and decided to treat them.
So decided to make this luscious, aromatic and absolutely delicious Easy Chicken Kofta in Creamy Coconut Curry along with steamed rice, Microwave Besan Ladoo, and our favorite wine.
And, I definitely wanted to include you'll and share this amazing recipe with you 🙂
Seriously, there's nothing more blissful than seeing your fam-jam or friends, sitting together, chatting over funny stuff or remembering older days, laughing and enjoying over tons of food!
Absolutely Divine and I totally believe that food binds us all together in a majestic way.
Now, coming back to our Easy Chicken Kofta in Creamy Coconut Curry , as the name suggests, it's extremely easy to make and the coconut curry is simply divine!!
For this particular recipe, you need the full-fat coconut milk that comes in a tin can, the ones in a carton are too thin for this purpose.
Also, I'm using a blend of whole and powdered spices to make it extremely aromatic and flavorful.
The recipe freezes well too, you can make the koftas and the curry separately and then freeze for atleast a week.
Just thaw a night before and heat everything together before serving.
I usually serve them over a bowl of freshly steamed basmati rice but you can use any side.
:: You May Also Like ::
---
Tried Our Recipe – AWESOME!!!
Now Quickly SNAP A PICTURE & TAG :
#easycookingwithmolly + @easycookingwithmolly on Instagram –>
Connect with Me Here: Facebook / Pinterest / Instagram

Yield: 10 Koftas
Easy Chicken Kofta in Creamy Coconut Curry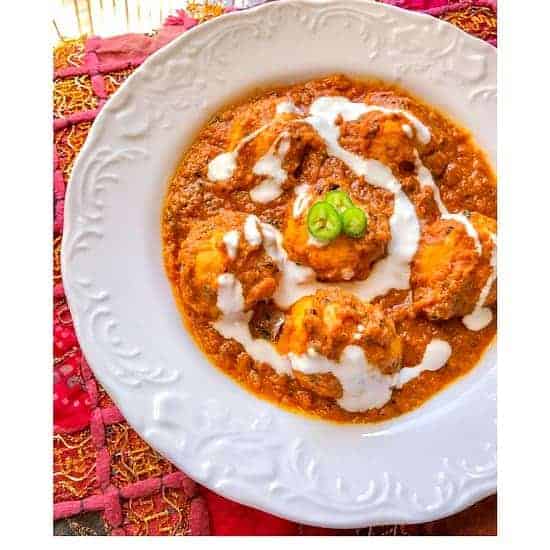 Chicken Kofta in Creamy Coconut Curry: absolutely melt-in-your-mouth succulent kofta (meatballs) in a luscious curry filled with aromatic spices.
Ingredients
For Chicken Kofta (Meatballs)
1/2 lb Ground Chicken - Cleaned
1/2 Cup Roasted Chickpea Flour*
2 Tbsp Plain Yogurt
1 Egg - Whisked
1 Tsp Ginger+Garlic Paste
For Creamy Coconut Curry
1 Can Coconut Milk - Don't use the coconut milk in carton, this is made using canned milk
2 Large Onion - thinly chopped
1 Tbsp Ginger+Garlic Paste - i'm using fresh paste
Pinch of Sugar - optional
4 Tbsp Olive Oil
2 Tbsp Fresh Cilantro/Green Chillies - chopped - for decoration
1 Tsp Coconut Milk - for decoration
Whole Spices ***
1 Medium Cinnamon Stick
3 Green Cardamom
2 Black Cardamom
3 Cloves
Powdered Spices ***
1 Tsp Coriander Powder
2 Tsp Turmeric - 1 tsp is used to coat eggs+potatoes and 1 tsp for curry
1 Tsp Garam Masala
1 Tsp Red Chili Powder
Instructions
Making the Koftas / Chicken Meatball:
In a food processor (with dough attachment**) add all the 'Kofta' ingredients and pulse to form a smooth dough (Takes about a minute).
Transfer the dough to a bowl and make 10-12 round balls.
Place the chicken balls/kofta on a plate, cover and keep in the refrigerator for about 30 mins (This helps the dough to firm up and prevent kofta's from breaking).
Making the Curry:
Heat a large non-stick pan and add 4 tbsp oil.
Add all the whole spices and saute for half a minute on medium heat.
Add chopped onions to the spices, mix and cook covered for 2 minutes.
To this, add, ginger+garlic paste, all remaining spices and keep sautéing on medium heat till mixture turns pink and the onions are slightly cooked (6-8 mins).
Add coconut milk, mix everything together and cook covered on low heat for 5 minutes. (stirring in between).
Now, remove the meatballs from the fridge and place them delicately on the simmering gravy.
Cover with lid, lower the heat and let the meatballs cook for about 5 minutes. (Keep an eye).
After 5 minutes, remove the cover, touch the meatballs using a spatula and they should be cooked.
Saute the curry and meatballs light and cook uncovered for another 3-4 minutes.
Turn off the heat and transfer the kofta curry to a serving bowl.
Decorate with cilantro/chillies and drizzle some coconut milk on top.
Serve Hot with steamed basmati rice or choice of side.
Nutrition Information:
Serving Size:
4 People
Amount Per Serving:
Calories:

287
Total Fat:

22g
Saturated Fat:

4g
Cholesterol:

38mg
Sodium:

275mg
Carbohydrates:

13g
Sugar:

3g
Protein:

12g