Murg Malai Tikka Recipe: Tender chicken pieces marinated in a yogurt-herb mix along with Indian spices and grilled to perfection. Literally 'Melts in your Mouth' in every bite. Grill+OvenMethod – Murgh Malai Tikka
Post By: Molly Kumar
Murg Malai Tikka Recipe | Indian Chicken Skewers
Murg Malai Tikka Recipe is going to be the show stopper for our Father's Day brunch this Sunday, June 18, 2018.
This year I'm going all light and easy recipes that's quick to prepare, with not much effort but packs a great flavor.
And this Murg Malai Tikka is just one of the recipe that tops our list of delicious and light.
If you're wondering what it is —> Murg
(chicken)
Malai
(cream)
Tikka
(bite-size cubes).
It's also popularly known as White Malai Chicken Tikka / Malai Chicken Kebab.
Ingredients for Murg Malai Tikka / Chicken Tikka
Murg Malai Tikka is an extremely popular recipe in India and Internationally too.
One of the main reason for its popularity is its mild taste and creamy texture.
It's made using some really simple ingredients and its the marination that gives it all its taste.
How to Make Murg Malai Tikka / Chicken Tikka
As the name suggests, the chicken is marinated in a mix of spices + herbs + cream.
However, I've twisted the traditional recipe a little and replaced Cream with a mix of (yogurt + sour cream + cream cheese).
This mix makes it extremely light yet adds that creamy texture that makes this recipe so popular.
Also, marination is the main step here, once that's completed, the recipe takes about 20 minutes to make depending on the choice of cooking method.
The traditional recipes involve cooking the chicken tikka in a clay oven, however, I'm listing 2 options (Grilled & Oven Baked) to prepare them.
So, you can make the Malai Chicken Tikka in Oven or Malai Chicken Tikka in Grill.
I personally prefer making them over a grill using coal as it adds a little bit of that smokey flavor too.
However, they cook perfectly fine and taste equally delicious when cooked in an oven.
Tips to Make Perfect Tikka Everytime:
1- Marinate the chicken overnight (if time permits). This helps in tenderizing the chicken further and helps it absorb all the flavors from spices + herbs.
2- If using Wooden Skewers, soak them in water for 20-30 minutes. This is extremely important and prevents the wooden skewers from burning when you bake or grill the tikka.
3- Use fresh chicken as opposed to a frozen one as its more tender and fresh.
4- If using 'Kasoori Methi/Dry Fenugreek Leaves', then just sprinkle them 5-10 minutes before grilling/baking. Marinating the chicken in these leaves can make the chicken sour.
5- To make the chicken extra juicy, slather a generous amount of oil/ghee on top before serving. This tenderizes the cooked chicken tikka further and makes them extra juicy.
Enjoy these succulent Murg Malai Tikka or Indian Chicken Skewers this #FathersDay and create a fun and memorable brunch for your Dad.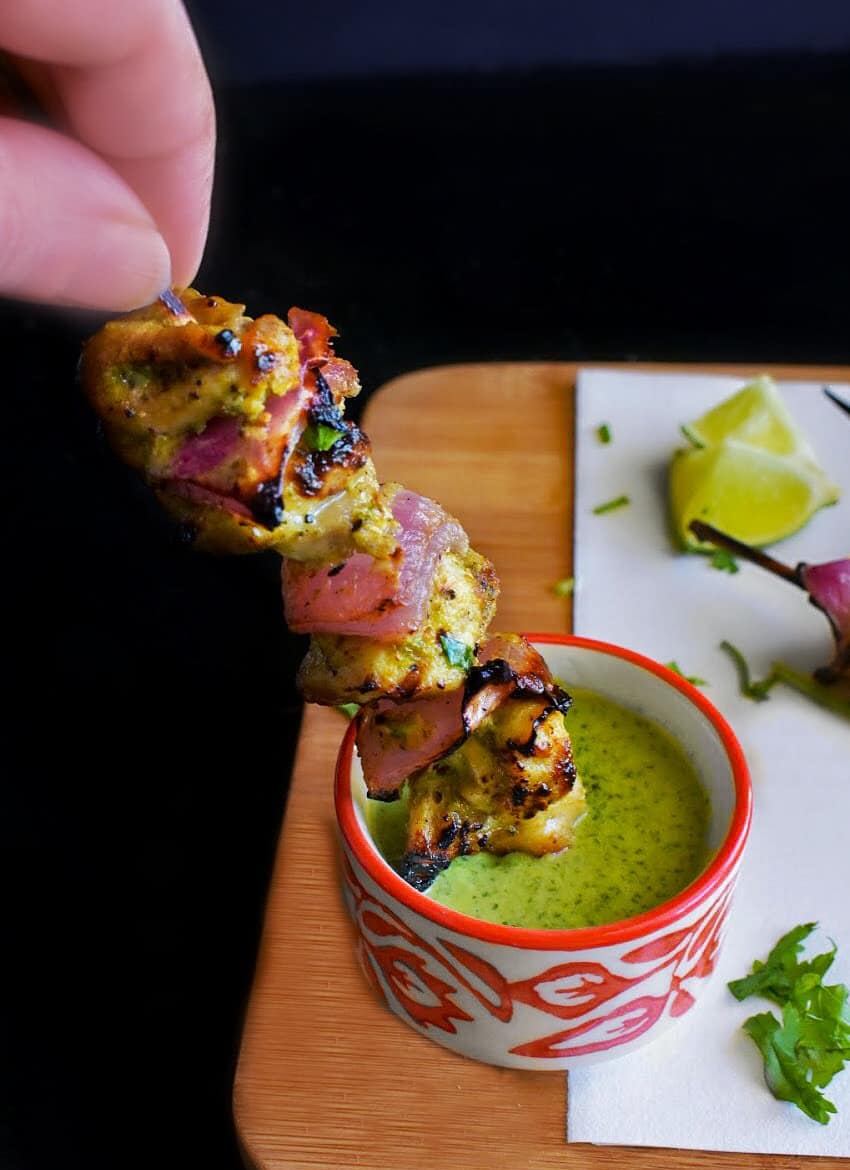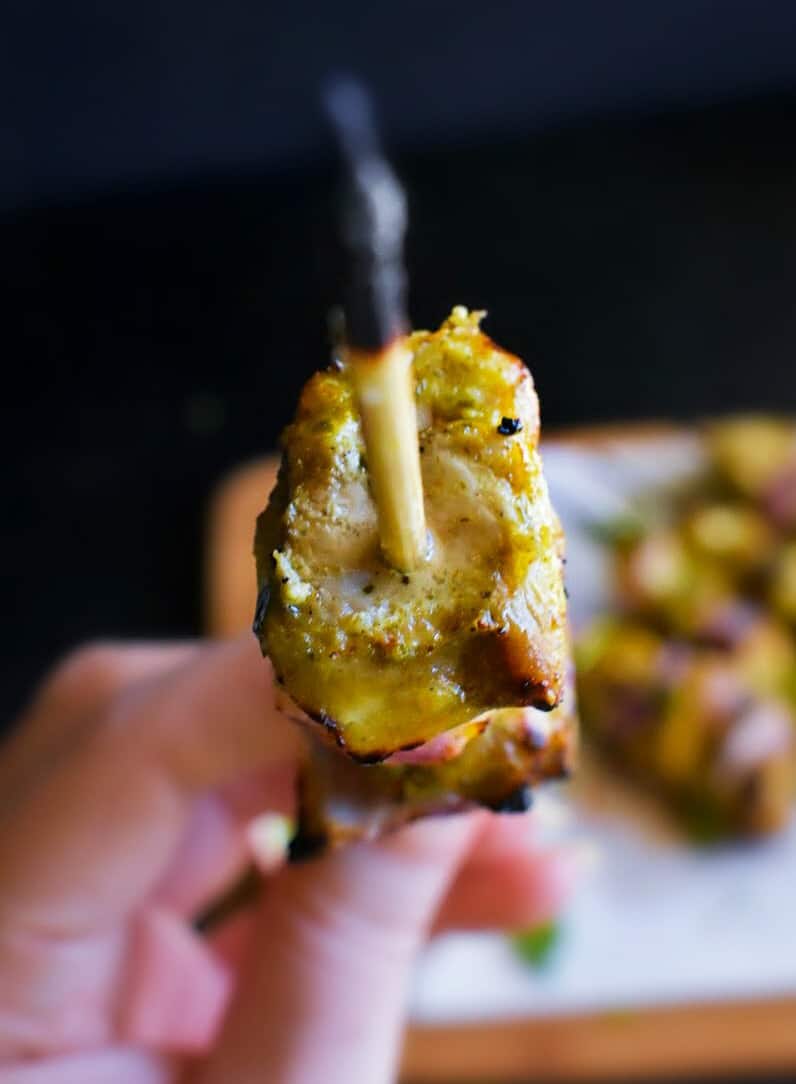 Tried Our Recipe – AWESOME!!!
Now Quickly SNAP A PICTURE & TAG :
#easycookingwithmolly + @easycookingwithmolly on Instagram –>
Connect with Me Here: Facebook / Pinterest / Instagram /
Other Popular Fathers Day Recipe:
Yield: 6 People
Murg Malai Tikka Recipe (Grill+Oven Method)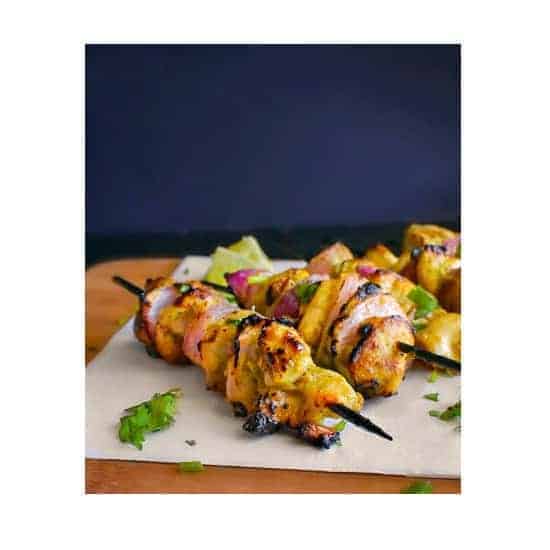 Murg Malai Tikka Recipe: Tender chicken pieces marinated in a yogurt-herb mix along with Indian spices and grilled to perfection. Literally 'Melts in your Mouth' in every bite. Also called 'Murgh Malai Tikka'
Ingredients
1 Cup Boneless Chicken – clean and cut into bite-size cubes
1 Red Onion - cut into bite-size cubes
1 Tbsp Dried Fenugreek Leaves
Marination Ingredients :
1 Cup Greek Curd or use homemade yogurt that's without any water
3 Tbsp Cream Cheese
1 Tbsp Sour Cream
1 Tbsp Garlic Paste
1 Tbsp Ginger Paste
3 Tbsp Fresh Cilantro+Mint Mix (chutney or thinly ground)
1 Tbsp Lemon Juice
1 Tsp Green Chili Paste - optional
1 Tsp Cornflour
1 Tsp Cumin Powder
1 Tsp Red Chili Powder
2 Tbsp Canola Oil
Salt to taste
Instructions
Combine all the marination ingredients in a bowl and whisk to form a smooth paste.
Add the chicken, onion and mix to coat everything nicely.
Cover with cling wrap or place a lid and keep this covered in the fridge for a minimum of 30 minutes (you can fo this overnight if you have time).

Grill Method:
Prepare the grill and heat using wood chips or coal (I prefer coal as it gives it an aromatic smokey taste).
Place the skewers over medium heat and grill for 3-4 minutes.
Turn to the other side and slather some oil.
Grill for another 3-4 minutes or till you achieve a golden grill texture.
Remove from grill and transfer to a serving plate.
Serve with favorite chutney/sauce/dip.

Oven Method:
Preheat the oven 400 degrees F.
Line the skewers in a baking tray and lightly spray some oil over the skewers.
Bake for 10 minutes and turn them to another side.
Lightly spray the side up and bake for another 8-10 minutes.
To achieve the grilled look - start the broil mode (check the temperature as per your oven) and broil for 2-3 minutes.
Remove immediately and transfer to a serving plate.
Serve with favorite chutney/sauce/dip.
Nutrition Information:
Yield:
10
Serving Size:
2
Amount Per Serving:
Calories:

105
Total Fat:

7g
Saturated Fat:

2g
Trans Fat:

0g
Unsaturated Fat:

5g
Cholesterol:

20mg
Sodium:

189mg
Carbohydrates:

4g
Fiber:

0g
Sugar:

2g
Protein:

6g