This post was sponsored by Ling Ling, all opinions expressed in my post are my own.
Brussels Sprout, Apple, and Orange Winter Salad: an absolutely delicious, super easy and flavorful salad that's filled with winter veggies and fruits.
I'm using a homemade citrus dressing to go along with the flavors and serving it with LING LING FRIED RICE to make it a quick family meal.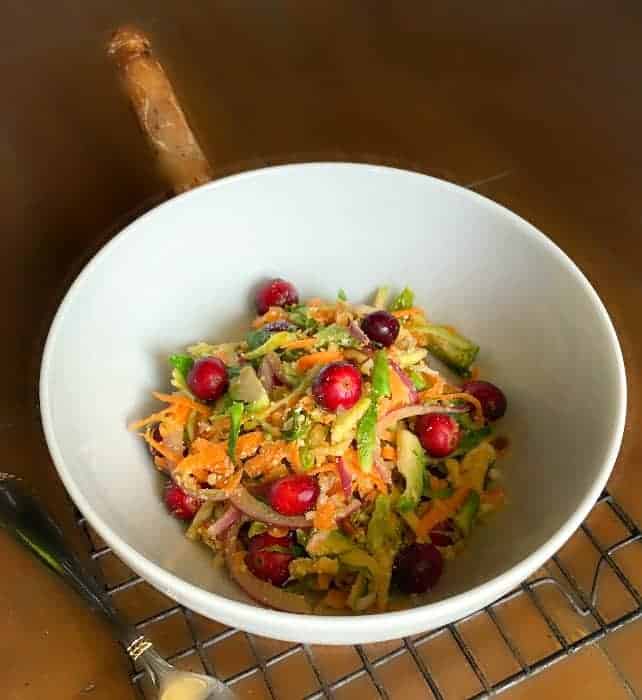 This Brussels Sprout, Apple and Orange Winter Salad is our goto salads in winters and it pairs amazingly with any meal.
This week had been so busy and tiresome, that I had been looking forward to a more relaxed or indoor kind of weekend and absolutely no-cooking.
But even if I mean no-cooking kind of weekend, we still want flavorful – delicious meals and what better way to use our favorite new LING LING FRIED RICE line of Asian inspired flavors like :
Yakitori Chicken
Yakiniku Beef
Thai-Style Chicken
Chinese-Style Vegetable
Bibimbap Beef
We got them from our local grocery store and you can check your nearest store information here <–
I did mention it before as well that we love using LINGLING Fried Rice because of their Infusion Cooking Method.
Where each grain of rice is infused with signature sauces for incredible flavor in every bite.
You can literally smell the aroma the moment you take out the bowl from microwave.
So, we decided to pair our Brussels Sprout, Apple and Orange Winter Salad with this Japanese Style Yakitori Chicken Fried Rice
It uses all white meat along with veggies like peppers, edamame, leaks, roasted corn, etc.
You can look at the gorgeous colors in my fried rice bowl above and you can also see that each grain is separate and nothing sticks or clumps.
It's really easy to make a flavorful and healthy meal at home even when we are feeling completely drained as this meal literally took me 15 minutes to serve.
Also, please GRAB this COUPON to Buy your FAVORITE Flavor & a chance to enter a GIVEAWAY:
———————————————————————————————————————-
*COUPON Offer: $2 off a box of LING LING FRIED RICE at any retailer where the products are sold *
* GIVEAWAY DETAILS *
Prize: 1 of 10 $100 Walmart Gift Cards
Dates: November 10 – 22, 2017
Ling Ling Asian Kitchen Giveaway

I-C will randomly select winners from all program entries and will facilitate fulfillment of the winning prizes (10)
—————
As always, Iooove it when you try my recipes and send me pictures & feedback. You can tag my recipes tried by you using #easycookingwithmolly on any of the social media below:
Connect with Me Here: Facebook / Pinterest / Instagram / Twitter / Subscribe to our Newsletter / Google+

Brussels Sprout, Apple and Orange Winter Salad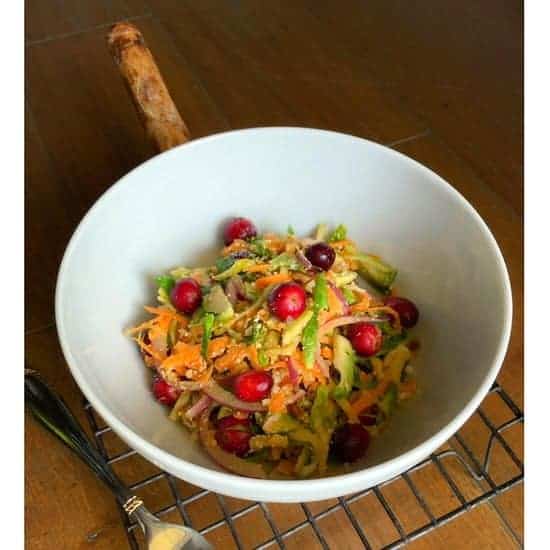 Ingredients
1 Cup Brussels Sprout - thinly sliced
1 Large Green Apple - thinly sliced
1 Large Orange - peeled, deseeded and thinly sliced
1 Medium Carrot - thinly sliced (optional)
1 Small Red Onion - thinly sliced
1 Tsp Chopped Walnuts
Few Cranberries - fresh or frozen
2-3 Tbsp Cheese - optional
Dressing:
Juice of 1 Large Orange - about 1/4 cup
1 Tbsp White Wine Vinegar
2 Tbsp Extra Virgin Olive Oil
1/8 Tsp Honey - optional
Pinch of White Pepper
Salt - as per taste
Instructions
In a medium bowl, add all the dressing ingredients and whisk for a minute.
Keep the dressing aside
In a large bowl, add all the salad ingredients and mix well.
Pour the dressing before serving (for that extra crisp taste) and mix lightly.
Serve Immediately.
Nutrition Information:
Serving Size:
2 People
Amount Per Serving:
Calories:

411
Total Fat:

21g
Saturated Fat:

4g
Cholesterol:

6mg
Sodium:

1338mg
Carbohydrates:

51g
Sugar:

37g
Protein:

8g