Microwave Besan Ladoo: Hands down the MOST famous Indian dessert made using besan (chickpea flour), sugar, ghee, etc. 100% Glutenfree, yields 18 ladoos and can be made vegan. Perfect for festive occasion, parties or just because 🙂
Microwave Besan Ladoo – Chickpea Dessert Fudge
This Microwave Besan Ladoo recipe is kind of emotional for me as this was the reason behind the conception of 'Easy Cooking with Molly'.
It's my most requested recipe by friends/family and that's why I started this blog (a place to share a recipe with everyone).
What is Microwave Besan Ladoo?
They are the Most Popular Indian dessert and is also known as Indian Chickpea Dessert Fudge.
Due to its popularity, it's easily found in any Indian sweet shops across India or abroad and also in Indian homes.
It was the very first recipe (3yrs back) on the blog. Yes, I do have the 3yr old picture below (taken right under the yellow microwave light) ;).
We have made these quick besan ladoo's countless times and every time I thought, I would re-click some new pictures for you'll
Perfect on every occasion especially festivals.
Ingredients to Make Microwave Besan Ladoo:
Besan (Chickpea Flour/Gram Flour)
Ghee
Sugar
Elaichi Powder (Green Cardamom)
Now, Besan Ladoo is a very easy recipe and made in almost every Indian household on festive occasions or celebrations.
How to Make Microwave Besan Ladoo or Besan Ladoo in Microwave
The process is easy with one catch and that is you need to roast the besan/chickpea flour really well (till it looks slightly brown and releases a sweet nutty fragrance).
That is quite a tedious process as it needs to be done over low heat to prevent flour from burning (Think 30-45 minutes just roasting the flour).
So exit cooking over heat and enter microwave :).
And Why Not !!! If it gives me the same taste and reduces the time I spend making the recipe into half, I'm all up for it.
Step by Step Process of Making the Microwave Besan Ladoo:
Add All the Ingredients and Microwave
Remove from Microwave and Mix Everything
Microwave Again and Mix everything once done.
Once the Besan is fully cooked, add sugar, almonds, cardamom powder and mix
After the Microwave version of Ladoo's, its become a constant feature at our home and many of our friends place.
They are that easy-peasy that even MoM have started making it (which is HUGE for me as she used to make them overheat spending atleast 1-2 hrs).
You know when Mom starts making your recipe that's when it's become foolproof !!!
If you're Vegan and want to make them, you may use 'Almond Butter' or any vegan ghee replacement (which is not over-powering to taste).
For my Glutenfree friends, it's a treat as they are 100% glutenfree.
You can make about 25 medium or 18 large ladoo's and just keep them in the fridge for upto 2 weeks.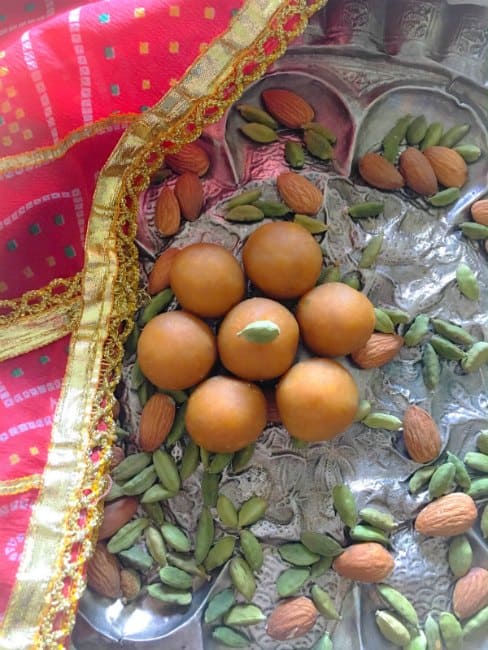 Here's how the flour looks while being roasted for the process and to make a smooth ladoo.
You need to strain the roasted flour to break any clumps that might have formed while roasting it with ghee.
Just strain the roasted flour, add rest of the ingredients and form ladoo's while the flour is still warm to touch.
It's a fun activity for kids too as they love making round balls out of it and it always looks extra cute when they make anything for you 🙂
So, this festive season or any reason, try this recipe and surprise your loved ones.

DID YOU TRY MY RECIPE – AWESOME!!!
Now Quickly SNAP A PICTURE & TAG :
#easycookingwithmolly + @easycookingwithmolly on Instagram –>
Connect with Me Here: Facebook / Pinterest / Instagram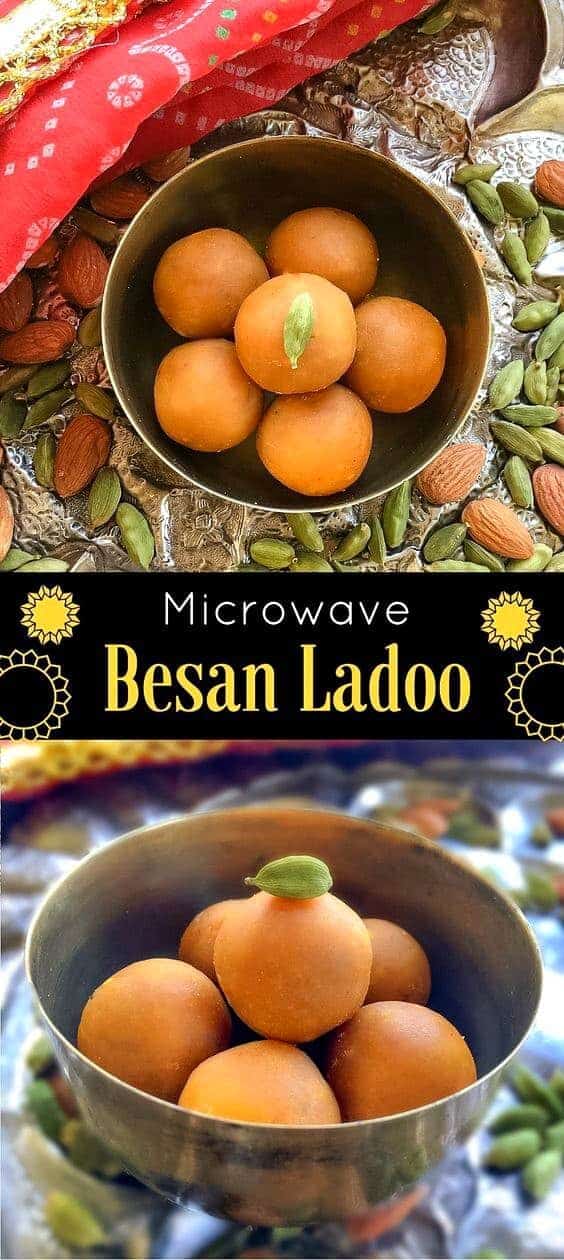 :: You May Also Like ::
Yield: 18 Ladoos
Microwave Besan Ladoo (4 Ingredients)
Microwave Besan Ladoo (4 Ingredients) MOST famous #Indiandessert made using chickpea flour (besan), sugar, ghee, etc. This recipe is glutenfree and makes 18 ladoo's.
Ingredients
2 Cup Besan (Chickpea Flour)
1/2 Cup Fine Sugar
8 Tbsp Ghee
1/2 Tsp Cardamom Powder
Optional:
6 Almonds - made into flour
1 Tbsp Oil – To be used on hands
Instructions
How to Make Microwave Besan Ladoo:
In a microwavable bowl, add besan (chickpea flour) along with 3 tbsp of ghee, mix evenly and microwave on high for 2 minutes.
Stir the besan mixture using a spatula and microwave on high for 2 minutes.
By now, the mixture would have turned slightly brown or deeper in color and a rich aroma of ghee would be coming out of it.
Add 2 tbsp of ghee to this mixture and mix it with hand (it would feel course in texture).
Now microwave for 2 more minutes.
Add the remaining ghee, cardamom powder, almond flour and mix evenly.
Microwave for 1 minute.
Now the besan mixture will look deeper in color and courser in texture.
Cool this mixture till it's not very hot to touch.
Add sugar and mix evenly.
Now while the mixture is still warm, put oil in your hand and form small round balls / ladoo. (This needs to be made when the mixture is warm or else the ladoo's will not form).
Serve warm or cold as per taste.
Nutrition Information:
Yield:
9
Serving Size:
2
Amount Per Serving:
Calories:

292
Total Fat:

15g
Saturated Fat:

7g
Trans Fat:

0g
Unsaturated Fat:

6g
Cholesterol:

29mg
Sodium:

18mg
Carbohydrates:

34g
Fiber:

3g
Sugar:

13g
Protein:

6g
Here's the pic that was taken 3 yrs back of the fresh Ladoo's made using this recipe 🙂