Easy Shrimp and Sausage Paella Recipe: A flavorful, fragrant and quick Spanish style paella recipe that's super easy to make.
Easy Shrimp and Sausage Paella Recipe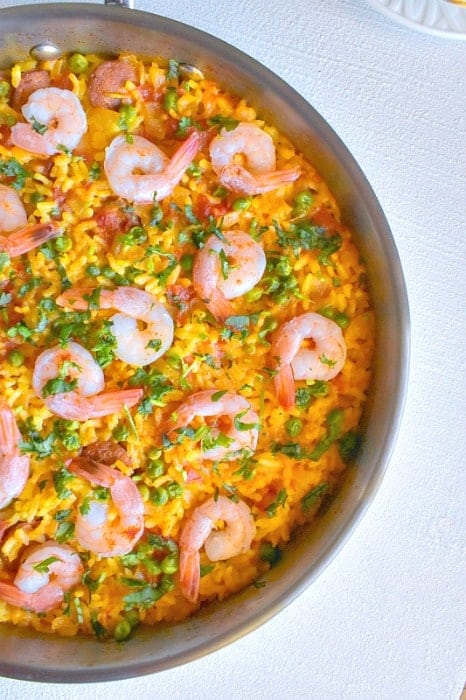 This Easy Shrimp and Sausage Paella Recipe have become new Most Requested recipe among friends and family.
Whoever has had it, cannot stop at first helping and they go home with the recipe.
Also, it's a perfect recipe for brunches or gathering where you want to eat family style.
I recently got the opportunity to work with 'LagostinaUSA' which is a premium Italian cookware company, established in 1902 (in Italy).
It's famous for its core values of impeccable Italian craftsmanship, high-quality materials, technological innovation, and elegant design have endured.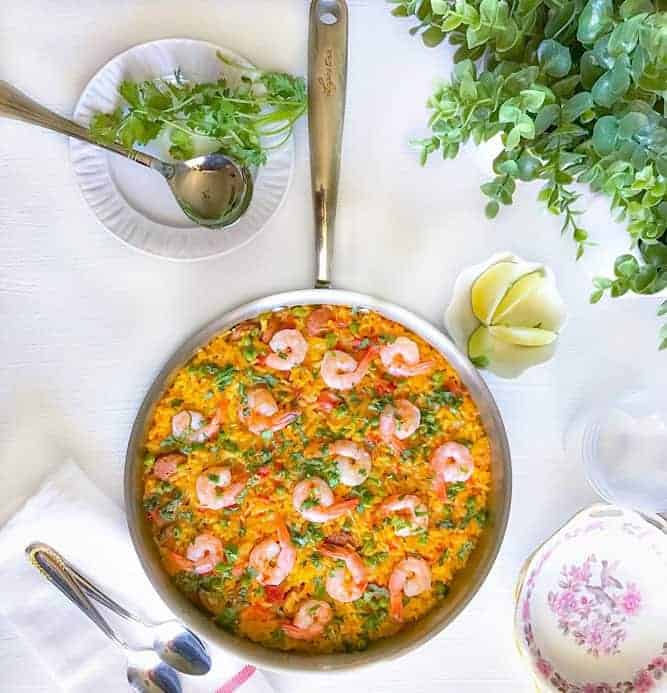 They recently came out with a 'Lagostina 11 Piece Luminosa Set' (available in Bed, Bath & Beyond) and I got the opportunity to create recipes using the Luminosa set.
I was actually thrilled to use the set as all the pans and pot comes with a premium grade stainless steel cooking surface.
And they are also masterfully crafted to go from cooking surface to your dining table – which I find perfect for family or friends meals.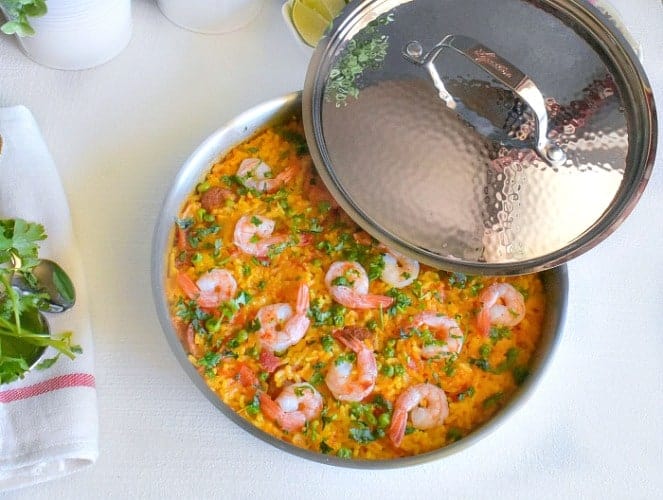 Now, that you know about the new LagostinaUSA set, let's talk a little about the recipe.
I'm using their 10.25″ frying pan to make this Easy Shrimp and Sausage Paella Recipe as it perfectly fit the requirement of a rounded, slightly heavy bottom pan needed to cook a Paella.
(If any of you is guessing what's a Paella, well, it actually means 'Pan'. )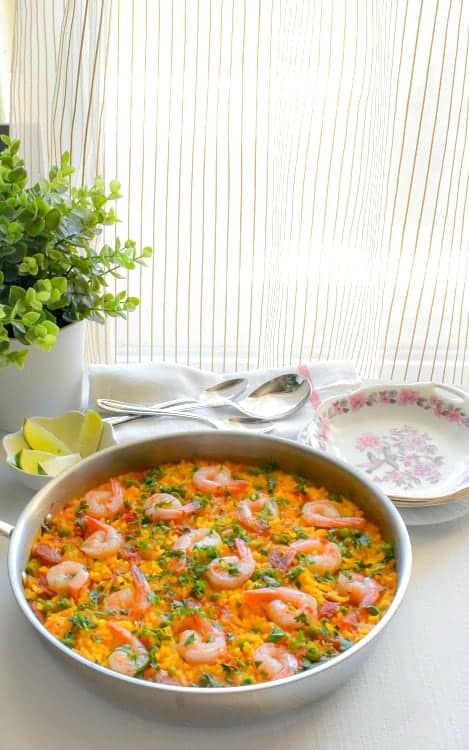 Now, this Paella recipe didn't just originate out of my mind but it's a mixture of 2-3 different Spanish chefs (whose restaurants I ate) and then I finally came up with this easy version.
For me rice recipes are extra special as growing up in India, we eat a lot of rice dishes (biryani, pulao, zarda) and I'm always excited to learn a new rice dish from a different country.
There are few tips and tricks needed to make your perfect Paella
(that will guarantee you superstar title among friends n family):
1. Rice:
Spanish Paella is made using a short-grain 'Bomba' rice from Spain.
It has a high starch content needed to slow cook and absorb all the flavors of this dish.
However, if you don't have access to that, you can use 'Arborio Rice' commonly available in USA and Internationally. It's short grain rice that absorbs a lot of water.
2. Cooking the Rice:
Since it's short grain rice, you don't want to mix or move it too many times as it might break and result in a very starchy lumpy dish.
Simple saute the rice once when added and then let it simmer on its own (without turning or scooping the rice) till it's cooked completely.
3. Saffron:
The gorgeous red-yellow color of Paella actually comes from saffron and it adds that distinctive taste to this dish.
For that Authentic taste, try to get 'Spanish Saffron' which is usually roasted and added to impart even more aroma to this dish. However, you can use any other saffron too.
Remember to roast the saffron while roasting other ingredients in this dish for that deep rich flavor.
4. Broth:
Use a nice, lightly salted broth depending on the kind of Paella you're making.
If making a chicken/meat paella, use chicken or meat broth and similarly, for seafood use seafood broth for that flavorful dish.
5. Pan:
Paella is best cooked in round, wide, heavy duty pan for that overall perfectly cooked rice.
Since it's usually a recipe for a gathering and more casual style dining, it's best to cook it in a high-quality pan where you can go from cooking to serving in the same pan.
6.

Technique

:
It always boils down to technique and this one is a step-by-step version.
You cannot mix the rice a lot as they might break and become too starchy.
So, it needs to be gently sauteed together with another ingredient.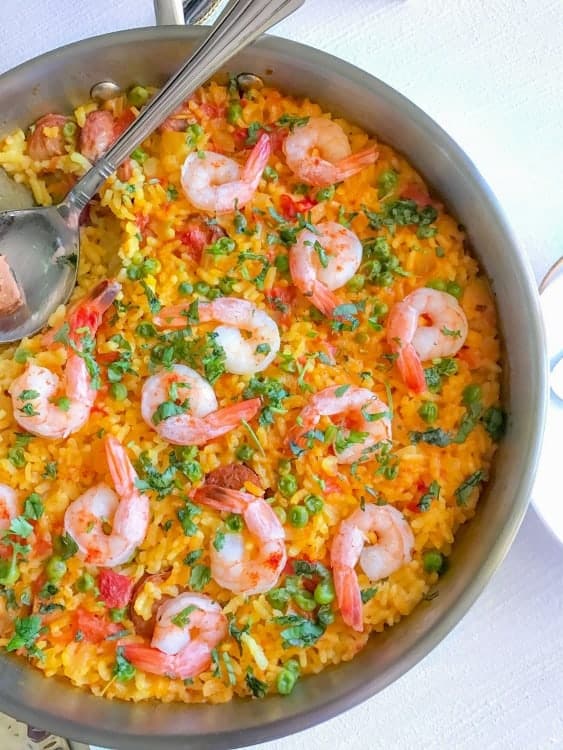 So go ahead and give this Easy Shrimp and Sausage Paella Recipe a try soon whether you're looking for another Paella recipe or your first Paella recipe, this one is a true keeper.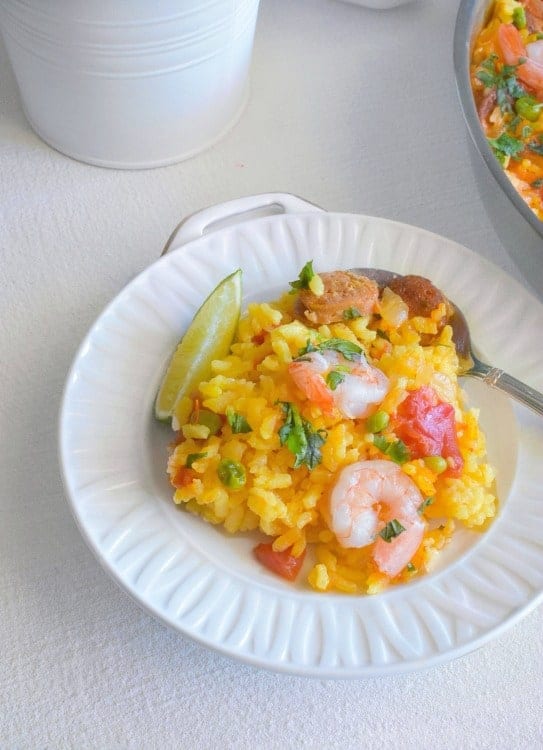 Tried Our Recipe – AWESOME!!!
Now Quickly SNAP A PICTURE & TAG :
#easycookingwithmolly + @easycookingwithmolly on Instagram –>
Connect with Me Here: Facebook / Pinterest / Instagram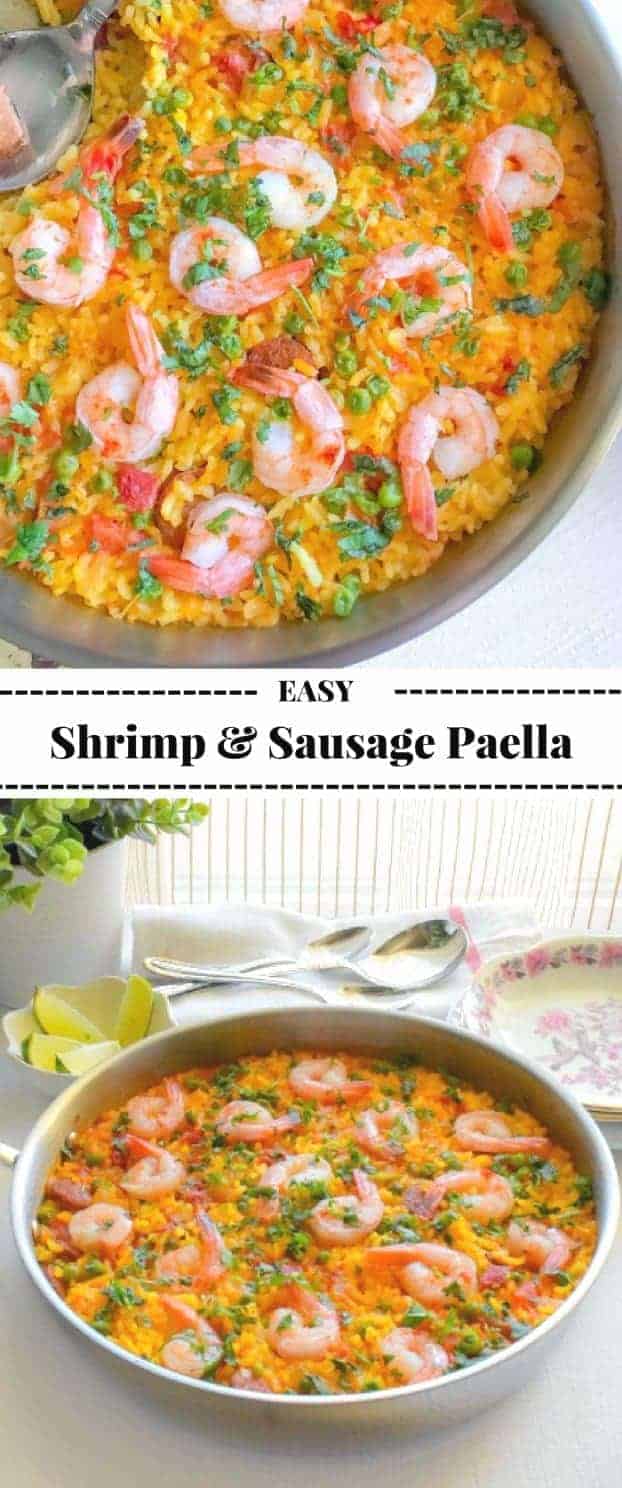 You can also try my other Rice Recipes like:
Yield: 4 People
Easy Shrimp and Sausage Paella Recipe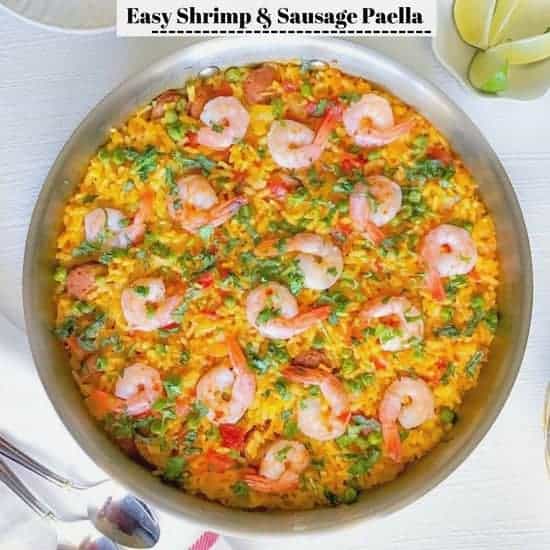 Easy Shrimp and Sausage Paella Recipe: A flavorful, fragrant and quick Spanish style paella recipe that's super easy to make. 
Ingredients
1 Cup Arborio Rice - you may use Spanish bomba rice
1/2 Pound Raw Shrimp
2 Medium Chicken Sausage - chopped in bite-size round pieces.
1/4 Cup Frozen Green Peas - optional
2 Cups Seafood Stock
1/2 White Onion - diced
2 Cloves Garlic - minced
1/4 Cup Diced Tomato
1 Small Green Chili - diced - optional
Fresh Chopped Parsley - for decoration
4 Tbsp Olive Oil
Spices & Herbs :
1/2 Tsp Saffron Threads (almost 2 pinches)
1/2 Tsp Cumin
1/2 Tsp Smoked Paprika
1 Tsp Salt - use as per taste
1/4 Tsp Fresh Rosemary - chopped
Instructions
Heat oil in a Paella Pan or 10.25" Frying Pan.
Add chopped onions and saute.
Now, add garlic, rosemary and saute for 1/2 minute over medium heat.
Add the chopped sausage and saute till golden brown in color or cooked slightly.
Add Diced Tomato, green chili, cumin, paprika, salt and saute for 1-2 minutes over low heat.
Add the saffron, rice and saute for a minute over medium heat.
Finally add water and saute everything together and then cover the pan and cook on high heat for 5 minutes.
After 5 minutes, reduce the heat to low and let it cook for another 11 minutes (don't touch the rice now).
after 11 minutes, you'll see most of the water would be absorbed by the rice and place shrimps and peas on top.
Cover and cook for another 5 minutes.
Sprinkle chopped cilantro on top and place lemon wedges either on top or the side.
Turn off the heat and transfer the Paella to table (use the same pan to serve).
Enjoy with Family and Friends.
Nutrition Information:
Yield:
4
Serving Size:
2
Amount Per Serving:
Calories:

325
Total Fat:

30g
Saturated Fat:

6g
Trans Fat:

0g
Unsaturated Fat:

19g
Cholesterol:

100mg
Sodium:

500mg
Carbohydrates:

40g
Fiber:

2g
Sugar:

4g
Protein:

45g
Now, for the exciting part – I'm also Giving away the 10.25″ Luminosa Frying Pan that I used to create this recipe (Giveaway at the bottom of the page).
Here's some more information on the new 11 set Luminosa Set:
Durability and Classic Beauty of Stainless Steel Construction for long-lasting performance and satisfaction
Cooking surface is made of premium grade stainless steel so food stays pure
Stay-Cool Stainless Steel Handles are riveted on to pans for extra durability
Unique Hammered Stainless Steel Lids are durable to last a lifetime and seal in moisture and flavor
3-ply Bonded Base is induction compatible
Oven and broiler safe to 500°F
This post is sponsored by LagostinaUSA and all opinion shared are mine. #SeafoodAlFrescoWithLagostina #LagostinaUSA and #BedBathAndBeyond