Restaurant Style Shrimp Fried Rice: An absolutely flavorful and mouthwatering restaurant style shrimp fried rice recipe using veggies, shrimp and a mix of sweet-spicy butter sauce. Perfect to celebrate special moments with your loved ones.
The weekend is almost here and before we make any plans, I need to share this tantalizing and finger-licking good Restaurant Style Shrimp Fried Rice in sweet-spicy butter sauce recipe with you'll.
Ingredients for Restaurant Style Shrimp Fried Rice:
Shrimp
Cooked White Rice
Mixed Vegetables – like carrots, peas, asparagus, whatever you like.
Chili Sauce
Honey
Butter
It's one of those recipes that you make for special events or to go that extra mile and create a gorgeous looking dish for that someone special ….. for me.
I seriously wanted to make my mom feel extra extra extra special for everything she does for all of us.
Since we are going that extra mile, I'm going to serve it along with our favorite 'Gold medal Winner(SF Chronicle Wine Competition Jan. 2017) – Butter Chardonnay Wine by JaM Cellars.
It's a is rich, bold and luscious wine, made in the tradition of quality Californian winemaking.
They cold ferment this easy-to-love Chardonnay to a lush creaminess and age it in our unique blend of oak. Butter brims with stone fruit and baked lemon notes and has a lovely, long, vanilla finish.
Simply put, it melts in your mouth & just the PERFECT wine to go with our Restaurant Style Shrimp Fried Rice recipe.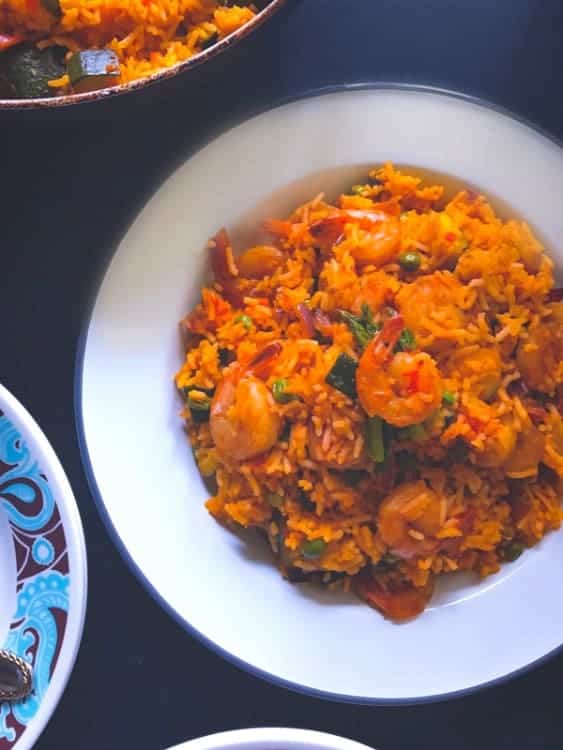 Now, that we know what we are making for #MothersDay celebrations, let's discuss – How do you celebrate the Day?
Do you treat her with a whole day of a special pass for anything she desires 😉 or does you take her out for a fun outing?
I usually do a mix of both and I have to share this really funny incident that almost always happens to us or rather me & mom.
Every Mother's day, we start the day early with a quick breakfast in bed and then we take her shopping where the men and women split up for obvious reasons.
Unless you want to exit the mall in 10 minutes (cause the men to believe we just need 10 minutes to go, pick-up the first thing and come out … Seriously!).
Once in the mall, I always start with the stores she likes (which obviously I like too …which women don't like clothes n cosmetics & jewelry ;)).
I promise, I always enter the store with the utmost feeling of helping mom choose stuff but then after 10-15 minutes once we are kind of comfortable around and suddenly my eyes are all over the stuff that I would buy.
Now, I hope that's fairly normal and I'm not the only one doing that 😉
So, the trip that started as Mom's shopping spree takes a complete turnaround and somehow becomes 'Mom look how cute is that top or how amazing is this new bag' and so goes her shopping.
But thankfully, by the time we reach the checkout counter some mystical power prevails.
And I end up keeping most of my stuff away (hmmmmm…..which I would buy later over the week) as this is all about 'Mom'!!!
Next stop is usually her favorite spa or we end up going to the beach or a drive around the gorgeous CA – Highway 1 which has the most picturesque drive.
Once, we are back home, the chilled Butter Chardonnay is a perfect drink to unwind and relax with some light music and chit-chat.
As I had already prepared the Restaurant Style Shrimp Fried Rice heating up dinner is just a 10 minutes job and we are all set.
Before I leave, here are some more details on the Butter Chardonnay Wine by JaM Cellars :
JaM Cellars makes three easy-to-love, everyday California wines Butter Chardonnay, JaM Cabernet and Toast Sparkling.
Second-generation Napa Valley vintners John and Michele are the "J" and the "M" in JaM Cellars. They made these wines in a style they love to enjoy with their friends any day of the week.
To get the latest delivered right to your inbox. Sip, smile, and share!
Here's a Fun Quote from them which I really like:
"We take our wines seriously;
we just don't take ourselves seriously!" – JaM Cellars
---
Tried Our Recipe – AWESOME!!!
Now Quickly SNAP A PICTURE & TAG :
#easycookingwithmolly + @easycookingwithmolly on Instagram –>
Connect with Me Here: Facebook / Pinterest / Instagram
:: You May Also Like ::
Yield: 4 Adults
Restaurant Style Shrimp Fried Rice (Sweet-Spicy) #friedrice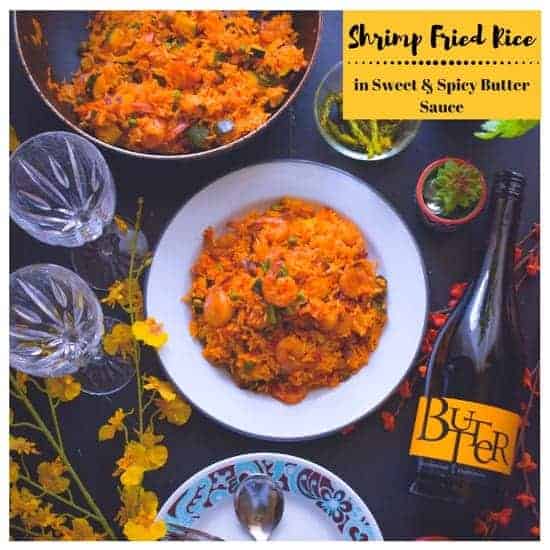 Restaurant Style Shrimp Fried Rice: An absolutely flavorful and mouthwatering restaurant style shrimp fried rice recipe using veggies, shrimp and a mix of sweet-spicy butter sauce.
Ingredients
1/2 lb Shrimp - cleaned and deveined - can be frozen or fresh as per choice
2 Cups Cooked White Rice - you may use any kind
1 Cup Peas & Carrot Mix - thawed
1/2 Cup Asparagus Florets - optional
3 Tbsp Olive Oil
2 Tbsp Brown Butter - ghee
Sweet & Spicy Sauce Ingredients
2 Tbsp Honey
1 Tbsp Chili Sauce
1 Tsp Soy Sauce
1/4 Tsp Ginger+Garlic Powder
1 Tbsp Sambal Chili Paste- use any other chili paste or ignore
Instructions
In a bowl, mix the sweet and spicy sauce ingredients and keep aside.

Step 1 - Saute Shrimp & Veggies
In a large pan, heat 2 tbsp oil.
Add shrimp and saute till they are cooked and turn orange.
Remove shrimp.
Add 1tbsp oil and add the asparagus and stir fry for 2 minutes on medium heat.
Now, add peas & carrot and saute for another 2 minutes to cook everything together.
Once cooked, remove the vegetables from pan.

Step 2 - Restaurant Style Shrimp Fried Rice
In the same pan, heat 2tbsp brown butter for 1/2 minute.
Now, pour the mixed sauce ingredients from the bowl and saute on medium heat for a minute.
Add the sauteed veggies and let everything cook for minutes over medium flame.
Finally, increase the flame to high, add rice and saute everything evenly.
Carefully, keep stirring the mix from corners to make sure everything gets evenly coated.
Cook for another 2 minutes and then turn off the heat.
Transfer the fried rice in a serving bowl and serve fresh.
Notes
If you donot like spice, you can skip the chili sauce and reduce the quantity of honey.
Nutrition Information:
Yield:
4
Serving Size:
1
Amount Per Serving:
Calories:

447
Total Fat:

21g
Saturated Fat:

7g
Trans Fat:

0g
Unsaturated Fat:

12g
Cholesterol:

143mg
Sodium:

249mg
Carbohydrates:

48g
Fiber:

4g
Sugar:

17g
Protein:

19g
I was selected for this opportunity as a member of CLEVER and the content and opinions expressed here are all my own.