Spicy Shrimp Scampi Recipe: succulent shrimps sauteed in spicy-saucy garlick and herb-infused buttery-wine sauce. Ready in 15 minutes, this is your ultimate dinner recipe that can be served with spaghetti, rice or bread. Perfect for Datenight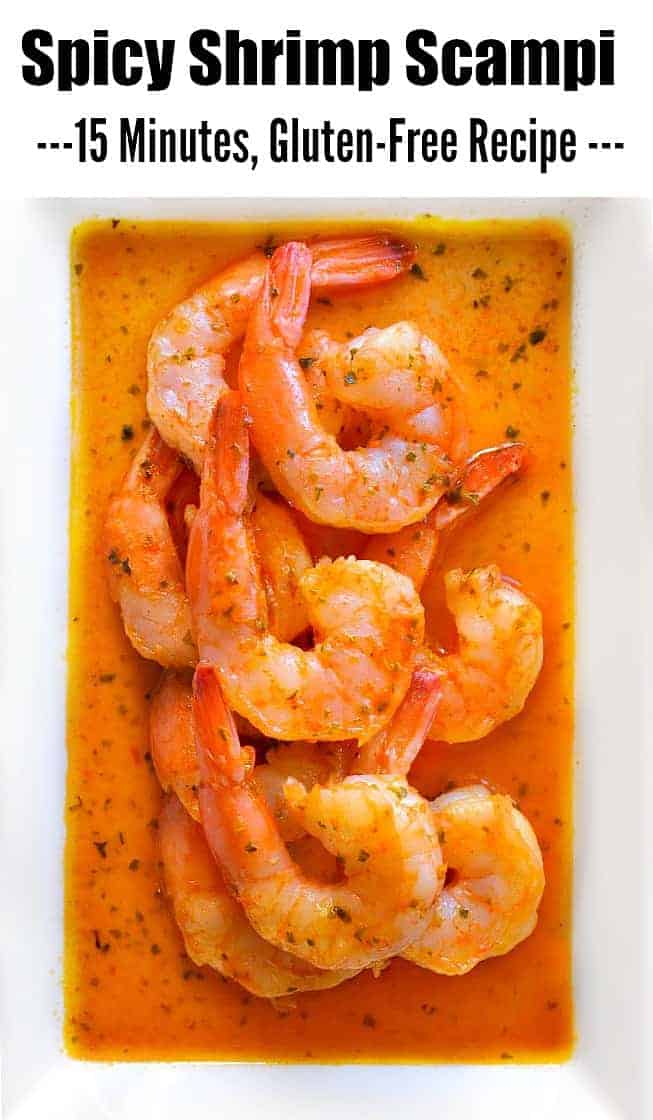 This Spicy Shrimp Scampi is one recipe that we can eat almost 2 times a week as it's so incredibly easy to make and packed with flavors that will blow your mind.
The trio of garlic, chili, and herbs in this buttery-wine sauce is literally something you need to try as it's a perfect Umami flavor that you were searching for!
In simple words – it's Delicious !!!
Ingredients for Spicy Shrimp Scampi:
Shrimps
Garlic
Butter
Parsley or Cilantro
Hot Sauce, like Sambal or even Tabasco/ Cholula/ Tapato works fine
Dry White Wine
While I've always been a fan of the traditional Shrimp Scampi but my spice-loving family always craved a slightly spicy touch to it.
And we always felt that there should be some extra 'buttery wine' sauce to enjoy by the end or just a tad bit more to :
" coat the spaghetti or dip that piece of bread in that rich buttery sauce and taste the umami flavors"
So this spicy shrimp scampi happened 🙂
How to Make Spicy Shrimp Scampi:
This is by far the Easiest 15 minutes recipe that packs so many flavors. Here are the steps:
Saute the shrimps in butter+olive oil mix.
Make the Scampi sauce using garlic, parsley, chili paste, and dry wine.
Mix the cooked shrimps and saute everything together.
Transfer and serve.
So I decided to create this quick variation to the traditional dish and added:
Sambal Paste + Chili Flakes –> For the kick of spice + that gorgeous orange-gold color
Extra Amount of Dry White Wine –> for that buttery sauce in the end to devour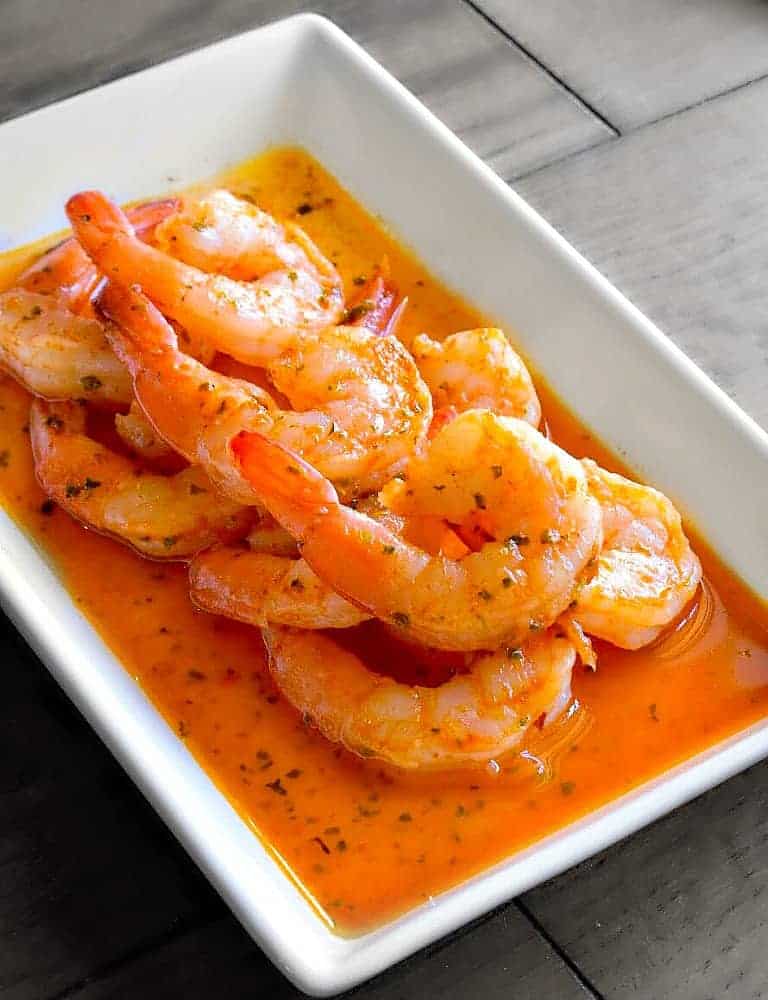 Tips For Making this Recipe Perfect Everytime:
I always cook the shrimp on high heat and it's usually done within 4-5 minutes.
Don't over-cook the shrimps as this would taste chewy and rubbery then.
You can make this dish a day or two before, just keep the sauteed shrimps and sauce separate. When you want to eat, saute everything together and serve.
Use a nice dry wine like Sauvignon Blanc, Pinot Grigio, Pinot Gris, Pinot Blanc, and dry sparkling wines.
Always use Fresh Italian Parsley for this recipe as it tastes the best with it. If incase it's not available, you may use Cilantro.
Serving Suggestions:
I like to serve this with a bowl of warm angel hair pasta or any plain pasta.
I even serve it with simple fried rice or dinner rolls.
I even serve it with lemon or buttery risotto or just a plain side of french green beans.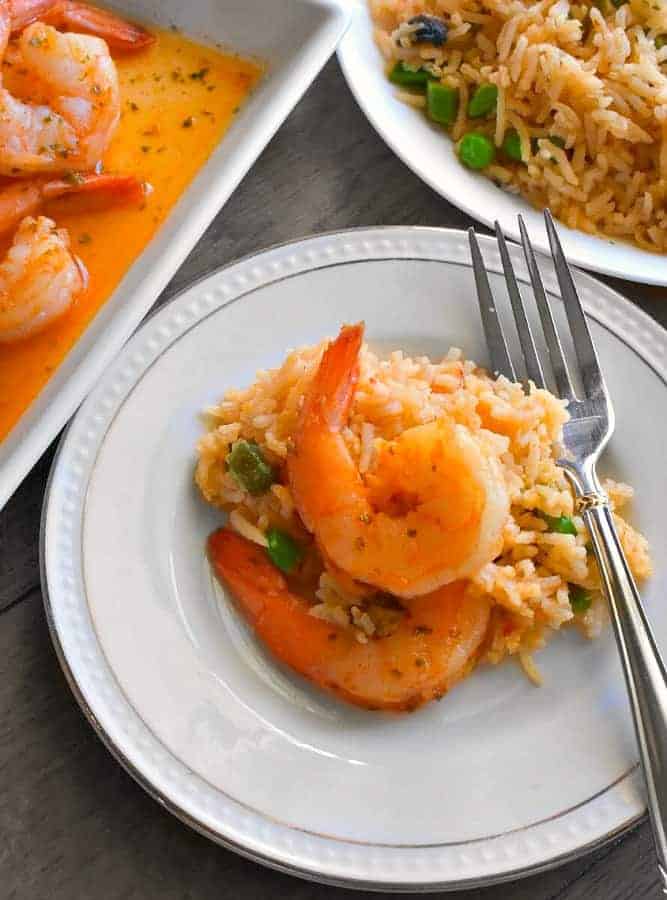 Tried Our Recipe – AWESOME!!!
Now Quickly SNAP A PICTURE & TAG :
#easycookingwithmolly + @easycookingwithmolly on Instagram –>
Connect with Me Here: Facebook / Pinterest / Instagram
:: You May Also Like ::
Yield: 4 People
Spicy Shrimp Scampi (Best Ever 15 Minutes Recipe)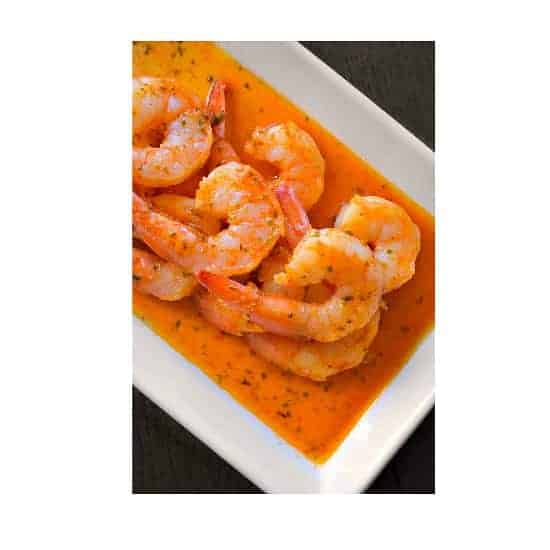 Spicy Shrimp Scampi: succulent shrimps sauteed in spicy-saucy garlick and herb-infused buttery-wine sauce. #shrimpscampi
Ingredients
1 lb Large Shrimp *
1/4 Cup Dry White Wine + 2Tbsp
2 Tbsp Butter - salted or unsalted (adjust salt accordingly)
2 Tbsp Olive Oil
1 Tsp Chili Flakes - use as per taste
1 Tsp Sambal/Red Chili Paste - Sambal is slightly milder than other chili paste.
1 Tsp Minced Garlic - you may use 1/2 tsp powder garlic too
1 Tbsp Lemon Juice
1 Tbsp Thinly Chopped Parsley
Salt - as per taste
Instructions
Cook the Shrimp:
Heat 1tbsp olive oil + 1tbsp butter in a large skillet.
Now add the shrimp and saute for 3-4 minutes (till shrimp are cooked and opaque in color).
Remove the shrimp from the skillet.
Make the Spicy Garlicky Buttery Wine Sauce:
In the same skillet, add remaining of oil and butter (wait till they melt together).
Now add chili flakes and saute for 10 seconds
Add minced garlic, salt, 1 tsp parsley, sambal and saute for 30 seconds.
Now add the white wine and stir everything together.
Let this simmer on low heat till the sauce starts to bubble.
Now add the cooked shrimp and saute for 1 more minute over medium flames.
Turn off the heat.
Add remaining parsley, juice of a lime and stir everything.
Transfer to a serving plate and serve along with a side of choice (rice/spaghetti/bread/any grain of choice).
Notes
Shrimp: I'm using the fresh deveined ones, but you can use frozen too
Nutrition Information:
Yield:
6
Serving Size:
2
Amount Per Serving:
Calories:

190
Total Fat:

10g
Saturated Fat:

3g
Trans Fat:

0g
Unsaturated Fat:

6g
Cholesterol:

170mg
Sodium:

500mg
Carbohydrates:

6g
Fiber:

0g
Sugar:

3g
Protein:

18g