This post is sponsored by CK Mondavi and Family. The recipe idea and opinion are all my own.
Saffron, Shrimp and Asparagus Risotto: extremely delicious and 30 minutes risotto recipe that's filled with aromatic flavors yet light. A perfect meal to enjoy with family-friends over a glass of chilled C.K Mondavi Chardonnay.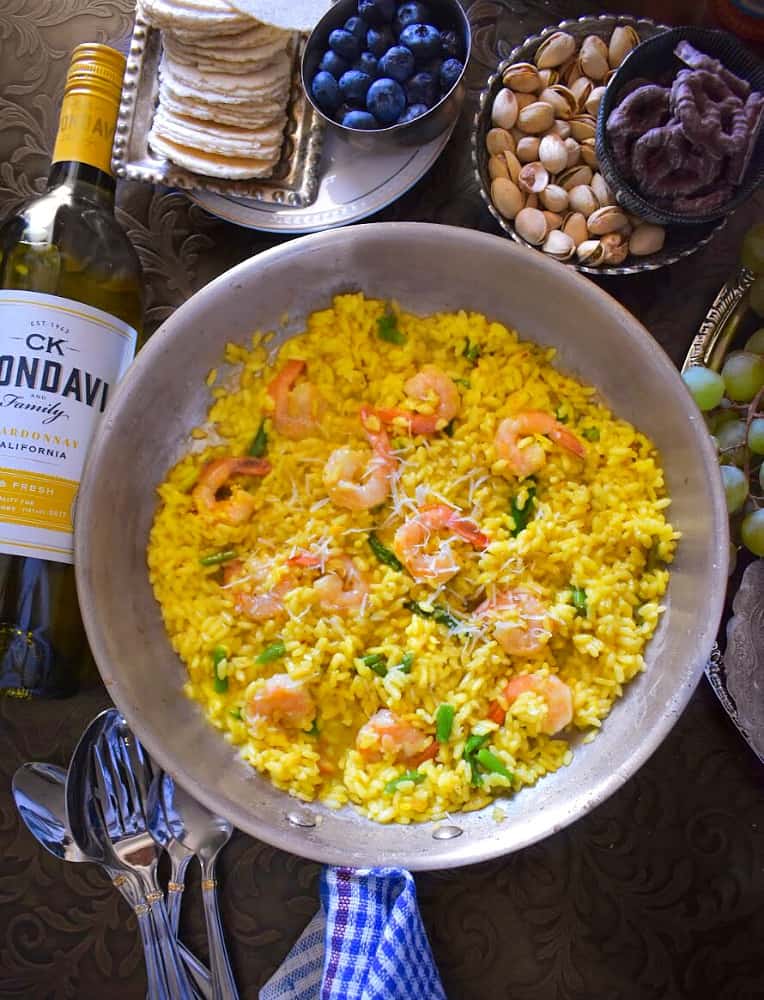 The weekend is finally here and we are ready to celebrate with this Quick Saffron, Shrimp, and Asparagus Risotto along with a chilled bottle of Chardonnay
There is nothing like meals that we share with friend-family, and one-pot, cook and serve ones are our favorite.
It means fewer dishes to wash and more time to enjoy with your loved ones and this risotto recipe is one such dish.
As you'll must be feeling, spring is finally here and we are celebrating it with these new Spring Edition wines from the next generation of Mondavi (the G4 as they are called).
Who are now officially involved in the business!
As you'll know, I became a proud CK Mondavi and Family ambassador last year and also shared my first healthy meal – Quick Oven Roasted Balsamic Chicken with Vegetables along with their winter wines.
So, I'm equally excited to try their Spring Wine collection and decided to pair this Quick Saffron Shrimp Asparagus Risotto with their Bright & Crisp Chardonnay.
The wine is medium-bodied with a hint of oak. Aromas of lemon and citrus combined with flavors of apple and pear lead to a delightfully crisp finish – it literally tastes like Spring in a Glass!
You can find the CK Mondavi and Family wines near you by visiting this –> Wine-Locator <–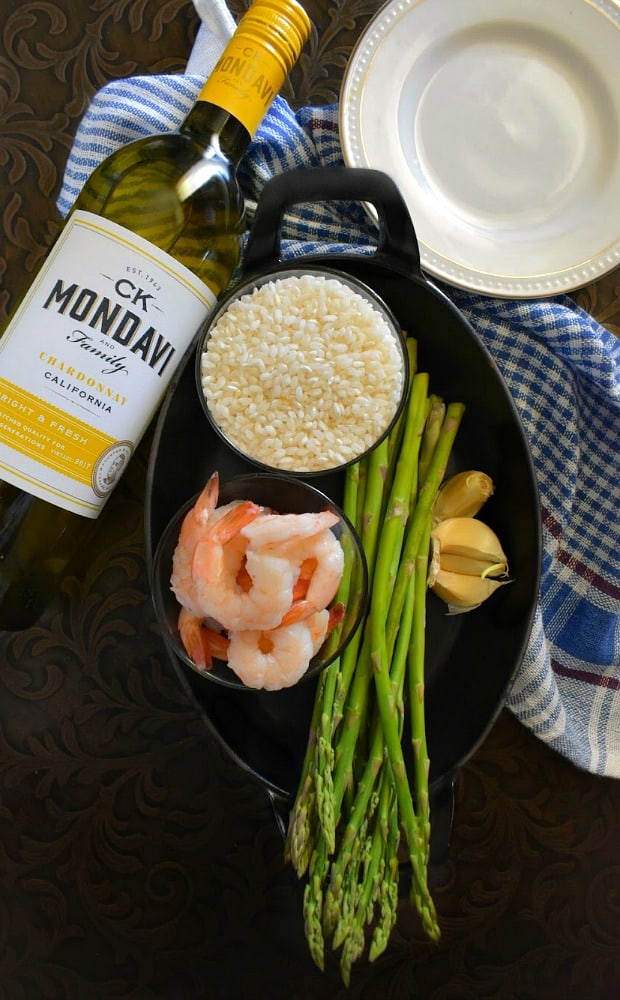 Ingredients for the Saffron Shrimp Asparagus Risotto
Now, once we got our wine selected and kept for chilling, we got started with the ingredients for this risotto.
Here's a picture of some of the basic ingredient (I just realized that I forgot to include the saffron in this pic 😉 !!!
One of the other things I love about this Risotto is that it's so easy to make, we don't need a gazillion ingredients and yet the dish literally hits all the right spots.
It's creamy enough yet healthy and makes you feel light.
Also, perfect for leftovers as it tastes amazing even cold ….. you might reheat if you like it but I usually love eating it with a chilled glass of wine looking out from the porch.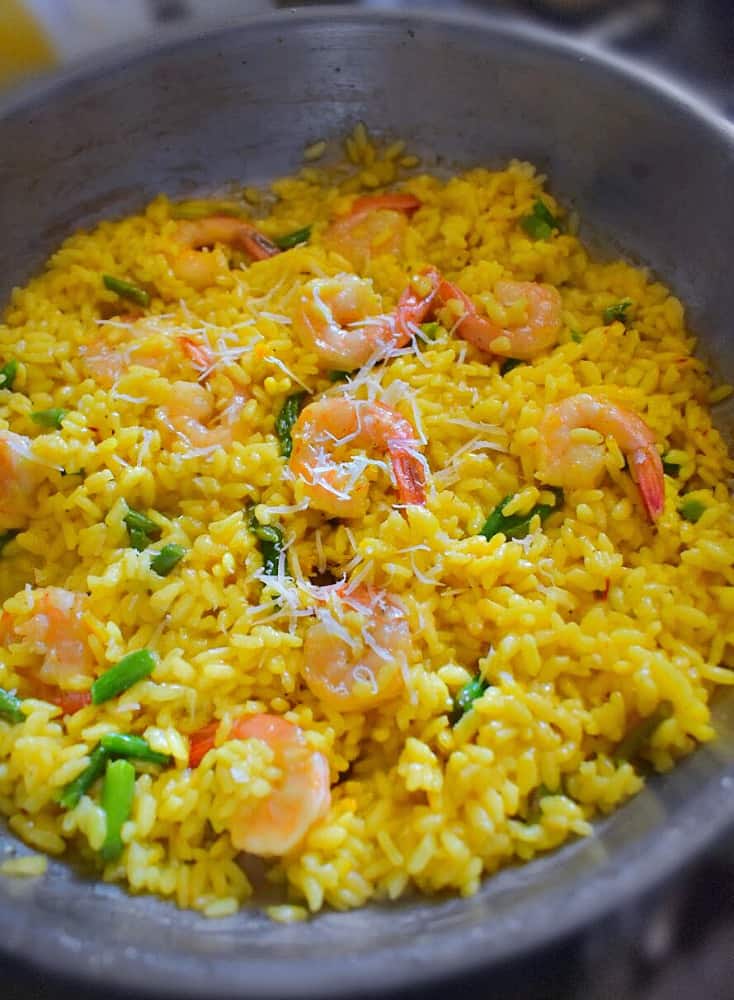 You can also make it without asparagus but I'd earnestly request you to try this with the combination of Asparagus and Shrimp.
They both compliment each other amazingly in this dish.
How to Make Saffron Shrimp Asparagus Risotto
I've divided the risotto process into two parts as that helps ease the cooking further:
Part 1: Sauteeing the Asparagus & Shrimp
Part 2: Combining everything and making the risotto.
Once the risotto was made, I freshly grated some cheese and a gentle squeeze of lemon on top for thst extra oomph and flavor.
As I've mentioned above, I usually do the "Cook & Serve" style and simply arrange everything around the same on the table.
Since, I'm doing family-friends style dining, I'm serving it along with some healthy fruit+nuts munchies.
So, go ahead and make this Quick Saffron Shrimp Asparagus Risotto.
Serve it along with the CK Mondavi and Family Chardonnay or any other of their Spring Wines.
CK Mondavi and Family are also running a monthly "#pairNpost" sweepstakes.
Where Instagram and Twitter followers can post a photo of their ideal CK Mondavi and Family pairing, tag—> #pairNpost at https://www.ckmondavi.com/ckm-pair-post/ <—
You can find follow CK Mondavi and Family on social media here: Instagram / Twitter / Facebook
Happy Weekend !!!
Risotto & Gnocchi Recipes
Risotto & Gnocchi Recipes
---
Tried Our Recipe – AWESOME!!!
Now Quickly SNAP A PICTURE & TAG :
#easycookingwithmolly + @easycookingwithmolly on Instagram –>
Connect with Me Here: Facebook / Pinterest / Instagram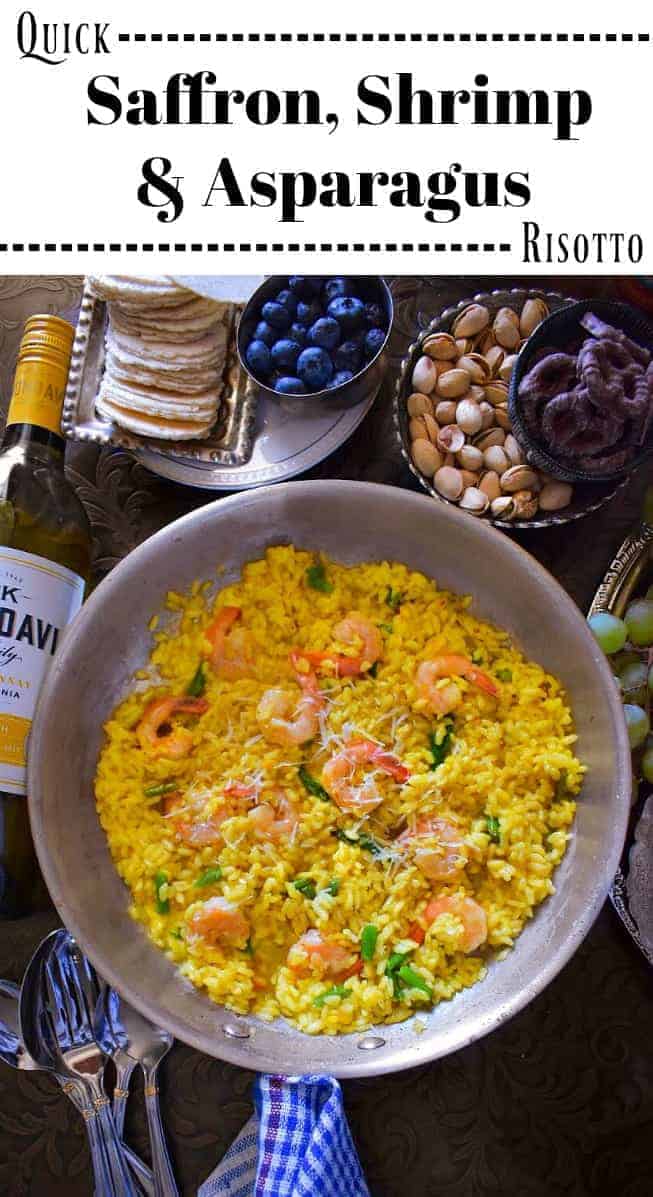 Yield: 4 People
Saffron, Shrimp and Asparagus Risotto
Quick Saffron, Shrimp and Asparagus Risotto: extremely delicious and 30 minutes risotto recipe that's filled with aromatic flavors yet light.
Ingredients
1.5 Cups Arborio Rice
1 Cup Shrimp - cleaned
1/2 Bunch Baby Asparagus - cleaned and hard ends chopped
4 Tbsp Butter
1 Tsp Olive Oil - this helps prevent butter from burning
1 Clove Garlic - minced (can add more if you like a garlicky taste)
1/4 Tbsp Saffron
1/4 Tbsp Dried Italian Seasoning
Salt - as per taste
1/8 Tsp Black Pepper Powder
3 Cups Seafood Stock or Shrimp Stock - store-bought or homemade
3/4 Cup White Wine
2 Tbsp Asiago Cheese - grated
1 Tbsp Parmesan Cheese
Instructions
Part1 - Cooking the Asparagus and Shrimp:
Heat a large skillet and melt butter+oil in it.
Add minced garlic and let it soften for about 20 seconds, then add asparagus.
Stir and cook for a couple of minutes.
Add shrimp and saute everything till shrimp is cooked (about 3-4 minutes).
Remove from pan and keep aside.
Part2 - Making the Risotto:
In the same pan, add the remaining butter and let it melt for few seconds.
Then add the rice to the skillet and let it toast for two minutes.
Add the white wine, saffron, dried Italian seasoning, salt and pepper.
Saute everything together and let this cook for a minute or two.
Now, add half of the stock and continuously stir it into the rice until it is all absorbed.
Add the remaining stock and stir till most of it is absorbed in the rice.
Now add the cooked asparagus-shrimp and stir it all well.
Let this cook a for 2 minutes and then turn off the heat.
Stir in the cheese until it is melted.
Transfer the risotto to a serving dish and served with chilled wine.
Nutrition Information:
Yield:
4
Serving Size:
1
Amount Per Serving:
Calories:

508
Total Fat:

22g
Saturated Fat:

11g
Trans Fat:

1g
Unsaturated Fat:

9g
Cholesterol:

150mg
Sodium:

900mg
Carbohydrates:

30g
Fiber:

0g
Sugar:

2g
Protein:

37g