: This post is written in partnership with "USA Rice" and as always, the opinions here are all my own :
One Pot Mushroom Pilaf: delicious, flavorful and hearty one-pot recipe that's loaded with veggies and ready in 20 minutes. Can be stored in the fridge for up to 2-3 days. It's vegan and glutenfree.
Post By: Molly Kumar
This Easy One Pot Mushroom Pilaf is an absolute winning recipe among our family and friends.
I can make it anytime and they would happily devour every bite of it.
It's also one of the recipes that have turned many of our friends into complete mushroom lovers!
This combination of mushroom with veggies, spices, and rice is absolutely made for each other and if you have never tasted it, then you need to leave everything and make this ASAP!
It's a super easy, one-pot recipe that's excellent for hiding veggies from your picky eaters and makes great office lunches too (just heat & eat).
There's one more reason, why it's our favorite and that is – it's made using USA Rice / U.S.- grown rice and incorporates local produce to support our local farmers.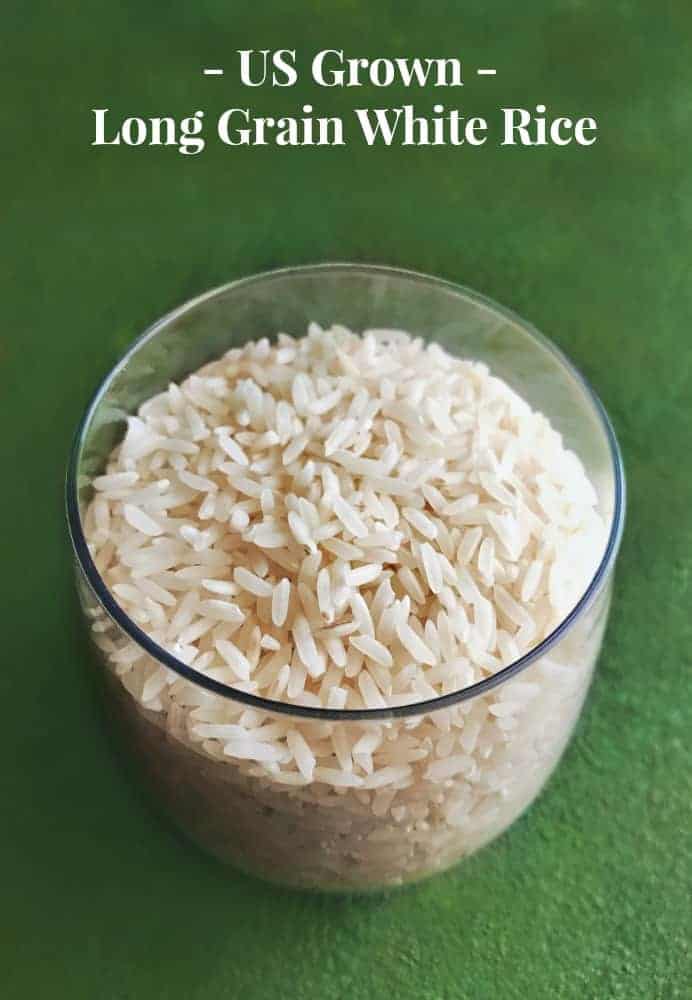 Now, before we go ahead with the recipe of this One Pot Mushroom Pilaf, did you know February is also American Heart Month?
I mean we do celebrate Valentine's Day but it's wonderful having a whole month to remind our special one, family/friends, to commit to a better heart health by incorporating healthy lifestyle/eating habits.
One of the easiest way to adopt heart-healthy eating habit is to incorporate U.S.-grown rice for the following reasons :
Has more than 15 essential vitamins and minerals including, folic acid, B vitamins, potassium, magnesium, selenium, fiber, iron, and zinc.
It's just 100 Calories per serving and keeps you satiated for long.
Contains just a trace of fat, no sodium, cholesterol, saturated or trans fats.
Economical (absolutely under budget) & Cooks faster than many grains
That to me is a total WIN-WIN situation in terms of meal, health and budget.
I'm using 'Long Grain Rice' in my recipe but, USA Rice comes in many other varieties:
Brown Basmati
White Jasmine
Brown Jasmine
Red Rice
Short Grain
Medium Grain
Long Grain
Also, one very important fact to remember – Rice is gluten-free, highly digestible and the least allergenic of all grains, making it an important grain option for a gluten-free diet.
How to Make One Pot Mushroom Pilaf
Now, let's get started with our yummy One Pot Mushroom Pilaf and I'm literally making it into one 'Eat the Rainbow' kind of a meal.
Which simply means adding as many natural color produce in our diet which comprises of multiple 'vitamins + minerals + antioxidants' which in turn makes our heart even more healthy and happy!
And by adding rice and spices, we just added more benefits to the meal.
Here's an Important Fact about Mushrooms: They are an excellent source of naturally produced Vitamin D and antioxidant.
However, they need to be cooked to get their nutritional benefits as their cells walls are indigestible unless exposed to heat.
Step by Step Process of One Pot Mushroom Pilaf

The recipe is extremely easy, seriously you don't have to stand in front of the stovetop for longer nor need 2-3 utensils.
One pot to make and the same pot can be used from stovetop to serving too (saves you many heavy/extra utensils to wash).
You just need to sauté the mushrooms, veggies first, then add spices, then rice and finally water.
That's about it, just leave it covered for 12 minutes over medium heat and your hearty meal is ready.
One more reason for using U.S.-grown long grain rice is their starch composition, cooked grains are lighter, fluffier and more separated, which makes them an excellent choice for pilaf's/gumbo or other such recipes.
The pilaf comes out looking absolutely fluffy and gorgeous – you could literally see every grain
stand out and that to me is a restaurant looking meal at home.

I also added some fresh cranberries and chopped pecans on top but it's completely optional.
The combination of veggies used with long grain rice, gives it a beautiful color and taste, however, you can add or remove any vegetable as per choice.
Also, I did not use any special broth/stock to make this pilaf.
The sautéed vegetables and spices give it so much flavoring that plain water works best here (for cooking).
Before, I go and enjoy this heart healthy One Pot Mushroom Pilaf with my family.
I wanted to share emerging research that people who add rice to their meal, had a:
34% reduced the risk for high blood pressure
27% reduced the risk for increased waist circumference
21% reduced the risk for metabolic syndrome.
All these benefits definitely make it one essential ingredient to our everyday meal and enjoy
the American Heart Month by incorporating habits to improve heart health today and forever.
Click for More Recipes Using USA Rice
Other Vegetarian Indian Rice Dishes
Other Vegetarian Indian Rice Dishes #indianrecipes
---
Tried Our Recipe – AWESOME!!!
Now Quickly SNAP A PICTURE & TAG :
#easycookingwithmolly + @easycookingwithmolly on Instagram –>
Connect with Me Here: Facebook / Pinterest / Instagram
Yield: 4 Cups
One Pot Mushroom Pilaf
One Pot Mushroom Pilaf: delicious, flavorful and hearty one-pot recipe loaded with veggies and ready in 20 minutes. Store in fridge for 2 days.
Ingredients
1 Cup White Long Grain USA Rice - washed
2 Cups Sliced White Mushrooms
1/2 Cup Frozen Green Peas - thawed
1/2 Cup Diced Carrot
1/2 Cup Diced Green Pepper
1/2 Cup Diced Multi-Color Sweet Peppers
3 Tbsp Olive Oil - you may use any light oil
2.5 Cups Water
Pilaf Seasoning: (you can use store-bought too)**
1 Tsp Turmeric - you may use less too or completely omit it
2 Bay Leaves
1/4 Tsp Cumin Seeds
2 Cloves
2 Green Cardamoms
1/4 IInch Cinnamon Stick
5 Black Peppercorns
1 Tsp Red Chili Powder
Salt to taste
Decoration: optional
2 Tbsp Fresh Cranberries
1 Tbsp Chopped Pecans
2 Tbsp Chopped Scallion
Instructions
Making Pilaf Seasoning:
Add all the pilaf seasoning ingredients in a grinder and pulse to form a fine powder.
Keep the powder aside. (you only need 1.5 tsp of this powder and store rest)


Making the Pilaf:
Heat olive oil in a non-stick pot.
Add bay leaves and saute.
Add mushrooms and saute for another 2 minutes till they get brown.
Add all the rest of the vegetables and saute for 2 minutes on medium heat.
Now add add 1.5 tsp pilaf seasoning and saute everything evenly.
Finally add rice and saute (with a light hand) for 2 minutes (cook rice slightly).
Then add water and cover the pot with lid.
Lower the heat and let this cook for 12 minutes (check in-between to make sure nothing burns as all stoves are different).
After the rice is cooked, turn off the heat.
Sprinkle with some fresh cranberries, scallion and chopped pecans (completely optional).
Serve hot
Nutrition Information:
Yield:
4
Serving Size:
1
Amount Per Serving:
Calories:

161
Total Fat:

16g
Saturated Fat:

2g
Trans Fat:

0g
Unsaturated Fat:

13g
Cholesterol:

0mg
Sodium:

190mg
Carbohydrates:

28g
Fiber:

6g
Sugar:

6g
Protein:

5g