This shop has been compensated by Collective Bias, Inc. and its advertiser. All opinions are mine alone. #KingOfFlavor #CollectiveBias
3 Meat Spicy French Bread Pizza is a perfect combination of ease, taste, and crunchiness that makes this pizza a super hit for a game time. It's cheesy, meaty and packed with flavor.
While we are just getting started after all that holiday feasting when Mr. asks 'What's the game-time party menu this year' and seriously, the first thing that came to my mind 3 Meat Spicy French Bread Pizza – our Favorite cheesy and meaty recipe that's super easy to make.
That worked the magic and he went ahead planning his part of the game menu…phew! So, If you're looking for that one perfect recipe that's going to please your hungry, excited game crowd, it's this one.
And the best part, it takes 15 minutes to make 4 of this pizza and the french-bread adds such a great crunchy texture to it that I don't know any easier and flavorful game-time snack than this.
To prepare the 3 meat spicy mix, we used 3 types of meat (chorizo, chicken mince, and pepperoni) and 2 El Yucateco® Sauces (Red Habanero Hot Sauce & Green Habanero Hot Sauce) as it's these sauce that adds that rich and right amount of flavor.
We have been using it in so many of our recipes now as it's the #1 authentic habanero hot sauce, made from habaneros hand picked from their own fields.
Since, the sauces are handcrafted hence they deliver such rich flavor in every drop. In fact, did you know El Yucateco® is giving entrants the chance to win one-of-a-kind tailgating and homegating packages and MORE – Here —> #KingOfFlavorSweepstakes (Super Bowl)
Here's some more details on the sauce before we proceed on the recipe –
~ The Red Habanero Hot Sauce is made with fresh red habanero peppers, tomato, and select spices and seasonings. It is the perfect "all purpose" sauce that packs a little more kick than the average hot sauce but with far less vinegar, so you get the true flavor of the pepper when you add this sauce to any dish.
~ The Green Habanero Hot Sauce is made with fresh green habanero peppers, garlic, select spices, and seasonings. It packs a little more heat than the red habanero but again has far less vinegar than the average hot sauce. It also adds a fresh crisp habanero flavor that enhances the flavor of any dish when used as a condiment or blends perfectly into creamy dips toning down the heat while bringing that fresh habanero flavor to classic dips and dressings.
Especially for my grilling friends, this sauce pairs best with lighter foods, chicken, fish, and veggies. Blend it with ranch dressing for an amazing alternative dressing or dip.
So, I guess by now, you must have guessed why we have chosen these two sauces as they pack that rich flavor to this french bread pizza, making it a SUPER HIT Game-time recipe.
We are using 2tbsp of each sauce and using it while sauteeing the meat. Mixing it with the meat adds such a great flavor. Once the mix is ready when it's just assembling the pizza as you like and bake for 15 minutes.
What I usually do before these football parties are that I make a huge batch of this 3 meat mix (a night before – I even freeze some of it for up to a week). The next day, just before our guest arrives, we assemble the 3 Meat Spicy French Bread Pizza and keep it ready on the baking tray and as our guest starts to pour in, that's exactly when I bake them for a fresh-n-crunchy pizza every time.
So by the time the pizza gets baked, the guests can help themselves to drinks and other finger foods cause the moment this 3 Meat Spicy French Bread Pizza arrives, I know the boys (/men 😉 ) won't touch any other food! You can't believe, how many compliments I've received for this easy recipe and it's a HIT in all our football parties or any other parties.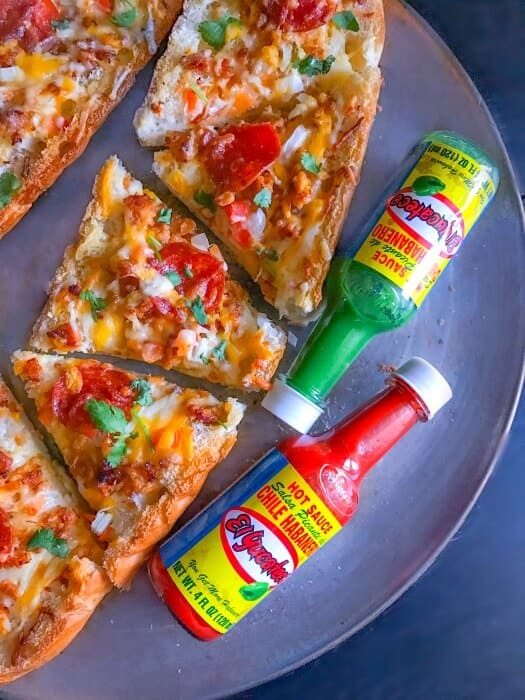 This season, you must include this french bread pizza in your upcoming game-time parties and I'm sure, it's going to be a Big Hit ! Here's a picture of "What Where & How of the Recipe"
Yield: 2 French Bread Pizza
3 Meat Spicy French Bread Pizza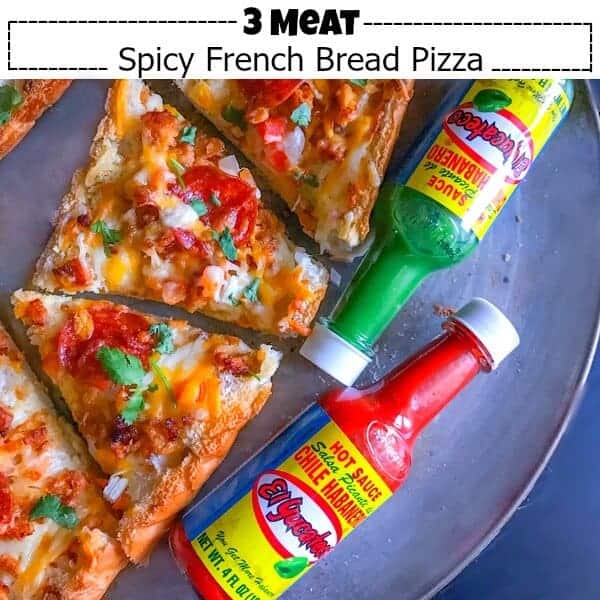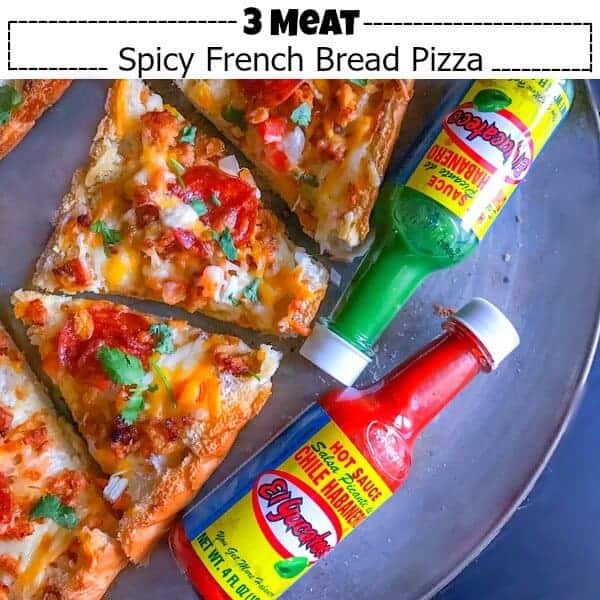 Ingredients
2 French Bread - sliced in between (makes 4 long pieces)
2 Tbsp El Yucateco® Red Habanero Hot Sauce
2 Tbsp El Yucateco® Green Habanero Hot Sauce
1 Cup Chicken Mince
1/2 Cup Chorizo - use any kind you like
1/2 Cup Pepperoni slices
2 Medium Onions - chopped
1 Large Tomato - chopped
1 Cup Shredded Mozzarella Cheese
1 Cup Shredded Mixed Cheese - use any blend you like
Few Cilantro Leaves - for sprinkling.
2 Tbsp Olive Oil - to cook the meat mix
Salt - as per taste
Instructions
Making the 3 Meat Spicy Mix
Add 2 tbsp olive oil in a medium nonstick pan and heat for 1/2 minute.
Now, add 1 medium onion (chopped) and saute for 2 minutes.
Add chicken mince, chorizo and El Yucateco® sauces and saute for 2 minutes.
Cover the pan and let the meat+sauce cook in low flames for that extra rich flavor for 3 minutes.
Remove the pan cover, add salt and saute the meat for another minute.
Turn off the heat and let the mixture cool.
Making the 3 Meat Spicy French Bread Pizza
Preheat the oven at 200 F
Place the french bread on a pizza stone/baking pan.
Add 2 tbsp mozzarella cheese on all 4 long slices.
Now, add the meat mix on all 4 slices, along with pepperoni slices.
Add, the mixed cheese equally on all 4 slices.
Sprinkle chopped onions and tomato (equally on all 4 slices).
Bake for 15 minutes or till golden brown.
Remove the french bread pizza from the oven and slice as per choice.
Sprinkle some fresh cilantro and serve Fresh.
—————
As always, I Looove when you try my recipes and send me pictures & feedback. You can tag my recipes tried by you using #easycookingwithmolly on any of the social media below:
Connect with Me Here:  Facebook / Pinterest / Instagram / Twitter / Subscribe to our Newsletter / Google+