Greek Lamb Flatbread Pizza: Light or skinny pizza topped with minced lamb, thin, crunchy and filled with fresh Greek flavors. It's served with a garlic-mint sauce and a fresh cucumber mix on top for that extra crunch.
" This Friday, happiness is sponsored by these Greek Lamb Mince Flatbread Pizza 😉 "
They are what I call 'Spring on my Plate', literally every ounce of this pizza screams spring-summer and Greek Flavors.
Now, who doesn't like fresh pizza (tell me you love them….please) and there is nothing more relaxing than making one at the comfort of your home.
Adding the toppings you like and yet you can eat just that extra one as these are the skinny/extra thin types!
What is Greek Lamb Flatbread Pizza ?
I would not call this a pizza from scratch but more of a semi-homemade, as I'm using a readymade pizza base called –Lavash (which is a thin Mediterranean Bread used as crackers).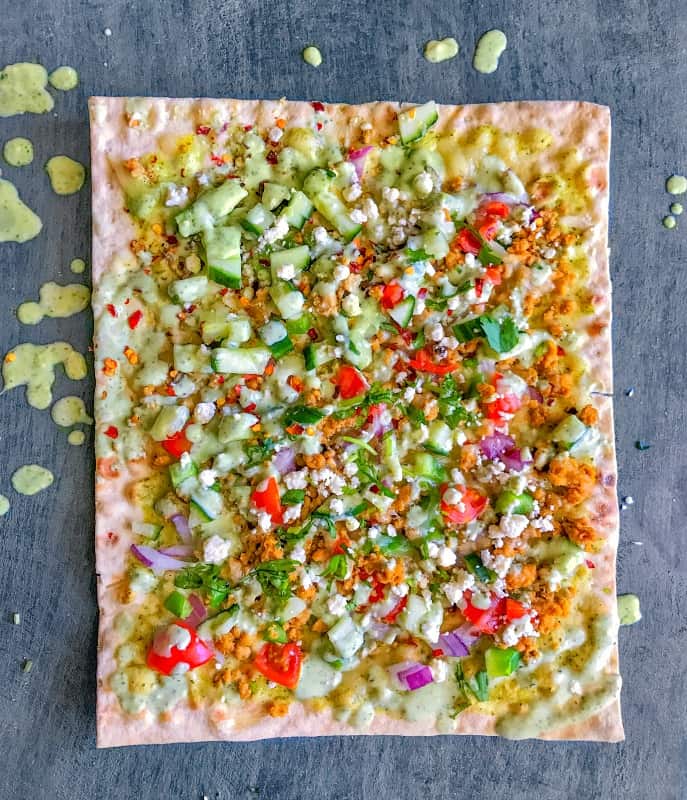 So when I insist that we should eat lamb as it's been so long…that's like dream come true for my family as i m not much of a red meat eater.
I've been thinking of posting this recipe since November 2017 but just couldn't because of something or the other.
So last weekend he got some extra thin lamb mince (keema as we call it in India).
And it was Perfect to make these Greek Lamb Mince Flatbread Pizza, the recipe I'm sharing today!
How to Make Greek Lamb Flatbread Pizza :
The flavors of this Greek Pizza is really refreshing, light and it gives you that extra crunch in every bite.
There are days when we eat those extra thick pizza but most of the time thin-crust is what we like best and maybe with a glass of wine for me and beer for him.
The pizza process is even simpler and needs few ingredients. I've broken the process into 3 parts:
Making the Lamb Mince
Making the Garlic-Mint Sauce
Baking the Pizza and Serving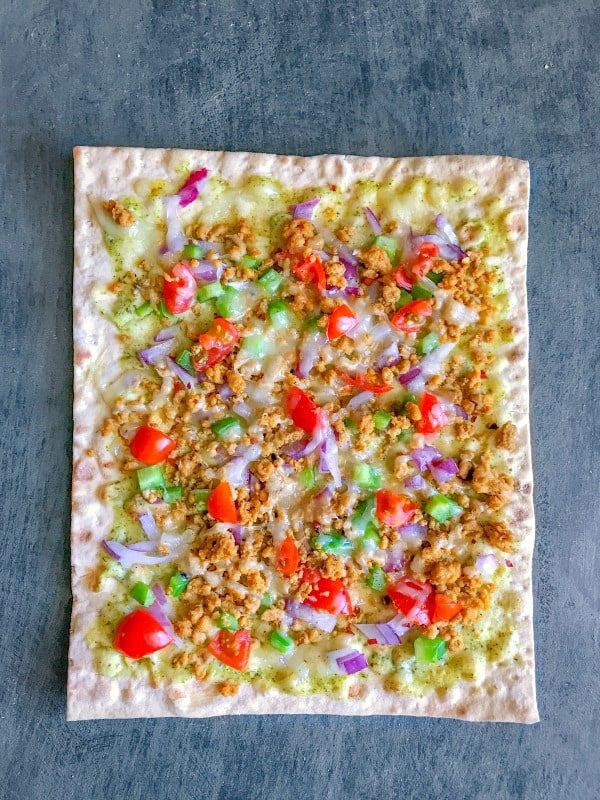 The picture above is how the Greek Lamb Flatbread Pizza looks straight from the oven.
You can even serve it like this or just top with some fresh garlic0-mint sauce, cucumber mix and seasoning for some Bold Greek Flavors 🙂 which are Extremely Delicious!
I usually slice the flatbread pizza into these long rectangles as it's easier to serve them, but you can simply leave it as is.
So this weekend, go ahead and try this flavorful Greek Lamb Flatbread Pizza and let me know how you liked it?
Perfect for Weekends or Weeknight Meal. This recipe serves 4 people and all 4 pizza can be made at once (bakes in 8 minutes)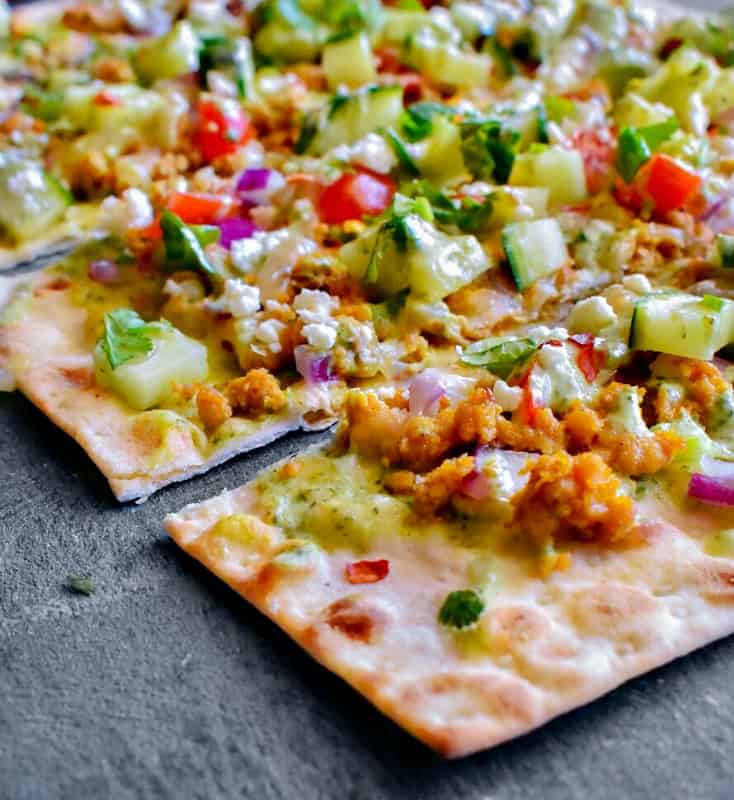 :: You May Also Like ::
---
Tried Our Recipe – AWESOME!!!
Now Quickly SNAP A PICTURE & TAG :
#easycookingwithmolly + @easycookingwithmolly on Instagram –>
Connect with Me Here: Facebook / Pinterest / Instagram
Greek Lamb Flatbread Pizza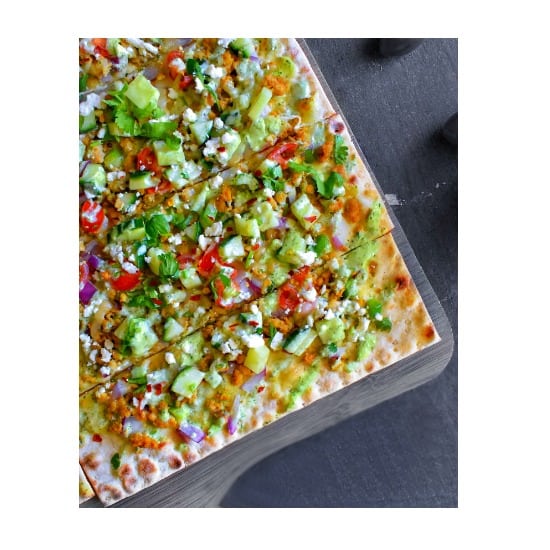 Greek Lamb Flatbread Pizza: Light or skinny pizza topped with minced lamb, thin, crunchy and filled with fresh Greek flavors. It's served with a garlic-mint sauce and a fresh cucumber mix on top for that extra crunch.
Ingredients
1/2 lb Lamb Mince*
4 Thin Crust Flatbread or you Lavash Bread if you have any
1 Large Red Onion - diced
1 Cup Greek Yogurt
3 Garlic Clove - you may add more if you like the taste
4 Tbsp Olive Oil or any light oil you have
Powdered Spices:
½ Tsp Turmeric Powder
2 Tsp Cumin Powder
2 Tsp ground coriander
1 Tsp Dry Oregano
1 Tsp Dry Parsley - optional
1/8 Tsp Cinnamon Powder
Pinch Clove Powder
1 Tsp Red Chili Flakes or Aleppo Peppers if you have some on hand
Pizza Topping:
1 Cup Diced Cucumber
1/2 Cup Cherry Tomatoes - sliced
1/2 Cup Diced Red Onions
1/4 Cup Mozerella
1 Cup Crumbled Feta Cheese
1 Tsp Dry Oregano
Salt
Pepper
Garlic-Mint Sauce:
1/2 Cup Mint
1/2 Cup Yogurt
1 Garlic Clove
1 Tbsp Cream Cheese - optional
Salt
Pepper
1 Tsp Lemon Juice
Instructions
Cooking the Lamb:
Heat oil in a large non-stick pan,.
Add onion, garlic and saute cook until the onions are soft.?
Add the lamb mince and break it up using a wooden spoon (you can use potato masher to separate it quickly).
Saute everything and let the lamb cook over low heat till lightly browned.
Now add all the powdered spices, yogurt, saute and cover.
Let this cook over low heat for 8-10 minutes (till the lamb is evenly cooked).
Once the lamb is cooked, turn off the heat and let the mixture cool.


Make the Garlic Mint Sauce:
In a blender add all the mint sauce ingredients and pulse till you form a smooth mix.
Keep aside.


Making the Greek Lamb Flatbread Pizza:
Preheat the oven at 180C.
Take 1 flatbread and spread 2 Tbsp of mint sauce all around the pizza.
Spread the cooked lamb mix over the flatbread all the way to the edges.
Add toppings, olive oil and mozzarella.?
Repeat with process till all 4 flatbread pizza are ready.
Now place all of them within the two racks of oven and Bake until the dough is browned and crispy – 6-8minutes.


Once the Pizza is done, add some cucumber, red onions, fresh cilantro, oregano and mint sauce.
Finally sprinkle some red chili flakes and serve immediately.
Nutrition Information:
Yield:
4
Serving Size:
1
Amount Per Serving:
Calories:

243
Total Fat:

47g
Saturated Fat:

17g
Trans Fat:

0g
Unsaturated Fat:

27g
Cholesterol:

127mg
Sodium:

365mg
Carbohydrates:

106g
Fiber:

6g
Sugar:

30g
Protein:

48g