Homemade Chicken Curry Pizza Recipe: delicious, thin-crust pizza made using curry chicken, flatbread, onions and cheese. Ready in 15 minutes, Super Easy to Make & Perfect for Parties.
Oh My Gosh, We have been noshing on my Homemade Chicken Curry Pizza Recipe for last 2 days and still can't get enough of it.
It has just the right amount of curry flavor going on along with some fresh mozzarella cheese, some sprinkled red onions, jalapeno, and freshly chopped basil ….
Seriously words can't describe HOW AHHHHMAZING it is !!!
I was recently sent these yummy flatbreads from Flatout Bread which are low in carbs and high in protein.
One of them was these ready to use Thin Pizza Crust and the first thing that came to my mind was Curry Pizza.
* However, you can use any thin crust pizza base or thin naan for this recipe "
Homemade Chicken Curry Pizza Ingredients:
Curry Chicken, homemade or store-bought
Flatbread or thin pizza base
Red Onions
Jalapeno
Cheese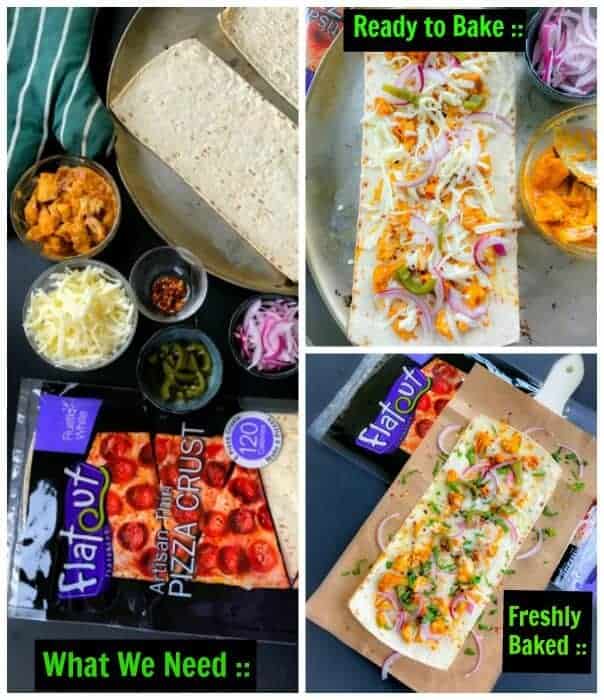 Now, don't get me wrong, I'm all for making a pizza from scratch and have done it many times before but I always had two things worrying me:
First – it's going to be heavy
Second – it takes atleast 12 hours for the dough to proof up and be ready for the pizza.
That's where these Flatout pizza crusts fit right in, they are premade
(all you have to do is add your favorite toppings and bake) and actually lighter than the regular pizza dough.
So you can have your pizza in less than 10 minutes, which is the BEST DEAL as per my family and friends (who are just dreaming of different pizza combinations now).
How to Make Homemade Chicken Curry Pizza:
For, this particular Homemade Chicken Curry Pizza Recipe, I'm making a very basic chicken curry as you don't need all that spices or extra ingredients (but you can use leftover chicken curry for this recipe too).
Once you add other pizza toppings + cheese, everything is going to taste absolutely perfect (As per my lil niece, cheese makes everything perfect 😉.
The only thing you need to remember is not to add to much water for the curry, you need a thick chicken curry to be used as your pizza base.
And then you can choose the other toppings and I'm just using 2 – red onions (for it's sweet + tangy taste) and jalapeno.
You find the picture above of the toppings and my pizza (which is all ready to bake).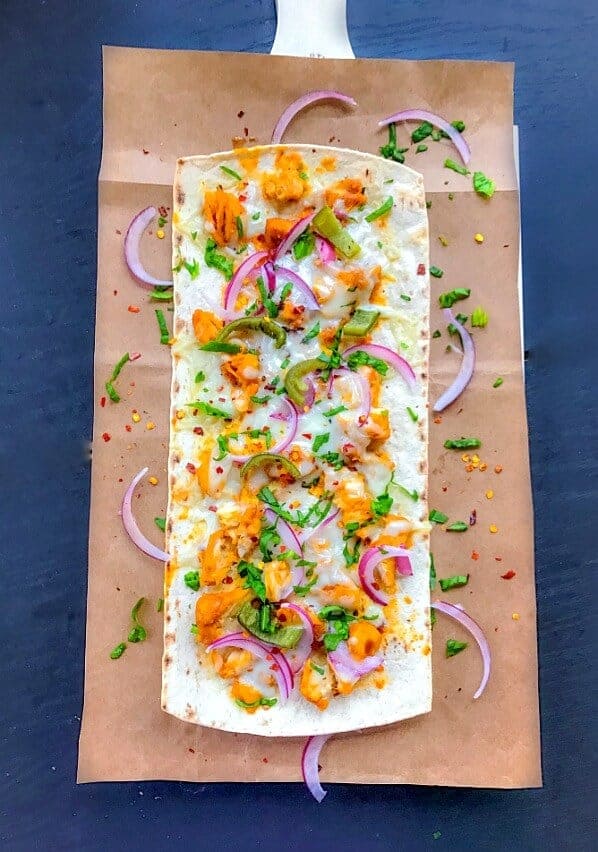 Since the pizza crust and chicken curry is already cooked, you don't have to bake for long, just enough for the cheese to melt nicely.
It took me 10 minutes to bake 4 curry pizza. Now that's exactly what I'm talking about and they were gone within 15 minutes.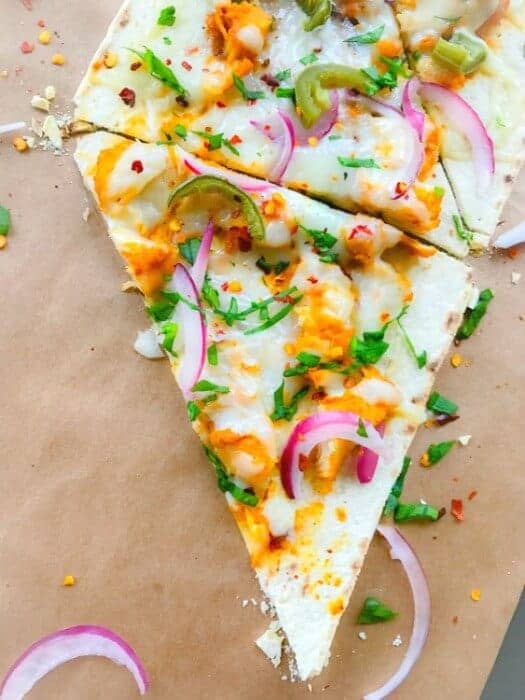 Topping Variation & Serving Suggestions:
As I always say, pizza is all about personal choice, hence you can add or remove any ingredients as per your wish. Here are some of my suggestions:
Toppings:
Caramelized Onions
Chopped Tomatoes
Garlic
Fresh Basil
Bell Pepper
Pineapple
Sides:
Light Salad
Light Soup or Clear Soup
Smoothie (yup, I have this combination for lunch at times)
Beer (ofcourse)
Chicken Wings
Cauliflower Wings
DID YOU TRY MY RECIPE – AWESOME!!!
Now Quickly SNAP A PICTURE & TAG :
#easycookingwithmolly + @easycookingwithmolly on Instagram –>
Connect with Me Here: Facebook / Pinterest / Instagram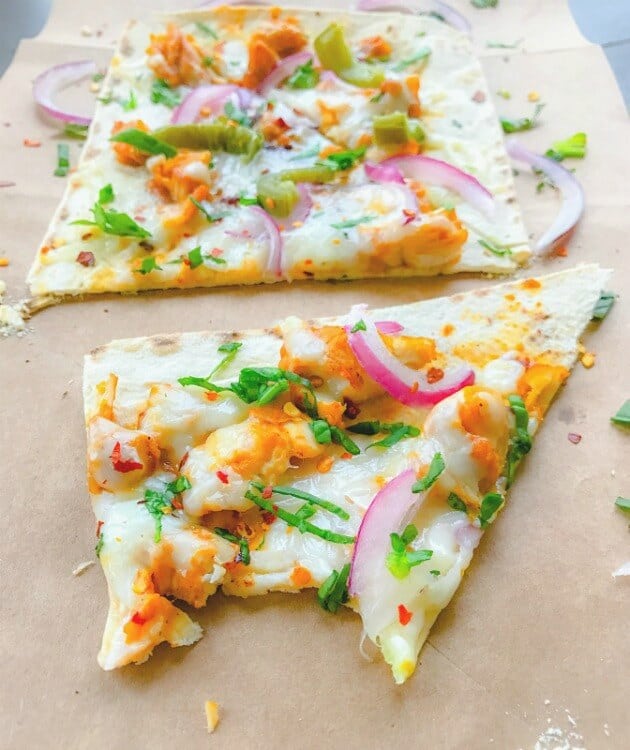 :: You May Also Like ::
Yield: 4 Flatbread Pizza
Homemade Chicken Curry Pizza Recipe
Best Homemade Chicken Curry Pizza Recipe: delicious, thin-crust pizza made using curry chicken, flatbread, onions, and cheese. Ready in 15 minutes, Super Easy to Make & Perfect for Parties.
Ingredients
4 Thin Flatbread or Pizza Crust
1 Small Red Onion - thinly sliced
1 Jalapeno - thinly sliced
1 Cup Mozzarella - shredded
1 Tbsp Red Chili Flakes
4-5 Fresh Basil Leaves - optional
For Chicken Curry::
1/2 lb Boneless Chicken - chopped
1 Large Onion - thinly chopped
1 Tbsp Tomato Paste
1/2 Tsp Ginger + Garlic Paste
1/4 Cup Plain Yogurt
1 Tsp Curry Powder
1 Tsp Red Chili Powder - use as per taste
Salt - as per taste
4 Tbsp Olive Oil
Instructions
How to Make Best Homemade Chicken Curry Pizza:
Make Chicken Curry Base
In a large pan, heat 4 tbsp oil.
Add chopped onion and saute for 3 minutes.
Now, add red chili powder, curry powder, ginger+garlic paste and mix everything evenly.
Saute this mixture for another minute and then add chicken.
Saute the chicken and cook covered for 7 minutes (saute every 1 minute to prevent from burning).
In a bowl, whisk yogurt along with tomato paste.
Now add the yogurt+tomato mix to the chicken.
Saute everything nicely and cook covered for another 5 minutes on low heat.
After 5 minutes, check if the chicken is evenly cooked and the tomato paste and evenly cooked (leaving very thick gravy).
Turn off the heat.

Baking the Pizza:
Preheat oven at 195 c.
Now, take 1 pizza crust and spread 2-3 tbsp of the chicken curry (you can mash some of the chicken into smaller pieces too).
Sprinkle red onions, jalapeno and chili flakes.
Finally, top with shredded mozzarella cheese.
Similarly, prep the remaining 3 pizza crust.
Bake for 10 minutes.
Remove the pizza, sprinkle some freshly chopped basil and Serve Hot.
Nutrition Information:
Yield:
4
Serving Size:
1
Amount Per Serving:
Calories:

245
Total Fat:

56g
Saturated Fat:

11g
Trans Fat:

0g
Unsaturated Fat:

41g
Cholesterol:

73mg
Sodium:

300mg
Carbohydrates:

254g
Fiber:

12g
Sugar:

9g
Protein:

59g