Walnut and Strawberry Pizza with Balsamic Reduction: The bright strawberries, walnut, cheese makes it look so pretty and the addition of balsamic reduction sauce turns this into an anytime decadent delight. Ready under 15 minutes and perfect to share with the family/friends.
This Walnut and Strawberry Pizza with Balsamic Reduction makes such a yummy anytime snack that I can't stop raving about them.
I've tried a combination of sweet (fruits+nuts) pizza but nothing beats a Walnut+Strawberry combination with a balsamic reduction sauce.
It's sweet, tangy and topped with that ooey-gooey cheese – a heavenly taste that can be achieved within 15 minutes within the comfort of your home.
And the best part, I'm also telling you 'How' we can make this tangy-sweet 'Balsamic Reduction' sauce – that's just super yum and can be used to drizzle upon any sweet or savory recipes (think ice-creams / fresh fruits / bowl of salad and the list goes on).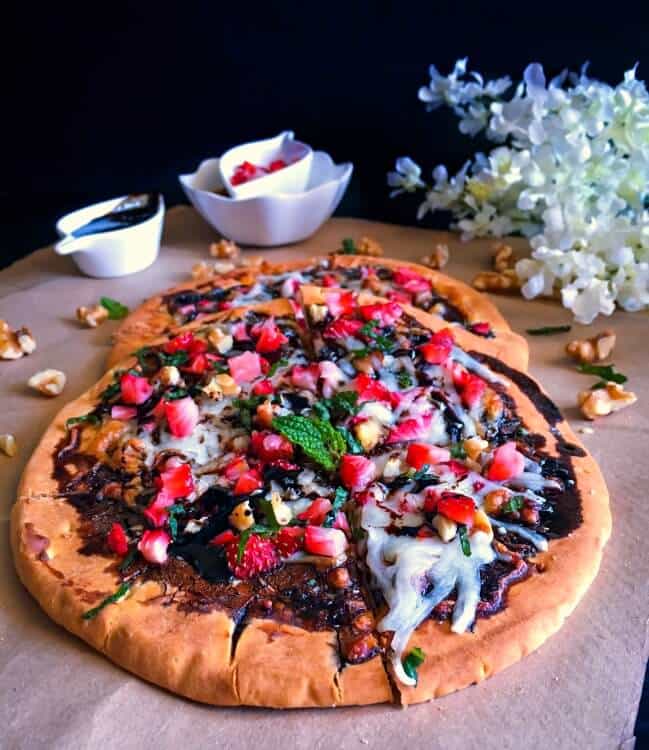 We have been eating this Walnut and Strawberry Pizza with Balsamic Reduction pizza for ages and it has been a part of many of our house parties/get-together and trust me, it always gives people a feel of noshing on a 'Gourmet Delight'.
Infact, I cannot say who loves it more? Is it the kids or the grown-ups as the moment this gets served it's gone within seconds.
We have also tried this pizza with many different bases like fresh homemade pizza dough, store-bought pizza crust, naan bread and even pita bread at times and the results are AWESOME EVERYTIME !
Although I'm using a mix of mozzarella and cream-cheese you can use any kind of cheese too.
Before we discuss our luscious balsamic reduction sauce, did you know these facts about Walnuts:

Walnuts are a delicious and versatile ingredient that adds flavor, crunch and depth to sweet and savory dishes alike.

Walnuts are the champion of plant-based omega-3 (alpha-linolenic acid or ALA) among nuts and are the only nut to provide a significant source of the essential nutrient (2.5 grams per ounce).

In addition to omega-3 fatty acids, walnuts offer other important components of a healthy diet, including 4 grams of protein and 2 grams of fiber per ounce.

With so many benefits, they surely make an excellent choice and can be added in any kind of meal.
Now, to make our Balsamic Sauce, all you need is balsamic vinegar + sugar and just reduce it over medium heat for 7-8 minutes.
That's it and store this sauce in a clean sterile jar for up to 1 month in the fridge. The only thing you need to remember is to keep stirring it every minute and keep an eye on it (as the vinegar burns really quickly).
I actually made a fresh batch of this sauce when making this recipe as I was out of the old one and sprinkled some over the freshly baked pizza too (which is optional).
Also, I added some fresh mint leaves, but you can top it with basil or simply eat them without any further topping. It's just pure deliciousness and you just can't stop at one bite. So be prepared and make some extra for a night snack 😉  
I hope you make Walnut and Strawberry Pizza with Balsamic Reduction soon and do share a picture or comment below to let me know when you did. Also, check more details about California Walnuts being used in this recipe.
Until Next Time ~ XoXo
---
As always, I Looove when you try my recipes and send me pictures & feedback. You can tag my recipes tried by you using #easycookingwithmolly on any of the social media below:
Connect with Me Here:  Facebook / Pinterest / Instagram / Twitter / Subscribe to our Newsletter / Google+
Yield: 2 Medium Pizza
Walnut and Strawberry Pizza with Balsamic Reduction
Ingredients
2 Medium Pizza Crust - homemade or store-bought
1/2 Cup Walnuts - roughly chopped
1/2 Cup Chopped Strawberries - you can use fresh or frozen
1/2 Cup Balsamic Vinegar
1 Tbsp Sugar
3 Tbsp Cream-Cheese - room temperature
3 Tbsp Mozzarella Cheese
1 Tsp Parmesan Cheese - for decoration
2-3 Mint Leaves - thinly sliced - for decoration
1 Tsp Walnuts - for decoration
2 Tbsp Cornmeal - for baking the pizza dough (optional)
Instructions
In a non-stick pan, heat balsamic vinegar and sugar till you get the first boil.
Reduce the flames to medium and keep stirring this balsamic mix for 5-6 minutes (or till the sauce thicken a bit).
Turn off the heat and keep aside (don't over-heat as the sauce may burn or become too thick to use).
Pre-heat the oven at 190 F.
(If using a pizza stone, then place it in the oven while it's preheating)
Sprinkle some flour on a large board/plate and Place the pizza crust.
Stretch the crust to form a circular shape (about the size of your hand or any shape of choice).
Now spread some cream-cheese and 2 tbsp of balsamic reduction sauce, evenly over the pizza dough.
Add chopped walnuts, strawberries and cheese (complete the same process for other pizza crust too).
Transfer the prepped pizza into the baking tray or pizza stone.
Bake for 12-15 minutes (till the crust gets cooked).
Remove from oven and let cool for 2 minutes.
Sprinkle with sliced mint leaves, cheese and balsamic sauce.
Serve Fresh or store with cling wrap in the fridge.
Nutrition Information
Amount Per Serving
Calories

106
Total Fat

9g
Carbohydrates

5g
Protein

2g
I was selected for this opportunity as a member of Clever Girls and the content and opinions expressed here are all my own.