Quick Achari Paneer Pizza: a delicious Indian style pizza made using pickled spices, paneer, veggies and cheese. Super easy and made using bread for a quick brunch or appetizer.
Quick Achari Paneer Pizza is literally our Favorite, Favorite homestyle Indian pizza. The flavors are amazing and crunchy with a mix of cheese+veggies.
With Christmas coming soon, this literally tops our Festive appetizer list and definitely a big part of our brunch menu.
The mix of red, green and yellow veggies make it perfect for your Christmas spread too.
Ingredients for Paneer Pizza
Bread – I'm using a baguette but can be made on any kind of bread.
Paneer (Cottage Cheese Cubes) – homemade or store-bought, could be frozen too
Pickle Spice Mix
Onion
Tomato
Bell Pepper (Capsicum)
Cheese
Whenever I make this Achari Paneer Pizza, I always use baguette or any other thick bread. It not only reduces the cooking time to half but also makes it extra crispy.
Also, since the Festive season is already so jam-packed with so many things, I prefer such easy pizza-base to bread swaps (makes life really easy)!!
How To Make Paneer Pizza:
The recipe is equally simple and divided into 3 Parts:
Make the 'Achari Masala/Pickle Mix' at home
Saute the Paneer (cottage cheese), veggies and few other ingredients
Spread everything on the bread and bake
The fun part, I made it in my ' Sharp Superheated Steam Countertop Oven ', which needs no preheating (another time saver here).
But the recipe below has pre-heat instructions with temperature details if you want to make them in a regular oven.
Once the Achari Paneer Pizza is ready, simply sprinkle freshly chopped cilantro and some Italian seasoning.
Serving Suggestions:
I usually slice them thick and serve along with favorite dips.
We have served it with ranch, honey mustard, pasta sauce, and even ketchup 🙂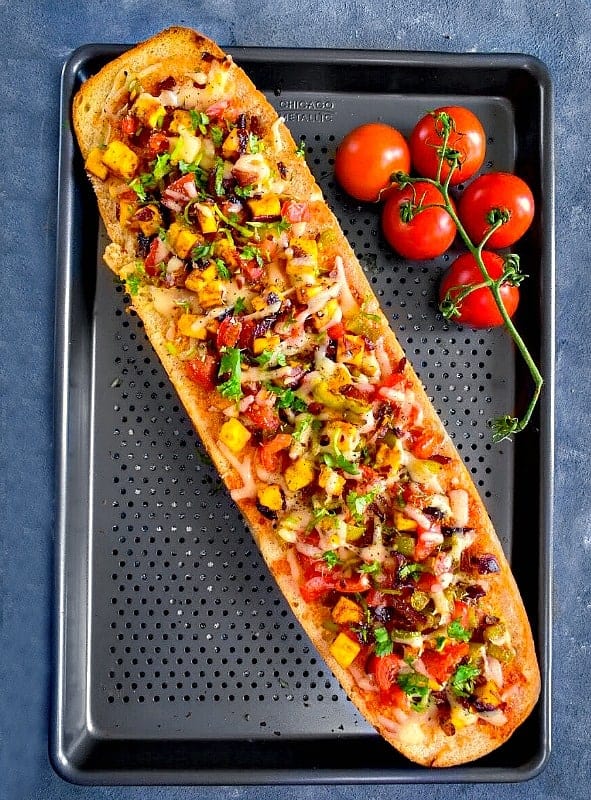 Tried Our Recipe – AWESOME!!!
Now Quickly SNAP A PICTURE & TAG :
#easycookingwithmolly + @easycookingwithmolly on Instagram –>
Connect with Me Here: Facebook / Pinterest / Instagram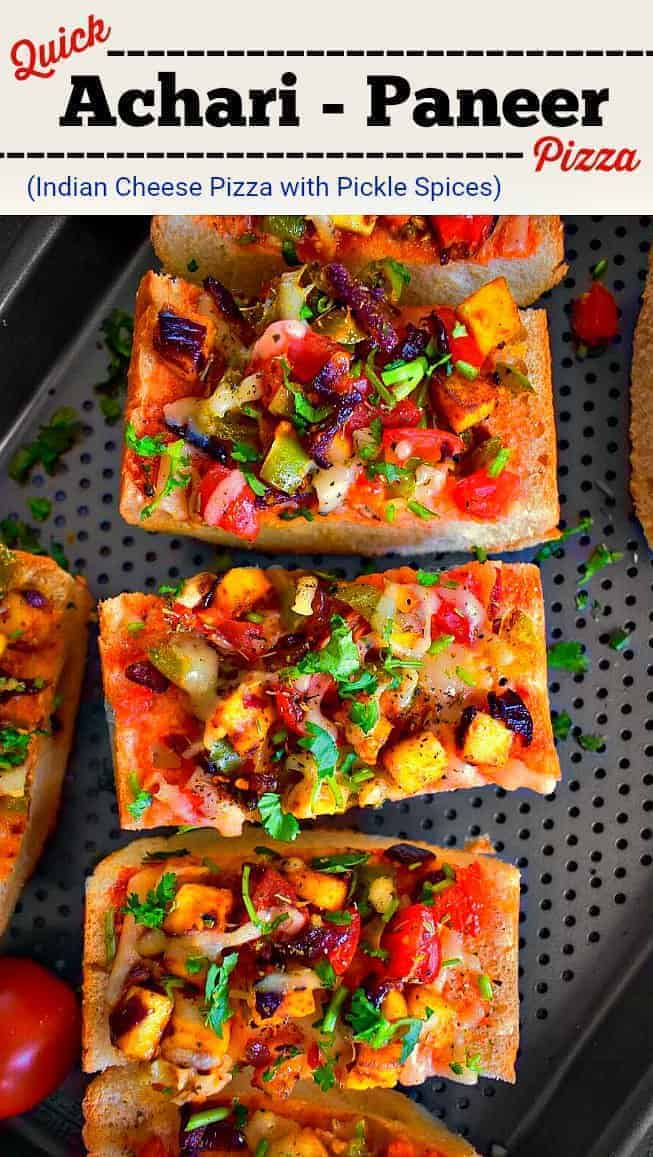 :: You May Also Like ::
Yield: 2 Long Pizza
Quick Achari Paneer Pizza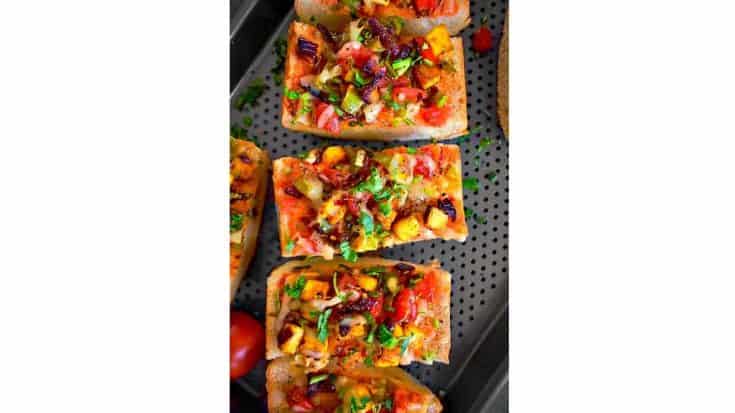 Quick Achari Paneer Pizza: a delicious Indian style pizza made using pickled spices, paneer, veggies and cheese. 
Ingredients
1 Cup Paneer - diced (Indian cottage cheese)
1 Large Onion - diced
2 Large Tomatoes - diced
1 Large Bell Pepper (Capsicum) - diced
1/2 Cup Plain Yogurt - thick yogurt
5 Tbsp Pasta Sauce
1 Tbsp Olive Oil - any light oil
1/4 Tsp Salt
1/2 Cup Mozzarella Cheese
2 Tbsp Parmesan Cheese - optional
1 Tsp Chili Flakes
1 Tbsp Italian Seasoning - optional
1 Soft Baguette - use any long bread or any kind of bread
2 Tbsp Cilantro - chopped - for decoration
Spices for Achari Masala:
1/2 Tbsp Fennel Seeds
1/2 Tsp Onion Seeds - also called caraway seeds
1/4 Tsp Fenugreek Seeds
1/2 Tsp Mustard Seeds
1 Dry Red Chili
Instructions
Preheat oven to 180 C (350 F)
Make the Achari Masala:
Heat a skillet and add all the ingredients.
Dry roast on low heat for 2 minutes.
Turn off the heat and transfer to a blender.
Blend to form a smooth powder.
Keep Aside.
Make the Achari Paneer-Veggie Mix:
Heat oil in the same skillet and add onions.
Saute till pink or slightly cooked.
Add Paneer, 1tbsp achari masala powder and saute till paneer is slightly cooked (takes 2 minutes).
Add capsicum, 1tbsp pasta sauce, yogurt and saute everything on medium heat for 2 minutes. (this will thicken the yogurt and mix everything well).
Turn off the heat and keep aside.
How to Make the Achari Paneer Pizza:
Slice the baguette into two parts.
Now take 1 sliced baguette and slather the pasta sauce evenly.
Add 3 tbsp of achari paneer-veggie mix and evenly spread on the bread.
Add chopped tomatoes and sprinkle cheese (add as per choice).
Sprinkle Italian seasoning and chili flakes.
Similarly, complete the second sliced baguette/bread.
Transfer both the sliced baguette on a baking tray and bake for 12 minutes.
Turn off the oven and transfer to a serving platter.
Slice the achari paneer pizza in chunks and sprinkle cilantro on top.
Serve hot.
Nutrition Information:
Yield:
4
Serving Size:
2
Amount Per Serving:
Calories:

98
Total Fat:

7g
Saturated Fat:

2g
Cholesterol:

10mg
Sodium:

293mg
Carbohydrates:

3g
Sugar:

2g
Protein:

6g