I have been compensated by Glucerna for this post; however, I am sharing my own thoughts. All opinions are my own. Talk with your health care provider about a diabetes management plan that's right for you. #GlucernaHungerSmart #CollectiveBias
Matcha Oats Bliss Balls: Super Easy and Delectable Anytime Snack that's filled with goodness of Matcha + Oats (few other ingredients).
Make's a great Diabetic snack.
' Happiness is ALWAYS having the Next SNACK Prepared '
that's definitely my motto and I can talk endlessly about it …. Infact, we all are big time snackers at home.
There are days when all we want to eat is snacks for breakfast/lunch/dinner, it sounds perfect for me and D, but there's just one exception..many of our immediate family members suffer from Diabetes and cannot munch on any or everything.
From a very young age, we both have seen our family members suffering from the condition, hence we are very particular about 'what we eat' and have learned few facts's about diabetes –
1. They have to 'eat on time' (to maintain a certain sugar level)
2. Eat in moderation (which is key to everything)

3. Regular exercise or light exercise is very important…and the list goes on.
So, for the LOVE of snacks, I'm always on a lookout for Diabetic snacks that not only tastes amazing but also helps manage hunger.
That's how we recently came across 'Glucerna® Hunger Smart™ Shakes' (Chocolate and Vanilla) at our local Walmart in the Diabetic Supplies Isle and brought both the flavors.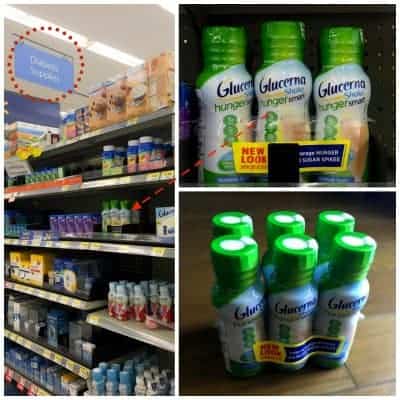 Here are some more facts on them (however you should consult your doctor about what's best for you) :
Glucerna® Hunger Smart™ Shakes (Chocolate and Vanilla) – Delicious way to help stick to your weight loss plan.
Each satisfying Glucerna® Hunger Smart™ Shake has 15 grams of protein to help manage hunger, and CARBSTEADY®, which includes slowly digestible carbohydrates designed to help minimize blood sugar spikes.
Have 6 grams of sugars and 1 carb choice per bottle*
Provide a good source of fiber† to help support digestive tract health
Are an excellent source of 25 vitamins and minerals

They have definitely become a part of our daily snacking (for the diabetic family members).
And for me as a quick shake to curb those 3 pm cravings as they have 66% fewer sugars, making them a very smart choice to help manage hunger. 
I also made ' Matcha – Oats Bliss Balls (5 Minutes Recipe) ' to enjoy along with them, an absolutely no-cook snack…. just gather the ingredients, pulse everything together, shape into round balls and enjoy!
They are packed with the goodness of Matcha (specially grown n processed green tea), oats, chia seeds, cinnamon powder,  cranberry and almond butter.
And make a great diabetes snack because of all natural ingredients.
One thing I usually follow for all my co-cook snacks, that is to make a huge batch and store them in an air-tight jar in the fridge for a quick snack.
These bliss balls are made from all natural ingredients and are absolute 'Vegan' and 'Glutenfree'. 
But as many of you always ask me for a small to medium size recipe, hence the ratio used in this recipe makes 12 balls but you can easily increase all the ingredients to make many more.
They paired so well with the Glucerna® Hunger Smart™ Shakes , that the first batch was gone in a day and were an immediate hit with everyone at home. —> 
There's also a bundling offer going on them right now (Buy any 2 large packs of Glucerna and get up to $3 off) – Click here for –> Link 
<—
 Here'a a quick guide to the process of making these Matcha – Oats Bliss Balls (5 Minutes Recipe).
I hope you give them a try soon as they make a delicious snack, are easy to carry anywhere and satiates your hunger for longer.
---
Tried Our Recipe – AWESOME!!!
Now Quickly SNAP A PICTURE & TAG :
#easycookingwithmolly +  @easycookingwithmolly on Instagram –>
Connect with Me Here:  Facebook / Pinterest / Instagram / Twitter / Subscribe to our Newsletter / Google+
Yield: 12
Matcha Oats Bliss Balls (No-Cook - 5 Minutes Recipe)
Super Easy and Delectable Anytime Snack filled with goodness of Matcha + Oats. Make's a great Diabetic snack.
Ingredients
1 Cup Oats - I'm using glutenfree, but feel free to use any Oats
1 Tsp Matcha Powder
2 Tbsp Roasted Almonds
1 Tbsp Dried Cranberries
1 Tsp Chia Seeds
1/2 Tsp Cinnamon Powder
3 Tbsp Almond Butter
1 Tsp Canola Oil
1/4 Tsp Matcha Powder - for decoration
2 Tbsp Coconut Powder - for decoration
Instructions
Pulse all the ingredients in a food processor till a granular dough is formed.
Using a small ice-cream scoop or a tablespoon, scoop 1 Tablespoon of dough and place in your palms.
Form round balls and continue the process till all the dough is finished.
In a small bowl, mix coconut powder and 1/4 tsp matcha powder together to form green flakes.
Roll and cover each ball with this coconut-matcha mixture.
Serve Fresh or store in air tight jar in fridge for upto a month.
Nutrition Information:
Serving Size:
12
Amount Per Serving:
Calories:

68
Total Fat:

4g
Saturated Fat:

1g
Sodium:

12mg
Carbohydrates:

6g
Sugar:

1g
Protein:

2g