The Best Chocolate Coffee Bundt Cake ~ Moist n Rich Chocolatey Coffee cake that's perfect for Mother's Day. 
A Chocolate n Coffee Lover's Delight & a Very Addicting Cake.
There's nothing compared to the smell of a freshly baked cake!
The whole house smells simply Awesome and that's exactly what happened when we baked my Best Chocolate Coffee Bundt Cake.
I'm not a big 'all chocolate' cake fan but mix it with some other flavor or fruit/nuts and I'm game for it (this is my absolute FAVORITE combination with chocolate).
So, I decided to bake and share this particular recipe with you'll for the approaching Mother's Day as Coffee Cake's are Mom's Favorite Too.
Also, I recently got a 'Bundt Pan' (Don't know why I never bought it before) and I'm OBSESSED with it…..that translate into you would be seeing many bundt cakes in the future 😉 !
This cake looked absolutely beautiful and I lightly dusted it with powdered sugar just before serving.
Now, getting back to Why it's the Best Chocolate Coffee Bundt Cake – cause its so moist and is absolutely yummy, all Thanks to sour cream !!!
Yep, it's the secret ingredient of my Best Chocolate Coffee Bundt Cake and if you've not yet added sour cream to a cake, then you're definitely missing on this extremely rich, moist cake.
And definitely adding chocolate+coffee to it, just enhanced the flavor even much more.
If you've never baked with sour cream, then you should give this one a try as it uses a very small amount of it but gives big results.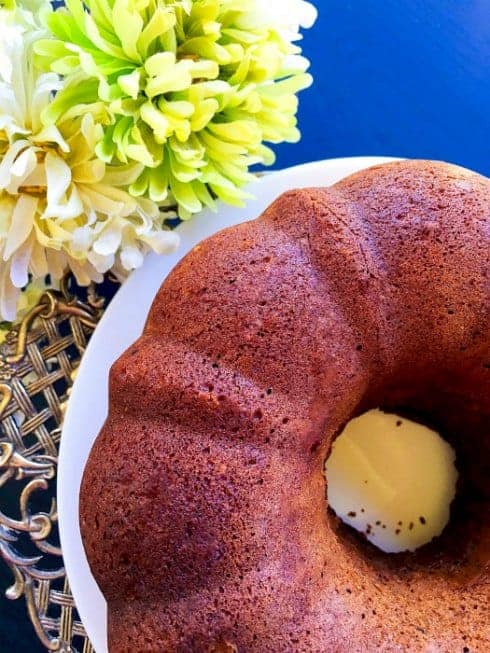 I'm using a 10′ inch Bundt Pan but If you don't have one, then you can make this cake in a regular cake tin or muffin mold and it would taste equally amazing.
It's also not an extremely chocolate cake but just the right combination of chocolate and coffee. It pairs well with fresh fruit or ice-creams too.
Bake this delicious cake and surprise your mom this Mother's Day ! 
Love n Hugs ~ XoXo
---
As always, I Looove when you try my recipes and send me pictures & feedback. You can tag my recipes tried by you using #easycookingwithmolly on any of the social media below:
Connect with Me Here:  Facebook / Pinterest / Instagram / Twitter / Subscribe to our Newsletter / Google+
Yield: 10
The Best Chocolate Coffee Bundt Cake
Ingredients
11/2 Cups All Purpose Flour
3 Large Eggs – Room Temperature
1/2 Cup Sour Cream
3 Tbsp Cocoa Powder
1 Tsp Instant Coffee Powder
1/2 Cup Powdered Sugar or Sweetener of choice
1/2 Cup Olive Oil – any flavorless Oil will do
1 Tsp Baking Powder
1/2 Tsp Baking Soda
1/2 Tsp Vinegar
1 Pinch Salt
1 Tsp Vanilla Extract
2 Toothpicks
Instructions
In a medium bowl, sieve together flour, baking powder, baking soda & keep aside. (Dry Ingredients)
In another bowl, whisk oil & sugar, till it forms a creamy mixture.
Add eggs, vanilla extract, sour cream, vinegar and whisk on medium speed till you get a smooth batter.
Now, lightly fold in the dry ingredients to the batter, making sure no lumps are formed.
Lightly spray the Bundt Pan with oil and pour the batter in it.
Bake at 180c for 35 minutes.
Once the cake is baked, let it cool to room temperature.
Dust with some powdered sugar (optional) & Serve Fresh.
Nutrition Information
Serving Size
1
Amount Per Serving
Calories

4054
Total Fat

137g
Saturated Fat

31g
Cholesterol

80mg
Sodium

3701mg
Carbohydrates

621g
Sugar

81g
Protein

77g