Easy Breakfast Egg Muffin: healthy and delicious breakfast/snack muffins using eggs, bread, flaxseed, chicken and broccoli. Extremely easy to make and ready in 20 minutes.
Hey Y'all, I hope you had a fabulous weekend and are ready to conquer the week especially Monday!
I got up really early today … 4:00 am
(yes, I'm still kinda jetlagged from my recent International trip).
And that actually gave me some extra time in hand to prepare something different for breakfast which is usually a smoothie for me & eggs-toast-cereal for him…pretty blah at times 😉
So, I decided to perk up the morning breakfast by making these Breakfast Egg Muffin which looks absolutely GORGEOUS! And off-course they are so easy to make.
Ingredients for the Breakfast Egg Muffin:
Eggs
Bread
Flaxseed
Chicken
Broccoli
Cheese
With so many things that I make, you won't believe egg muffins featured at our home almost after 2 years.
– Seriously, I couldn't believe it's been that long since I last made them.
But the Breakfast Egg Muffin recipe remains the same with few additions like broccoli, flaxseed and chicken salami (which I have in fridge/you may use bacon/pancetta/any cut meat).
How to Make the Breakfast Egg Muffin:
Just mix everything with egg and I made them slightly more filling by adding bread to it.
Just cut the bread slice into half (you can use glutenfree bread or completely ignore the bread).
Press them down into a sprayed muffin tin.
Pour the egg mix over it and bake for 15 minutes
In 15 minutes, you have these Breakfast Egg Muffin ready to nosh on.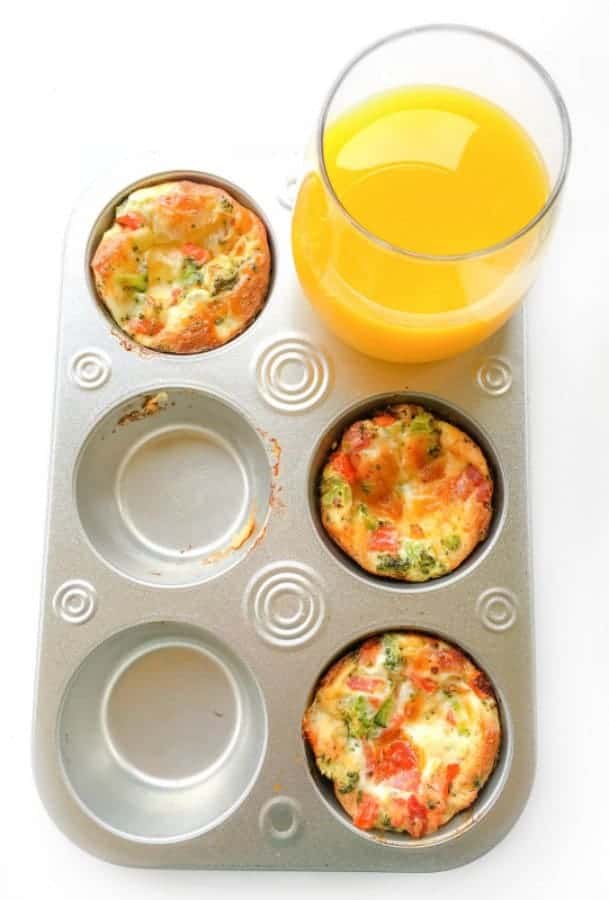 Yep, they are that easy…almost like making omelette+bread together but they come out looking so beautiful that I wonder why don't we just eat them everyday.
I mean just How Cute n Pretty these Breakfast Egg Muffin look.
Now, if you want to make them even quicker, just make the egg mixture a night before and bake them in the morning or you can even bake them a night before too.
If you're a quiche lover but want to avoid that many eggs and cheesy combination (just like me) then these Breakfast Egg Muffin are your best bet as they taste just like a lighter version of mini crustless quiche.
So, go ahead and give them a try or make them for your 'Mother's Day Breakfast Menu' (which is just 2 weeks away on Sunday – May 08, 2016).
They can easily be made by younger kids with the help of dad or absolutely on their own by teenagers.
That's a picture of our plate and off-course I skipped the smoothie today and went with a fresh glass of Orange Juice and it just was a perfect Happy Morning Meal 🙂
Tried Our Recipe – AWESOME!!!
Now Quickly SNAP A PICTURE & TAG :
#easycookingwithmolly + @easycookingwithmolly on Instagram –>
Connect with Me Here: Facebook / Pinterest / Instagram
:: You May Also Like ::
Yield: 3
Easy Breakfast Egg Muffin (Healthy Breakfast)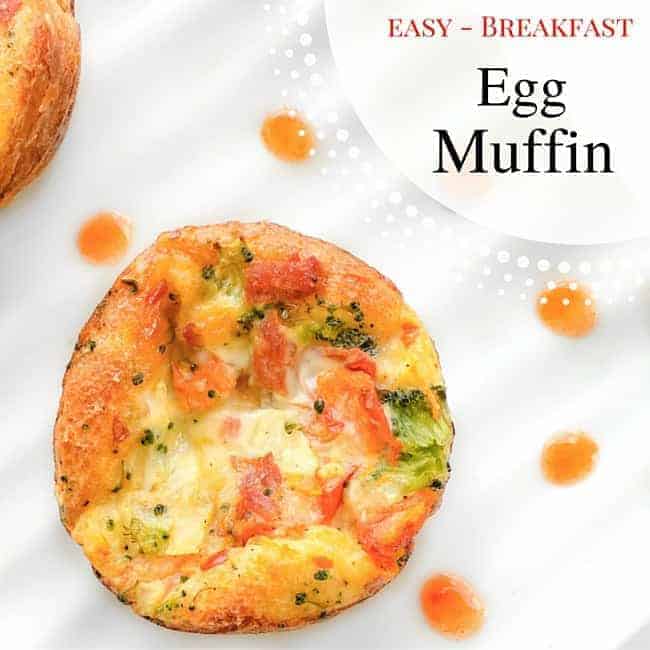 Easy Breakfast Egg Muffin: healthy and delicious breakfast/snack muffins using eggs, bread, flaxseed, chicken and broccoli. Extremely easy to make and ready in 20 minutes.
Ingredients
4 Eggs
3 Slices of Bread - halved
3 Tbsp Milk
1 Tsp Oil
1/2 Cup Broccoli - finely chopped
1 Medium Tomato - finely chopped
1 Medium Onion - finely chopped
1/2 Cup Chicken Salami - finely chopped
4 Tbsp Parmesan Cheese - grated
1 Tbsp Flax Seed - Optional
Salt - as per taste
Pepper - as per taste
Muffin Tin - sprayed with oil
Instructions
How to Make Easy Breakfast Egg Muffin
Preheat the oven at 400F.
Take half slice of bread and press them into a muffin cup and follow till all 6 cups are lined with bread.
In a bowl, whisk eggs, milk, and oil for a minute or till evenly mixed.
Add all the chopped vegetables, chicken salami, cheese, salt, pepper, red flakes and mix evenly using a fork.
Pour the mixture evenly on all 6 muffin cups (leave an inch from the top).
Bake on 400F for 15 minutes (Keep an eye as all ovens are different).
The muffins will be puffed up till they are in the oven, the moment you take them out, they'll poof out a little.
Serve fresh or store in the fridge for a day or two.
Notes
Eggs - You can use any kind of eggs or eggs white too
Milk - any milk will do or you can use water too
Chicken Salami - you may use Bacon / Pancetta or any other Meat too
Nutrition Information:
Yield:
2
Serving Size:
2
Amount Per Serving:
Calories:

203
Total Fat:

23g
Saturated Fat:

20g
Trans Fat:

0g
Unsaturated Fat:

43g
Cholesterol:

718mg
Sodium:

167mg
Carbohydrates:

40g
Fiber:

6g
Sugar:

7g
Protein:

70g