Light Tofu Manchurian : is an extremely easy, delicious and healthy way of cooking tofu in a sweet-spicy Chinese sauce. The recipe is extremely light.
Hi Everyone, Happy Monday and what a way to start it with!
I'm so excited and wanted to share with you'll this 'Light Tofu Manchurian', and also that now have become a part of the #MeatlessMonday campaign bloggers.
Meatless Monday is an international campaign that encourages people to not eat meat on Mondays to improve their health and the health of the planet, as we all believe that Monday is the perfect day to make small, positive changes.
I've been practicing a non-meat monday rule for so many years, that the moment I heard of this campaign, I've been wanting to be a part of it.
My reason to go #meatless was that we ended up eating so much meat, sweets, heavy and other rich food over the weekend, that it was natural and easy on tummy to have light, simple and more greens in our Monday meal.
To begin my meatlessmonday blog campaign, I'm sharing the recipe of Light Tofu Manchurian. As the name suggests, it's light but definitely tasty.
Manchurian, is popular or I can say the insanely famous recipe that's available in any given Chinese restaurant in India.
(Chinese restaurant in India bears very little resemblance to the traditional Chinese cuisine, it's more of Chinese ingredients with Indian taste).
It's usually made with boneless chicken or ground chicken, mixed with spices, cornstarch and deep-fried to make it crispy and served with a special sauce.
However, I wanted to make it lighter and off-course without any meat. So, I'm using extra-firm tofu along with lighter ingredients for this particular version.
This recipe doesn't need any deep frying, as we are lightly sauteing the tofu over medium heat.
Now, you can make the sauce thick or thin depending on your taste. I've kept the sauce slightly thick with a sweet and tangy variation.
Here's the recipe for you to enjoy with steamed rice or noodles or you can use any gluten-free grain too.
I'm Linking it to my friend's 'Meat Free Mondays' – where you can find some yummy meatfree recipes.
You can visit my #meatlessmonday recipes by clicking here

As always, I Looove when you try my recipes and send me pictures & feedback.
You can tag my recipes tried by you using #easycookingwithmolly on any of the social media below:
Connect with Me Here: Facebook / Pinterest / Instagram
:: You May Also Like ::
Yield: 4 People
Light Tofu Manchurian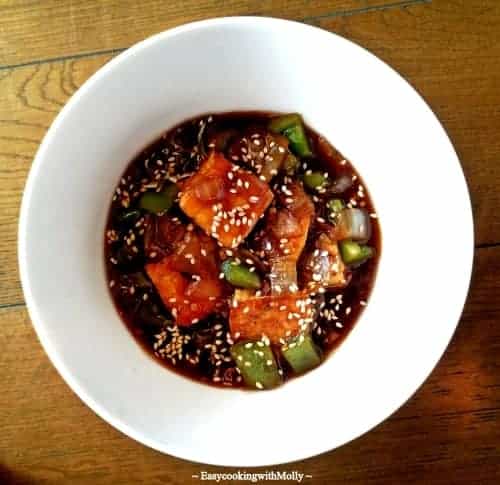 an extremely easy, delicious and healthy way of cooking tofu in a sweet-spicy Chinese sauce. The recipe is extremely light.
Ingredients
1 Packet Extra Firm Tofu (12.oz) – Cut into thick bite size pieces
1 Tsp Fresh Garlic – Crushed
1 Tsp Fresh Ginger – Shredded
1 Large White Onion – Chopped into small pieces
1 Medium Green Bell Pepper – Chopped into bite size pieces
½ Cup Green Onion - Chopped into small pieces – OPTIONAL
1 Tbsp Sesame Seeds – For Decoration
4 Tbsp Olive Oil – For cooking
For Sauce:
3 Tbsp Soy Sauce – I'm using lighter version (less salt)
1 Tbsp Chili Sauce
1 Tbsp White Vinegar
¼ Tsp Honey – You can use sugar or any sugar substitute
1 Tsp Cornstarch - Dissolved in 3 Tbsp water - Optional
Pinch of Pepper
Salt – As per taste
Instructions
In a large pan, add 2 tbsp oil and let it heat for a minute
Add chopped tofu and let it cook for 2minutes or till golden brown.
Turn the tofu to the other side and cook till golden brown.
Once, the tofu is evenly brown on both the sides, turn off the heat and transfer the tofu to a kitchen towel (to absorb any oil).
Heat the pan again with 2 tbsp oil.
Now add, ginger, garlic and saute for 2 minutes.
Add, onions, saute for another minute.
Once the onions are slightly pink in color, add chopped bell pepper, green onions and saute everything over high heat for 2 minutes.
Now add, the sauce ingredients, reduce the heat to low and let it cook for 2 minutes.
Add, cooked tofu, cornstarch to this sauce and stir everything together for a minute and turn off the heat.
Transfer to a serving dish and sprinkle with sesame seed.
Serve with choice of grain
Nutrition Information:
Yield:
4
Serving Size:
1
Amount Per Serving:
Calories:

200
Total Fat:

16g
Saturated Fat:

2g
Trans Fat:

0g
Unsaturated Fat:

13g
Cholesterol:

0mg
Sodium:

250mg
Carbohydrates:

12g
Fiber:

2g
Sugar:

6g
Protein:

5g