Best Ever Thai Tofu Lettuce Wraps: Heart-healthy, delicious recipe with a crunch in every bite. Made using a mix of lentils, veggies, tofu in Thai sauce.
(Thank you Village Harvest for sponsoring this post. Every day Village Harvest is planting seeds of change and growing possibilities, one bag of goodness at a time)
Happy Monday Everyone and these Thai Tofu Lettuce Wraps is just the recipe that you need to drive those Monday blues away 🙂
It's not only a gorgeous mix of colorful veggies, taste but also filled with nutrients and did I mention 'How EASY it is to make them'!!!
Trust Me, they'll be your new favorite goto recipe.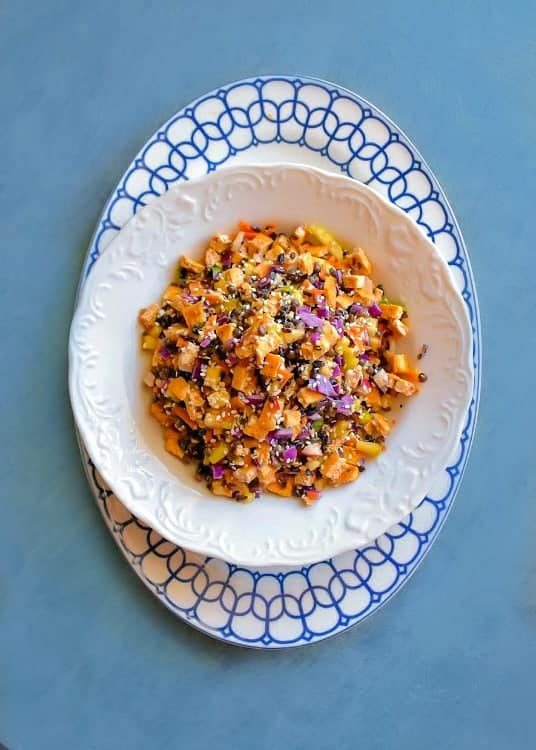 As you all know, I'm always looking for healthier ingredients for our everyday recipes and when I came across Village Harvest Organic Benefit Blends, I was absolutely excited to try them all.
They are gluten-free, unique mixes of rice and grains that offer a distinctive combination of healthful goodness:
Organic Antioxidant Blend

Organic Ancient Grain Blend

Organic Protein Blend
And, I was particularly excited to first try the organic antioxidant blend for my Thai Tofu Lettuce Wraps , which is a mix of black (rice, lentils, and quinoa).
Now, black grains are filled with anthocyanin antioxidants which are also found in blueberries/blackberries and are especially good for our heart, liver, and vision.
It's very easy to cook the blend (exactly as you'll cook brown rice or lentils), just follow the package instructions. Here's a picture of how the blend looks before and after cooking:
What are the Ingredients for the Thai Tofu Lettuce Wraps
Antioxidant Blend
Tofu
Summer veggies (cucumber, cabbage, carrots, etc)
Thai curry paste (homemade or store-bought)
Cashew Nuts.
So, while our blend is cooking, I also went ahead and sauteed some thinly sliced tofu (use firm or extra firm).
Basically, these are the only two ingredients that need to be cooked, the rest of the ingredients just needs to be chopped and mixed – that's it.
Then just spoon some of that delicious Thai Tofu-Antioxidant blends over each lettuce wraps and serve immediately.
Now, if you're making lettuce wraps at home for the first time or even if you've made them before and always wonder 'WHY – do the lettuce wilts away so quickly'?
Pro Tips for Fresh/Crunchy Lettuce Leaves EVERYTIME:
Clean the Lettuce under cold running water.
Take a large bowl and fill it halfway with ice.
Place the entire Lettuce Bunch or Leaves over the ice.
Now, pour clean-cold water till the brim of the bowl.
Place this bowl in the fridge till you are ready to serve the lettuce leaves. (Cannot be kept for more than 12 hrs).
So, go ahead and give these Thai Tofu Lettuce Wraps a try asap and also buy all these blends by Village Harvest in your local grocery store
Or fill out this 'Product Request Form' to have your grocers supply them.
Also, one of the other things I liked about this brand is that they not only mean caring for our planet but also the workers that help to bring whole, healthy grains to your door.
* Village Harvest has pledged 1% of their profits to run programs that give back to the farmers and local communities from which they source their products.
* Village Harvest has pledged to donate 1% of their employees' time to charitable causes and sustainability efforts.
---
As always, I Looove when you try my recipes and send me pictures & feedback.
You can tag my recipes tried by you using #easycookingwithmolly on any of the social media below:
Connect with Me Here: Facebook / Pinterest / Instagram
Yield: 10-12 Lettuce Wraps
Thai Tofu Lettuce Wraps
Thai Tofu Lettuce Wraps: Heart-healthy and delicious recipe that's absolutely flavorful and crunchy in every bite. Made using a mix of lentils, veggies, tofu in Thai sauce.
Ingredients
1 Large Lettuce Bunch - containing atleast 10-12 leaves
1/2 Cup Village Harvest Organic Antioxidant Blend
2 Cups Water - to cook the grains
1 Firm Tofu - thinly sliced (about 1/2 inch)
1 Small Cucumber - thinly chopped
1 Small Carrot - thinly grated
1/8 Cup Thinly Chopped Scallions
4 Tbsp Thinly Chopped Roasted Cashew - optional
2 Tsp Sesame Seed Oil - for sauteeing tofu
Thai Sauce:
2 Tbsp Thai Red Curry Paste
2 Tsp Soy Sauce - i'm using glutenfree variety, but you may use any.
2 Tbsp Sambal or Chili Sauce - use as per taste
1 Tsp Agave - or any sweetener
2 Tbsp Rice Vinegar
2 Tsp Sesame Seed
Salt - as per taste
Pepper - as per taste
Instructions
Cook the Grains:
Cook the Village Harvest Antioxidant blends in 2 cups of water as per package instructions*
Once cooked, drain the water completely and keep the grains outside to cool completely.


Make the Thai Sauce:
In a medium bowl, combine the Thai sauce ingredients and mix everything evenly.
Keep aside.

Cook Tofu:
Heat sesame oil in a medium non-stick pan.
Place the tofu slices (as many the pan can accommodate)
Saute till both sides are evenly golden brown and cooked (takes about 3 minutes to cook 6 slices).
Remove from pan and cook the remaining sliced tofu.
Cool the cooked tofu completely and then thinly chop them (bite size pieces).

Prepare the Thai Tofu Mix:
In a large bowl, add cooked chopped tofu, cooked antioxidant blend, all the vegetables (except lettuce), cashews, Thai sauce mix, sesame seeds and using your hand/fork, mix everything.
Leave this mix for 5 minutes, for tofu and veggies to absorb all the flavors.
Now, place the lettuce leaves on a serving platter.
Place 2-3 spoonful of the Thai tofu mix over it.
Sprinkle some sesame seed and follow this step till all lettuce leaves are used.
Serve immediately.
Notes
Cook the Village Harvest grains just like the way you cook brown rice or lentils.
Nutrition Information:
Yield:
10
Serving Size:
1
Amount Per Serving:
Calories:

79
Total Fat:

5g
Saturated Fat:

1g
Trans Fat:

0g
Unsaturated Fat:

4g
Cholesterol:

0mg
Sodium:

265mg
Carbohydrates:

4g
Fiber:

1g
Sugar:

2g
Protein:

6g
I was selected for this opportunity as a member of CLEVER and the content and opinions expressed here are all my own.