Sweet Spicy Thai Basil Tofu Skewers: These delicious and juicy skewers are vegan, glutenfree and made using a fingerlicking sweet-spicy Thai-basil homemade sauce.
Happy Friday You'll !!! Hope you had a nice week and I'm so looking forward to the weekend and noshing on these Sweet Spicy Thai Basil Tofu Skewers with some Thai ice tea.
My week was a mix of blah in the beginning to absolutely crazy until yesterday … and today I'm absolutely excited as I get to share the recipe of these superhit skewers with you.
So, my girlfriends decided to throw an impromptu Girl BBQ party yesterday and I was asked to get these Sweet Spicy Thai Basil Tofu Skewers on Wednesday night ….
Seriously, my friends think I'm some kinda genie that grants wishes in terms of food 😉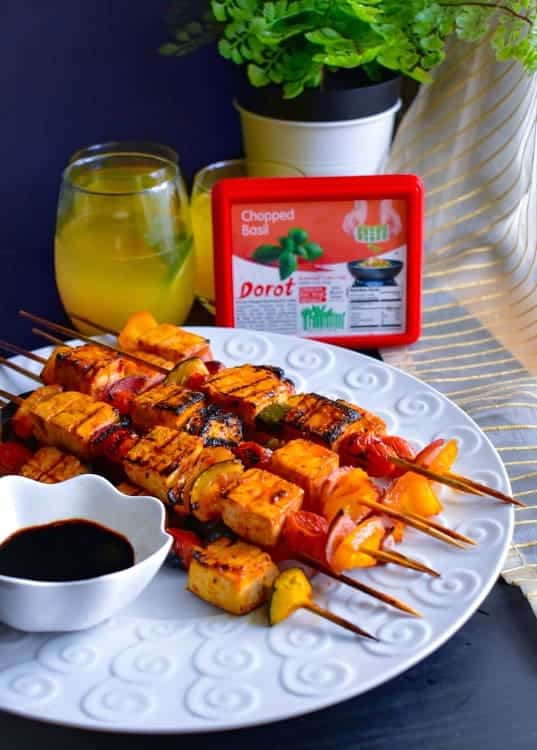 But I guess they know me really well or as my hubby calls it 'food hoarder', I confess I always have tons of stuff in our kitchen pantry (as if I'm never gonna go to store ever) and the fridge.
The only thing, I was little scared of was that I don't have any fresh herbs at home and these skewers needed 'basil'.
But then these 'Dorot chopped Basil' came to the rescue as I always have them in my freezer.
If you do a lot of cooking and like the smell of that fresh herb in your food, then Dorot is your BEST Friend !!!
I'm telling you and you can thank me later 😉 they have these clean, cute and pre-proportioned herbs (cilantro, basil, garlic, ginger, etc) all packed in a small little-frozen baggie.
It's you've never used Dorot before, here's some more handy info for you:
" Dorot start by growing their our own garlic, basil, cilantro, parsley, chili, and ginger.
At peak freshness, they pull their products from the fields, process and flash freeze into convenient trays within 90 minutes of harvest.
With a two-year shelf life, you can have fresh Garlic, Onions and Herbs year round with the simple "pop" of the tray."
I got mine from 'Trader's Joe' in the frozen food aisle (picture below) but definitely, go to their site here -> Dorot <- and find your local store.
Ingredients for Sweet Spicy Thai Basil Tofu Skewers :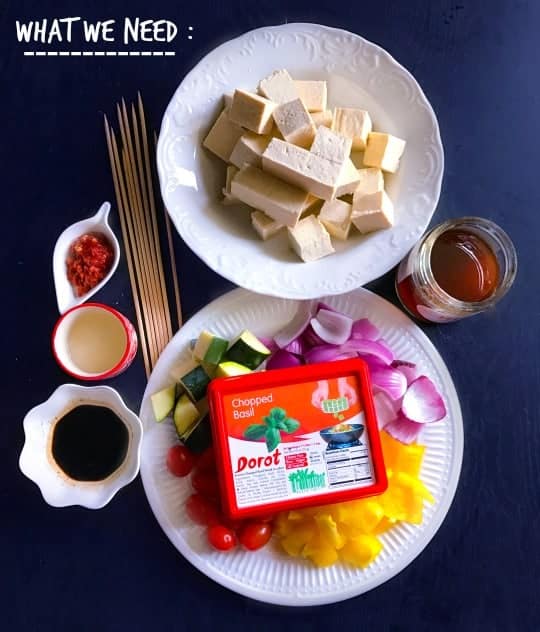 Phew, what a relief !!! So, here I was on Thursday morning marinating the veggies+tofu with the spice-mix and I'm talking 9 am as the BBQ starts at 11 am, yep, that's the chosen time.
I just marinated the whole mix for about 15 minutes but if you have time, marinate them for longer.
Now, for the most fun part "Have you seen anyone grilling on their balcony at 9 am?" (lol)
Yep, that would be me, I just started the grill at 9 am and these cuties were ready to be grilled by 9:20 am.
I just grilled them each side for 2-3 minutes (as the grill was really hot) and keep an eye on tofu as it burns easily.
Once, they were grilled and the Sweet Spicy Thai Basil Tofu Skewers were all ready, I just sprinkled a little bit of lime juice to keep them fresh and juicy.
Just before I could pack them, here's me doing the very important taste test or breakfast as I say 🙂
The grill marks look really awesome on them and it's such an easy peasy recipe that can be added to any of your instant or upcoming BBQ parties.
It's also totally #Vegan and #Glutenree as a couple of my friends are on V+GF diet.
So, go ahead and get those grill started and make these delicious Sweet-Spicy Thai Basil Tofu Skewers.
Go get these 'Dorot' product to help you in your next cooking preparation.
: Here are Some More Thai Recipes :
15 Minutes Thai Fried Rice (Vegetarian)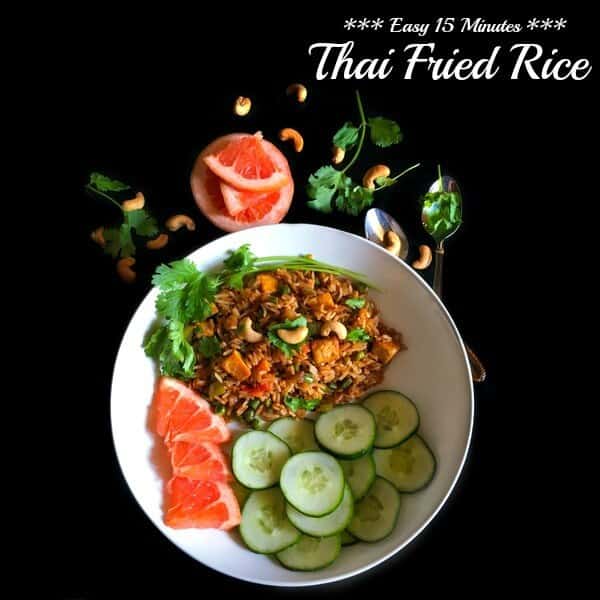 ---
As always, I Looove when you try my recipes and send me pictures & feedback.
You can tag my recipes tried by you using #easycookingwithmolly on any of the social media below:
Connect with Me Here: Facebook / Pinterest / Instagram

Yield: 12 Skewers
Sweet Spicy Thai Basil Tofu Skewers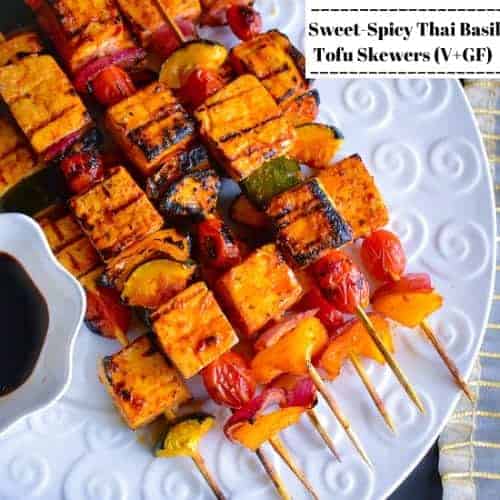 Sweet Spicy Thai Basil Tofu Skewers: delicious and juicy skewers are vegan, glutenfree and made using a fingerlicking sweet-spicy Thai-basil homemade sauce.
Ingredients
1 Package Firm Tofu - drained
1 Medium Onion - chopped in square
1 Yellow Bell Pepper - chopped in square
1/2 Cup Cherry Tomatoes
1 Zucchini - chopped in square
3 Tbsp Vegetable Oil
8 Skerwes - wooden or steel
Thai Spice Mix :
1 Cube Dorot Chopped Basil - substitute with 5-6 basil leaves
1 Tsp Chili Paste - you can use homemade or store bought
1 Leaf of Lemongrass - optional
1/4 Tsp Thai Ginger (Galangal) - you may use regular ginger
2 Tbsp Tamari Soy Sauce - you may use regular soy sauce
1 Tbsp Maple Syrup - you may use honey or sugar or any sugar substitute
1 Tbsp Rice Wine Vinegar - may use regular vinegar
Salt - as per taste
Red Chili Powder - as per taste
Black Pepper Powder - as per taste
Instructions
* If using wooden skewers, then soak them in water for 15 minutes (this prevent skewers from burning).


Add all the spice mix in a bowl and whisk to form a smooth paste.
Add copped vegetables, 1tbsp oil and tofu in the paste
Transfer the content of the bowl in a large ziploc bag and mix everything in it.
Keep the ziplock bag in fridge for 15 minutes or longer for the veggies, tofu to absorb the spices nicely.
Fire up the grill and add wood or coal as per choice.
Remove the bag from fridge.
Add veggies and tofu on each skewer (as per choice).
Brush each side of the skewered veggies+tofu with oil and place on grill.
Grill for 2-3 minutes on each side.
Turn to another side and grill another 2-3 minutes (keep an eye as tofu burns easily).
Once the veggies are cooked, remove skewers from the grill.
Transfer to serving plate and serve along with tamarind sauce or any other sauce.
Nutrition Information:
Yield:
12
Serving Size:
2
Amount Per Serving:
Calories:

97
Total Fat:

6g
Saturated Fat:

1g
Trans Fat:

0g
Unsaturated Fat:

5g
Cholesterol:

0mg
Sodium:

397mg
Carbohydrates:

8g
Fiber:

1g
Sugar:

5g
Protein:

5g
—————