Instant Pot Black Eyed Peas Curry Recipe: extremely delicious and creamy black-eyed peas curry recipe made in instant pot in under 30 minutes.
Instant Pot Black Eyed Peas Curry is perfect for #mealplan or if you are doing #veganuary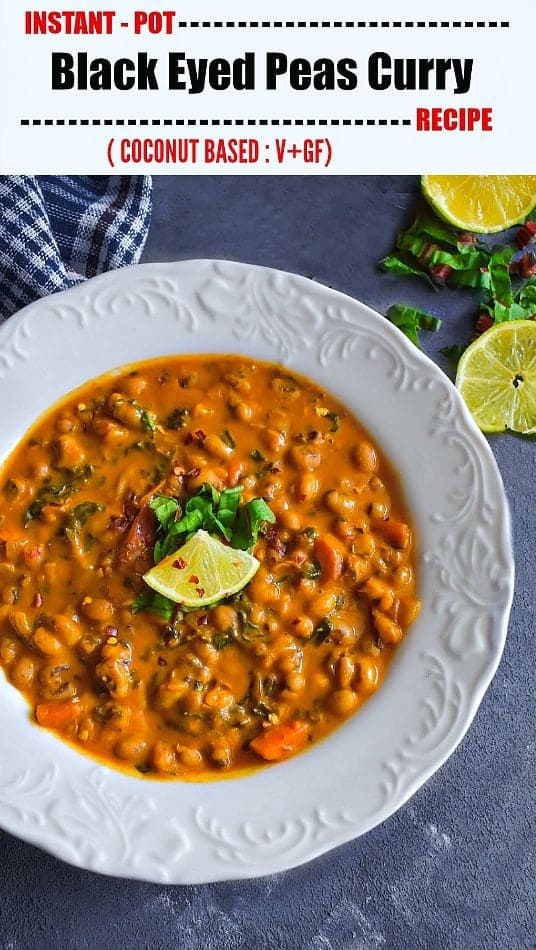 This Instant Pot Black Eyed Peas Curry is one of our family favorite meal especially all winter long.
It's not only easy to make but the mix of black-eyed peas with curry, veggies, and coconut milk makes it super Yummm.
In the past, I have made this curry with water/milk/yogurt too (for curry base) but 'Coconut Milk' is the answer if you want it to taste Divine!!!
So, I would suggest making a big batch and keeping some extra portions as your family would definitely ask for a second or third helping 😉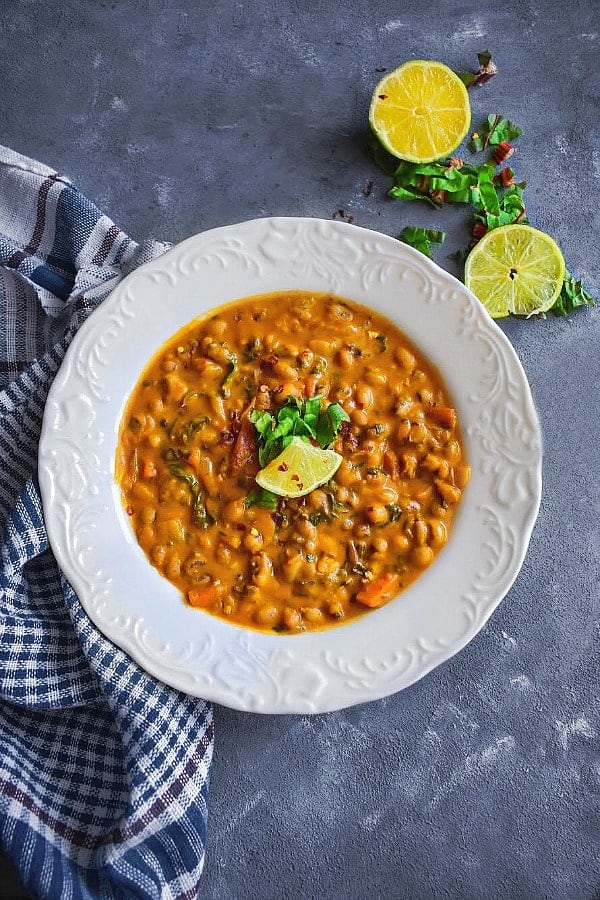 Many of my friends got Instant-Pot this New Year and had been asking me for an Instant-Pot recipe, so here it is.
Before the Instant Pot Black Eyed Peas Curry version, I used to make this in a pressure cooker and I still do at times.
But I'd say that the Instant-pot version is much easier and creamier.
: Important Tip :
Dry Black-Eyed Peas
If using dry black-eyed peas for the curry, you need to soak them in water for a good 3-4 hours (for beans to plump up).
BUT, incase you don't have that much time, then you NEED to soak them in Boiling Hot Water for a minimum of 2hrs.
Canned Black-Eyed Peas
The easiest thing to do is get 'Canned Black-Eyed-Peas' and use them for the curry.
Simply drain the canned water and wash the beans 2-3 times with fresh water (to remove any preservatives).
Then use these beans to cook like you normally do, just reduce the Cooking Time to half.
As the beans are already cooked and you don't want a mushy paste 🙂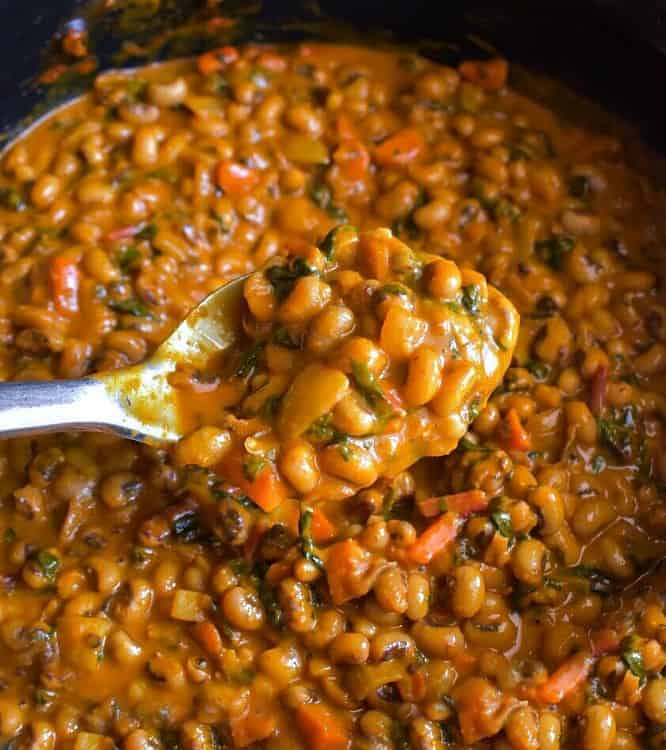 Another reason for loving this recipe is that 'You can literally HIDE veggies in it'.
Especially if you have picky eaters at home, this Instant Pot Black Eyed Peas Curry recipe will be your best bet.
The instant-pot method makes it so creamy and by the time everything is cooked, the veggies are almost non-existent.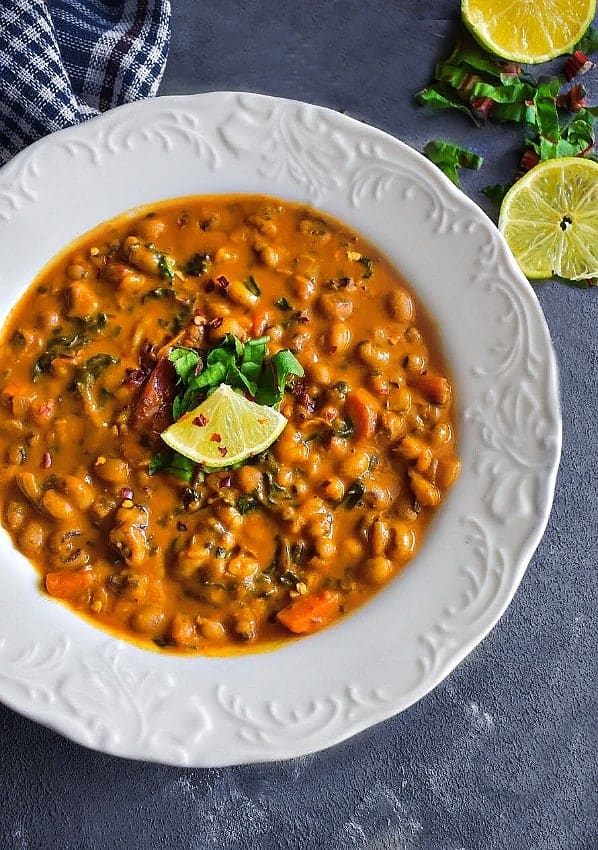 I've added 'Carrots and Chard' in my recipe but you can add more green or any other veggies to it.
Just chop them in small pieces before adding, that way they literally vanish in the curry.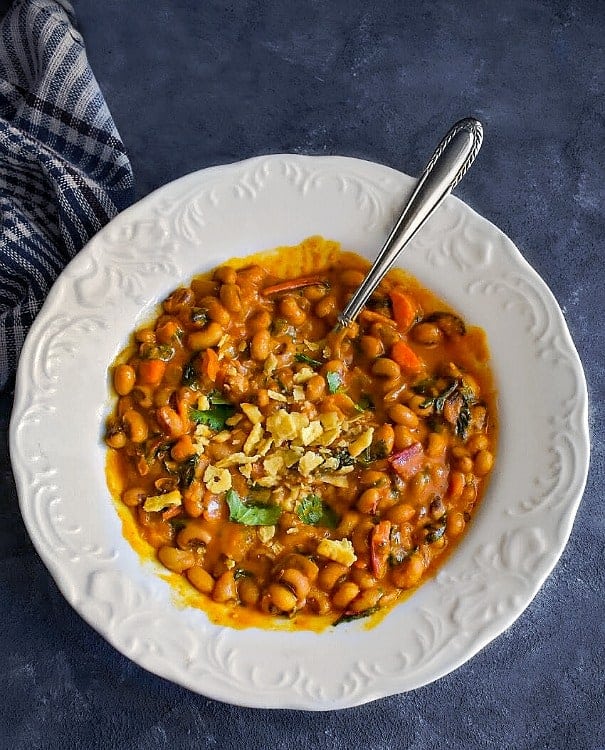 When I serve this black-eyed peas curry or instant-pot black-eyed peas chili (as some of you call it), I top it with sliced lemons and some chips.
But you can add thinly chopped cilantro or even some more coconut milk drizzle on top for that extra luxuries taste.
:: You May Also Like ::
---
Tried Our Recipe – AWESOME!!!
Now Quickly SNAP A PICTURE & TAG :
#easycookingwithmolly + @easycookingwithmolly on Instagram –>
Connect with Me Here: Facebook / Pinterest / Instagram / Twitter / Subscribe to our Newsletter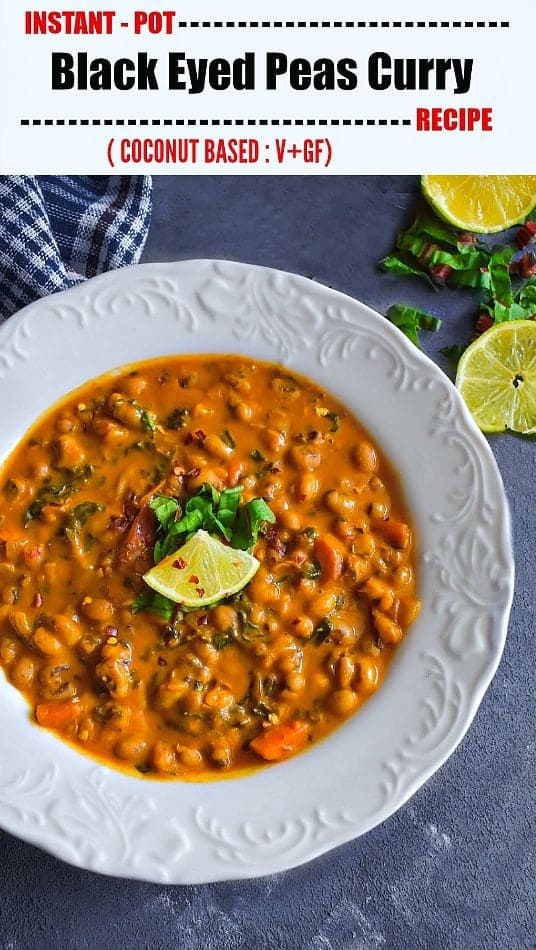 Yield: 5 Pople
Instant Pot Black Eyed Peas Curry Recipe
Ingredients
2 Cups Dry Black Eyed Peas *
6 Cups Boiling Water
1 Large Red Onion - thinly chopped
3 Medium Carrots - chopped in bite size pieces
1 Cup Chard - chopped
1 Tbsp Garlic Paste
1 Tbsp Ginger Paste
1 Tbsp Tomato Paste
1 Can Diced Tomato - you may use 2 fresh tomatoes
2 Cups Coconut Milk - use any variety as choice
3 Tbsp Olive Oil - or you may use coconut oil
1 Lemon - for juice or sliced pieces on top of curry
Spices:
2 Bay Leaf
5 Cloves
1 Cinnamon Stick
1 Tbsp Coriander Powder
1 Tbsp Cumin Powder
1 Tbsp Curry Powder
1 Tsp Red Chili Powder
1 Tsp Chilli Flakes
1 Tsp Salt - use as per choice
Instructions
Prep the Black eyed Peas:
Soak the dry black eyed peas in 6 cups water for 3-4 hours.
Once the black eyed peas are plumped up, throw the water and keep the peas aside.


Making the Instant Pot Black Eyed Peas Curry Recipe:
Turn on the instant-pot and set the Instant Pot to Sauté.
Add oil and allow it to heat up for a minute.
Now, add onion, bay leaf, cloves and cinnamon stick.
Suate for 3-4 minutes till onions are golden in color.
Add the garlic + ginger paste, spices and saute for a minute.
Add the diced tomatoes, tomato paste, saute and cook for 2 minutes.
Add the soaked black eyed peas, carrots, chard and saute for a minute.
Now add coconut milk and stir everything together.
Close the lid and secure the pressure valve.
Cook for 15 minutes at high pressure.
Let the pressure come down naturally when time is up. ?
Once the steam is released, carefully open the Instant Pot.
Transfer to serving dish, add lemon slices on top.
Sprinkle some red chili flakes and serve hot.
Enjoy.
Notes
* If you donot have dry black eyed peas, you may use canned ones.
Simply drain the water from canned black eyed peas.
MOST IMPORTANT: REDUCE the Cook time to 10 minutes (as the beans are already cooked)
Nutrition Information:
Serving Size:
5
Amount Per Serving:
Calories:

504
Total Fat:

30g
Saturated Fat:

18g
Sodium:

681mg
Carbohydrates:

46g
Sugar:

5g
Protein:

18g