Black Eyed Pea Chili is a hearty vegan and glutenfree chili recipe using beans, seasonal vegetables, and flavorful spices.
It's also known as 'Lobia Masala' in India and is quite popular among vegetarian options.
Hi Everyone, hope you had a nice weekend. After the Thanksgiving week, we are definitely in the mood for a lighter meal like this Black Eyed Pea Chili. 
I usually get the 'raw beans' and soak them overnight or a minimum of 5-6 hours, till they plump up.
Then you can either steam them in a pressure cooker (3-4 whistles) or cook in a covered pot for about 20-25 minutes.
A lot of times, this Black Eyed Pea Chili is my easy goto dinner menu too, just combine with a bowl of rice/quinoa/couscous or even bread whatever you like.
For this particular recipe, I'm sauteing and cooking the beans along with some really flavorful spices like:
Cloves
Pepper
Cinnamon
Bayleaf
etc that also helps in keeping our body warm in winters.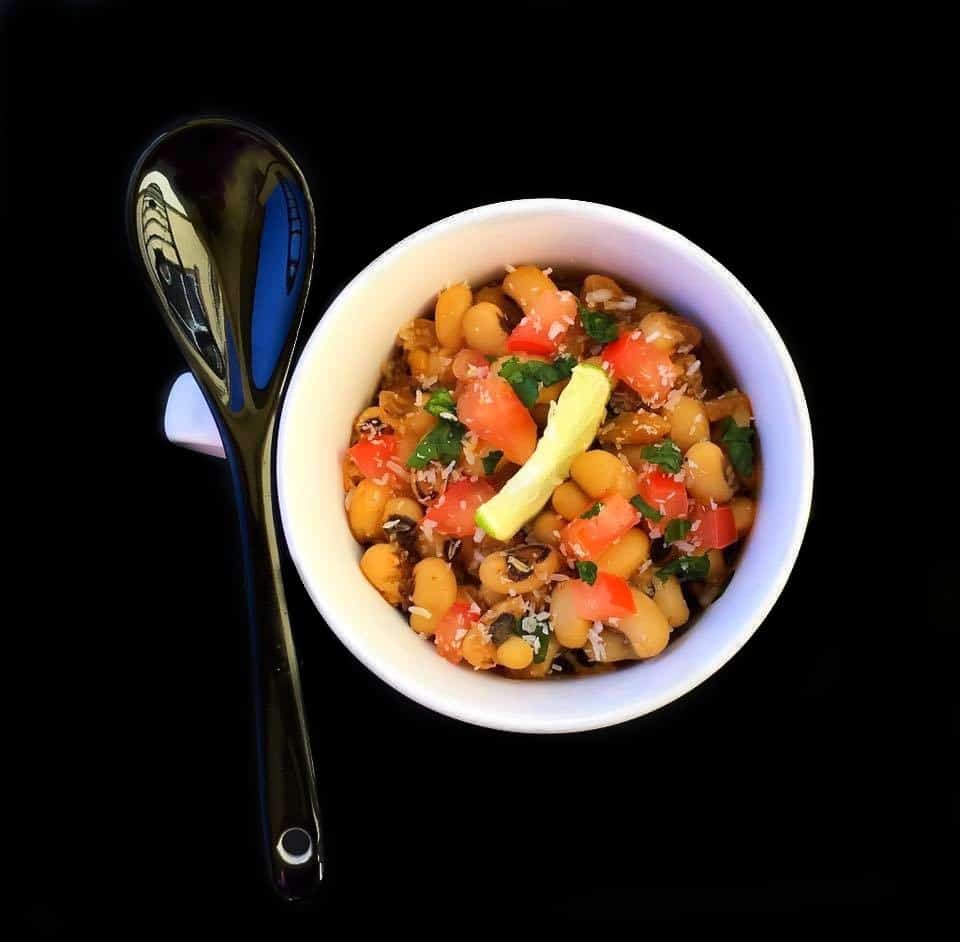 To make it more wholesome or one-pot meal, I'm adding vegetables but if you're craving some meat, feel free to add cooked ground meat of choice.
It seriously tastes delicious with everything. Once the chili is ready, you can add more toppings as per choice.
Since I wanted to keep it as light as possible, I'm just sprinkling some cheese and fresh chopped veggies.
You can find more Meatless Monday recipes on my blog archive along with many detox or light recipes.
:: You May Also Like ::
---
As always, I Looove when you try my recipes and send me pictures & feedback.
You can tag my recipes tried by you using #easycookingwithmolly on any of the social media below:
Connect with Me Here:  Facebook / Pinterest / Instagram / Twitter / Subscribe to our Newsletter / Google+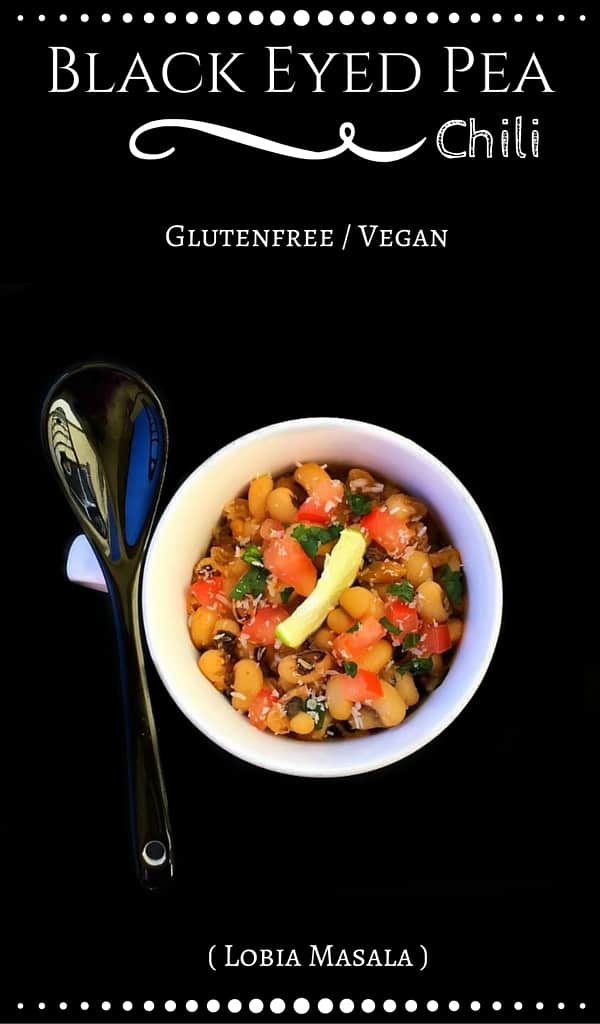 Yield: 4
Black Eyed Pea Chili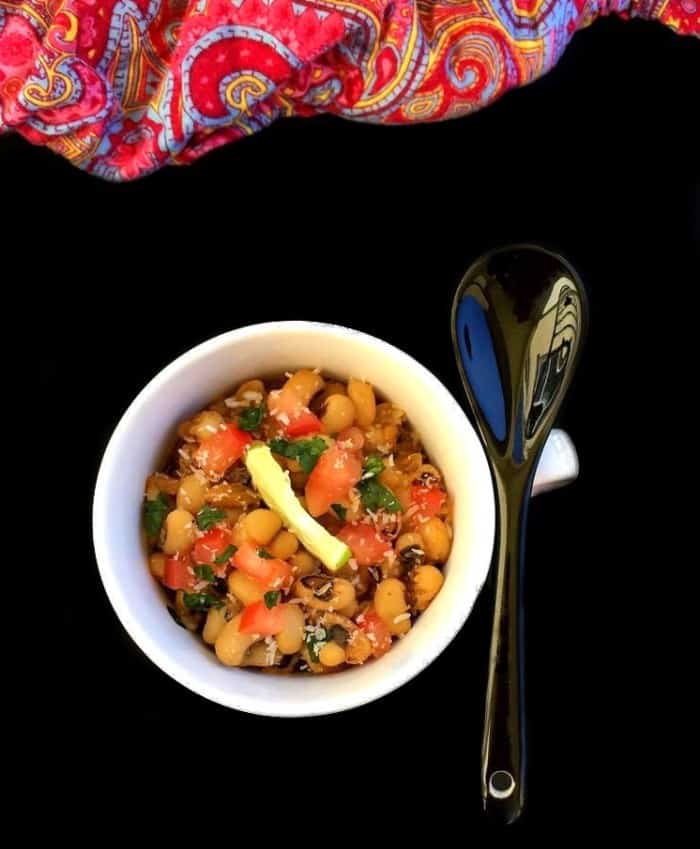 Ingredients
1 Cup Black Eye Peas*
2 Medium Onion - thinly chopped
3 Large Tomatoes - thinly chopped
1/2 Tsp Garlic - optional
1/2 Cup Celery - thinly chopped
1/4 Cup Carrots - thinly chopped
1 Jalapeño - thinly chopped
2 Tbsp Fresh Cilantro - thinly chopped
2 Cups Any Broth or choice - you can use water too
1 Tbsp Shredded Cheese - you can skip or add more
2 Tbsp Light Oil
Spices:
1 Big Bay Leaf
3-4 Cloves
3-4 Whole Black Pepper
1 Cinnamon Stick
Salt - as per taste
Chili flakes - optional
Instructions
Heat oil in a large pot or pan.
Add all the spices and stir.
Now add chopped onions and sauté for a minute.
Add garlic, celery, carrot, sauté and close the lid. Let cook on low heat for 5 minutes (stir in 2 minutes).
After 5 minutes, the spices and veggies would have cooked well, absorbing all the water and flavors.
Add tomatoes and cook for another 3 minutes on low heat.
Now add the black eye peas, broth/water and cover cook for 10 minutes (stir in 2 minutes).
After 10 minutes, the veggies and peas would have cooked together giving the dish an amazing smell.
Add chilies, cheese, cilantro and some chopped tomatoes. Stir evenly and transfer to individual bowls.
Serve Hot.
Notes
* If using raw peas, cook as per package. (Usually cooks 1 cup peas in 2 cups water until 3 whistles in pressure cooker or about 15-20 minutes in an open pot)
If using canned peas, rinse and strain or if using frozen peas, thaw as per package directions.
Nutrition Information:
Serving Size:
1
Amount Per Serving:
Calories:

1471
Total Fat:

67g
Saturated Fat:

19g
Cholesterol:

100mg
Sodium:

1028mg
Carbohydrates:

145g
Sugar:

20g
Protein:

71g