Air Fryer Buffalo French Fries: super quick recipe of saucy and absolutely addicting air fryer french fries with a buffalo, honey, garlic, chili sauce! They are 'Can't Stop Eating' kinda fries that's a hit in Superbowl / Gameday Parties.
Where are my 'Snacks Lovers' as these Fresh, Hot and Fingerlicking Air Fryer Buffalo French Fries are Waiting for you!!!
Okay, People, I can resist almost all kind of snacks BUT for these saucy french fries or french fries….they are my guilty pleasure food.
And I cannot imagine our SuperBowl parties without this deliciousness…we literally make 2-3 Big batches of these.
If you want some, you gotta grab these Air Fryer Buffalo French Fries at the beginning of the game or they are the first one to go.
And since we got the Air-Fryer, boom these snacks are so much easier and lighter to make at home.
I made these Buffalo French Fries using fresh potatoes but Frozen Fries go as well too. Just that I feel fresh is so much better (especially on SuperBowl Day).
It was super hard to take pictures for this recipe as we literally kept tasting and eating most of the fries 😉
This air-fryer basket was all full before I took the pic but as soon as I went to grab the camera, most of it was gone .. lol
Now, I'm sure you'd definitely had Buffalo French Fries before, but these my friends, are loaded with even more flavor.
: The Reason :
I massaged them in a mix of 'Buffalo, Honey, Garlic' sauce.
This helps to add so much more flavor to the french fries as they get cooked. All the sauce is absorbed and cooked along with the fries.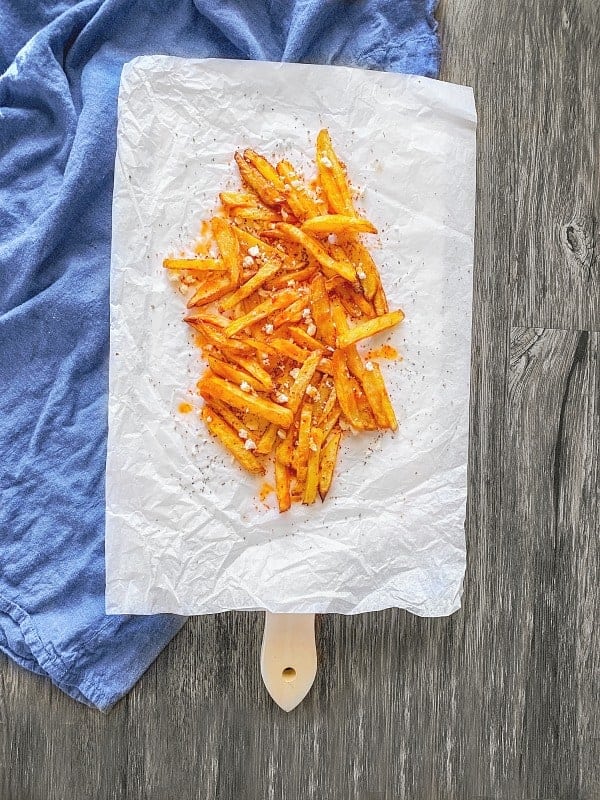 Once the Air Fryer Buffalo French Fries were ready, I sprinkled some more tangy-lemony mix on top and some feta to help with that Fiesty flavor.
I kid you not but our friends/family are literally in love with this flavor.
So this Superbowl, surprise your loved ones with these Buffalo French Fries that are so addicting yet so light to eat.
crispy, buttery and flakey in every bite and stuffed with a delicious vegetable curry filling. This recipe makes 12 Puffs
Greek Lamb Mince Flatbread Pizza: Light or skinny pizza with very less cheese, thin, crunchy and filled with fresh Greek flavors.
Sticky Spicy Cauliflower Wings: these baked, vegan cauliflower wings are super easy to make and fingerlicking yummmm!
Once ready, they are tossed in a garlic-ginger sweet-spicy sauce.
---
Tried Our Recipe – AWESOME!!!
Now Quickly SNAP A PICTURE & TAG :
#easycookingwithmolly + @easycookingwithmolly on Instagram –>
Connect with Me Here: Facebook / Pinterest / Instagram
Yield: 4 People
Air Fryer Buffalo French Fries
Super quick recipe of saucy and absolutely addicting air fryer french fries with a buffalo, honey, garlic, chili sauce!
Ingredients
6 Potatoes - cleaned and peeled
Cooking Spray - you can use 2 Tsp oil instead
6 Cups Chilled Water
4 Tbsp Feta Cheese - for decoration
Buffalo Sauce Mix:
1/4 Cup Buffalo Sauce - use any you like
2 Tbsp Honey - use less or more as per taste
1/4 Tsp Granulated Garlic - * check notes
1/2 Tsp Chili Flakes
1 Tbsp Lemon Juice
1/2 Tsp Salt
Instructions
! Make the Buffalo Sauce Mix:
Add all the Mix ingredients in a bowl and whisk evenly.
Keep aside.
! Make the Air Fryer Buffalo French Fries
Place the cleaned and peeled potatoes in chilled water.
Now take one potato and slice it into 3 parts (diagonal).
Now cut the slices into thin fries shape.
Place the chopped fries in the chilled water and cut the remaining fries.
Once, all fries are cut, wash them using more chilled water.
Drain all the water and pat the fresh sliced fries with kitchen towel (remove any excess water).
Now add half of the 'Buffalo Sauce Mix' in on the sliced potatoes.
Spray cooking oil and toss everything to mix evenly (or use hands or fork).
Place the coated fries in air-fryer.
Air-Fry on 375F for 15 minutes (toss the batch using a wooden spoon half way).
Once the air-fryer stops, transfer the french fries to a serving plate.
Top with the remaining sauce and sprinkle feta on top (if using).
Serve immediately.
Notes
Granulated Garlic- you can use fresh fresh garlic clove too, simply chop into the thinnest size and mix in sauce.
Nutrition Information:
Yield:
6
Serving Size:
15
Amount Per Serving:
Calories:

215
Total Fat:

3g
Saturated Fat:

1g
Trans Fat:

0g
Unsaturated Fat:

2g
Cholesterol:

6mg
Sodium:

350mg
Carbohydrates:

43g
Fiber:

4g
Sugar:

8g
Protein:

5g