Quick Potsticker Stir Fry: extremely delicious and quick one-pan, frozen potstickers stir fry with veggies, cashews in a hot-sweet sauce that leaves you wanting more and more.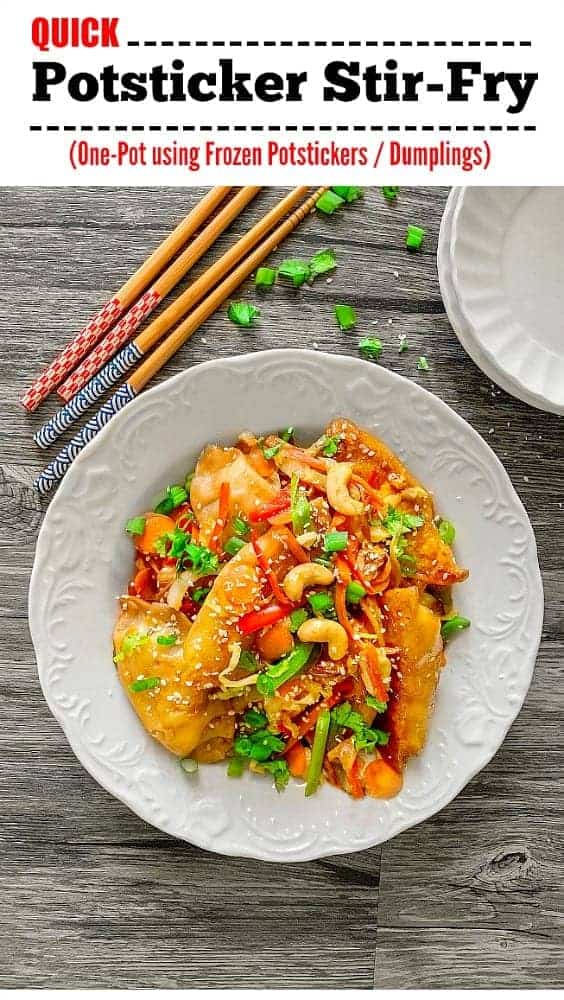 We are just 1 week away from Chinese New Year (Feb 5th) and I'm ready with this Quick Potsticker Stir Fry recipe that I'll take for my friend's new year potluck.
Potsticker/Dumpling is our MOST favorite Chinese food, literally cooked once or twice every 2-3 weeks and we still cannot get enough of it.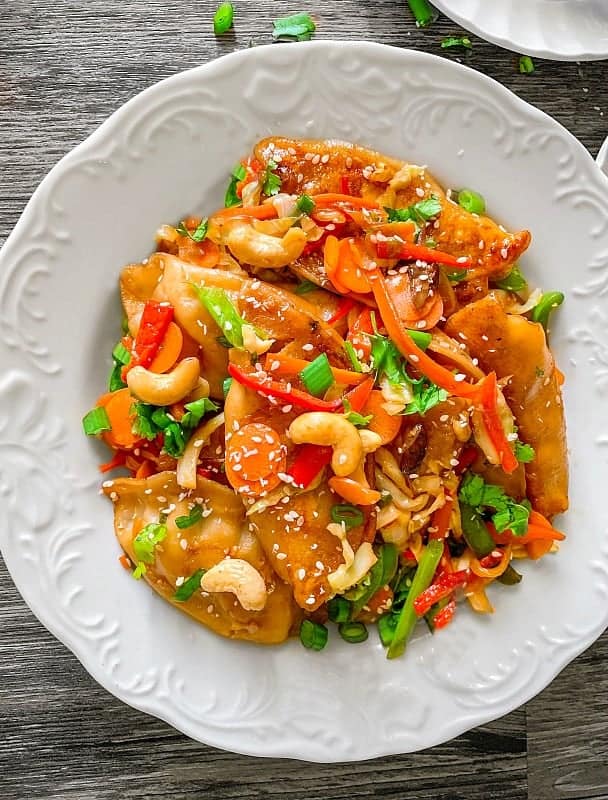 Hence, we always have 'Ling-Ling' Asian inspired frozen entree and sides in our freezer. We have been eating their products for ages as they are the leaders in authentic Asian recipes.
They use
"high quality, clean ingredients like freshly sourced vegetables and savory proteins"
hence their products are bursting with flavors.
Ingredients for Quick Potsticker Stir Fry:
Potstickers – homemade, fresh or frozen
Cabbage
Bell Peppers
Onion
Mushroom
Carrot
Scallions
Sesame Seeds
Hot Sauce
Soy Sauce
Seasoning
Cashews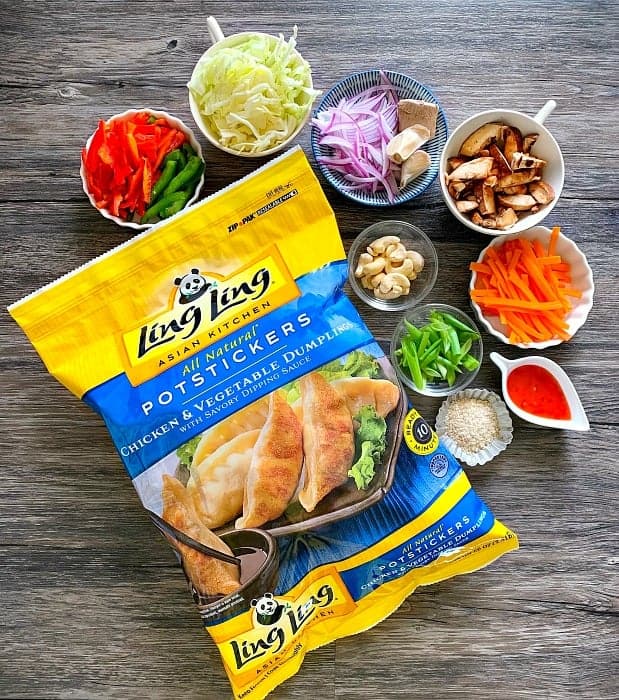 I starting celebrating Chinese New Year with this friend of mine, who was my colleague initially and by the time I left work, we were almost like family (worked together for 7 years).
Since we both don't have much of our family's close by, we always celebrate each other's festivals together.
It's just so much fun learning each other's culture, values and definitely about food 🙂
For Example: Did you know that eating 'Dumpling' on Chinese New Year is considered extremely lucky!
Hence, I decided to take these Ling-Ling 'Chicken and Vegetable Potstickers/dumplings' for the celebrations.
Process to Make Potsticker Stir Fry:
I'm going to prepare it two ways:
As an Appetizer – served with sauce
Quick Potsticker Stir Fry – as one of the entree.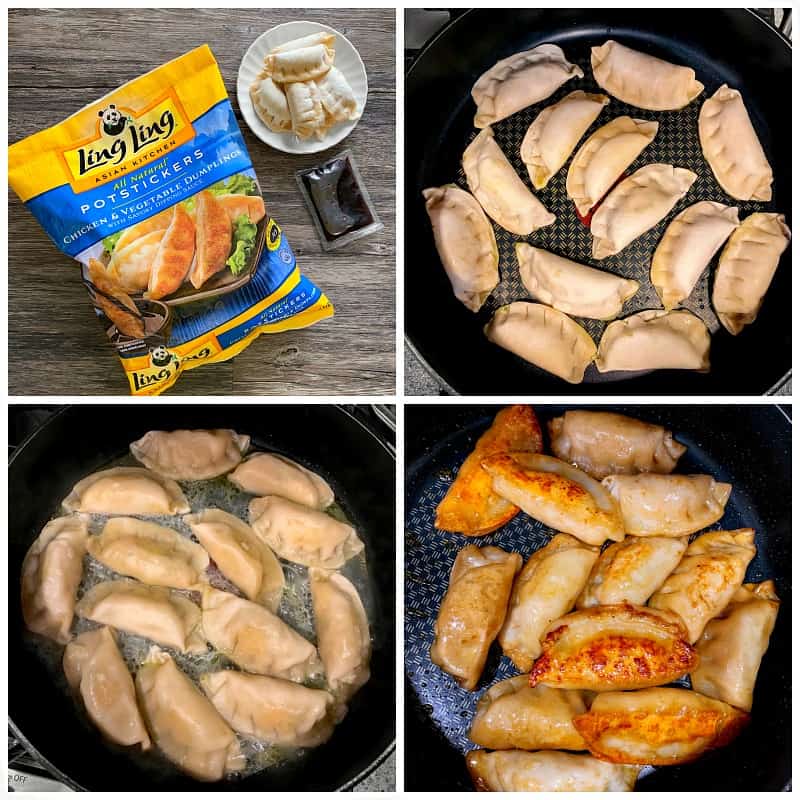 I made the potstickers as per the package instructions, which are extremely easy (picture above).
And IF you have not yet tried making them this way, you are MISSING OUT on real soft, fresh and extremely flavorful dumplings.
So, the picture below is of Potstickers that I'll serve as an appetizer (sauteed in a little bit of the dipping sauce that comes in the package) and I'm serving the rest of the dipping sauce along with it.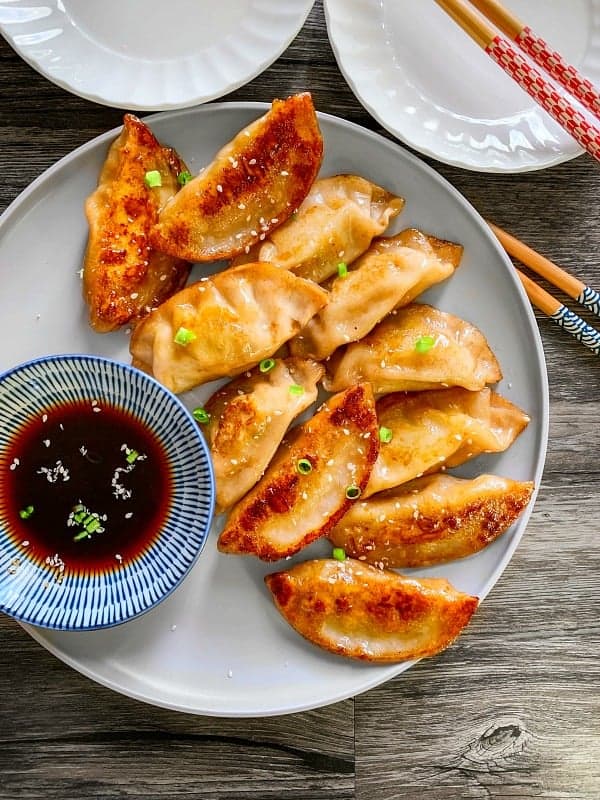 Then, I'll use the same method and saute the potstickers in a mix of fresh veggies, nuts, and sesame seeds (who can resist a Chinese Stir Fry!!!).
This Potsticker Stir Fry is literally a great way to stretch that potsticker package and your dollars further.
Here's another fact, did you know 'RED" is an extremely Lucky color for Chinese New Year.
So, I'm definitely including a lot of red bell peppers, red sauce and our red chopsticks to bring in all the New Year Luck to all of us.
You can also include the color Red by packaging gifts in red color material/ribbons, decorating the house with red lanterns (another Must) and giving Red Envelopes with money to kids.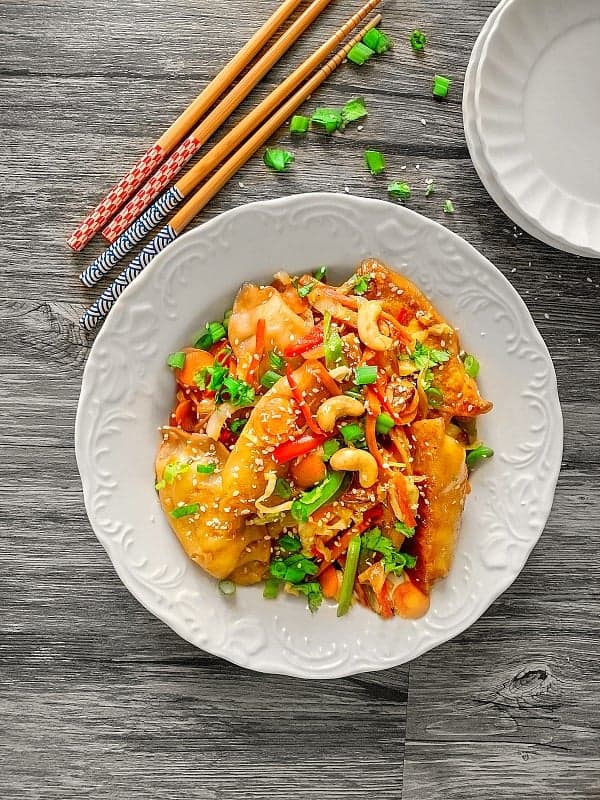 As we still have some time before the New Year celebrations begin, you should definitely stock up on Ling Ling products including the Potstickers.
They come in the following options:
Chicken & Vegetable
Pork & Vegetable
Vegetable
Their products are easily available in the frozen entree/appetizer section of your local American and Asian stores.
—> VISIT LING LING for More Details <—
As I did mention earlier, I love them for their quality, variety, and ease of availability.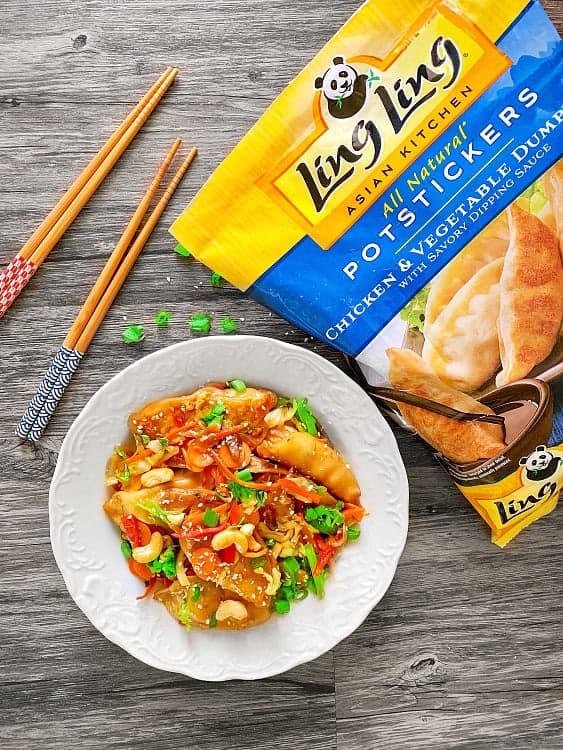 So, go ahead and surprise your loved ones with this Chinese New Years Must dish and try my Quick Potsticker Stir Fry asap.
This makes an excellent weeknight meal and definitely a Big Hit among children too.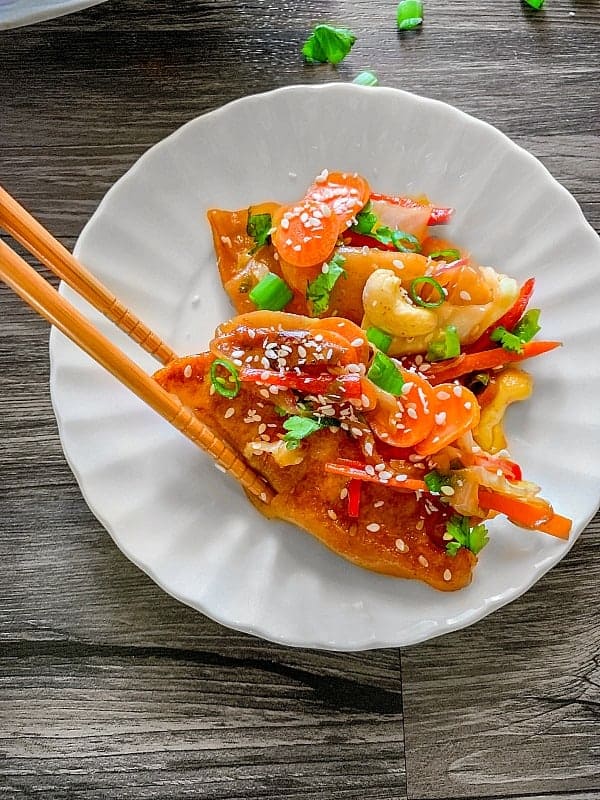 Everyone who's celebrating the Chinese New Year:
"Wish you Wealth and Prosperity ( gōng xǐ fā cái )"
Tried Our Recipe – AWESOME!!!
Now Quickly SNAP A PICTURE & TAG :
#easycookingwithmolly + @easycookingwithmolly on Instagram –>
Connect with Me Here: Facebook / Pinterest / Instagram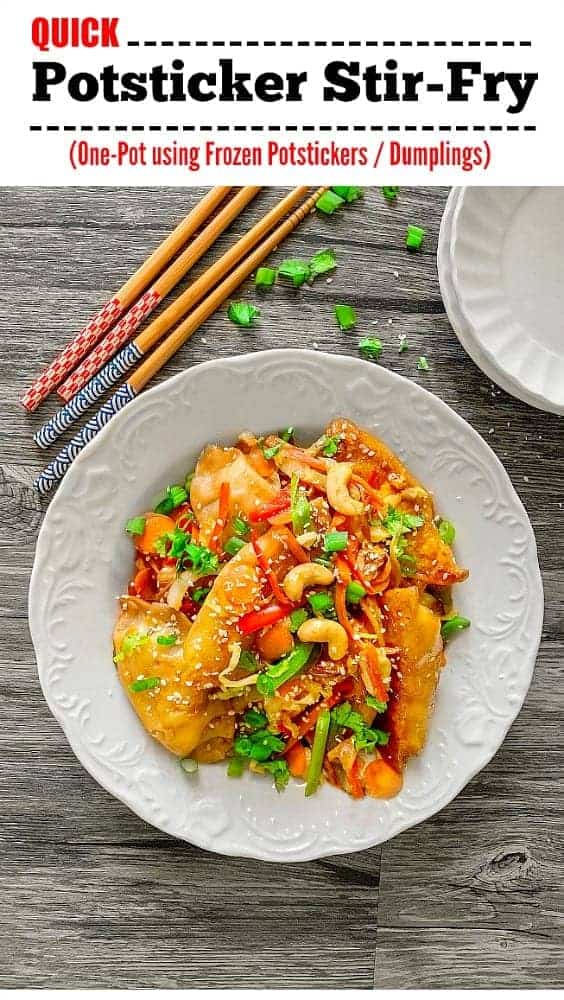 :: You May Also Like ::
Yield: 6 People
Quick Potsticker Stir Fry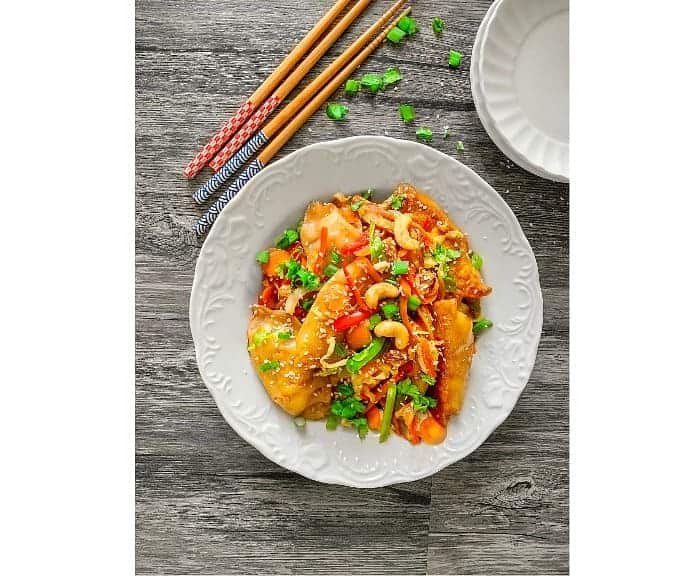 Quick Potsticker Stir Fry: Extremely delicious and quick one-pan, frozen potstickers stir fry with veggies, cashews in a hot-sweet sauce. #chinesenewyear
Ingredients
30 Frozen Potstickers - use the large bag
1 Packet Sweet-Hot Sauce - comes in the potsticker packet
3 Tsp Hot Chili Sauce - use as per taste
4 Tbsp Cashews
3 Tsp Sesame Seed
4 Tbsp Sesame Oil - can use any light oil
Mixed Veggies - use as per choice:
2 Large Onion - thinly sliced
1 Tsp Grated Ginger - can use powder too
1 Tsp Grated Garlic - can use powder too
4 Medium Red Bell Peppers - thinly sliced
2 Small Green Bell Pepper - thinly sliced
2 Large Carrot - thinly sliced
3 Cup Sliced Cabbage
2 Cup Sliced Mushrooms
4 Stalks Green Onions - thinly sliced
Instructions
! Prepare the Potstickers as per package instructions (steps given below):
Add oil in a large pan.
Place the frozen potsticker next to each other (leaving some space in between).
Heat this for 2 minutes, then add water and cover cook the potstickers.
This takes about 8-10 minutes.
Once the potstickers are soft, add 2 Tsp dipping sauce and saute for 2 minutes.
Turn off the heat and transfer the sauteed potstickers on a tray (you can serve them as appetizer right now).
! Make the Quick Potsticker Stir Fry:
In the same pan, heat the sesame oil.
Add onions, ginger+garlic and stir fry for a minute.
Now add the rest of the veggies, cashews, sesame seed and stir fry for another minute (over high flame).
Finally add the cooked potstickers, sauce and saute.
Stir-fry everything for a minute and then turn off the heat.
Transfer to serving bowl.
Sprinkle freshly chopped scallion/green onion and sesame seed.
Serve Hot.
Notes
This can be store in the fridge for 2 days in an air-tight container.
Nutrition Information:
Yield:
6
Serving Size:
1
Amount Per Serving:
Calories:

210
Total Fat:

35g
Saturated Fat:

7g
Trans Fat:

0g
Unsaturated Fat:

26g
Cholesterol:

47mg
Sodium:

300mg
Carbohydrates:

62g
Fiber:

8g
Sugar:

13g
Protein:

23g
"This post was sponsored by Ling Ling, all opinions expressed in my post are my own"