"This post is sponsored by Karo® Corn Syrup. All Opinions as always are my own"
Sticky Cauliflower Wings: vegan and baked cauliflower wings dipped in sticky (sweet-spicy) sauce and topped with sesame seeds and green onion. They are super easy to make and fingerlicking yummmm! Step by Step Tutorial on How to Make Cauliflower Wings
As the Festive season arrives, so does the demand for quick party food and these Sticky Cauliflower Wings are definitely on repeat every now and then.
BBQ Cauliflower Wings / Sticky Cauliflower Wings / Baked Cauliflower Wings they are Awesome by any name!
They are my Fresh Take on a Classic Chicken Wing recipe using Karo® Corn Syrup and are approved by my Chicken Lover Gang 🙂
And what's even more fun is that they are
Baked
and soooo easy to make using everyday kitchen ingredients.
Sticky Cauliflower Wings – tossed in garlic-ginger sweet-spicy sauce made using Karo® Corn Syrup.
As I did mention above that these Sticky Cauliflower Wings make frequent appearances in our parties hence I get a lot of requests for the recipe.
So with the Festive season approaching, these baked Sticky Cauliflower Wings would make a quick appetizer for big batches too.
How to Make Sticky Cauliflower Wings
They are extremely easy to make and I'm diving the process in 3 further easy steps:
1: Making the Sticky Sauce ( which is Everything!!!! )
2: Making the Cauliflower Wings shaped Florets
3: Batter
Let's start by making the Sticky Spicy Sauce:
The sauce is what adds that 'Pow-Wow' flavor to these baked wings.
It's a mix of store-bought hot sauce with ginger-garlic spices and Karo® Corn Syrup.
I love using Karo® Corn Syrup for such recipes as it has a smooth and light texture that lets other ingredients in recipe shine through.
Also, the Corn syrup adds that extra shine/gloss to the cauliflower wings.
Karo is consistent with their product quality, hence I love using them without even a second thought as I know whatever I make would taste amazing!!
** of course if I follow the right ingredients and process 😉
Baking the Cauliflower Wings shaped Florets:
This is an equally important step as this literally breaks or makes your wings recipe!!
The florets NEED to be cut chunkier and with tips on each floret.
Hence we get that 'Wing Kind of Shape' .
Batter – How to make the batter / How thick or thin the batter should be:
After a lot of hits and trials, we finally found the BEST Batter for the Wings!!
It's neither very thick nor very thing but should evenly coat the back of the spoon without dripping.
This is an extremely Important Step to achieve the best one.
What it does is, it gently coats each cauliflower floret enough for it to bake and taste perfectly crisp.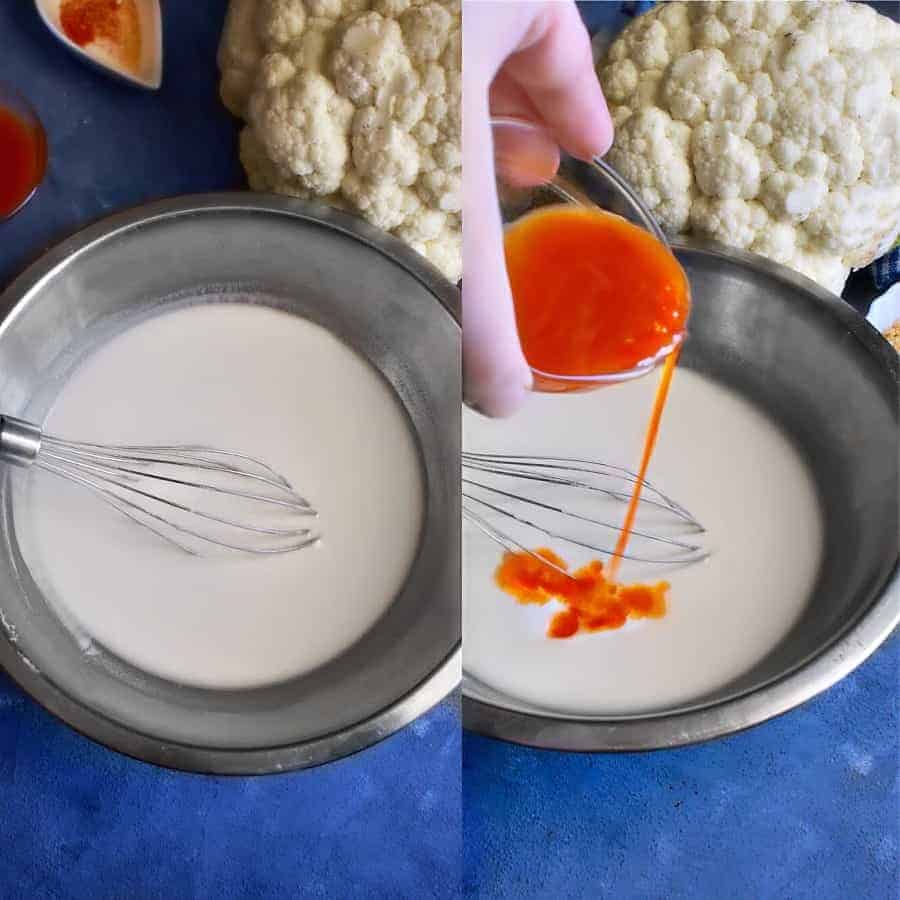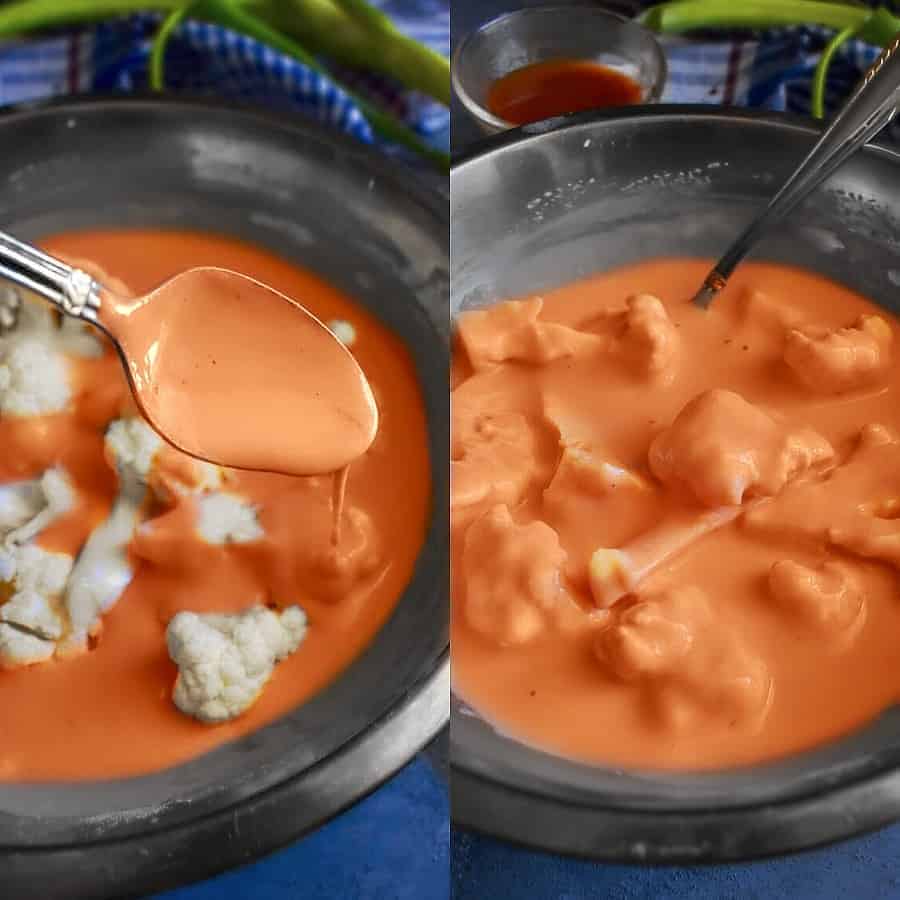 So, just follow the steps given below to make the Perfect batter and then evenly coat each floret in it.
Then dab the coated floret in a breadcrumb mix and place it on a baking tray.
I suggest coating each floret separately in breadcrumbs cause if we do it all together, it won't evenly coat all the florets.
Place the coated cauliflower florets on the baking tray (please give some space between each floret).
Bake as per the instructions below and your Golden, Crispy Cauliflower Florets are ready in 15 minutes.
Once, they are ready, simply toss them in the Sticky-Spicy saucy mix and coat the sauce evenly on each wing.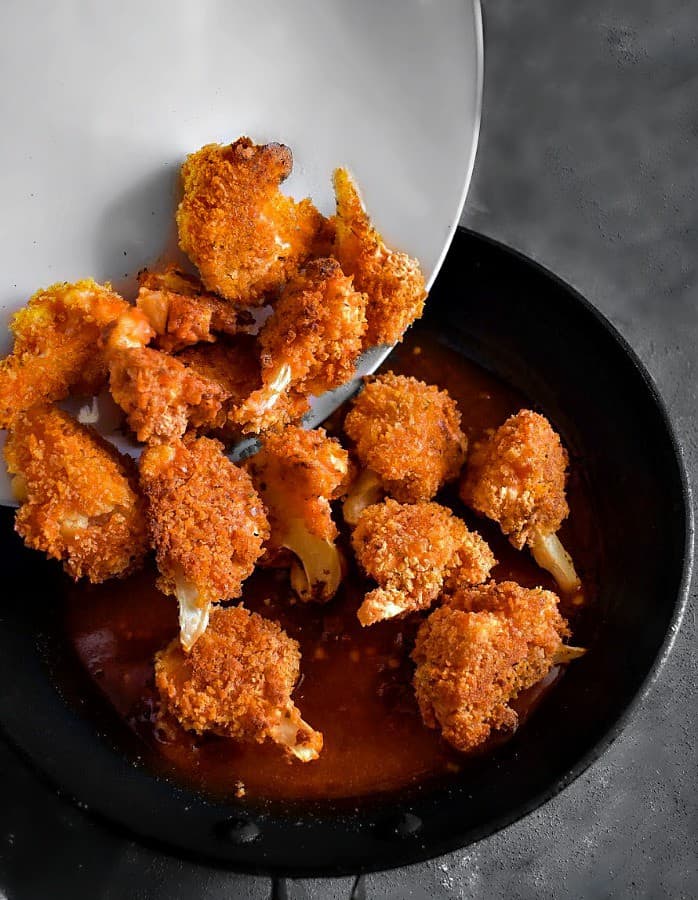 That's how my friends you get this lip-smacking, finger-licking ' Sticky Cauliflower Wings ' ready at home.
There's one thing you should always remember: Make Tons of Extra as they go out real quick!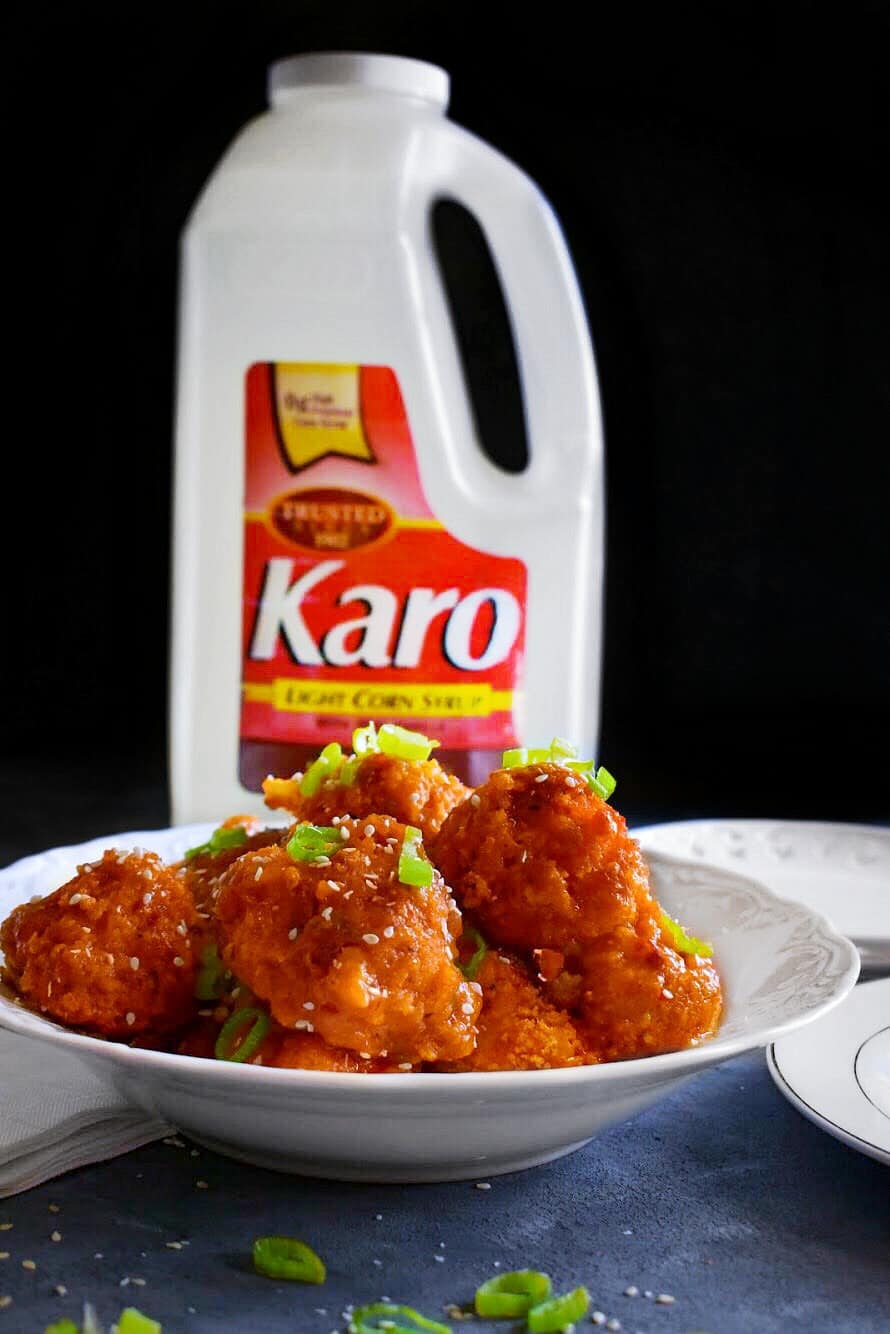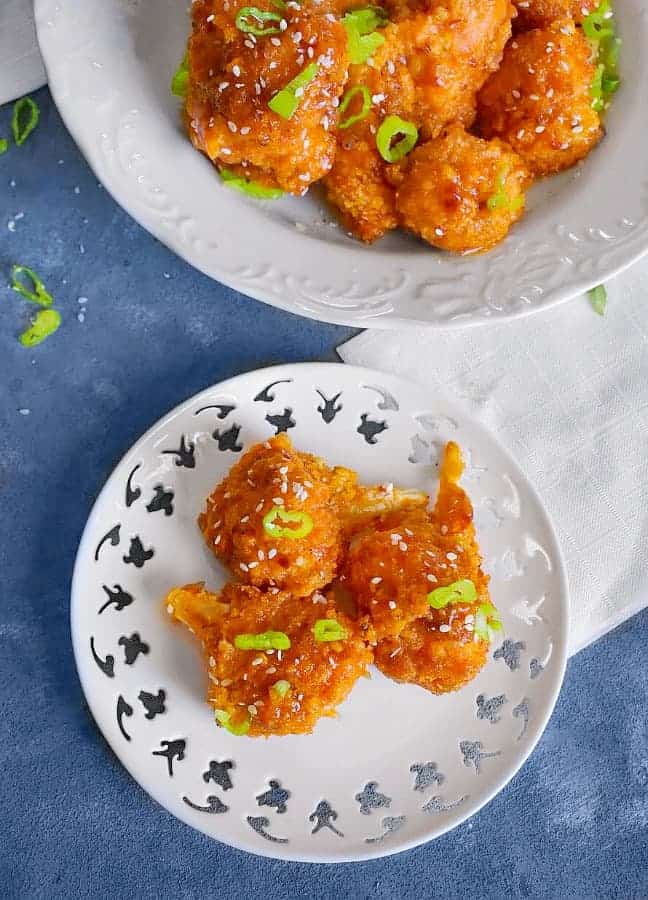 So this festive or party season, try Karo® Corn Syrup for not just your classic dessert recipes but also such sweet-spicy recipes.
———————-
Tried Our Recipe – AWESOME!!!
Now Quickly SNAP A PICTURE & TAG :
#easycookingwithmolly + @easycookingwithmolly on Instagram –>
Connect with Me Here: Facebook / Pinterest / Instagram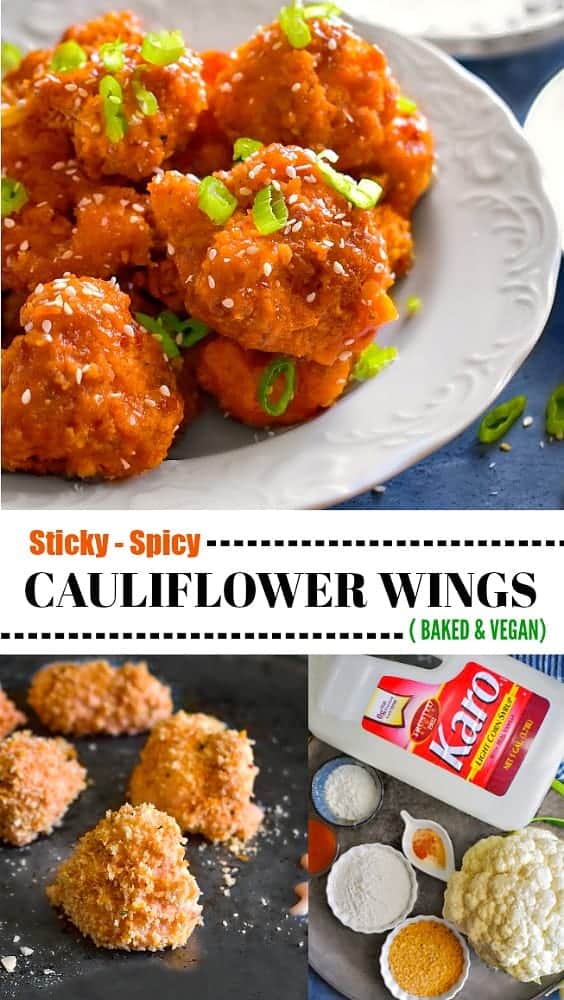 :: You May Also Like ::
Yield: 4 People
Sticky Cauliflower Wings -Step by Step Baked & Vegan Recipe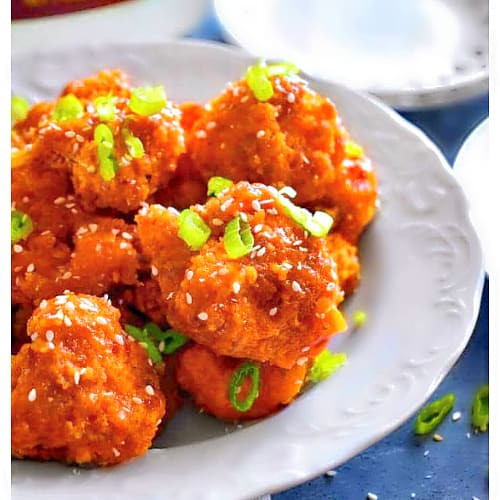 Sticky Cauliflower Wings: vegan and baked cauliflower wings dipped in sticky (sweet-spicy) sauce and topped with sesame seeds and green onion. They are super easy to make and fingerlicking yummmm! Step by Step Tutorial on How to Make Cauliflower Wings
Ingredients
1 Large Cauliflower - washed, cut into chunkier florets.
1 Cup Bread Crumbs - homemade or store bought
3 Tbsp Olive Oil - or Cooking Spray
2 Spring Onion - chopped - for decoration
1 Tsp Sesame Seeds - for decoration
Ingredients for the Batter:
1 Cup All Purpose Flour - use glutenfree flour if need be
2 Tbsp Argo Corn Starch - for extra crispness
1/4 Cup Water - and little more for a thick batter
2 Tbsp Hot Sauce
2 Pinches Orange Food Color - optional
Ingredients for the Sauce:
2 Tbsp Karo® Corn Syrup - I'm using light corn syrup
1/2 Cup Hot Sauce - I'm using a vegan variety but you can use any hot sauce
1/4 Cup Water
1 Tsp Cornflour
2 Tsp Ginger Powder
1 Tsp Garlic Powder
1/2 Tsp Onion Powder
Salt - as per taste
Instructions
Preheat the oven at 425f
Make the Batter:
In a large bowl, add all the ingredients for the batter and whisk to form a smooth thick batter.
Now dip each cauliflower floret in this batter and coat evenly.
Take the batter-dipped floret and coat it evenly with breadcrumbs (Do 1 floret at a time).
Place the coated floret on a baking tray.
Similarly, coat each floret and place on a baking tray.
Now sprinkle olive oil on each floret or use a cooking spray.
Bake in the oven for 10 minutes and then turn the florets and bake another 10 minutes

Make the Sticky-Spicy Sauce:
In a bowl, add the sauce ingredients and whisk together.
Heat a non-stick pan and add the sauce in it.
Stir and bring it to a boil.
Turn off the heat

Serving the Sticky Cauliflower Wings:
Add the cooked cauliflower florets in the sauce mix and evenly coat all sides.
Transfer the cauliflower wings in a serving plater and sprinkle chopped spring onion and sesame seed.
Serve Hot!
Notes
They can be made in advance. Just mix the sauce when you are ready to serve.
Nutrition Information:
Yield:
4
Serving Size:
4 People
Amount Per Serving:
Calories:

340
Total Fat:

14g
Saturated Fat:

2g
Trans Fat:

0g
Unsaturated Fat:

11g
Cholesterol:

0mg
Sodium:

789mg
Carbohydrates:

94g
Fiber:

8g
Sugar:

20g
Protein:

15g
I was selected for this opportunity as a member of CLEVER and the content and opinions expressed here are all my own.