Mini Hot Chocolate Red Wine Cake: super easy to make, moist, flavorful and a perfect mix of wine with hot-chocolate (storebought/homemade).

Hot Chocolate Red Wine Cake – Super Yummmmmmmm!!!!
What do you make for a date night in-between Festive season or what do you serve as individual festive dessert?
The answer is simple:
Mini Hot Chocolate Red Wine Cake
– that's ready in 30 minutes (including prepping + baking time)!
Just before we enter the Christmas party zone, I wanted to squeeze in a cozy date night……simple cozy comfort meal for two and a dessert to go for a Netflix binge.
And what can be better than Chocolate + Red Wine on a Date Night?
Of-course a dessert that involves both 😉
So for the Meal, I went with the delicious and
Skinny Cauliflower Pasta Bake (Healthy 20 Mins Recipe)
(Picture below)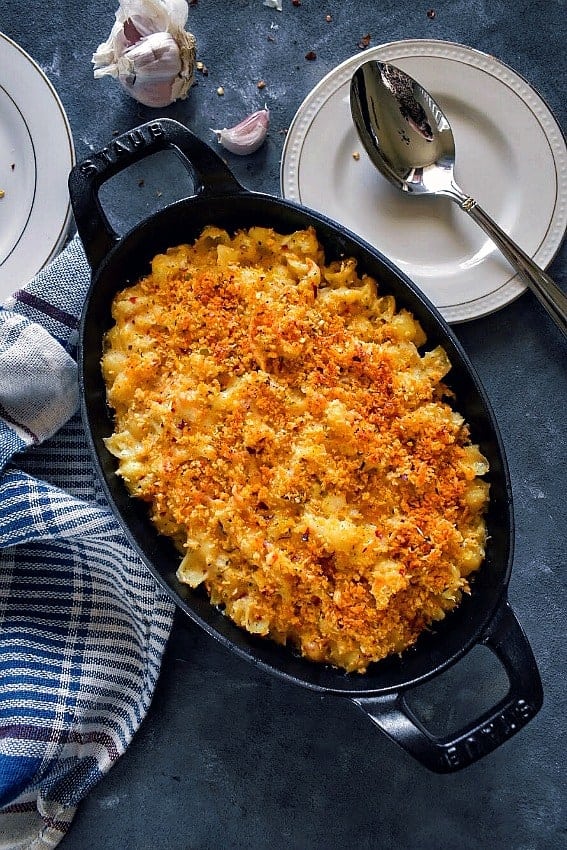 And for dessert, I did this Mini Hot Chocolate Red Wine Cake.
We both love red wine, so I thought of incorporating it into our cake and it's like a match made in heaven.
It's also a great way of using leftover red wine too, provided the wine is fresh and not opened for more than 12hrs.
I definitely want the wine flavor and all the flavor.
These cakes are also perfect for your individual Christmas dinner (for adults) or a surprise birthday party.
Whatever the occasion, they are simply Awesome!
To make them super moist, I'm using a mix of egg with yogurt. It adds so much lightness to the cake.
Also, I'm topping it with our favorite whipped cream and add cherries on top.
Add some sprinkle of dark chocolate and you literally have an amazing restaurant-style dessert made at home in no time.
Tried Our Recipe – AWESOME!!!
Now Quickly SNAP A PICTURE & TAG :
#easycookingwithmolly + @easycookingwithmolly on Instagram –>
Connect with Me Here: Facebook / Pinterest / Instagram
:: You May Also Like ::
Yield: 4 People
Mini Hot Chocolate Red Wine Cake
Mini Hot Chocolate Red Wine Cake: super easy to make, moist, flavorful and a perfect mix of wine with hot-chocolate (storebought/homemade).
Ingredients
Dry Ingredients:
1 Cup All Purpose Flour
3 Tbsp Hot Chocolate Mix (store bought or homemade)
1 Tbsp Cocoa Powder - for that rich chocolate taste (optional)
1/2 Tsp Baking Powder
1/2 Tsp Baking Soda
Wet Ingredients:
1/4 Cup Red Wine
1 Large Egg
1/2 Cup Plain Yogurt - or 2/3 cup thick buttermilk - make the cakes extra moist
1/3 Cup Olive Oil
2/3 Cup Sugar - or sweetener of your choice
1/2 Tsp Vanilla Extract
Pinch of Salt
Decoration:
Cream - use any cream of choice
Cherries - you can use any fruit or skip this step
Dark chocolate Bar- for sprinkle on top
Instructions
Pre-heat Oven - 375f or 190c


Sieve the Dry Ingredients:
In a small bowl, sieve together flour, hot chocolate mix, cocoa powder, baking powder, baking soda, salt and keep aside.


Whisk the Wet Ingredients:
Take a large bowl, add oil, egg, yogurt, vanilla extract and whisk for 2 minutes to form a smooth batter.
Now add sugar, red wine and whisk for another minute to mix everything evenly.


Mix Dry Ingredients with Wet Ingredients:
Using a spatula, add and mix the dry ingredients in batter slowly.This prevents any lump from forming. (Please fold the dry ingredients slowly to incorporate air. This will result in lighter and fluffy cake).
Pour the batter into 4 oiled mini bundt pans and bake for 25 minutes.
Turn off the oven.
(Poke a toothpick into the center of the cake and remove instantly. If the toothpick comes out clean, it means the cake is cooked completely)
Remove the cake from the oven and keep on a cooling rack for 10-15 minutes.


Serving the Cake:
Top the cake with whipped cream
Add cherry on top
Sprinkle dark chocolate on top
Nutrition Information:
Yield:
4
Serving Size:
4
Amount Per Serving:
Calories:

332
Total Fat:

19g
Saturated Fat:

3g
Cholesterol:

3mg
Sodium:

265mg
Carbohydrates:

34g
Sugar:

3g
Protein:

5g