This post is written in partnership with CK Mondavi and Family. As always, the opinions here are all my own.
Quick Pesto Mushroom Flatbread Pizza: super quick and delicious pizza that's filled with the flavors of fresh pesto, mushrooms, caramelized onions and a hint of herb oil.
Paired with CK Mondavi & Family Wines, it's the perfect pairing for any Summer gatherings or grill.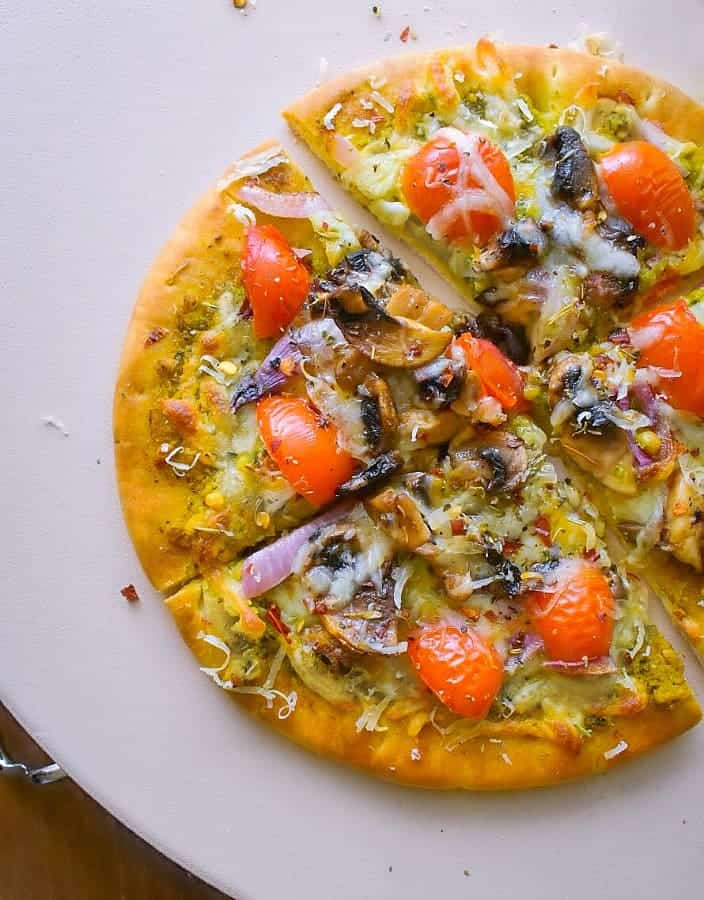 Mondays always arrive in a flash but thankfully, we had such an amazing Sunday gathering with loved ones, laughter and lots of wine!
Just before we say 'Goodbye' to the summers, we made this Quick Pesto Mushroom Flatbread Pizza and hosted an impromptu Wine + Pizza party at home.
Now, What could be Better than Homemade Crispy Pizza & Chilled Wine on a Sunday !!!!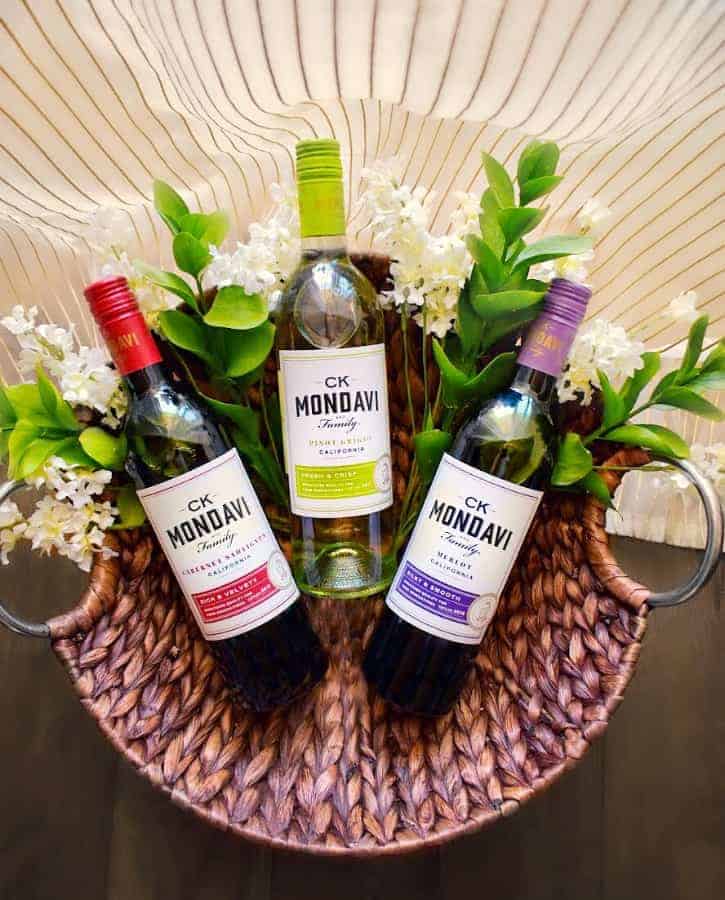 Summer started slightly late this year and with this being the first weekend after back-to-school started, many of our loved ones needed some extra TLC 😉
So, I decided it's time to turn on the grill (oven along with it ;), chill some wine and call them over to a homemade pizza party.
Even before I could discuss the idea with all, the news spread like crazy and almost everyone responded with a 'YES'.
Geeez… I made about 20 pizzas and we literally had so many bottles chilled that I NEED a Separate Wine Chiller Now.
I chilled a variety of wines from CK Mondavi & Family (as we are starting at noon and the party will go on till dusk):
Pinot Grigio – Fresh & Crisp Texture
Merlot – Silky & Smooth Texture
Cabernet Sauvignon – Rich & Velvety Texture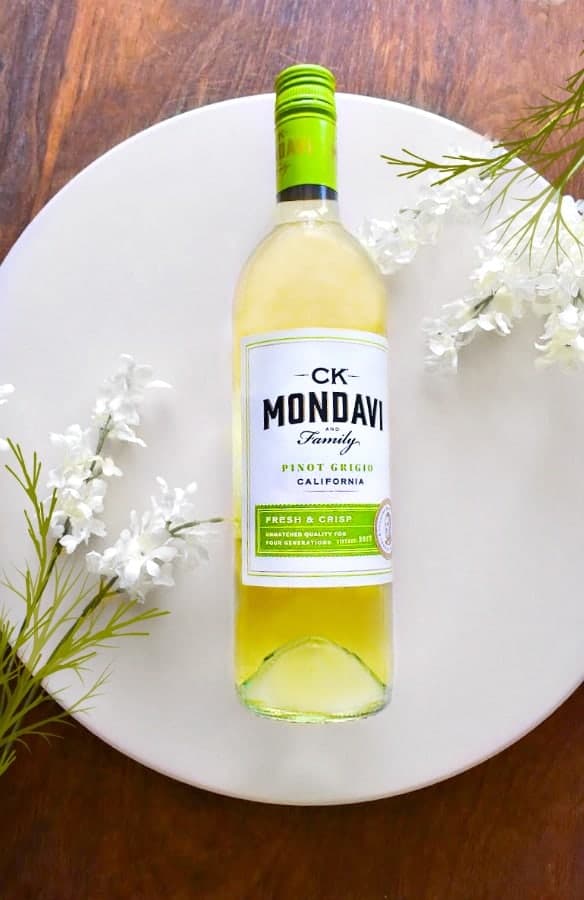 But with my Quick Pesto Mushroom Flatbread Pizza, I'm serving the chilled 'Pinot Grigio'.
The pizza has a slightly buttery finish to it as I'm drizzling a special 'Tuscon Herb Oil' on it before serving.
One bite of it and you'd have an explosion of delicious – buttery Italian flavors in your mouth and the fresh-crisp Pinot Grigio is simply DIVINE with it.
The CK Mondavi & Family Pinot Grigio is a medium-bodied wine filled with aromas of wildflowers, peaches, and pears.
Now, coming back to our Quick Pesto Mushroom Flatbread Pizza, it's soooo easy to make that you'd really wonder why didn't you ever try it at home earlier!
Now, most days, I would make the dough from scratch, make the homemade pesto and go about the pizza.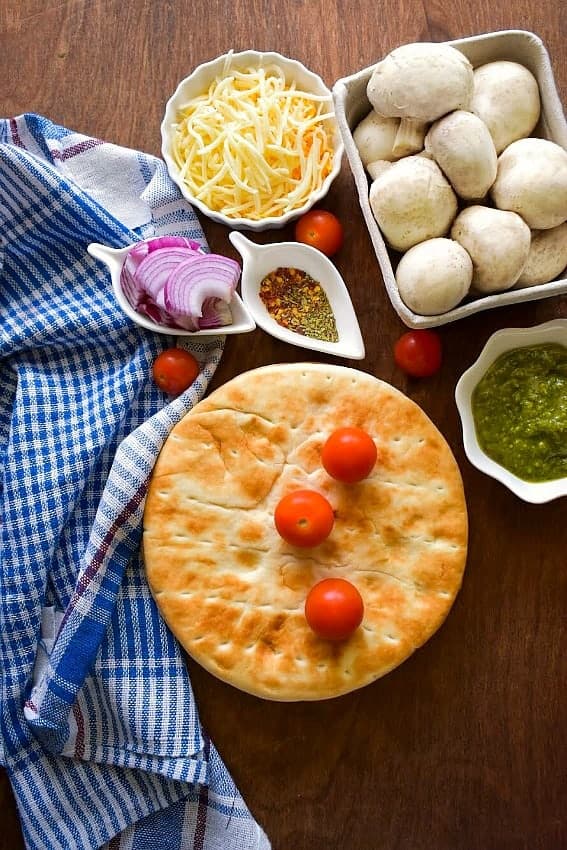 Since this is an impromptu party and I'm making 20 pizza (Helllooooo), I decided to use my Secret Ingredients that Makes Life So Much Easier:
Organic Flatbread
Organic Pesto (I get this from a local farmers market and it's as good/fresh as homemade ones)
Two Kinds of Cheese (Mozzarella & Emmental)
Tuscan Herb Oil (This is Powerful & Turns any food into OMG, it's so yumm)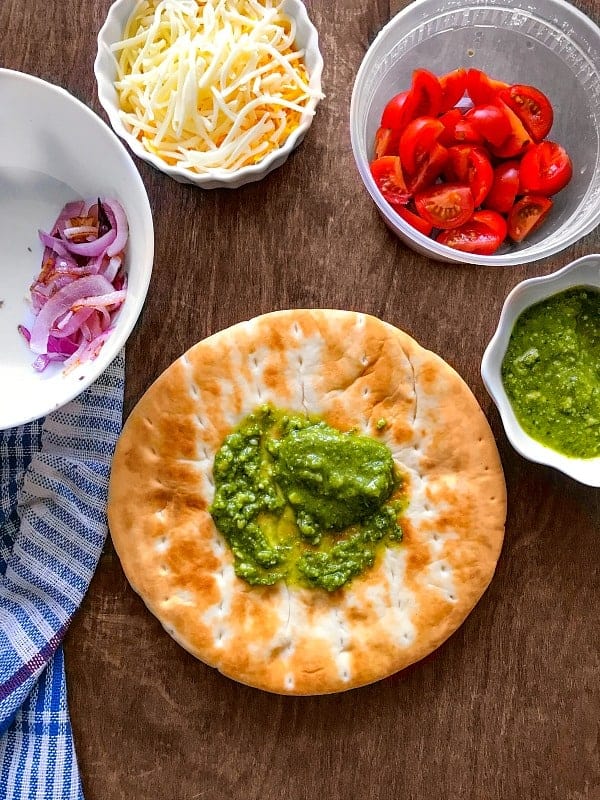 Once the secret ingredients are gathered, I quickly gather the toppings, Mushroom, Red Onions, Tomato and Seasoning.
You can definitely call it 'Mushroom, Tomato & Caramelized Onion Pesto Pizza' as well but I prefer the easy Quick Pesto Mushroom Flatbread Pizza 🙂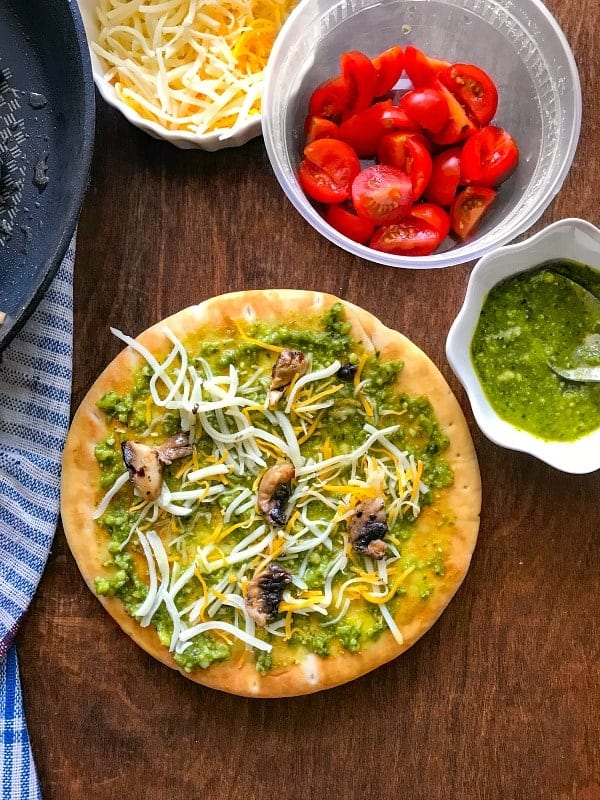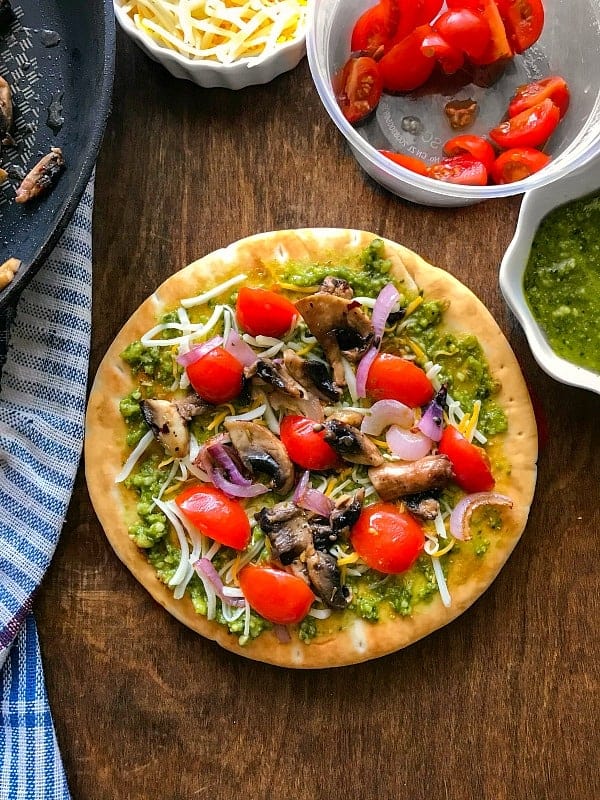 Once the Pizza is baked, I just placed everything in the extremely gorgeous 'Pizza Stone' sent to me by my dear CK Mondavi & Family along with a pizza slicer!
Even before I could announce, the meal is ready, I could see a huge smile on everyone's faces as the smell from the kitchen had already sent the message much before.
So we poured the wines and enjoyed the rest of the Sunday with loved ones, delicious food and some really smooth n wonderful wine.
I would highly recommend you check the Store Locator for getting these CK Mondavi & Family wines for your next gathering.
The wines taste amazing and are prized perfectly to serve in small/large gatherings. They have a great varieties to choose from too.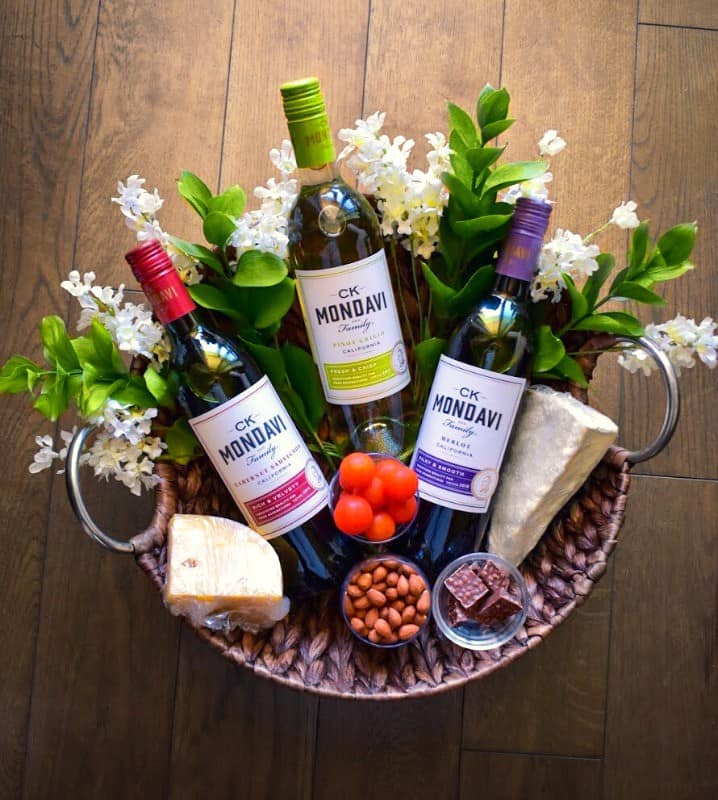 Before you head over to check more on these wines, here's a quick video from the Winemake:
:: You May Also Like ::
---
Tried Our Recipe – AWESOME!!!
Now Quickly SNAP A PICTURE & TAG :
#easycookingwithmolly + @easycookingwithmolly on Instagram –>
Connect with Me Here: Facebook / Pinterest / Instagram
Yield: 4 Medium Flatbread Pizza
Quick Pesto Mushroom Flatbread Pizza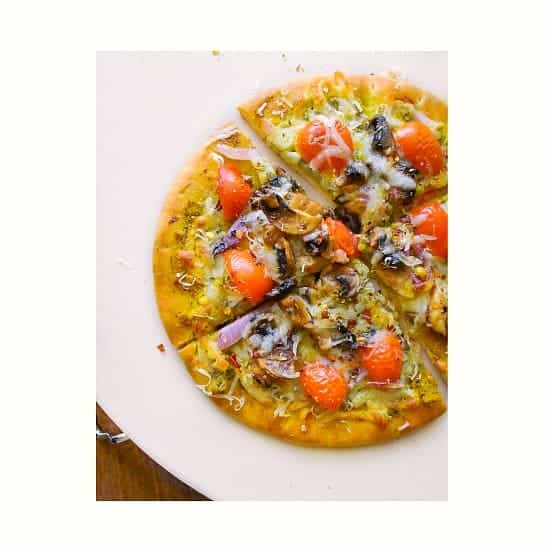 Quick Pesto Mushroom Flatbread Pizza: delicious pizza that's filled with the flavors of fresh pesto, mushrooms, caramelized onions and a hint of herb oil. 
Ingredients
4 Medium Flatbread - cooked
1/4 Cup Pesto - store-bought or homemade
1 Cup White Mushrooms (Button Mushroom) - cleaned and quartered
1 Medium Red Onion - thinly sliced
1/4 Cup Cherry Tomatoes - halved
1/2 Cup Mozzarella Cheese
1/4 Cup Emmental Cheese - or any other you like
Seasoning:
1 Tsp Italian Seasoning
1/4 Tsp Chili Flakes - more or less as per taste
Salt - as per taste
Pepper - as per taste
Herb Oil - Optional to drizzle on top
Instructions
Cook the Mushrooms & Caramelize the Onions:
Heat a skillet/pan and add 1tsp of herb oil or any light oil.
Add the quartered mushroom and saute till light cooked (takes 3-4 minutes over medium flames).
Once cooked, remove from skillet.


In the same skillet add sliced onions and 1/2 tsp herb oil.
Saute over medium heat until pink or slightly caramelized.
Remove from skillet and cool.


Preheat the oven at 200F
Take each flatbread and add 1tbsp pesto sauce on it.
Now, evenly coat the pesto all over the flatbread.
Now add cheese, cooked mushrooms, tomatoes and caramelized onions.
Sprinkle Italian seasoning, red chili flakes, salt and pepper on top.
Place the pizza in oven and bake for 10 minutes (I baked all 4 pizza together in two separate rows).
After 10 minutes or when the pizza is cooked, turn off the oven and remove the pizza.
Place the pizza on serving platter and slice each pizza into quarter. (you may sprinkle some more herbed oil on top for special taste).
Serve with wine and enjoy
Nutrition Information:
Yield:
6
Serving Size:
1
Amount Per Serving:
Calories:

297
Total Fat:

12g
Saturated Fat:

3g
Trans Fat:

0g
Unsaturated Fat:

8g
Cholesterol:

15mg
Sodium:

547mg
Carbohydrates:

36g
Fiber:

2g
Sugar:

2g
Protein:

11g